When tomatoes and basil are in season, I make Bruschetta. A lot. It's quick and easy to make, you can do some of the prep in advance and it's always popular for happy hour or al fresco dining!
I've modified and perfected this recipe thanks to some tips from my brother Chef Kev. Thanks bro! I think I have it nailed now.
The first time I made Bruschetta was while on maternity leave. I had lots of time to watch a lot of cooking shows. My son was born in September so there were tomatoes in the garden, lots and lots of them.  I was watching a show I loved called Caprial's Café. That's where I learned to "colour" the bread with garlic and how to pronounce bruschetta properly. Most people don't. You have to roll your "r" – it's mandatory!
"brrrrrrew sketta"
Jump to Recipe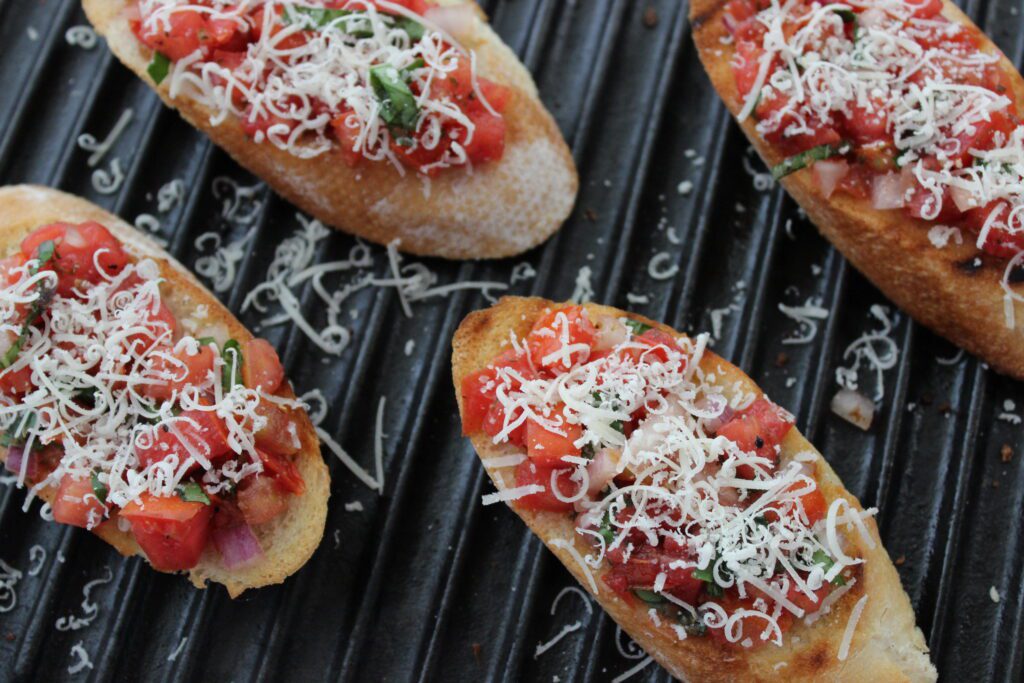 The key to making this successfully is using very fresh perfectly ripe tomatoes and basil.  If you're lucky enough to have some growing outside your door, pick them right before you make Bruschetta topping.
Tomato Topping for Best Bruschetta
Start by seeding and chopping the tomatoes quite small.  I find the smaller pieces stay in place better and are easier to eat politely.  Nothing worse than a big piece of tomato falling off your bread and landing on your clean shirt. There's no need to peel the tomatoes.
Here's the trick I learned from my brother. Put the chopped tomatoes in a strainer and leave them to sit so the liquid drains out. Watery tomatoes make soggy bread. He suggested over night but then you'd have to refrigerate the tomatoes and they will lose their flavour so I'd recommend just a few hours on the counter top. Then you have time to prepare the baguette slices.
Cut a baguette into diagonal slices. This is a good way to use up some bread if it's a bit stale, just not too stale. Diagonal slices give you a bit more surface space for your tomato mixture. They looks better too! Ciabatta isn't the best choice because it has holes big enough for the tomato mixture to fall through.
Heat a grill pan on the stove top or use the barbecue to grill the bread. Brush each slice with olive oil, grill, turn and grill the other side. You don't want them too hard, just lightly toasted with some char marks. The char marks aren't just for show, they add a nice toasty flavour to the bread.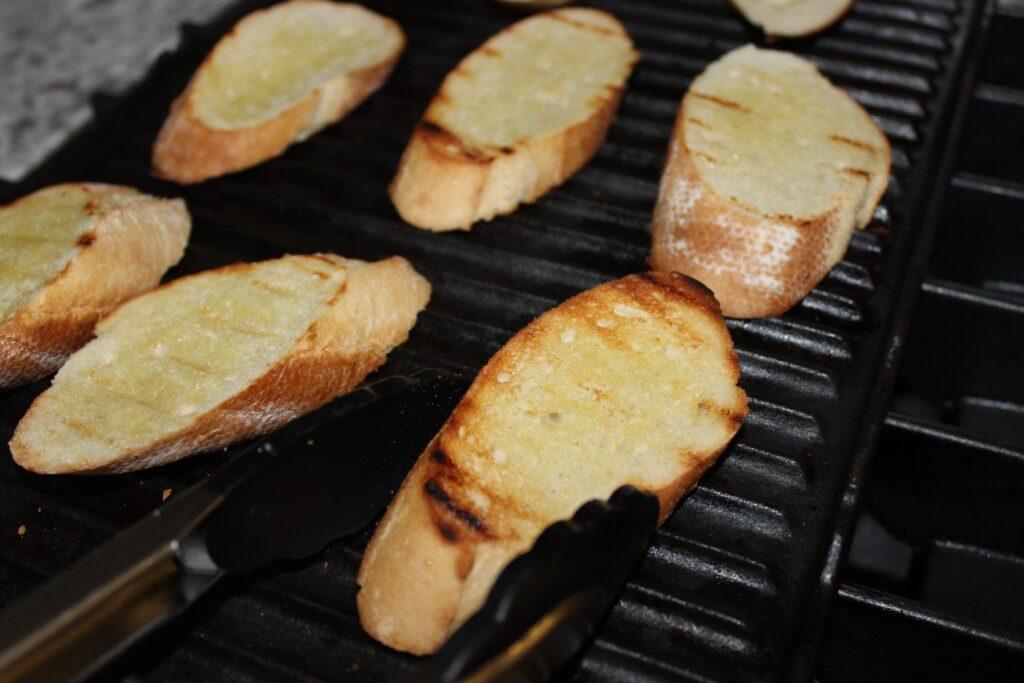 You can also use a sheet pan under the broiler but you need to watch it carefully so they don't burn. I've learned from experience.
Here's the fun part.  Peel a clove of garlic and rub each baguette slice while hot enough to handle with the clove.  Sort of like colouring.  Give them a good rub!  The garlic literally melts onto the bread, giving it a nice even garlic flavour. Pro tip – use a little fork to stab the garlic, then you won't burn your hands on the hot bread. I don't put any garlic in the tomato mixture, the rubbed garlic is enough.
Now drizzle extra virgin olive oil over the strained tomato mixture and add a touch of balsamic vinegar, maybe 1/2 teaspoon, just to balance the acidity of the tomatoes. Add dried oregano and season well with salt and pepper.
Stack and roll the basil leaves like a cigar and slice them into thin ribbons. This is called "chiffonade." Add the basil to the tomato mixture. You don't want to add the fresh basil until right before topping and serving.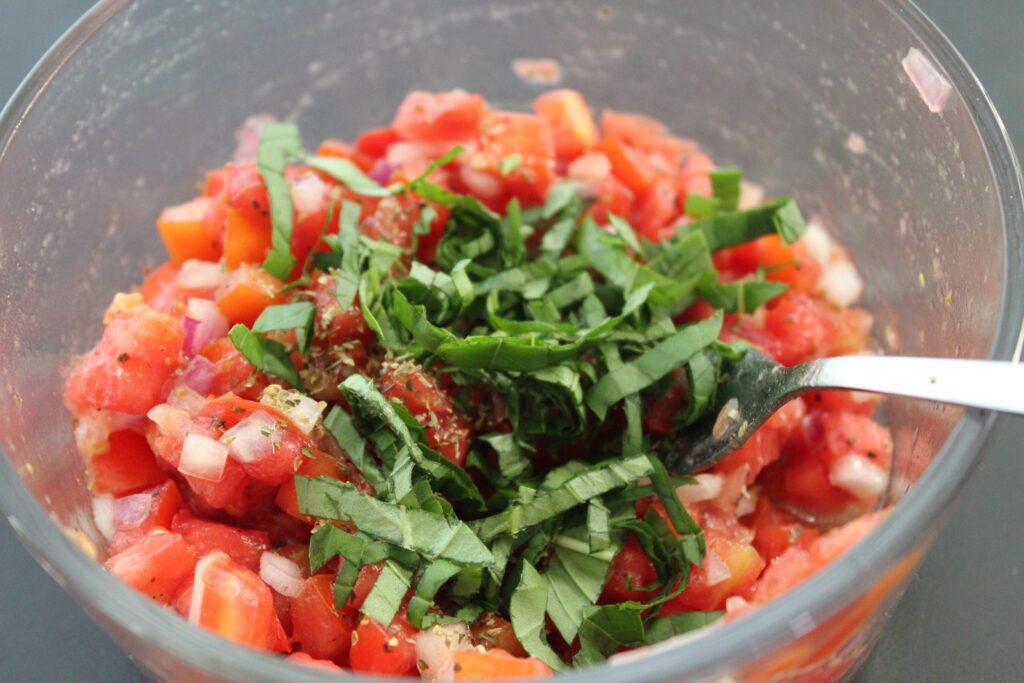 Top each slice with a spoonful of tomato mixture, using the back of the spoon to press down to ensure the topping stays on the bread.
Finish with some grated parmesan. Lay the Bruschetta slices on a baking sheet or back on the grill pan and heat under the broiler, just for a minute or two, just long enough to warm it up if the bread has cooled a bit and to let the cheese melt.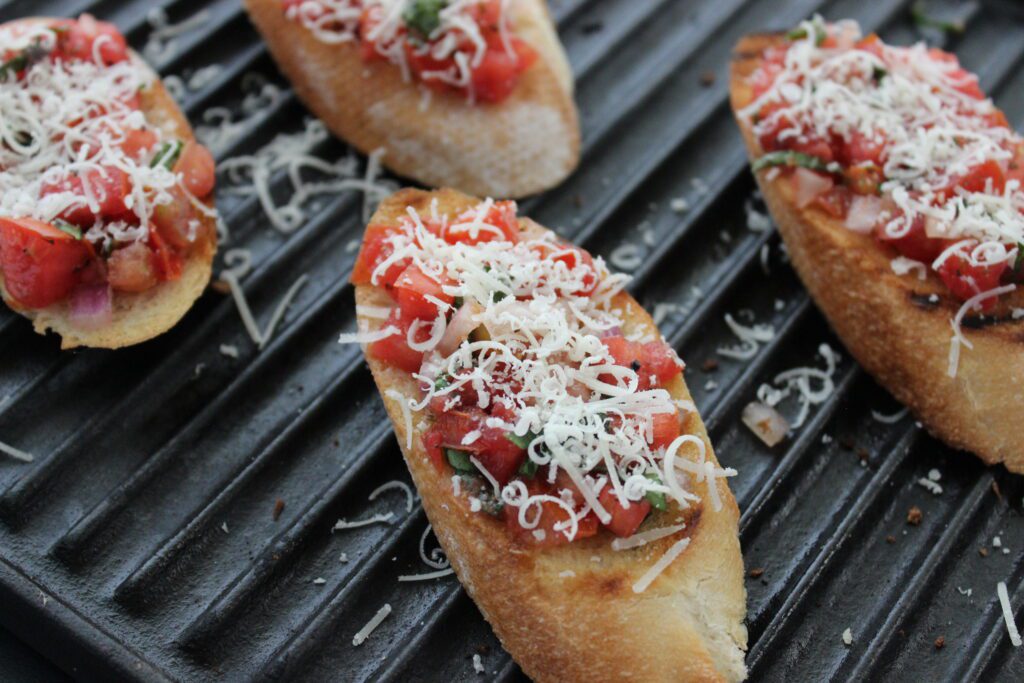 Did you know, traditional bruschetta doesn't have cheese?  But I like the hint of saltiness it adds. I only use real parmesan, from Italy.  Watch out for the fake stuff.
Your guests are going to love Bruschetta!
Here's the recipe:
Bruschetta
Toasted baguette slices topped with tomatoes and fresh basil
Ingredients
1

baguette

2-3

Tbsp

extra virgin olive oil

1

clove

garlic

freshly grated Parmesan
Toppping
5-6

medium sized tomatoes, seeded and chopped

1/4

cup

very finely diced red onion

1

Tbsp

extra virgin olive oil

1/2

tsp

balsamic vinegar

10-15

leaves fresh basil, minced

1

tsp

dried oregano

salt and pepper to taste
Instructions
Chop tomatoes and allow to rest in strainer to drain.

Dice onion into very small pieces. Add to tomato mixture along with olive oil, balsamic, basil, oregano, salt and pepper.

Slice baguette diagonally into about 16 slices. Brush with olive oil and place oil side down on preheated grill. Grill until lightly toasted, then brush tops with oil, turn and grill other side.

While still warm, rub a clove of garlic over the top of each baguette slice.

Top each slice with tomato mixture and grated Parmesan. Broil for a few minutes until warm and cheese is slightly melted.
Print Recipe
you'll also love…