When the late summer harvest is starting to pile up around you, Eggplant Antipasto is a delicious topping for bread or crackers that features local produce and can be preserved so it lasts all winter. This recipe is a winner, even to those who think they don't like eggplant.
What is Antipasto?
Antipasto translates to "before the meal" and has many different interpretations. It can consist of a platter of various cured meats, cheeses and preserved vegetables, or in this case, a thick chunky combination of vegetables baked with tomato and herbs. This is a great addition to a charcuterie board along with some baguette slices or crispy crackers. I found the recipe for Eggplant Antipasto on All Recipes and I knew it was just what I wanted so I simply tweaked it to incorporate what I had in the garden and of course I made a larger quantity because I love sharing my harvest.
Jump to Recipe
Just like a traditional Antipasto platter, Eggplant Antipasto can be customized to your liking by increasing or decreasing some of the vegetables while keeping the ratio the same. Meaning, for example, if you don't want to have olives in the mixture, just increase the amount of one of the other items. But I can assure you, the olives really work in this. As do all of the other ingredients.
Do you need to peel eggplants?
Like all great recipes, start with fresh ingredients. If your eggplant has perfect outer skin, don't peel it. But if it's got brown spots or marks, go ahead and peel that part off. The peel adds some nutritional value and colour. The larger older ones do tend to have skin that's a bit tough and bitter so if you're worried about that, peel away.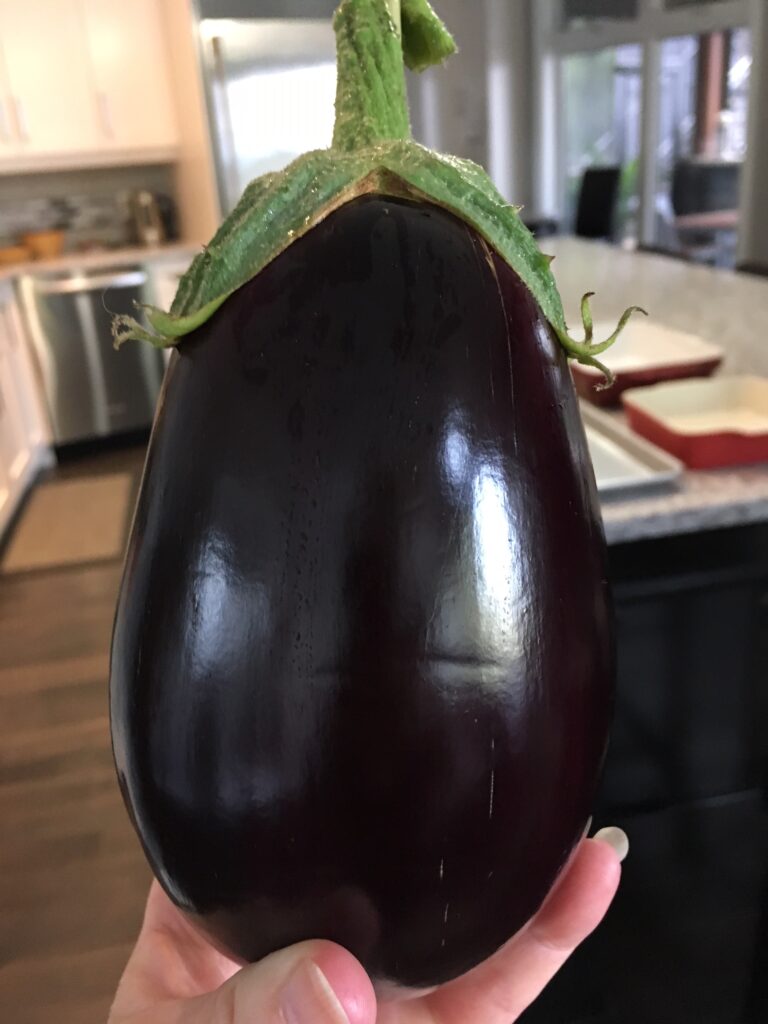 The peppers can be green, red or any combination of sweet peppers. And use any type of olives you like, or even better, a combination of black, green, Kalamata, stuffed, not stuffed – it's up to you. Obviously not the kind with pits. I even use garlic stuffed olives if I have any. They work well because there's already garlic in the Eggplant Antipasto so you're complementing the mixture.
Make sure you chop the vegetables into fairly small pieces and try to maintain a uniform size so there aren't huge chunks falling off your bread or cracker. You don't want to waste a single mouthful.
Giving the veggies a sauté before baking helps amp up the flavour. Then roasting brings all the flavours together for a cohesive blend without any one ingredient standing out. Mr. H politely tolerates my Eggplant Parmesan and Moussaka but he tells me that Eggplant Antipasto is the best eggplant he's ever eaten.
Eggplant Antipasto makes a great hostess gift. If you're gifting it right away, store it in clean jars in the fridge and suggest that it be eaten within a few weeks.
Otherwise, you can preserve the jars using a home canning method of boiling the sealed jars completely immersed for between 15 and 25 minutes depending on the size of the jars.
Here's the recipe:
Eggplant Antipasto
A delicious addition to a charcuterie board or topping for bread or crackers
Ingredients
2

eggplants

medium to large size

1

onion

1

shallot

or more onion

4

garlic cloves

1

large sweet pepper, any colour

or 2 small

2

cups

chopped mushrooms

4-5 large

½

cup

extra virgin olive oil

pinch salt

1

cup

sliced olives

variety of types recommended

¼

cup

red wine vinegar

or regular

¼

cup

water

1

Tbsp

white sugar

2

cans tomato paste, 156 ml each

2 cans 6 oz in US

½

tsp

dried basil

¾

tsp

dried oregano

fresh cracked black pepper
Instructions
In heavy dutch oven, sauté chopped eggplant, onion, shallots (if using), garlic, peppers and mushrooms in olive oil with a pinch of salt over medium heat.

When vegetables are softening and onions are golden, transfer pot to preheated oven and bake about 15 minutes.

Slice olives and prepare remaining ingredients.

Add olives, vinegar, water, sugar, tomato paste, basil, oregano and pepper to pot. Stir to combine.

Return to oven and bake 30-40 minutes until slightly thickened and darkened.

Refrigerate over night before serving.

Can be processed for longer storage. Using safe food canning method, use clean sterilized jars and new lids and process jars according to size, between 15 and 25 minutes.
Print Recipe
more appies you will love