There are a variety of fish species in Lake Erie and Pike is one of our favourites. They're best caught in very cold water and around here they can be pretty big. You can use any type of fish that is thick and dense enough to stand up to the blackening process without falling apart. Best not to use a delicate flaky fish for this one.
We had our friends Gar and Sue over for dinner last night.  They spend a lot of time in Mexico so their opinion on this recipe was important to me.  Although fish tacos aren't actually Mexican (they're popular in California), I was hoping for authentic flavours.  These earned their seal of approval.
I keep a container of blackening seasoning in my pantry.  I use a plastic take out container which is the perfect size to use if you want to press the fish right in the seasoning mix. For this recipe I just sprinkle it on the fish so it's not too strong.  I've revised the seasoning amounts until it seemed to be a good blend of flavour and heat.
 I keep the recipe taped to the lid.
Now everyone has a different idea of the perfect fish taco.  Fried or grilled fish?  Toppings?  Salsa?  Pico?  Cheese?  Corn or flour tortilla?  Well, if you ask me, all versions are pretty good.  I like a balance of heat (temperature and spice), cold, crunchy, zesty and creamy.  You can get carried away with toppings and if you pile them too high you can't actually eat the taco with your hands.  The blackened fish adds lots of flavour making it a little more healthy than using deep fried fish.  So you can eat more of them!
The key to perfect blackening is to have your pan as hot as possible.  I got this skillet with my oven.  The other side is great for grilling the bread for Bruschetta.  https://oldcutkitchen.com/2017/08/21/bruschetta/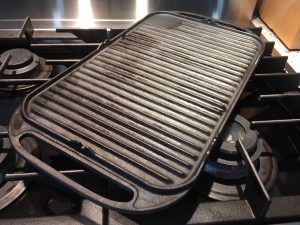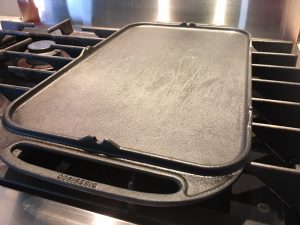 Cast iron pans work great too!
The other important thing about blackening fish (or any meat for that matter) is NOT HAVING THE FIRE DEPARTMENT VISIT YOU.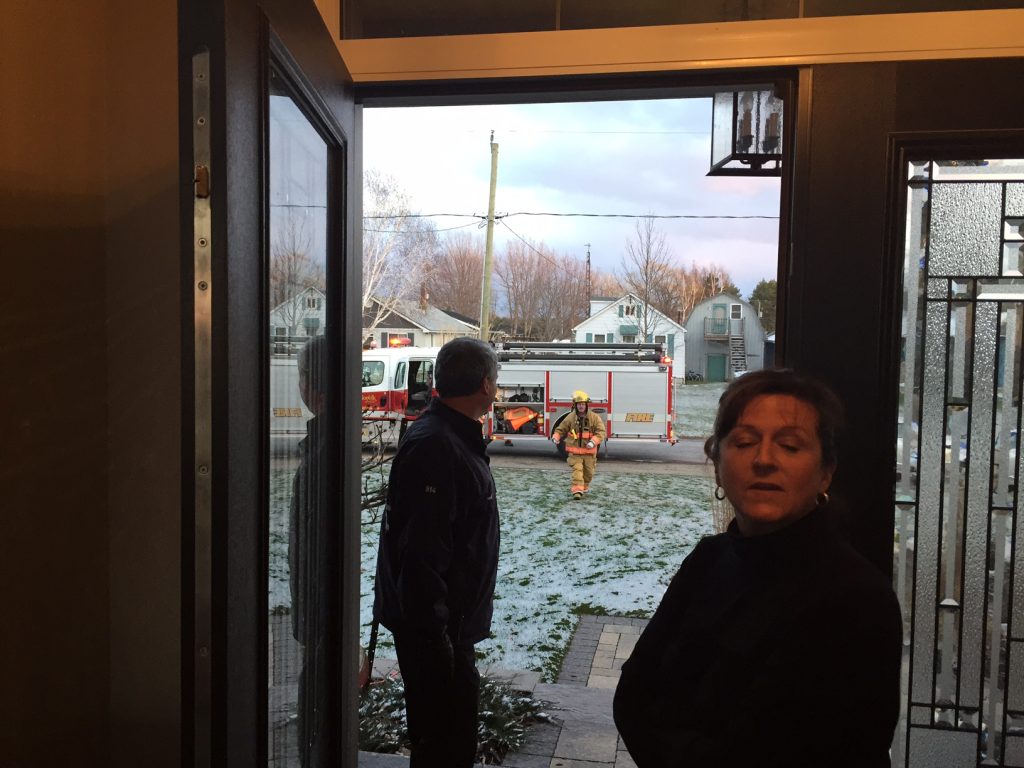 Yup.  It happened!
You need to get the pan very very hot.  Smoking hot.  So if your smoke alarm is set up to send alerts to the fire department, well…you should do this in your barbeque.  Even when it's cold outside.  Lesson learned!
Fortunately our friend Gord is on the local fire department so instead of a bill, I received a gift.
Thanks Gord and Rose!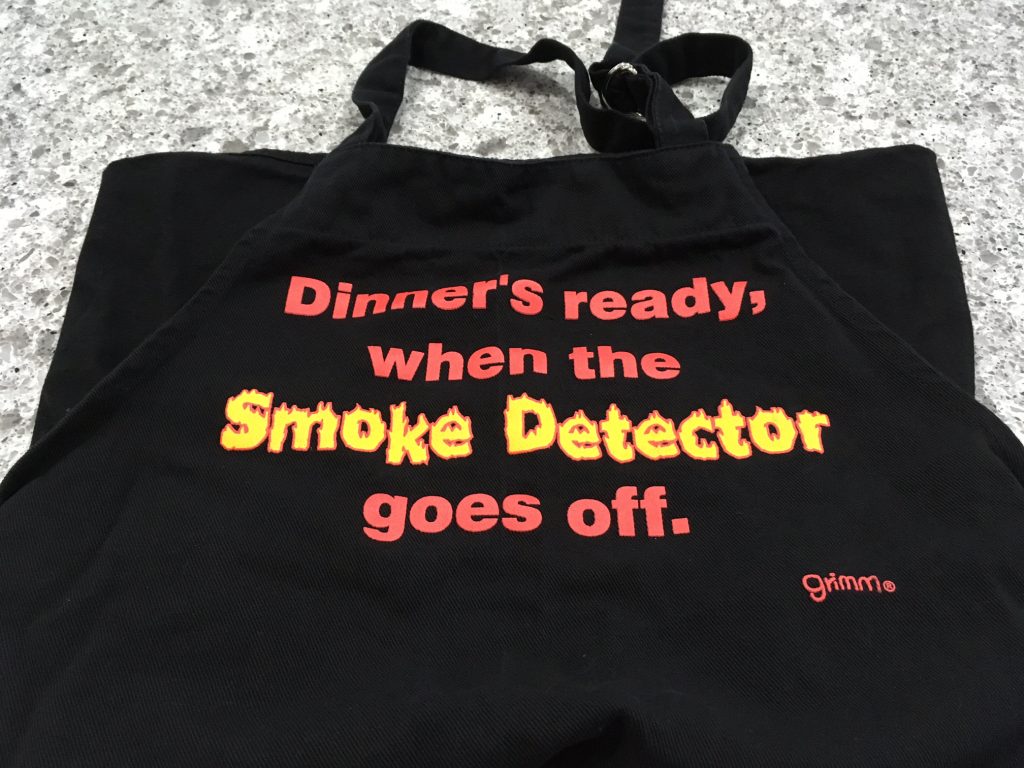 Anyway, moving on…..
Once the pan is very hot, add a big lump of butter and it will immediately brown and smoke.  Put the fish pieces quickly in the pan and turn them once they are very brown on one side.  They don't take long to cook.  Depending on how thick they are this could be anywhere from 1-3 minutes on each side.  You want the fish to get a nice crust.  If you are doing the fish in batches, heat the oven and put the cooked pieces on a baking sheet.  Reheat the pan, add more butter if necessary and cook second batch.
This is what they look like when they are done.
The combination of seasoning and heat create the blackened exterior.  These aren't too black.
Fish are delicate and shouldn't be over cooked.  You don't want the pieces to be too large.  1-2 inches by 3-4 inches is perfect.
You make the sauce and the slaw in advance so once the fish is ready, just assemble and eat!  I used green cabbage this time because that was in my CSA share, however red cabbage adds a beautiful colour to the presentation.
I like to have small dishes of different toppings so you can customize your taco to your preference.
This time I had some fresh sliced cucumber, green onion, carrot, onion and cabbage slaw, jalapeno and a cream sauce.  And fresh cilantro!  Most important to me, least important to Mr. H who is one of those people to whom cilantro tastes like soap.
Right before serving you can slightly grill your tortillas over a gas burner or on the bbq.  This warms them up so they are easier to wrap and it gives them a little charred look and flavour.
Here's the recipe:
Blackened Pike Tacos
Ingredients
Sauce
1/4 C mayonnaise (real mayo not the sweetened kind)
1/4 C full fat sour cream
1/2 lime, juiced
1 tsp capers, finely minced
1 tsp chopped fresh dill
1/2 tsp  ground cumin
pinch of cayenne pepper to taste
salt and pepper
Blackening Seasoning
4 T paprika
2 tsp salt
1 tsp each of smoked paprika, onion powder, garlic powder, black pepper
1/2 tsp each of cayenne pepper, white pepper, thyme and oregano
Slaw
1 carrot, grated or finely julienned
1/4 cabbage finely sliced
1/4 finely sliced red onion
juice of 1/2 lime
1 T vinegar
1/2 tsp celery seed
pinch of salt
1/4 – 1/2 lb per person pike, cleaned and checked for bones
1/4 lb butter
1 package small or medium sized flour or corn tortillas
Thinly sliced cucumber, green onion and jalapeno
Fresh cilantro
Method
Mix all ingredients for blackening seasoning and keep in covered container.  You will have lots left for another time.
Make sauce by blending together all ingredients and chilling for at least an hour.  If you have a mortar and pestle you get the best flavor by lightly toasting cumin seeds then crushing them.  Otherwise the pre ground cumin is fine.
Combine slaw ingredients and let sit for at least an hour.
Heat a cast iron pan or flat grill on the stove top with exhaust fan running or on barbeque grill.  When pan is very hot, add butter and swirl around pan.  Add fish pieces and grill until deep colour on each side and fish is flaky inside.
Slightly grill each tortilla on the hot bbq or stove top if desired.  Top with a few pieces of fish and toppings to taste.