Halloumi is a semi soft briny cheese with such a high melting point that you can literally grill it and it doesn't melt. It's a perfect protein to combine with vegetables for a meatless meal. Make Grilled Halloumi and Asparagus Salad using fresh local seasonal vegetables of your choice.
What is Halloumi?
Halloumi is said to have originated from Cyprus. It's traditionally made from goat's and sheep's milk, so it may contain less lactose than other cheeses. Check the label though because now that it's more readily available, it may be made with some cow's milk which is cheaper and more plentiful. The best part about eating halloumi is that it squeaks when you bite it. So it's kind of like a giant salty cheese curd. It's usually sold in a package with brine and you may see bits of mint in there which is from a practice of storing the cheese wrapped in mint leaves to keep it fresh.
Combining halloumi with grilled vegetables and mediterranean flavours is a perfect combination. This super healthy salad can be whipped up in no time at all. It's so easy to make Grilled Halloumi and Asparagus Salad because you can grill the vegetables and cheese all at once, then simply top a plate of greens and finish with a dressing. I know I use the word "versatile" a lot but you can use any veggies you like in this salad. I love grilled asparagus in this salad but if it's later in the summer you can add green beans, summer squash, or really anything that won't fall through the grates in your barbecue. Use your imagination.
Jump to Recipe
Dress the vegetables with some olive oil and red wine vinegar before grilling them. You can leave them in the mixture just like a marinade while you prep your greens for the salad and make the dressing. Not only does the marinade enhance the flavour of the grilled veggies, it also dresses the salad somewhat so you don't need to add much more dressing.
Slice the halloumi into pieces between 1/4 and 1/2 inch thick. You can slice them from the end of the block into squares or the side into rectangles. The cheese may split on you which isn't a deal breaker. You'll just have smaller pieces to top the salad. Brush with a little extra virgin olive oil to help with those nice grill marks.
How to grill vegetables
The halloumi and vegetables all take relatively the same amount of time to grill. Spread everything out carefully and arrange them in the direction that they're least likely to fall through the grates. Roll the asparagus around and turn the other veggies and cheese. Once you've got nice grill marks and the veggies are softening but not mushy, take them off. The nice thing about grilling veggies is you can put them back on the same plate with the marinade. You can't do that with meat.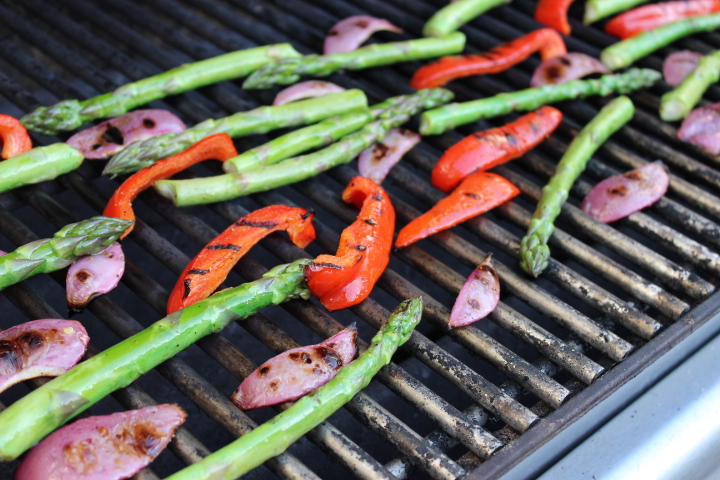 Plate your salad by arranging a large portion of lettuce on a big plate. Mixed spring greens are nice or maybe you prefer a more crunchy lettuce like romaine. Then top the salad with equal portions of grilled vegetables and halloumi. This recipe is enough for 2 dinner sized salads. You can easily double the recipe and make more servings or, make smaller salads as a fantastic appetizer.
The dressing for Grilled Halloumi and Asparagus Salad is a simple mixture of oil, red wine vinegar, lemon juice, dijon and dried oregano. It's very similar to a Greek dressing without feta. I like to make dressings in small glass jars and shake them really well. To freshen up the finished salad, top with some fresh chopped parsley. Fresh oregano is awesome on this salad too.
I love capers on this salad. Mr. H does not. So adding them at the end is optional but if you like the salty briny taste of capers like I do, trust me, you'll love them on Grilled Halloumi and Asparagus Salad.
Here's the recipe:
Grilled Halloumi and Asparagus Salad
A super healthy salad topped with grilled halloumi cheese, asparagus and vegetables
Ingredients
½-¾

lb

asparagus spears, about 8-10 per person

woody ends snapped off

1

sweet red pepper

½

red onion

2

Tbsp

extra virgin olive oil

1

Tbsp

red wine vinegar

salt and pepper

1

200 g

package Halloumi cheese

6

C

mixed spring greens or torn romaine lettuce

fresh chopped parsley

fresh oregano leaves

optional

1

Tbsp

capers

optional
Dressing
¼

C

extra virgin olive oil

1

Tbsp

red wine vinegar

1

Tbsp

lemon juice

1

tsp

Dijon mustard

½

tsp

dried oregano

salt and pepper to taste
Instructions
Slice red pepper into thick strips. Cut onion into wedges and break apart. Snap woody ends off asparagus.

Add olive oil, red wine vinegar and salt and pepper to vegetables and toss to marinate.

Drain brine from halloumi and slice into 4 or 6 pieces. Brush some of vegetable marinade over pieces of cheese.

Combine dressing ingredients in a jar and shake well.

Rinse lettuce and dry well. Arrange evenly on 2 plates. Chop parsley and tear leaves from oregano.

Heat grill to medium-high. Arrange vegetables and halloumi crosswise on barbecue grates and grill for approx 3 minutes per side.

Top salad greens with warm grilled vegetables and halloumi. Top with parsley, oregano leaves and capers if using. Drizzle dressing over top generously.
Notes
You will likely have more dressing than you need for 2 salads. This dressing will keep in the refrigerator for a few weeks.
Print Recipe
If you've tried this recipe, consider leaving a comment or a rating. You can share the post on social media by clicking on the icons below.
click HERE for a free downloadable collection of asparagus recipes
more dinner sized salads
Spicy Thai Grapefruit Salad with Shrimp