The tart flavour of rhubarb and cranberries with fresh lemon are a perfect match for the sweet crumbly streusel topping on these muffins. They're not too sweet and even include a few healthier elements. You can make them when rhubarb is in season or any time from frozen rhubarb.
Remember when we all thought muffins were healthy? When I was pregnant, I went for my check up and the doc was horrified with my blood sugar level. Doc: "What did you have for breakfast?" Me: "A raspberry bran muffin." He said I may as well have eaten an entire box of Frosted Flakes. Most muffins are basically little cakes but these Rhubarb Cranberry Streusel Muffins have just enough good stuff to satisfy your sweet tooth and maybe even the doctor.
Jump to Recipe
Rhubarb gets very soft, even mushy when cooked. And since cranberries do the same thing I decided that dried cranberries would work better in these muffins. They're sold in resealable plastic and are called "Craisins." You know, it's a Portmanteau of cranberry and raisin. You're welcome for the English lesson. By adding them to the rhubarb mixture along with some sugar, lemon juice and zest, they get a chance to absorb some of the liquid and plump up a bit. To get the most juice from a lemon make sure it's room temperature and roll it around on the counter with some pressure before juicing.
Sometimes rhubarb stalks get really thick which is ok for Rhubarb Custard Pie but you want smaller pieces for muffins so you can cut those ones lengthwise in half then chop them into pieces. The difference in colour from green to red doesn't have anything to do with flavour or sweetness, it's all the same. But for presentation, it's nice to include at least some of the red or pink parts.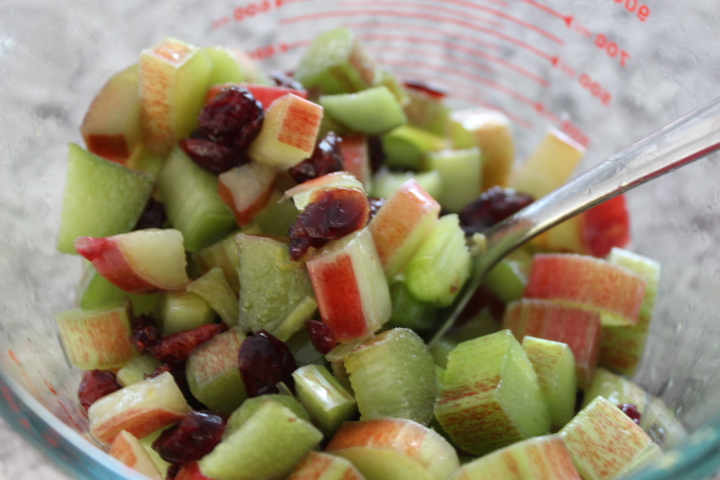 So what gives these Rhubarb Cranberry Streusel Muffins a healthy edge?
Substituting whole wheat flour
Some of the flour is whole wheat so you've got some extra fibre. Don't try to sub all whole wheat for all purpose because you'll have a dry brick instead of a moist muffin. Even half and half is too much. I found that out in my first batch. According to Food Network Canada, a ratio of 2/3 regular flour to 1/3 whole wheat flour is about right. And you need more liquid in a recipe because whole wheat flour is like a sponge. That's why there's juice from a whole lemon mixed with the fruit for these muffins.
Reducing fat in baking
There are a few ingredients that are decent substitutes for butter in baking. In Rhubarb Cranberry Streusel Muffins, yogurt is used to replace some of the butter which works great with whole wheat flour because yogurt has more moisture than butter. It also works with the baking soda because it has the right acidity level. But butter is important for flavour and moisture so it's best to keep some in this recipe.
Reducing sugar in baking
You would think that reducing sugar would be a no brainer, just use less right? Wrong. Baking is chemistry and sugar affects not just the sweetness but also the texture, the flavour and even the browning. So, this recipe has a little less sugar than some muffins without sacrificing the quality and flavour.
When making any muffins, it's important to have all your ingredients ready to go and the oven preheated. Batter doesn't like to sit around waiting to be baked and it also doesn't like to be over mixed so don't over do it. Make sure the fruit mixture has had about 30 minutes to incorporate the sugar and liquid. And sift your dry ingredients together so they're ready to go.
Your butter needs to be at room temperature to cream with the sugar. In most cases I like to use a stand mixer but for Rhubarb Cranberry Streusel Muffins, use a hand mixer because there isn't enough butter for the stand mixer to reach it in the bottom of the bowl. Once the yogurt, sugar, eggs and vanilla are added, put the mixer away and add the dry ingredients and fruit mixture half and half, stirring between, just until everything is incorporated.
If you're missing that extra sweet kick, the streusel topping will make up for it. Streusel is basically a mixture of flour, butter and sugar. Some streusel mixtures contain oatmeal but I prefer not to use it. I've added a hint of cinnamon which goes nicely with the fruit mixture. My first version included some ground pecans but they were lost in the mixture. I love the taste of pecans but couldn't taste them at all in the streusel so why waste perfectly good pecans? You can leave the topping out all together if you want, especially if you're watching your sugar intake but there really isn't a lot added to each muffin and it not only adds a sweet component but also a crumbly texture.
The batter is really stiff so an ice cream scoop works well to fill the muffin cups. The downside is the rounded tops make adding the streusel topping a bit of a challenge. Use your hands and gently press it in if it's rolling down the sides. But don't press down the muffin batter. I use melted butter in my streusel mixture, basically because it's much quicker to mix up and also because muffins don't bake long enough to cause the topping to melt and spread out which could happen in a longer baking situation like a coffee cake. You can use whole wheat flour in the topping mixture but remember it soaks up extra liquid so you'd have to increase the amount of butter, so you're counteracting your effort to make them healthier.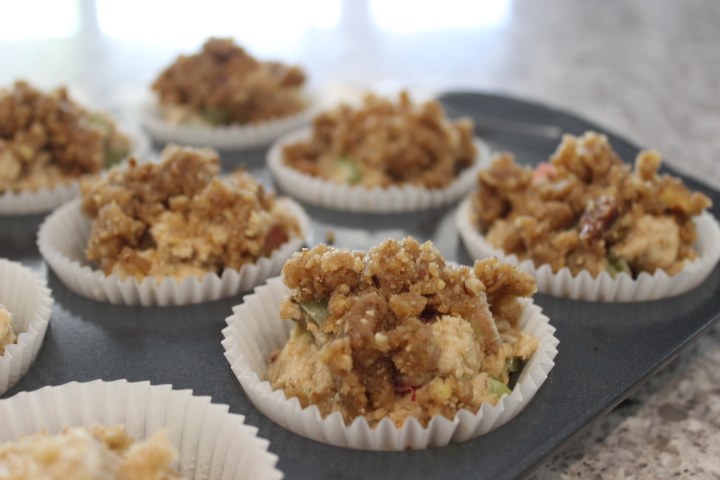 Bake the muffins on the centre rack for about 25 minutes. If you have a convection bake setting, use that for the last 5 minutes to help brown the streusel topping. It typically doesn't get as brown as, say, apple crisp but you don't want to bake the muffins too long, so it's a balance. I don't recommend using convection bake setting for the entire time because it actually interferes with the rising of the muffins.
As tempting as it is to eat Rhubarb Cranberry Streusel Muffins as soon as they come out of the oven, it's best to let them cool at least half an hour, otherwise they'll fall apart. Leaving them on a ledge outdoors will help but you risk a neighbour sneaking over and taking some.
Here's the recipe:
Rhubarb Cranberry Streusel Muffins
I slightly tart muffin with rhubarb, dried cranberries and lemon with a sweet streusel topping
Ingredients
1 ½

C

all purpose flour

1

C

whole wheat flour

1

tsp

baking powder

½

tsp

baking soda

1

tsp

salt

2 ½

C

chopped fresh rhubarb

if using frozen, ensure it is defrosted

½

C

dried cranberries

"craisins"

1

lemon juiced and zested

add orange juice if not enough juice from lemon, you need about ¼ cup

2

Tbsp

white sugar

⅓

C

unsalted butter

⅓

C

white sugar

½

C

lightly packed brown sugar

⅓

C

plain yogurt

1

large egg

2

tsp

vanilla
Streusel Topping
½

C

all purpose flour

⅓

C

lightly packed brown sugar

¼

C

melted butter

½

tsp

cinnamon

pinch of salt
Instructions
Remove butter and lemon from fridge to ensure they are room temperature.

Rinse and chop rhubarb into small pieces. If stalks are thick, slice lengthwise first. Add cranberries and 2 T sugar.

Roll lemon on counter to maximize amount of juice. Squeeze as much juice as possible. Top up with orange juice if necessary to have ¼ cup of juice. Zest lemon skin, being careful not to zest into the white part which is bitter. Add lemon juice and zest to rhubarb mixture and allow to stand for at least 30 minutes.

Make streusel topping by melting butter, then stirring in the rest of the ingredients. Preheat oven to 350° and ensure rack is set at centre of the oven.

Sift together both types of flour, baking soda, baking powder and salt.

Using hand mixer, cream butter. Add brown and white sugar. Mixture will be crumbly. Add yogurt, egg and vanilla and mix on medium speed. Add half of flour mixture and stir with spoon. Add half of rhubarb and mix gently. Add other half of each mixture, stirring gently just until combined. Batter will be very stiff.

Scoop batter into paper lined or greased muffin tins. Sprinkle streusel topping evenly over muffins.

Bake for 25 minutes until a toothpick inserted comes out clean. If desired, set oven to convection bake for last 5 minutes to help brown the muffin tops.

Cool at least 30 minutes.
Print Recipe
If you've tried this recipe, consider leaving a comment or a rating. You can share the post on social media by clicking on the icons below.
more recipes you might like
Double Chocolate Zucchini Muffins