This recipe for Potato Bread was featured in the 2007 edition of Food and Drink Magazine. It's made with mashed potatoes, grated raw potatoes and loads of roasted garlic. Because this rustic loaf doesn't have any yeast, it has a denser texture similar to a scone. But don't be fooled by its simplicity. It's hearty and delicious.
Since there's no yeast in this recipe you'll have freshly baked bread in about an hour. Because there's no waiting for the dough to rise. Potato Bread is a good recipe to make if you're a novice bread baker. Or if you like bread. Or lots of roasted garlic. It's a great accompaniment to Corned Beef and Cabbage,  Roasted Garlic and Asparagus Soup or Potato Leek Soup.
Jump to Recipe
You may be surprised at the amount of garlic in this recipe. Yes, a quarter cup. It sounds like a lot but roasting garlic changes the pungency and you end up with creamy sweet buttery mild garlic flavour. That being said, it has two full heads of garlic so you'll know it's in there.
How to make Roasted Garlic
Roasting garlic is pretty simple. Peel off any of the loose papery skin from the heads of garlic. Try to find large heads with larger cloves for best results. Then, slice off the top to expose all or most of the garlic cloves without taking off too much. Drizzle some good olive oil over top and scrunch them up inside tin foil. Bake in the oven for about 30-40 minutes. They're ready when the cloves are soft and golden but not too brown.
When they're cool enough to handle, hold the head of garlic at the bottom and squeeze the cloves right out of the sections. Slice open any sections that weren't exposed to get every bit of garlic out of there. If you have any extra, roasted garlic is wonderful spread on a cracker or added to mashed potatoes.
How to make Potato Bread
Start by grating the raw potatoes. To get 3 cups you'll want to use 2 fairly large russet potatoes. You want a starchy baking potato for this bread. If you peel most of the potato and leave one end with some peel, it's easier to hold them while grating. Otherwise they're slippery. And, since 2 potatoes will give you a little more than you need, you don't have to worry about grating right down to the end. This little tip helps avoid grating your knuckles, which I've done many times.
Add some salt to the grated potatoes after measuring to help draw out some moisture. Leave them to drain for 30 minutes in a strainer. They may start to get a little pinkish brown in colour but that's ok. After half an hour squeeze the mixture to get any extra moisture that hasn't drained.
Boil and mash the other potatoes without adding any milk or butter. A medium sized potato will generally give you about a half cup of mashed so it's a good idea to cook 4, just to make sure you have enough. For the mashed potatoes in this recipe you can use more russets or any other type of potato. Add the roasted garlic and some salt and pepper to combine.
Use a large bowl to mix up the potatoes with the flour, baking powder, milk and melted butter. Add some dried rosemary which goes really well with the other flavours. The dough is pretty shaggy and hard to mix but once it starts coming together, dump it onto a floured surface and knead by hand until it holds together. Knead about 5 minutes. It's not a smooth dough like yeast bread. You can also use a stand mixer with a dough hook to make the Potato Bread.
Divide the dough into 4 equal sized pieces and roll each one into a circle about 6 inches across. Try for a shape that's not quite a ball but not a flat disk. Somewhere in between. Arrange them on a baking sheet with butter or parchment paper. Brush the loaves with beaten egg.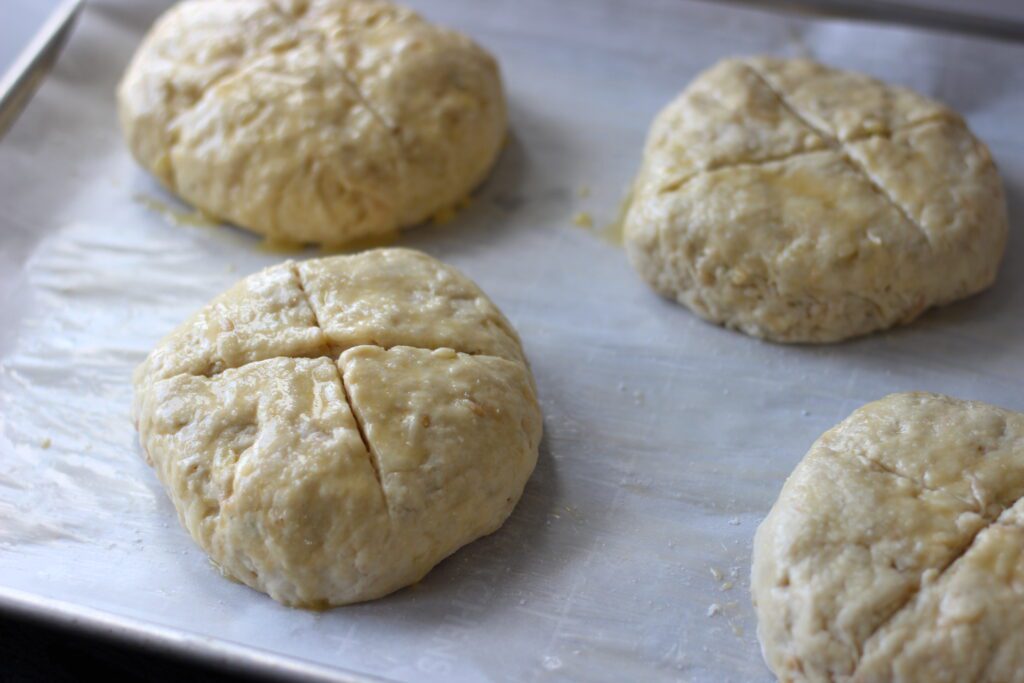 Using a sharp knife, cut a cross in the top of each loaf. Sprinkle some course salt over top. Bake them on the middle rack for 40 minutes until they're lightly browned. Remove them from the hot pan and let the loaves cool on a rack before slicing.
Here's the recipe:
Potato Bread
A rustic yeast free bread recipe with loads of roasted garlic with a scone like texture.
Ingredients
1

lb

russet or other starchy potato

about 2 large potatoes, 3 cups shredded

1

tsp

salt

kosher is best

1 ½

cups

mashed potatoes

3-4 medium potatoes

¼

cup

roasted garlic

about 2 medium heads

1

tsp

each, freshly ground pepper and salt

3 ½

cups

all purpose flour

2

Tbsp

baking powder

½

cup

milk

¼

cup

melted butter

1

tsp

dried rosemary

or savoury

1

egg, beaten

for brushing on top

extra kosher salt for top

or Maldon
Instructions
Peel potatoes leaving some peel on the end for easier handling. Grate peeled part of potato. Measure out 3 cups and sprinkle with salt. Leave shredded potato in a strainer for 30 minutes to allow liquid to drain. Before adding to bread mixture, squeeze out any extra moisture.

Cook other potatoes until fork tender. Mash well without adding any milk, butter or salt.

Slice top of heads of garlic to expose most of the cloves. Drizzle with olive oil then scrunch up into foil package. Bake at 350° for 30-40 minutes until cloves are very soft and golden. When cool enough to handle, squeeze cloves out of skin and measure out ¼ cup.

In a large bowl or stand mixer, add shredded potatoes, mashed potatoes, garlic, salt and pepper, flour, baking powder, milk, melted butter and rosemary.

Preheat oven to 350° and ensure rack is set in middle of oven.

Knead with a dough hook in stand mixer or on floured surface by hand until dough comes together, about 5 minutes. Add extra flour if necessary if dough is sticking to surface or stand mixer bowl.

Divide dough evenly into 4 parts. On a lightly floured surface, roll each part into a circle and slightly flatten to somewhere between a ball and a disk, about 6 inches in diameter.

Place shaped dough onto a buttered baking sheet or parchment covered sheet and brush generously with beaten egg. Using a sharp knife, cut a cross into the top of each disk and sprinkle with extra kosher or Maldon salt.

Bake for 40 minutes on the centre rack of the oven until cooked through and lightly browned. Cool on a rack before slicing.
Print Recipe
more easy bread recipes
If you've tried this recipe, consider leaving a comment or a rating. Or, you can share the post by clicking on the icons below.