My friend shared the recipe for New York Times No Knead Bread with me about 10 years ago. It originated from an article in the New York Times by Mark Bittman. The hardest part about making this easy no knead bread is waiting to eat it. It's literally that easy.
You mix up the ingredients then let it rise slowly for 12 to 20 hours. That's quite a stretch. It uses very little yeast so it takes a long long time. If you search for this recipe you'll find some variations in ingredient amounts, rising time and cooking time. In fact, the version of the recipe I have differs from the one on Mark's website. I think it's a very forgiving recipe so don't stress over this one. You don't even "knead" to proof the yeast! Get it? Knead? Sorry, I couldn't help myself.
Jump to Recipe
I just bought a new bag of flour and when I went to open it, a warning was printed on the top: Do Not Eat Raw Flour. Really? Because I was just about to pour myself a bowl. But seriously, this is a really simple homemade bread recipe.  A few people have mentioned that they love homemade bread but probably wouldn't make it. However, this one is different. You don't need any special equipment or baking skills. So go out and buy some yeast and get ready to make New York Times No Knead Bread.
So what's the difference between letting it rise 12 or 20 hours? Well, from what I've found, not much. It's mostly about the interior with a longer rising time giving slightly larger holes. It really comes down to when you want to bake the bread. The long range allows you to make it at night or the morning, bake it later in the day or earlier in the day. So I've done some of the homework for you. You're welcome.
How to make New York Times No Knead Bread
Start by mixing the flour, salt and yeast in a bowl. My recipe calls for 2 tsp of salt. Bread does need salt for flavour, however I found some versions of this recipe with less. Feel free to reduce but you do need a minimum of 1 tsp. You can use more if you use kosher salt but if you have table salt, 1 tsp is probably enough.
Pour warm water over top and mix. It's quite a shaggy, sticky dough at first. The temperature of the water isn't as important if you're proofing yeast for a kneaded dough but make sure it's not too hot, just warm like bath water.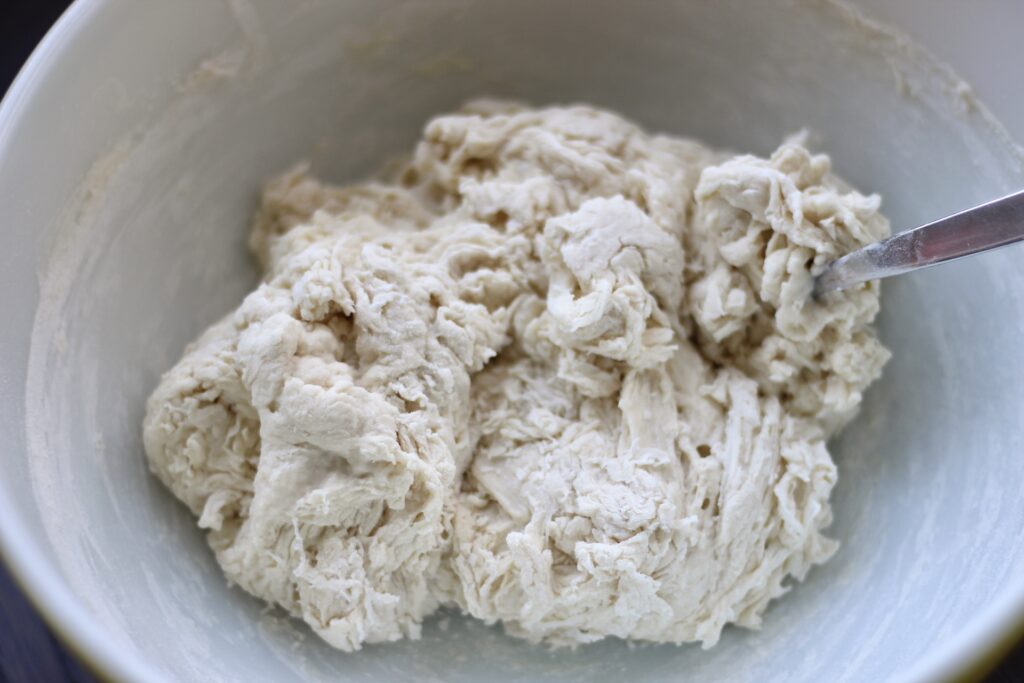 That's it for now. Cover the bowl with plastic wrap and a towel. Leave it to rise somewhere in a warm place. I usually put mine on top of the my stand up freezer.  Another great option is in the microwave with the door closed so there's no chance of a draft. If you were making an average loaf of bread you could cover the dough with a damp towel. But since this needs a much longer time to rise, plastic wrap prevents a crust forming on top. After at least 12 hours and up to 20 hours, it will have doubled in size and will be bubbly on top. This one was 20 hours.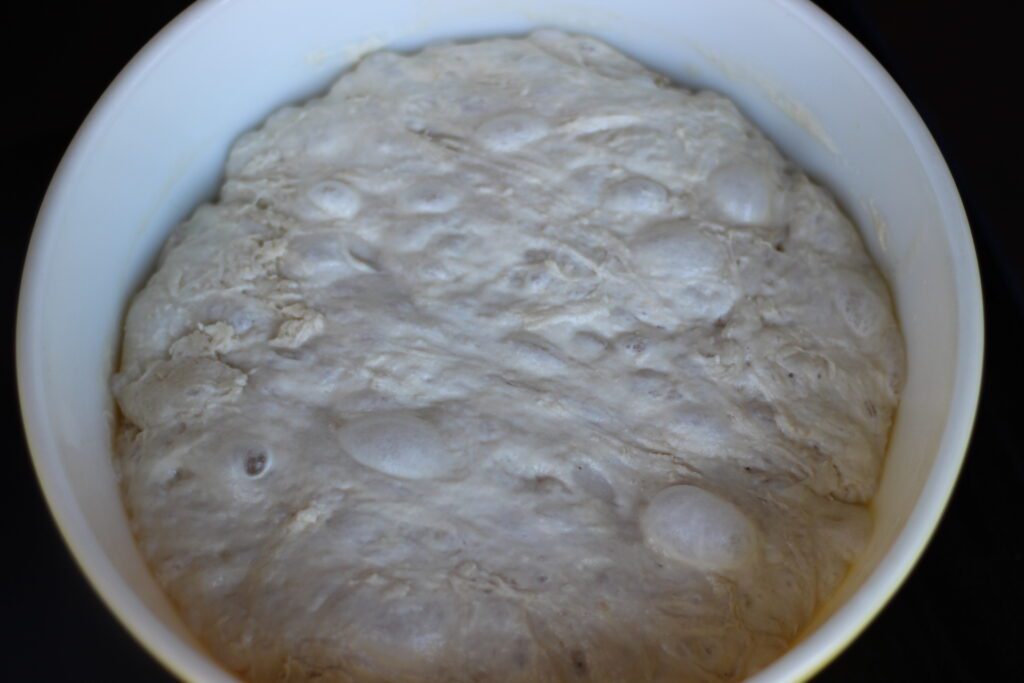 Then you give it a quick knead on a well floured surface. Just press out the air bubbles and fold it over itself a few times, press down, turn repeat. It might squeak and pop and it will definitely stick to your fingers. Then shape it into a ball, dust lightly with flour, including underneath, then more waiting. Use the same piece of plastic wrap from the bowl to loosely cover the dough. Then another 2 hours of rising. Even the 2 hours is flexible like the initial rising time. I'm going to say at least 2 hours. It might double in size or at least close. But it will also spread out a bit but that's ok.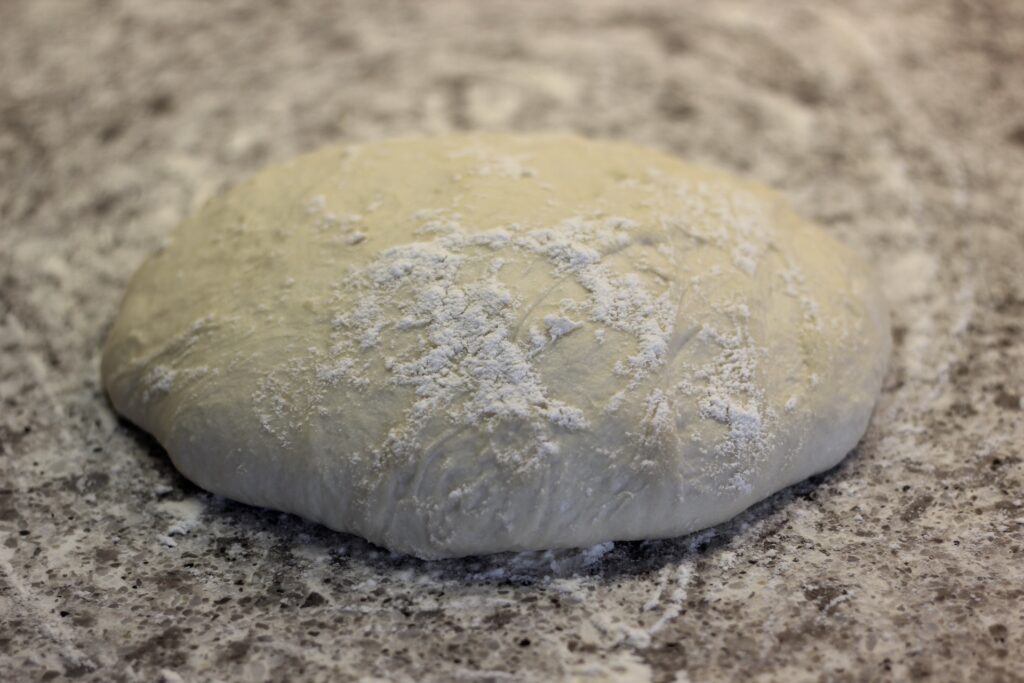 Once you're ready to bake New York Times No Knead Bread, preheat the oven to 450 degrees. That's a pretty hot oven but that's what gives this bread it's excellent crust. You also need to preheat the pot you're cooking the bread in. A heavy lidded pot like a dutch oven works best and it needs to be at least 3 Litres to give the bread room to rise. Put the pot in the oven while it preheats. Set your rack somewhere between the middle and the lower level. Don't worry about preheating the lid. Then dump your dough in, cover and bake. After half an hour, remove the lid.
It should be risen fully and just starting to brown. Doesn't this look beautiful? But it's not quite done yet.
Bake it another 15-20 minutes or so without the lid on. Some versions of this recipe actually say up to 30 minutes but this heavy dutch oven really holds the heat and it was nice and brown with a good crust after 15 minutes which is what my hand written recipe said.
Then MORE waiting. Until it's cool enough to slice.
The end result is a beautiful rustic round loaf. It isn't the same texture as a typical kneaded yeast bread. The crust is dark, quite tough and chewy and the interior has a fair amount of holes, similar to sourdough bread.
You can make all kinds of variations of New York Times No Knead Bread. I've experimented by adding a few herbs, some chopped garlic, even some parmesan cheese and it always seems to come out great. Fresh or dry herbs, dry cheeses, seeds and even small dried fruits can be added to the dough after the first rising. The combinations are endless.
Like all homemade bread, New York Times No Knead Bread only stays fresh for a day or two. That's not usually a problem in our house because it won't last that long anyway. But it makes great toast too.
Once you've mastered this, and since you have some leftover yeast anyway, why not try making Olive and Onion Bread or French Baguette ?
Here's the recipe:
New York Times No Knead Bread
An easy homemade rustic bread recipe that requires no kneading or special equipment.
Ingredients
3

cups

all purpose flour

2

tsp

kosher salt

or 1 tsp if using table salt

1/4

tsp

active dry yeast

1 1/2

cups

warm water
Instructions
Mix all ingredients together until a sticky dough forms.

Cover with plastic wrap and a towel and leave to rise in a warm place away from drafts. Let rise for a minimum of 12 hours up to 20 hours.

Flour a clean dry surface. Dump dough out and press out bubbles. Knead a few times by pressing down, folding over, turning and repeating. Form into a ball and dust with flour.

Leave to rise a minimum of 2 hours until doubled in size.

When bread is nearly finished rising, preheat oven to 450 degrees. Place heavy lidded pot such as a Dutch oven in the oven to preheat on a rack near the bottom.

Carefully place dough into the heated pot, cover and cook for 30 minutes.

Remove lid and cook another 15 minutes or so until the dough is nicely browned and a good crust is formed.
Print Recipe
If you've tried this recipe, consider leaving a comment or a rating. You can share the post on social media by clicking on the icons below.
other easy bread recipes to try