This easy recipe for homemade Basil Pesto is made in the food processor and freezes well. It makes a large batch which is a good idea when you have this much basil. This pesto has excellent flavour and a vibrant colour thanks to the beautiful green ingredients. There are different kinds of pesto but Basil Pesto is my favourite. This version has a little something extra that helps keep the colour vibrant and also adds a little kick of extra nutrition.
The secret ingredient is spinach. It's not typically used in traditional pesto but any chance to sneak in a little something to enhance the nutritional value of food is a great idea. There's also a little parsley too. It's optional but if you have some in your herb garden, toss in a handful.
Jump to Recipe
Start by toasting some pine nuts. They're expensive but you don't need too much. I use 2/3 of a cup because that's how much is in a 100 gram package. Some people substitute different kinds of nuts but I say they're just being cheap!
Toasted Pine Nuts
Toasting nuts and seeds brings out their best flavour. Put them in a dry frying pan and toast over medium-low heat, watching them closely and shaking the pan, flipping them a few times to keep them moving around and evenly browning. Once they start to get a bit of colour and are giving off a nice aroma, remove them from the heat and let them cool. You can also toast them in the oven but you need to keep a close eye on them. I've left them a bit too long a few times and throwing out $15 worth of pine nuts is painful!
These are nicely toasted and just need to cool while you assemble your other ingredients.
While they're cooling, go out and pick the basil. Use a gentle hand and try to avoid the ones with cobwebs or bird poop. Fill your container with 8 cups, loosely packed. They do tend to bruise easily so don't worry if you notice a few dark spots. The spinach will help hide that.
Give them a quick rinse and a good spin in the salad spinner. Do the same with the spinach and parsley. If your leaves seem pretty clean, you don't have to worry about washing them. But if you aren't picking your own and you aren't sure about how much your basil has been handled, it's not a bad idea to give them a rinse. It's amazing how much water you remove from greens using a spinner. Pat the leaves dry.
Now get all your other ingredients together. Peel and smash the garlic with the side of a knife. Actually reverse that. Smash the garlic with the side of a knife first, then the peel should come off easily. Smashing them before adding them to the food processor helps prevent them from getting stuck on the blade and not chopping up properly. The rule of thumb is 1 small clove per cup of basil. That's my rule. You can definitely taste the garlic in here so if you think it might be too much, use a little less.
Add the garlic and some salt to the food processor and pulse until well chopped.  You need more salt than you think. Even though there's lots of salty Parmesan, you still need about a teaspoon of salt. Add your greens and pine nuts and pulse until finely chopped. You'll have to add the greens in batches unless you have a giant food processor. Mine was a wedding gift from 30 years ago. The marriage only lasted 10 years but my retro Braun is still going strong!
Grate your parmesan, add to the processor and pulse a few times. Be sure to use REAL Parmesan cheese for best results.
With the processor running, add the olive oil in a slow stream and run until well pureed. Squeeze a bit of lemon juice in at the end, taste and season with more salt if it needs some. Add some freshly ground black pepper too.
This Basil Pesto is so good you'll want to eat it by the spoonful. But it freezes well. Use tiny canning jars or even small freezer bags. I freeze some in portions of about 2 heaping tablespoons which is about the perfect amount for a Pesto Pasta for two. It does darken a bit after being stored but the flavour is still awesome.
Keep some to use right away. If you've never had fresh Basil Pesto you'll be forever spoiled. The flavour is amazing and it's very versatile. You can use it to dress a cold pasta salad or slather some on chicken before grilling. Toss some grilled veggies in pesto or even serve some on a charcuterie platter to top cheese or crackers.
How to make pesto pasta
Basil Pesto is excellent as a simple dressing for pasta (or my favourite….gnocchi!). Just cook any style pasta, save some of the cooking liquid, toss with a few tablespoons of pesto and add cooking liquid in small amounts until well blended and creamy. Top with more freshly grated parmesan and black pepper.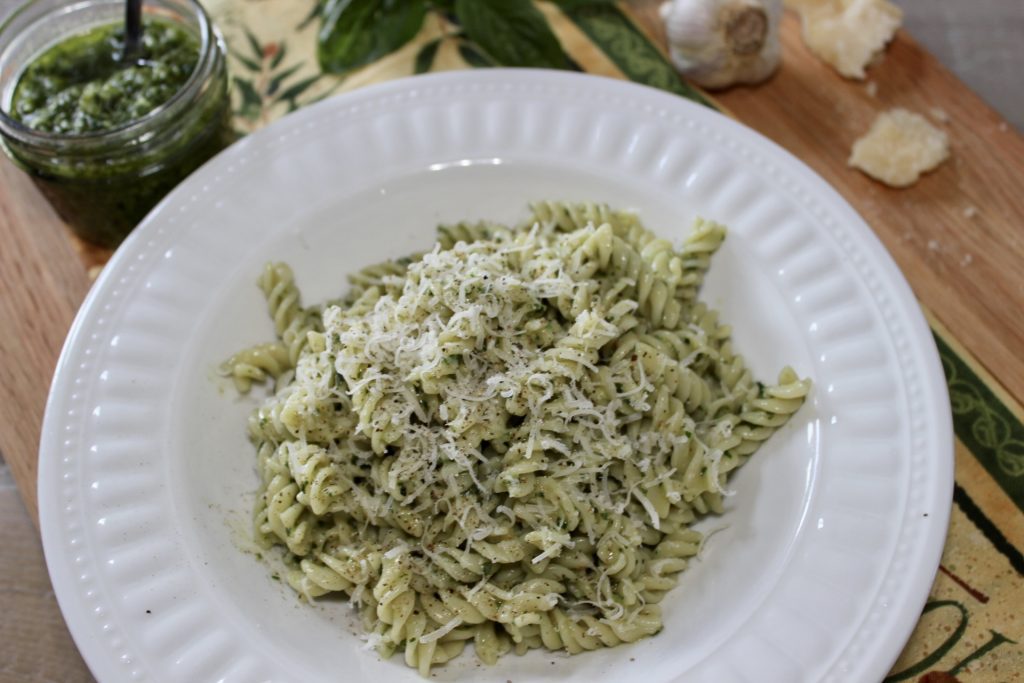 Here's the recipe:
Basil Pesto
Easy pesto with basil made in the food processor
Ingredients
8

cups

lightly packed basil leaves

rinsed and dried

1

handful

Italian parsley

rinsed and dried

1

handful

baby spinach

rinsed and dried

4

cloves

garlic

large cloves

1½

cups

grated Parmigiano Reggiano cheese

freshly grated real cheese

⅔

cup

pine nuts

lightly toasted

1

cup

extra virgin olive oil

2

tsp

lemon juice

fresh is best, use about ¼ lemon

salt and pepper to taste
Instructions
Lightly toast pine nuts in dry pan over low-medium heat until slightly browned and aromatic. Cool.

Rinse and dry basil, parsley and spinach.

Peel and chop garlic cloves. Crush with the side of a knife. Add to food processor with salt until well chopped. Add basil, parsley, spinach and cooled pine nuts. Pulse until well chopped. Add in stages if necessary to make room.

Grate parmigiano reggiano cheese. Add to food processor and pulse a few times.

Slowly pour in olive oil in a thin stream while running processor until all ingredients are blended and pureed.

Stir in lemon juice, taste and season with salt and pepper.
Notes
Pesto will keep for weeks in the refrigerator. It also freezes well in small jars or heavy plastic bags. Freeze in serving sizes, about 1/4 cup each.
Print Recipe
more harvest recipes