We don't get any trick-or-treaters at our house. There just aren't many kids around so I have no excuse to buy Halloween candy. Dammit. When my son was around 10 he lost interest in Halloween. I would push him out the door and say don't come back until you have some peanut butter cups. These Chocolate Peanut Butter Reese's Pieces Cookies remind me of those tasty treats!
I played around with a few versions of this recipe, adjusted the ingredients and cooking time until I got the perfect batch. They aren't too soft or too crunchy. They're just right.
Jump to Recipe
Did you know you can easily measure fat based non water soluble ingredients like peanut butter, butter and shortening easily using a little science? It's called displacement. If you put one cup of cold water in a measuring cup and submerge a spoonful or chunk of the ingredient you're measuring, once the water level moves up to the desired measurement, you've got the correct amount. For instance, here is 1/3 cup of butter in 1 cup of water. You can see the water line is at 1⅓ cup. Pretty cool huh?
The water has to be cold so you don't melt the fat. Just give the butter a little shake to make sure all the water is gone.
If you have a stand mixer it's much easier to combine the ingredients, otherwise you're going to get a good arm workout.
Roll them into balls and press with the bottom of a glass or mug. If the dough is sticking, wet the glass with a bit of water.
Here's the fun part. Use your imagination to create fun designs with the remaining Reese's Pieces. I'm doing goofy faces with funny teeth.
Bake them for 10 minutes. You may have to give the middle indent a little press while they're still warm to maintain the shape.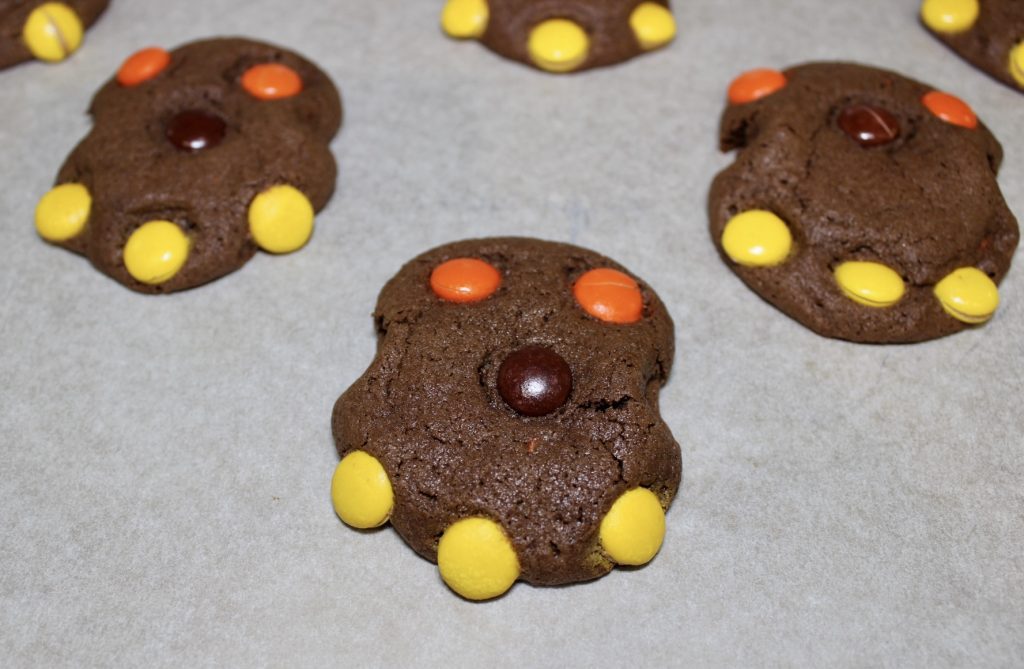 These are for people with too much time on their hands. If you prefer, just press a few Reese's Pieces into the top. They're just as delicious.
Cool on a rack if you can wait that long.
This recipe makes about 3 dozen cookies.
A few other cookie recipes you might like are Whipped Shortbread Cookies
and Gingersnaps.
Here's the recipe:
Chocolate Peanut Butter Reese's Pieces Cookies
A favourite flavour combination, chocolate peanut butter cookies are even better with Reese's Pieces.
Ingredients
2/3

cup

unsalted butter

room temperature

1/2

cup

smooth peanut butter

2/3

cup

packed brown sugar

2/3

cup

white sugar

1

large egg

2

tsp

vanilla

1/2

cup

cocoa powder

2

cups

all purpose flour

1

tsp

baking soda

pinch salt

2/3

cup

Reese's Pieces candy

plus extra for decoration
Instructions
Preheat oven to 350 degrees.

In a stand mixer, combine butter, peanut butter, brown sugar and white sugar and beat until creamy. Add egg and vanilla. Beat until well combined.

Sift together flour, cocoa powder, baking soda and salt. Pour into mixer and beat on medium-low speed until dry mixture is incorporated into wet ingredients.

Add Reese's Pieces on low speed just until mixed into dough.

Scoop dough by spoonfuls and roll into balls, keeping sizes the same. Place on ungreased baking sheet, leaving room between balls for expansion.

Using the back of a mug or glass, press into each ball to form circular disk. Wet the back of the glass with cold water if it's sticking.

Press Reese's Pieces into cookie dough in pattern of your choice.

Bake in upper half of oven for 10 minutes. Cool on a rack.