This classic French salad features marinated vegetables over fresh greens with boiled eggs, olives and capers topped with a seared tuna steak. Salad Niçoise is seriously delicious thanks to the mouth watering dressing coating the vegetables and tuna. Use the best quality tuna you can find and you've got yourself a top grade meal salad.
I just returned from a trip to the St. Jacobs Farmer's Market which is the largest farmer's market in Canada. The area is fascinating. If you've never visited, in addition to the market there's a quaint village and some outlet shopping in an area with a strong Mennonite heritage. There are hundreds of vendors, inside and out. I love the sounds, sights and smells of markets and prefer to visit when the late summer harvest is in full swing. There is so much fresh produce to choose from and even a seafood vendor, Caudles Catch Seafood that sells fresh tuna. Salad Niçoise is a perfect recipe to enjoy your purchases.
So what exactly is Salad Niçoise? Well for starters it's pronounced "knee swaz." After that it gets fairly complicated. I did a little research and discovered there's quite the debate about what should and should not be included in this salad. Quite entertaining reading actually. Some versions say canned tuna. Some say never any cooked beans or potatoes. Experts even disagree on how to serve the salad – tossed or plated in arranged order. So, just for clarification, this is MY VERSION of Salad Niçoise. I don't want to get beat up. Over a salad.
Jump to Recipe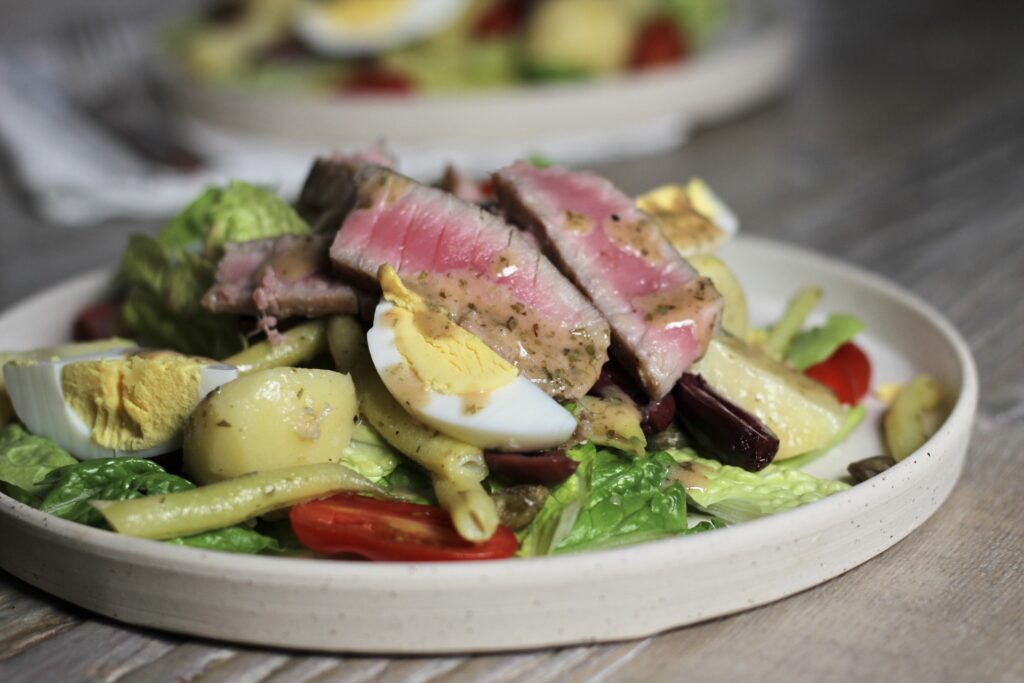 How to make Salad Niçoise
Make the dressing first. Add all the ingredients to a jar with a lid and shake vigourously. You can add the red onions to the dressing and let them marinate or add them raw to the salad. Marinating may result in a less pungent onion.
Cook the potatoes and beans. You don't want them mushy so as soon as the potatoes are just fork tender, drain them well and rinse with cold water to stop the cooking process. Drizzle some of the dressing over top and stir gently to coat. It's best to leave the potatoes and beans at least an hour so they can absorb some of the awesome dressing.
When you're ready to prepare the salad, divide the lettuce between 2 large plates. Prep the other ingredients so once the tuna is cooked you can assemble your Salad Niçoise.
Peel and quarter the hard boiled eggs. Cut the cherry tomatoes in half. If you're using larger tomatoes, cut them into smaller pieces but I prefer smaller tomatoes, especially when they're not in season because they have the best flavour. Niçoise would be the obvious choice of olives for the salad but Kalamata are a great alternative. Make sure you remove any pits and chop them roughly. Or leave them whole if you prefer.
How to cook Tuna for Salad Niçoise
Finally, sear a thick good quality tuna steak in a really hot pan. Make sure you season both sides with salt and pepper, and add a bit of olive oil so the tuna doesn't stick. This is what real tuna looks like. A serving of meat is typically 200 grams or about 1/4 pound. I prefer to buy one larger piece of tuna and cut it after cooking.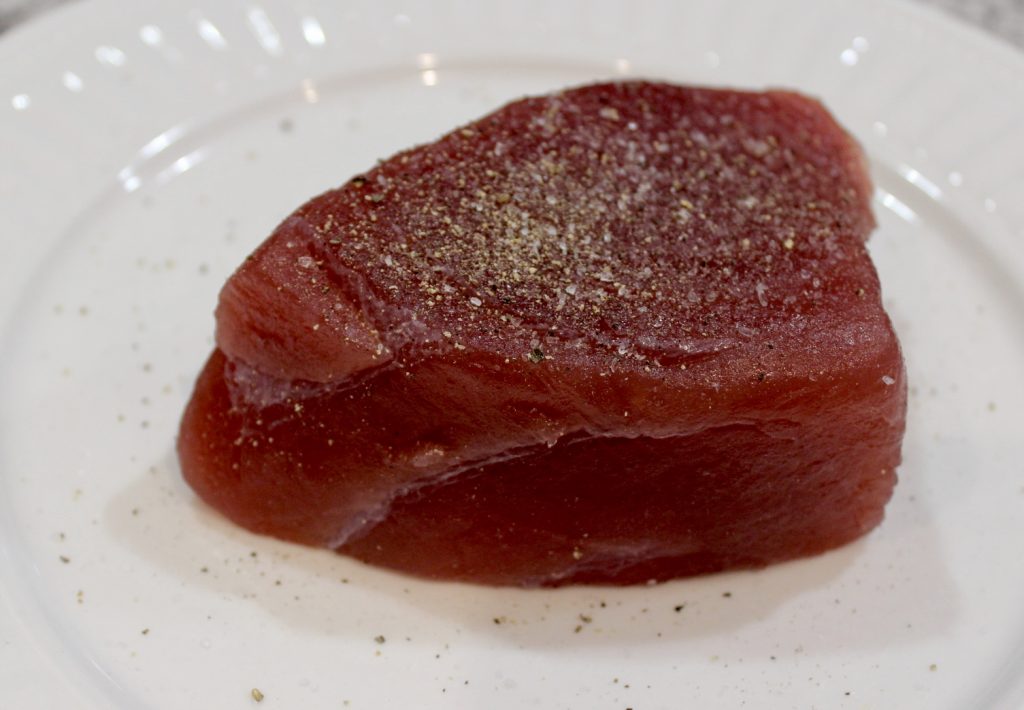 You want a really nice crust on the outside and rare inside. If you aren't comfortable with rare tuna, go ahead and cook it through. But trust me, if you haven't tried it this way you really should!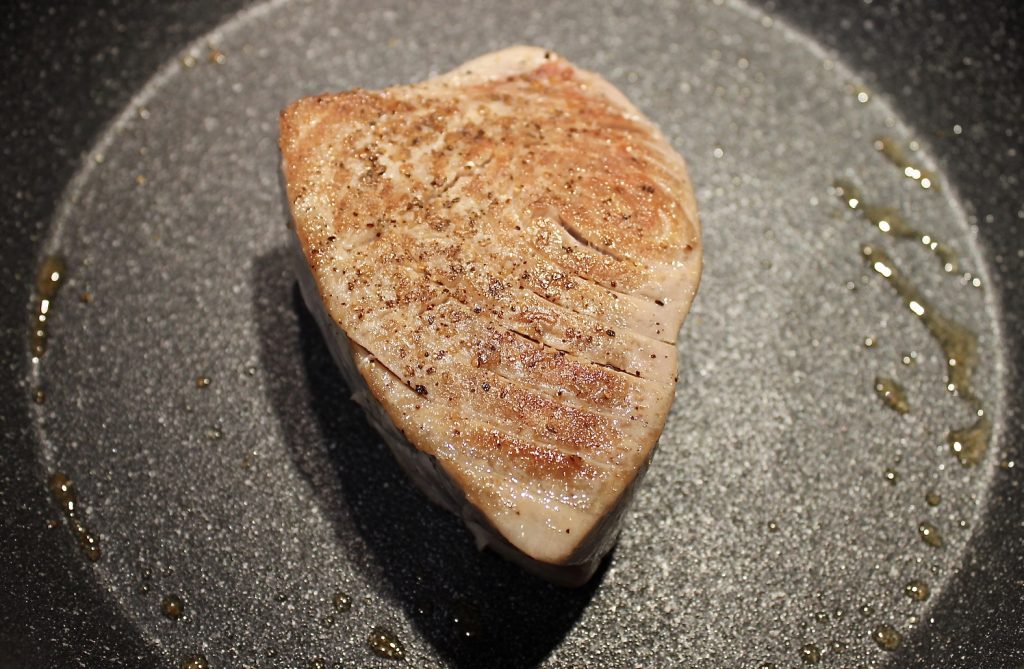 Now assemble the salad by topping the greens with the marinated potatoes and beans. Add eggs, olives and capers. Salad Niçoise looks really nice with slices of tuna fanned on top of the salad. Cut it against the grain so it looks like this.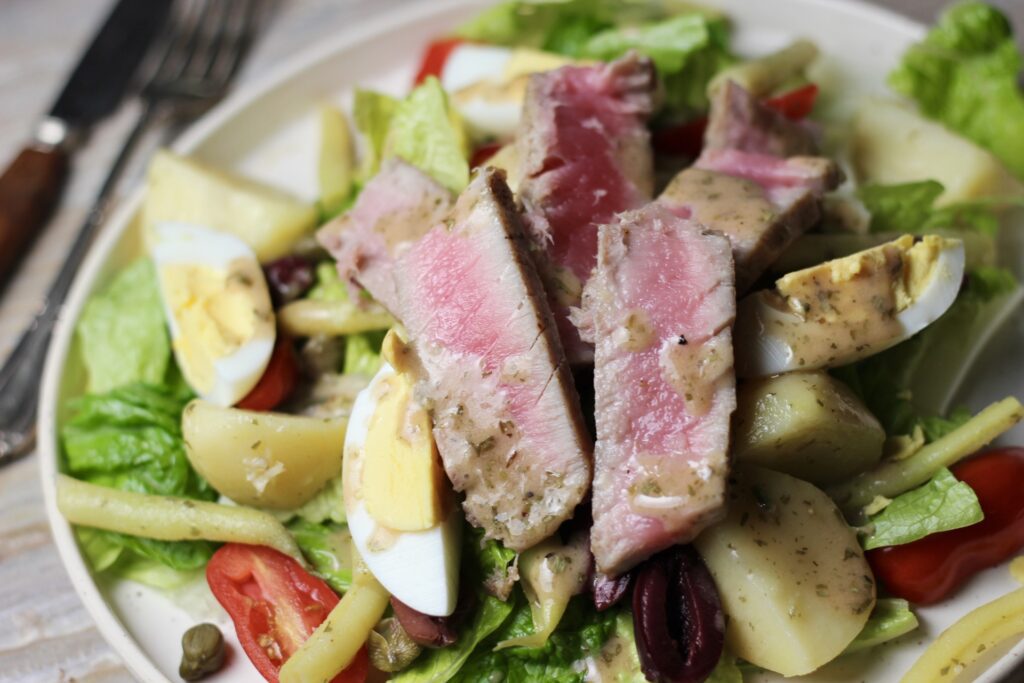 Finish with a good drizzle of dressing. Make sure you get lots on the tuna.
If this doesn't make you salivate, we can't be friends. Speaking of salivation, the olives and capers are quite briny, which I love, but if you're watching your sodium you may want to use a little less.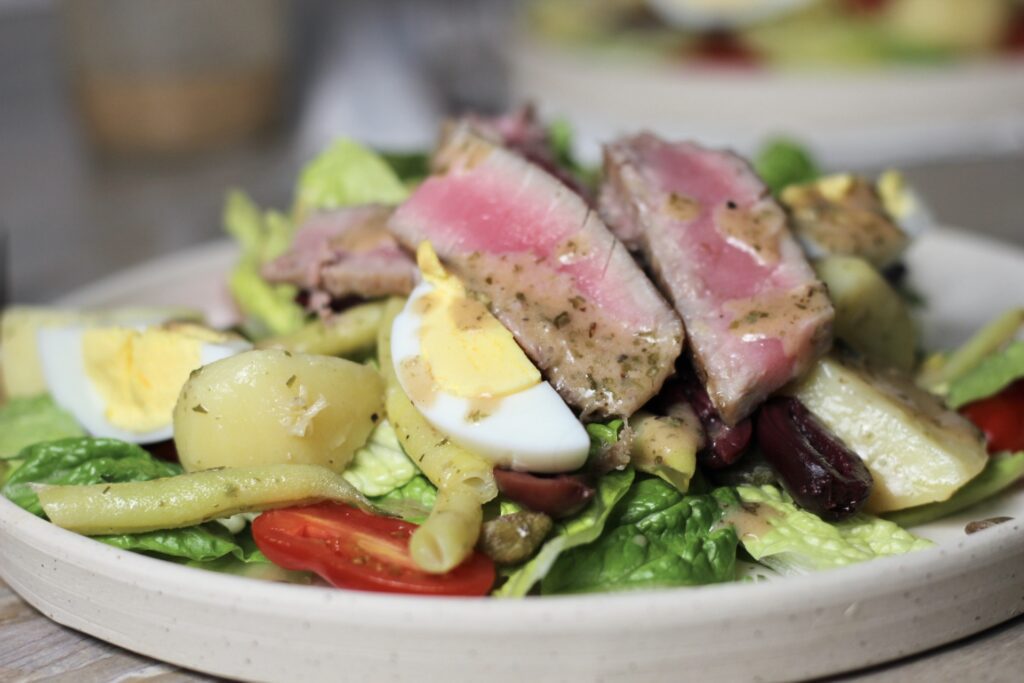 Maybe tuna isn't your thing. If not, you might prefer Spinach Salad or Strawberry Mandarin Salad.
Here's a summary of the nutritional value, compliments of MyFitnessPal:
Nutrition Facts - Salad Niçoise
Servings 2.0
Amount Per Serving
calories 557
% Daily Value *
Total Fat 36 g 55 %
Saturated Fat 6 g 28 %
Monounsaturated Fat 18 g
Polyunsaturated Fat 3 g
Trans Fat 0 g
Cholesterol 164 mg 55 %
Sodium 2425 mg 101 %
Potassium 916 mg 26 %
Total Carbohydrate 27 g 9 %
Dietary Fiber 9 g 34 %
Sugars 5 g 
Protein 35 g 70 %
Vitamin A 89 %
Vitamin C 98 %
Calcium 56 %
Iron 12 %
* The Percent Daily Values are based on a 2,000 calorie diet, so your values may change depending on your calorie needs. The values here may not be 100% accurate because the recipes have not been professionally evaluated nor have they been evaluated by the U.S. FDA.
Here's the recipe:
Salad Niçoise
Seared tuna steak over greens with potatoes, beans, eggs, olives and capers
Ingredients
4-6

cups

mixed greens

or Romaine

200

g

fresh tuna steak

about half pound

salt and pepper

1

tsp

olive oil

8

mini potatoes

or regular potatoes cut into bite size chunks

2

handfuls

green beans

2

hard boiled eggs

12

cherry tomatoes

12

niçoise or kalamata olives

2

tsp

capers
Dressing
3

Tbsp

extra virgin olive oil

2

Tbsp

red wine vinegar

1

tsp

Dijon mustard

1

Tbsp

fresh chopped tarragon

or ½ tsp dried

2

Tbsp

thinly sliced red onion

marinate in dressing or add fresh to salad

salt and pepper
Instructions
Combine dressing ingredients and shake well in a container. Chill. Onions can be added at this time or added later to salad without marinating.

Place eggs in pan and cover with cold water. Bring to a boil. Remove from heat and let sit covered for 13-17 minutes depending on desired yolk consistency. 13 minutes will give slightly softer yolks and 17 will be fully cooked. Drain and cool in ice water.

Scrub potatoes and rinse beans. Cut potatoes if necessary into bike sized chunks. Cut beans in half and remove stems. Boil potatoes until just fork tender, adding beans for last 2 minutes. Drain well. Add about 2 Tbsp of dressing and toss. Refrigerate for at least 1 hour.

Rinse, drain and dry greens well. Arrange on 2 large plates.

Prepare other salad ingredients. Remove pits from olives and cut in half if desired or leave whole. Cut cherry tomatoes in half. Peel and quarter boiled eggs.

Pat tuna dry and season both sides with salt and pepper. Sear in a hot pan with 1 tsp olive oil. Depending on desired cook, anywhere from 1 minute per side for rare to 4-5 minutes per side if cooking through. For well done, reduce heat after searing to prevent drying out. Rare or medium rare is highly recommended for this salad. Allow tuna to rest while plating salad.

Arrange marinated potatoes and beans over greens, including any dressing. Lay eggs, tomatoes, olives and capers over salad.

Slice tuna and divide between 2 salads in a fan pattern or other presentation. Drizzle with dressing, including on top of the tuna. You may not need all the dressing.
Print Recipe
more amazing dinner salads
Grilled Halloumi and Asparagus Salad
Spicy Thai Grapefruit Salad with Shrimp