When the seasons change, so does the recipe rotation. The fall brings not only beautiful scenery but shorter and colder days so we all need some comfort food. For me that means warm ooey gooey cheesy Baked Macaroni and Cheese. This Mac and Cheese has loads of sauce with a crunchy topping.
My friend Karen mentioned recently that she'd made a Mac and Cheese and it was so bad she threw it out. I've made some bad ones too. For most people the problem is usually the ratio of pasta to sauce. It's happened to me. Many times. I normally "wing it" when I'm making Baked Macaroni and Cheese so I decided to actually write down the correct amount of each ingredient so it won't happen to me again.
Here's a few thoughts on what can make or break a good Baked Macaroni and Cheese:
1. Don't overcook the macaroni.
2. Use some good sharp cheese in the sauce.
3. You need way more sauce than you think.
4. Top with buttered breadcrumbs.
If you cook the macaroni completely or even worse, overcook it, the pasta will be too mushy after baking. Drain the pasta just before it's cooked through and make sure it's drained well before you add the sauce.
Using at least some good old cheese ensures your sauce has a nice sharp flavour. You can use a combination of cheeses. In fact, it's a great way to use up random pieces of different cheeses getting old in the fridge. The colour of the cheese you choose does not affect the flavour but give some thought to what you want your Mac and Cheese to look like. Try using at least some orange cheese, otherwise the finished dish will be basically colourless. Boring!
I also add a little cayenne pepper and dry mustard powder or Dijon to give the sauce a little kick. Don't worry, it's not hot, it just adds another dimension to the sharpness of the sauce. You can skip the cayenne if you prefer. I actually use a little bit more than this recipe calls for because I like a hint of heat. With the amount in this recipe, most people won't detect it.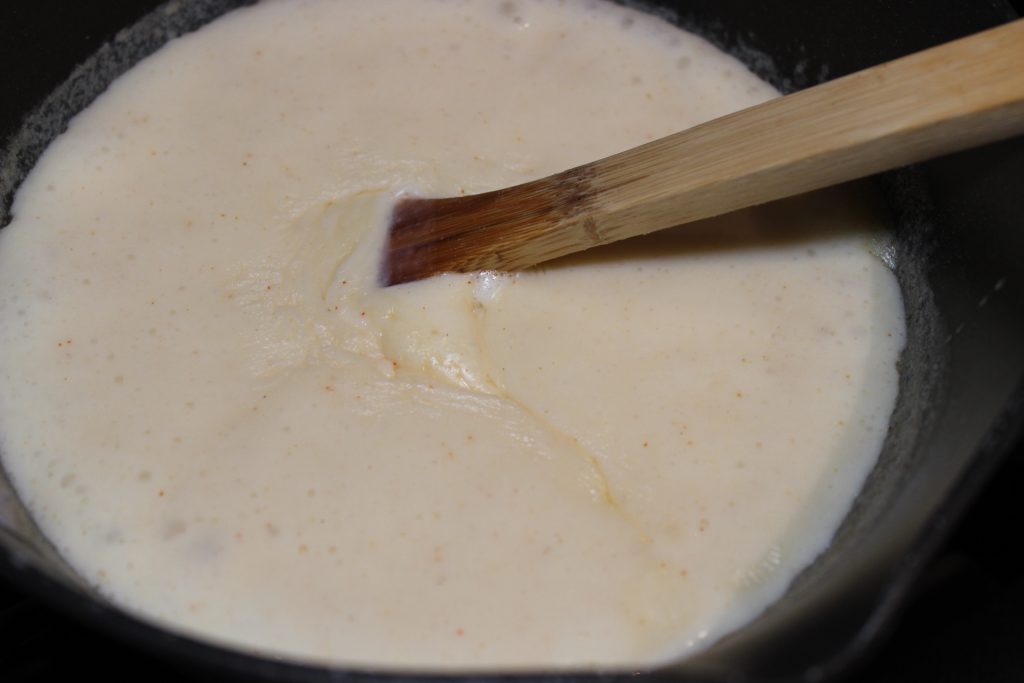 When you combine the cooked pasta with the warm sauce it should look like pasta soup. Don't worry, the macaroni will soak up some of the liquid. My mom and I were discussing the amount of sauce needed to ensure your Mac and Cheese isn't dry and she reminded me that macaroni is hollow so the sauce hides inside the pasta. Good point mom.
How much dry pasta do you need for Mac and Cheese?
If you use a different shape and size of pasta than elbow macaroni, you'll have to adjust the measurement. I recently used  Cavatappi (I've heard them called Scooby Doos), and they're larger than macaroni so I needed about 3 cups dry pasta. You'll see what I mean when you measure pasta, larger sizes have more air space in the measuring cup so less volume. If you've got a kitchen scale you can weigh the pasta. You'll need about 225 grams give or take. Or 8 ounces for my American friends.
The sauce is the star of the Mac and Cheese show. You start with a béchamel which is also called a white sauce. Simply combine equal amounts of flour and butter and cook over low heat. That's a step you don't want to skip as it ensures the flour cooks in the butter so your sauce doesn't taste pasty. Then you gradually stir in milk and whisk until it heats and thickens. The milk should be heated before you add it but seriously, if you're short on time and don't want to get another pot dirty, don't even worry about it.
Then season with salt and pepper. I like to use white pepper because it just looks better in the sauce. Taste it to make sure it's not bland, then add a pinch of cayenne (or a few drops of hot sauce) and some dry mustard powder or Dijon mustard. Turn off the heat and stir in shredded cheese until melted. Pour over the drained macaroni.
Combine well and transfer to a heavy oven proof baking dish.
Topping the dish with buttered breadcrumbs helps keep the Mac and Cheese from drying out. Just melt some butter, stir in some breadcrumbs, add freshly grated Parmesan cheese and sprinkle evenly over top. Add a bit more Parmesan to the top. It forms a crust that acts as a protective barrier AND adds some extra flavour and crunch. I like to use Panko breadcrumbs because they're extra crunchy.
Bake at 350 uncovered for about 40 minutes or so until the top is browning and the sauce is bubbling around the edges. If you're making the Baked Macaroni and Cheese in advance and cooking later, bake it for about an hour.
This makes a pretty large dish of delicious warm cheesy Mac and Cheese. You could make a smaller serving but why would you?
I love to serve  this with Roasted Peameal Bacon.
Here's the recipe:
Baked Macaroni and Cheese
The ultimate comfort food, Macaroni and Cheese
Ingredients
2

cups

dry macaroni

1/4

cup

butter

1/4

cup

flour

3 1/2

cups

milk

1/8

tsp

cayenne pepper

or hot sauce

1

tsp

dijon mustard

or 1/2 tsp dry mustard powder

3

cups

shredded cheddar cheese

at least half old sharp

salt and white pepper to taste
Topping
3/4

cup

panko breadcrumbs

2

large spoonfuls melted butter

1/4

cup

grated Parmesan cheese

plus extra to grate on top
Instructions
Preheat oven to 350 degrees.

Cook macaroni one minute less than package directions. Drain well.

Meanwhile, in large heavy pot, melt butter and combine with flour, cooking over medium heat for about one minute.

Heat milk and add in small amounts to roux, stirring well. Stir over medium-low heat until thickened. Add cayenne pepper or hot sauce and dijon or dry mustard powder. Taste and season with salt and white pepper.

Remove from heat and stir in shredded cheese.

Pour cooked macaroni over cheese sauce and combine well. Pour into a large baking dish.

Make topping by melting butter, then adding breadcrumbs and freshly grated Parmesan cheese. Stir well and sprinkle evenly over top of macaroni.

Bake at 350 degrees on middle rack for 40-45 minutes. If baking after being refrigerated, bake approximately 1 hour or until bubbling and top is browning.
Print Recipe
other awesome baked pasta recipes
Creamy Chicken and Mushroom Rotini
Baked Pasta with Sausage and Peppers