If you've got an abundant harvest of hot peppers, making your own Hot Pepper Jelly is a popular and tasty way to preserve those beautiful red peppers. You can make little jars and give them as gifts, and if preserved properly they will store for ages in your pantry.
My parents are avid gardeners and one year they planted a bunch of "cherry bomb" peppers. They had an abundant harvest and were using all kinds of methods to preserve them. After chopping, freezing and drying, they had to throw out one of the pans they used because every time my mom used it after that, whatever was cooked in the pan was suspiciously hot.
But the best thing they made was Hot pepper Jelly.
Jump to Recipe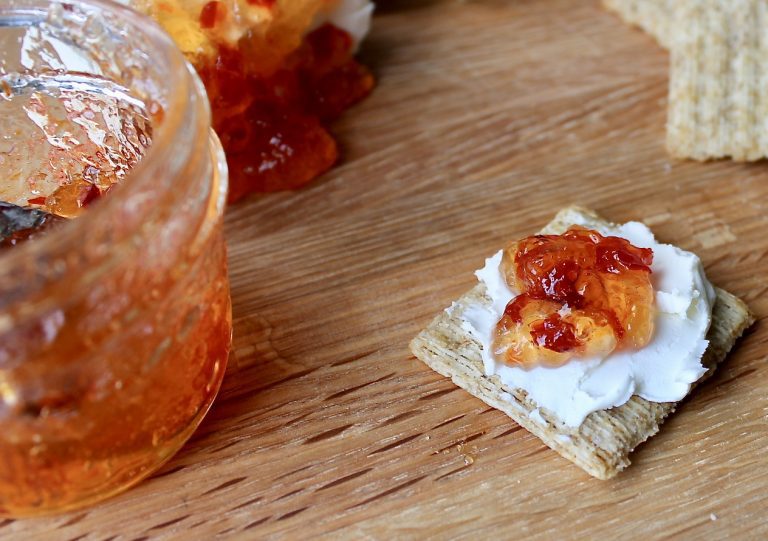 The first time I made Hot Pepper Jelly it had no heat and the peppers all floated to the top. Hot peppers are funny things. Sometimes they're so hot you can hardly eat them and sometimes they have no heat at all. You can make a mild version of this by using only sweet peppers but then it wouldn't be Hot Pepper Jelly, would it? But if heat isn't your thing, it's still awesome on crackers and it makes a great glaze for ham or roast pork.
I used Ricardo's recipe for the basis of this Hot Pepper Jelly recipe and modified it to make it hot. I then added some tweaks of my own and now it's our go to recipe. Just like making Salsa, it's fun to get together with a friend and make a big batch.
How to make Hot Pepper Jelly
The hot peppers will burn your fingers so use gloves when you're cutting them up. I keep a set just for use in the kitchen. Use the tip of a knife to scrape out the seeds and membrane. Save some seeds if you like, they look nice in the jars and are a visual reminder that it's hot stuff. And make sure you wash your hands really well after you're finished cutting the peppers. You'll only forget to do that once. Trust me.
Make the pepper jelly in a large heavy pot because the mixture may bubble up and expand.
A modification I made to my original recipe was to add just the hot peppers to the sugar and vinegar mixture first and purée with an immersion blender before it got hot. For 2 reasons. First, it ensures the hot peppers are in very small pieces. Which is helpful when you're trying to finely dice them with floppy gloves. It doesn't matter if you don't have perfect tiny cubes. And secondly, the jelly takes on the red colour of the peppers. The reason you want to do this before the jelly gets too hot is in case it splashes a bit, which creates a huge mess and could burn you. Immersion blenders are great but they do require some practice. You can totally skip this step, but I was glad I tried it.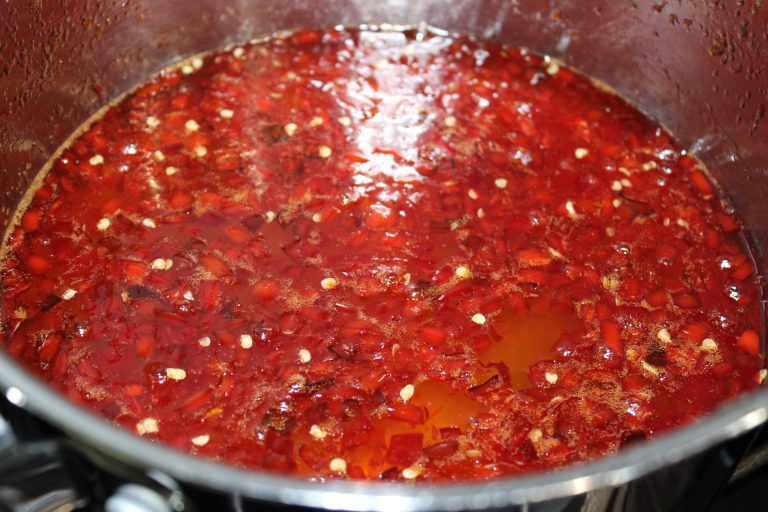 Add the sweet peppers and bring the mixture to a boil. Reduce the heat but let it simmer for 15 minutes. The peppers actually shrink a bit when cooked so don't worry if your peppers aren't as small a you wanted.
The fifteen minutes cooking time is when you can get your jars, lids and boiling pot ready. For the sake of safety, you need to sterilize everything. The easiest way to do this is to wash your jars in the dishwasher and fill them while they're still warm. Otherwise, use your canning pot to boil the jars for a few minutes and heat the seals and rings in a wide shallow pan.
I have discovered recently that some instructions on lids and seals now say you don't need to boil them first. In fact boiling could affect the rubber and impact negatively the proper seal so that does make sense. I made a batch without heating the lids and they all sealed perfectly. So this step isn't mandatory but if you want to ensure you get a good seal, you can heat them a bit before topping the jars but don't boil them.
After cooking the mixture for 15 minutes, add the Certo and let boil hard for 1 minute. Let the mixture cool a bit and stir it well before adding to the jars. This helps you get an even amount of peppers in each jar. If you put a spoonful in each jar first before adding the rest, you'll have better luck getting an even amount of peppers in each jar, since the peppers like to be near the top. Make sure you wipe the edge of the jars before adding the seals.
These tiny jars are perfect for giving Hot Pepper Jelly as gifts.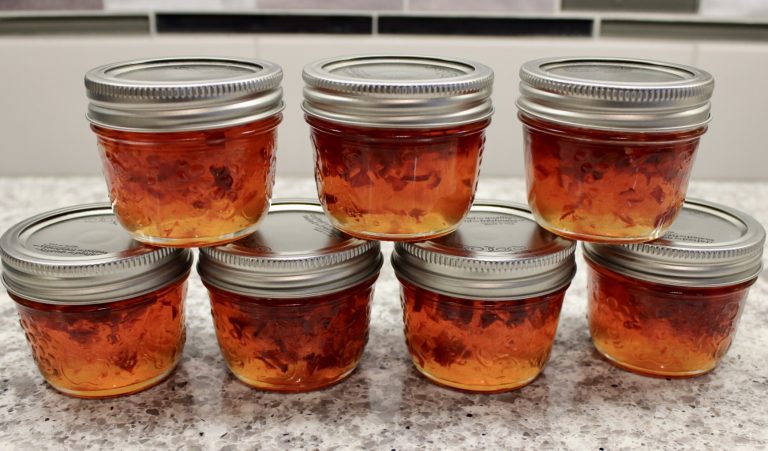 Always use new seals when you're canning. Don't tighten them too much.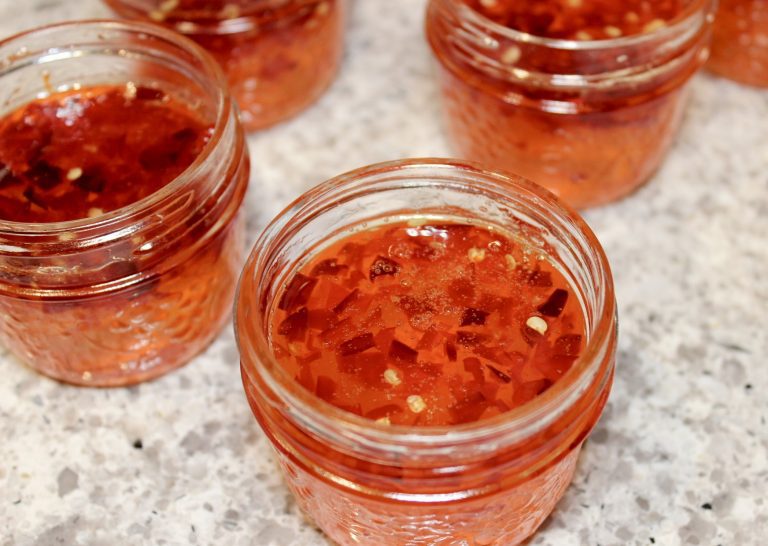 How to preserve Hot Pepper Jelly
Finishing them in a hot water bath ensures there's no bacteria left behind and keeps them properly sealed so you can store them in the pantry for months. You need a large canner or double boiler. Carefully lower the jars into boiling water until they're immersed about an inch below the surface.
Since they're tiny jars you really only need about 5 minutes.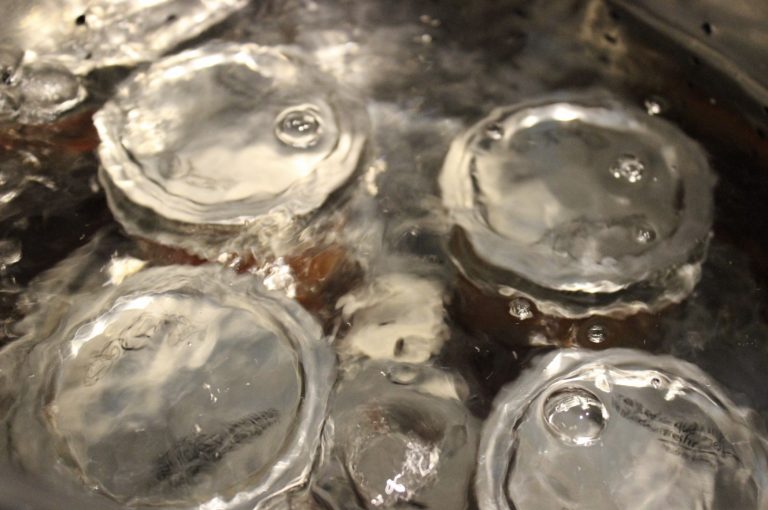 The peppers tend to float toward the top but that's ok.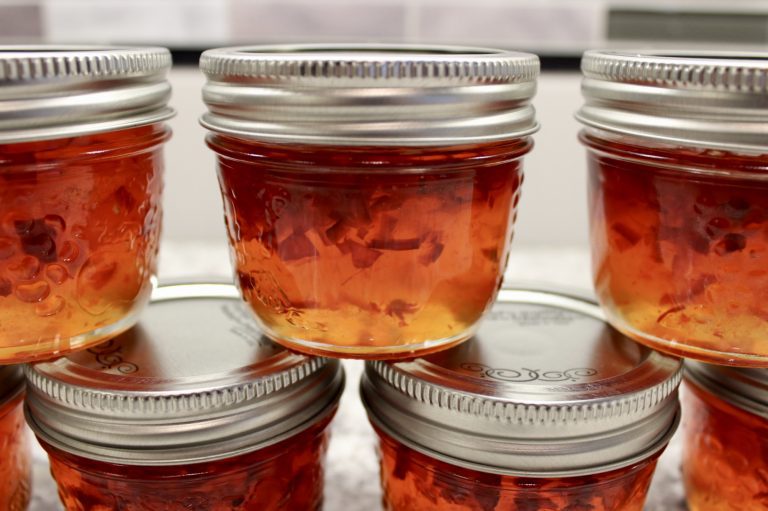 These make great hostess gifts. We do a lot of happy hours in our community and Hot Pepper Jelly is a popular addition to a cheese platter. Drop a spoonful over goat or cream cheese on a cracker, and this makes a delicious topping for warm Brie.
This Hot Pepper Jelly recipe makes about 15 small jars. If you make some with a friend it's a perfect amount to share.
Spread some of this on a pork loin roast and sprinkle fresh chopped rosemary over top. Killer combination! Or better yet, add a spoonful to Coconut Curry Shrimp .
Here's the recipe:
Hot Pepper Jelly
A sweet, tangy and hot jelly, perfect for topping crackers and cheese. Can be made hot or mild.
Ingredients
3

sweet red peppers, finely diced

¼

cup

hot red peppers, finely diced

for hotter jelly increase up to ½ cup

1

cup

white vinegar

⅓

cup

lemon juice

5½

cups

white sugar

2

liquid Certo packs, 85 ml each
Instructions
Dice hot peppers, removing seeds and membrane for less heat if desired. Combine hot peppers, vinegar, lemon juice and sugar in large heavy saucepan. Purée mixture with immersion blender until peppers are in tiny pieces and jelly is taking on some red colour.

Dice sweet peppers. Add to jelly mixture and bring to a boil. Simmer for 15 minutes. Add Certo and boil hard for 1 minute. 

Allow to cool for 10 minutes or so, stirring occasionally.

Carefully fill clean jars with warm jelly, leaving at least 1/4 inch space at the top. Try to evenly distribute peppers between jars. Wipe mouths of jars before adding lids.

Bring shallow pan to a boil. Place lids and seals in boiling water to heat and soften seal. Place hot seals on jars, then add rings and tighten. You can skip this step if instructions indicate no need to heat lids.

Fill canner or double boiler with enough water to allow jars to be submerged by at least an inch. Bring to a boil and lower jars into boiling water for 5 minutes. If using larger jars, boil for 7 minutes.

Remove jars from water bath and allow to cool. You will hear lids pop when they are sealed. Store for up to a year.
Print Recipe
If you've tried this recipe, consider leaving a comment or a rating. You can share the post on social media by clicking on the icons below.
more canning ideas