This fragrant and colourful Coconut Curry Shrimp recipe is very easy and quick but is packed with flavour. There isn't a long list of ingredients and you can enjoy this as an appetizer served with crusty bread or add some veggies and serve it over rice or noodles for a complete meal.
I developed this recipe after a disappointing version in a restaurant. It sounded great, looked great and smelled wonderful. But our first bite was a big bummer. The sauce was so sweet we couldn't eat it. I'm not exaggerating. I'm sure they added an entire jar of Sweet Thai chili Sauce to the broth. So I thought about how I would make it. In the middle of the night, of course, when I'm usually wide awake. Thinking about food. Does that make me weird? Wait, don't answer that.
Jump to Recipe
The best part of Coconut Curry Shrimp, besides the fresh gulf shrimp of course, is the broth. You'll want some crusty baguette to sop up every last drop. Or you could add some vegetables, like carrots, mushrooms, bok choy or whatever you like, really, and serve it over rice or noodles. Steamed broccoli on the side adds excellent colour and nutritional value. Or, you can lower the carbs by serving it over cauliflower. See? Very versatile. And I haven't even talked about the curry yet.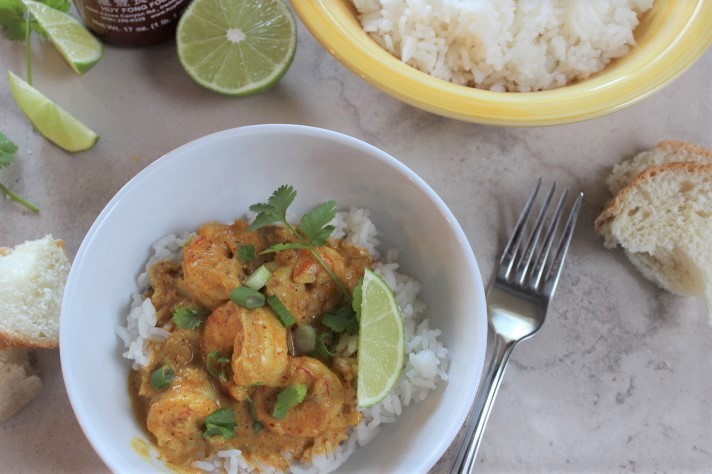 What do the colours of curry paste mean?
Don't think of curry paste as a traffic light. You might think that green is the mildest and red is the hottest but that's not actually the case. In fact, green curry paste is usually the hottest and yellow is the mildest with red somewhere in between. That being said, not all curry paste is created equal. I've used jarred curry paste and didn't get much heat but then used canned curry paste and got a blast. And the colour of yellow curry paste seems to vary widely. I'm not sure if the versions sold in North America are intentionally milder than the imported ones so just in case, I'm going to post this recipe as the mildest version with options to increase heat to your liking. And, adding coconut milk tames the heat without compromising on flavour.
I love using fresh local shrimp when I'm somewhere it's readily available. But let's be honest, most of us aren't so fortunate to live on the coast. You can buy pretty decent frozen shrimp and actually it saves you some time if you splurge on the peeled and deveined shrimp. Choose medium or large sized shrimp and make sure they're totally defrosted and seasoned with salt and pepper. A pound will feed around 4 people ish, but if you're buying fresh shrimp, get a bit more to account for the lost weight from peeling and deveining.
Need a lesson on peeling and deveining shrimp? Open this link.
Have all your ingredients prepped and ready before starting to cook because this goes really fast. This is where "mise en place" is important, a french term used in the culinary word meaning everything in place. You'll want your measuring tools on hand, the can of coconut opened, seriously it's that fast. The shrimp doesn't take long to cook and you sure don't want overcooked shrimp. Too chewy.
How to make coconut curry shrimp
Use a large skillet or wok to make Coconut Curry Shrimp. A handy trick is to let the pan heat up before adding the oil which helps prevent the shrimp from sticking. It might stick a bit but don't worry, once you add the other ingredients, anything left behind will be incorporated into the broth. Let the oil heat up and turn on your vent fan fan. If you're using a non stick pan don't preheat it. And use a cooking oil that can withstand heat like vegetable or peanut oil. Cook the shrimp about half way through using a stir fry technique on medium-high heat. Once they're starting to turn pink, remove them to a plate and reduce the heat to medium.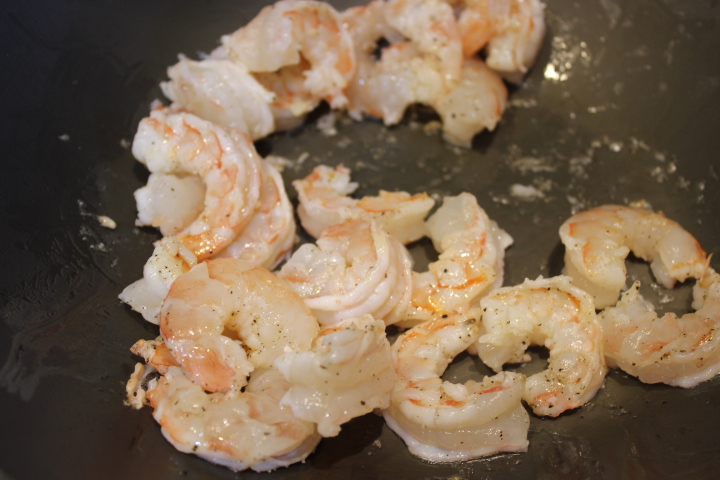 Add a bit more oil and saute the onion, garlic and ginger. Fresh ginger not only adds to the flavour but also has some heat. Ginger is quite common in grocery stores now and you can buy it in smaller chunks. I think the last piece I bought was about 25 cents so it's a bargain. Look for a piece that's about the size of a large thumb. It peels easily with a sharp knife or even the tip of a spoon.
Now here's when it starts to smell really good. Add curry paste and curry powder. Spices like to be heated to release their best flavour so this is an important step. Yes, I'm using curry paste and powder. They both share similar ingredients but I like to maximize the flavour potential with every possible spice combination in just 2 ingredients. Both curry paste and curry powder are made from a combination of many spices. After about a minute or so add the shrimp back in the pan and combine well. This makes sure the shrimp get well coated with the curry combination.
Now you add the coconut milk and let it simmer to incorporate all the flavours. Coconut milk is another staple that's now found in most grocery stores. Look for one that has a fairly short list of ingredients with coconut or coconut extract first. Avoid the ones that say "lite" or "reduced fat" and I usually avoid products advertised as organic because in most cases it loosely translates to "pay more for the same thing." Make sure you buy unsweetened coconut milk, not coconut cream or cream of coconut. The regular sized can is the perfect amount for this recipe and the perfect thickness. You'll need to give the can a good shake because coconut milk tends to separate from sitting. If it's still separated after opening, give it a stir before adding to the pan but don't worry, it will blend in within a few minutes of heating.
At this point you just need to bring the pan up to a simmer for a few minutes and taste the broth. I've made this recently with jarred red curry paste and it really needed to have the sweet Thai chili sauce added at the end to add a hint of sweetness and heat. And I also added a squirt of Sriracha. But then the last time I made it, using  canned yellow curry paste imported from Thailand it tasted sweet enough and did not need any more heat. You just never know. This is why tasting as you go is so important. Sweet Thai chili sauce is commonly found in grocery stores too but you can also use hot red pepper jelly.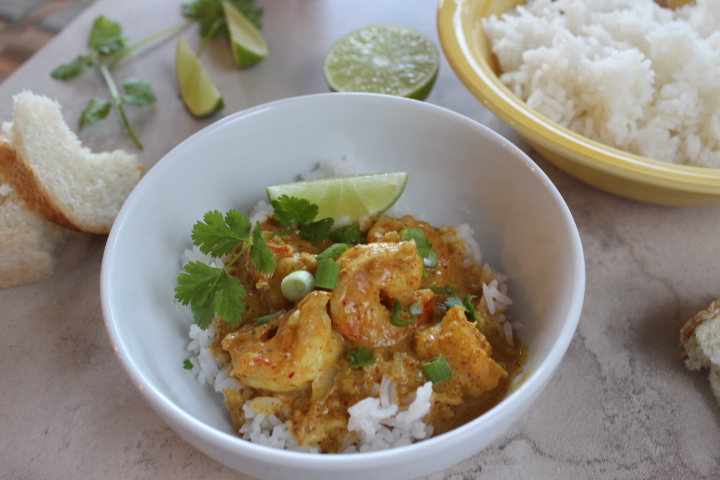 No matter how you personalize Coconut Curry Shrimp, you'll love the colour and flavour punch it adds to your meal rotation. If you have a seafood allergy use a different protein like chicken which would be the second most popular way to serve this. And if you're trying to keep the carbs down, serve it over roasted cauliflower.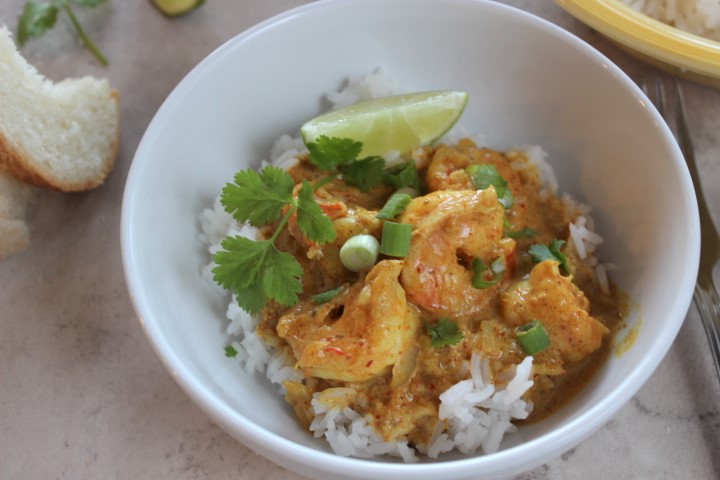 Serve Coconut Curry Shrimp with a wedge of lime, fresh cilantro and green onions. And if you like feeling the heat, have some Sriracha nearby.
Here's the recipe:
Coconut Curry Shrimp
A quick and easy recipe with fresh or frozen shrimp in a fragrant broth served with crusty bread as an appetizer or over rice or noodles as a main dish.
Ingredients
1 - 1¼

lb

fresh or frozen shrimp

medium-large size, peeled, deveined

salt and pepper

½

sweet onion, finely diced

2

cloves

garlic, minced

1

Tbsp

fresh ginger, minced

piece the size of a thumb

2

Tbsp

vegetable or peanut oil

not olive oil

2

Tbsp

yellow curry paste

½

tsp

curry powder

1

can

coconut milk, 400 ml or 13.5 oz

unsweetened, not lite

1

Tbsp

sweet Thai chili sauce or hot red pepper jelly

if needed to sweeten and heat broth
Garnish
1

lime, cut into wedges

1

large handful fresh cilantro, chopped

1

green onion, minced

Sriracha

if desired
Instructions
Peel and devein shrimp. If using frozen, ensure shrimp are entirely defrosted. Season with salt and pepper and refrigerate while preparing other ingredients.

Dice onion. Mince garlic and ginger.

Prepare garnishes and set aside.

Shake can of coconut milk vigorously and open can. Stir if still separated.

Heat skillet or wok. Avoid using non stick pan or if using, do not preheat pan.

Add 1 Tbsp oil and heat to medium high. Add shrimp and stir fry quickly until partially cooked. Shrimp will have some colour but still be translucent and not curling into O shape.

Remove shrimp to a plate and set aside. Add second Tbsp oil and reduce heat to medium. Add onion, garlic and ginger. Saute for a few minutes until softening.

Add curry paste and curry powder. Cook for about 1 minute.

Add shrimp back to pan and stir fry for 2-3 minutes until well coated.

Add coconut milk, increase heat slightly to bring broth to a simmer. Reduce heat and simmer for 4-5 minutes.

Taste and add sweet Thai chili sauce if desired to add sweetness and more heat.

Serve with fresh crusty bread for an appetizer or over rice or noodles as a main dish.

Garnish with a squeeze of lime, fresh cilantro and minced green onion. Add Sriracha if desired for extra heat.
Print Recipe
If you've tried this recipe, consider leaving a comment or a rating. Or, you can share the post by clicking on the icons below.
More shrimp recipes
Spicy Thai Grapefruit Salad with Shrimp