Make up these savoury salty cheesy melty snacks for your next gathering and watch them get gobbled up. Chopped olives, mushrooms and green onions in a cheesy mixture spread on cocktail rye bread and baked in the oven is so easy, the hardest part is waiting for them to be cool enough to eat.
My new friend Dawn served these when we were in Florida. She said they were actually her mom's recipe. That was right after telling me she was one of 9 kids growing up on a Wisconsin farm so I was surprised her mom had time to do anything. If you don't have any Wisconsin cheese you can use any combination of a sharp cheddar cheese and something mild and melty like Monterey Jack. If you get two different coloured cheeses, Savoury Rye Snacks look the best.
Jump to Recipe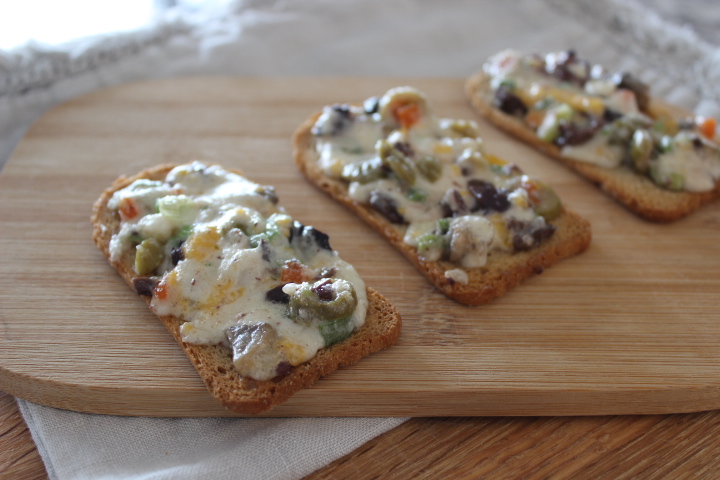 I didn't get a chance to make Savoury Rye Snacks until I was back in Canada.  That's why I'm spelling savoury with a "u." Dawn used cocktail rye bread but I'm not sure if it's available in Canada.  I looked but couldn't find any so I thought that Melba toast rye crackers might work. And they did. In fact, they added a crunchier element which was ok with my taste testers. If you're in the US you can find cocktail rye bread in the deli section and they're small squares of bread, a perfect size for these Savoury Rye Snacks.
The topping can be made up in advance so it only takes a few minutes to throw these together. It will keep in the fridge for a few days so you can top the crackers or bread in the time it takes to preheat the oven.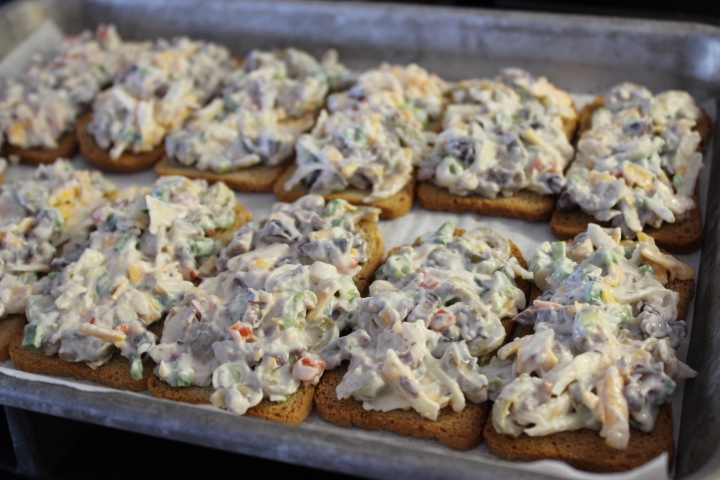 They're ready to eat in only 10 minutes but you need to wait a few minutes while they cool or you'll give yourself a pizza burn on the roof of your mouth. Kinda like I did.
Speaking of pizza, the topping does resemble pizza ingredients. I'm thinking that some crumbled cooked bacon or sausage would be really awesome to try in the mixture. Or for your gluten free friends you could spoon the topping into mushroom caps instead of topping bread.
This recipe for Savoury Rye Snacks is pretty versatile so you can use what you have on hand. Any combination of olives will work so try a variety for flavour and colour. Pimento stuffed green olives, Kalamata or ripe black olives all work well. If you don't have canned mushrooms you can chop up fresh ones instead but I recommend giving them a quick sauté first, otherwise they'll give off liquid while cooking and will make the Savoury Rye Snacks soggy. You'll need more fresh mushrooms than you think because they reduce quite a bit when cooked.
You won't have to worry about these guys getting soft because they'll be eaten up in no time.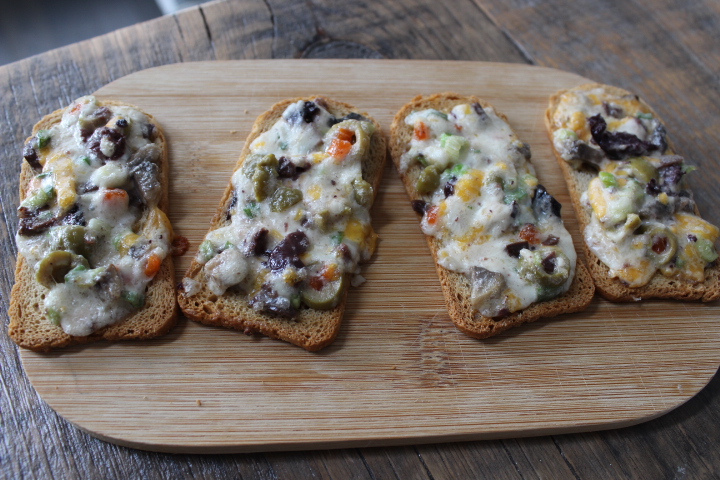 Here's Dawn's recipe:
Savoury Rye Snacks
Rye bread with a cheesy olive, mushroom and green onion topping baked until melted.
Ingredients
1

cup

sliced green onions

about one bundle

1

cup

mayonnaise

not miracle whip

1

cup

shredded monterey jack cheese

1

cup

shredded cheddar cheese

1

can

mushrooms

½

cup

drained chopped ripe olives

or kalamata

½

cup

drained chopped green olives

1

pkg

deli rye bread

or 24 Melba toast rye crackers
Instructions
Shred cheeses. Drain and chop olives and mushroooms. Slice green onions.

Combine with mayonnaise and mix well.

Arrange rye bread or crackers on a baking sheet. Top with mixture and spread to edges.

Bake at 350° for 8-10 minutes until cheese is melted and bubbling.
Print Recipe
If you've tried this recipe, consider leaving a comment or a rating. Or, you can share the post by clicking on the icons below.
more cheesy appetizers
Cheese and Olive Stuffed Cherry Tomatoes