I just received my complimentary copy of The Ultimate One-Pan Oven Cookbook by Julia Konovalova. It features complete meals using a sheet pan, dutch oven or roasting pan. The recipes are interesting, yet not complicated and include everything from breakfast to dessert. Today I'm making Easy Chicken Thighs in Peanut Sauce with Green Beans. The recipe intrigues me and I can't wait to taste it.
This is Julia's first published cookbook.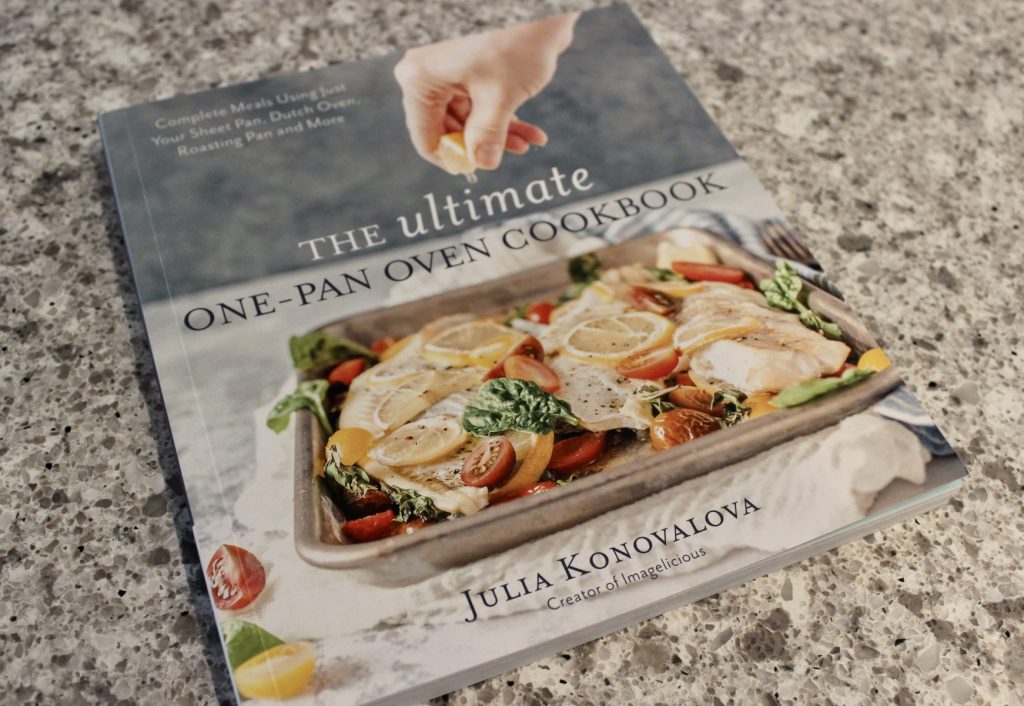 The sauce for this chicken thigh recipe has a combination of ingredients that might sound like a mismatch. And I wondered if the amount of Sriracha would be too much heat. Uncooked, the sauce looks much like the colour of peanut butter. But wait.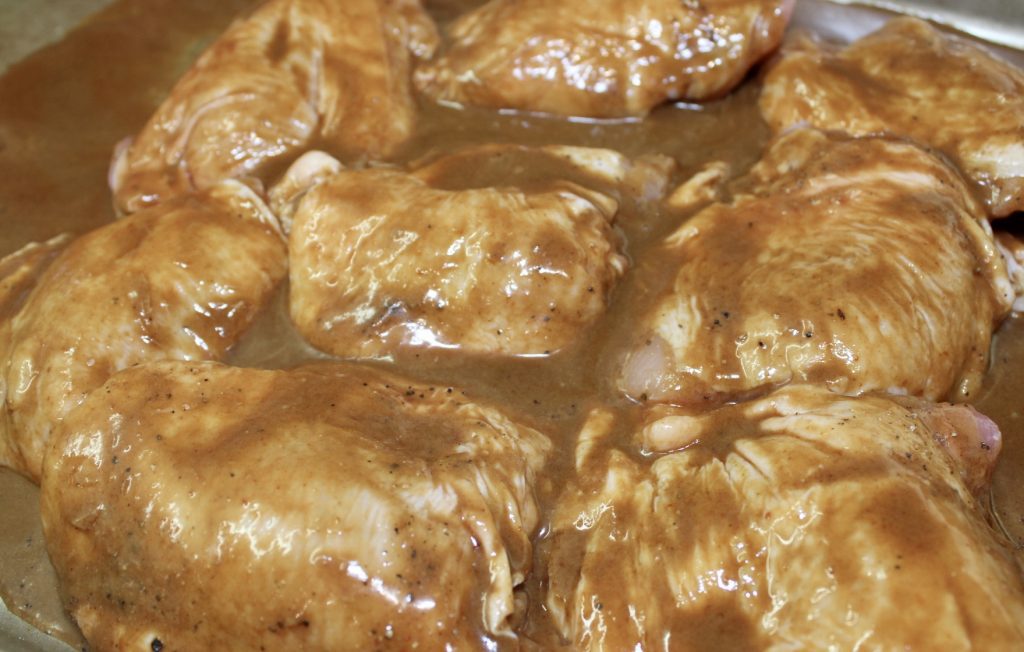 This sauce caramelizes on the chicken skin and turns into something wonderful and delicious. I roasted them skin side up to make sure the skins had a chance to get crispy and bubbly.
I have to admit, I wasn't sure about roasting the beans along with the chicken and sauce but not only were they delicious, but there was only one pan to wash.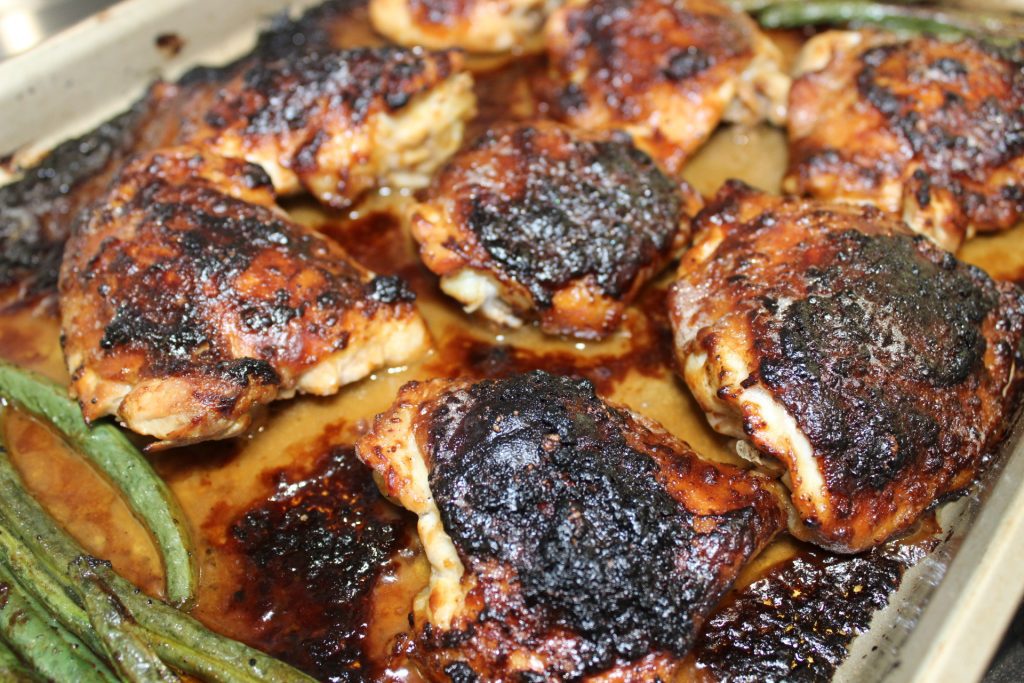 The chicken thighs were so juicy and tasty. I'm looking forward to trying more of these one pan recipes! You might also want to check out her blog, Imagelicious.
Here's the recipe:
Easy Chicken Thighs in Peanut Sauce with Green Beans
Easy Chicken Thighs in Peanut Sauce with Green Beans
Serves 4

Ingredients

2 tbsp (30 ml) olive oil, divided 
¼ cup (45 g) smooth peanut butter 
2 tbsp (30 ml) lemon juice 
4 tbsp (60 ml) orange juice 
2 tbsp (30 ml) soy sauce 
2 tbsp (30 ml) Sriracha 
8 skinless, boneless chicken thighs 
¾ lb (340 g) green beans 
Salt and pepper to taste 

Method

Preheat the oven to 425°F (218°C). While the oven is preheating, mix 1 tablespoon (15 ml) of the olive oil with the peanut butter, lemon juice, orange juice, soy sauce and Sriracha in a bowl. I like using a small glass jug for this. It's a lot easier to mix this sauce if the peanut butter is warm. I don't have a microwave, so I put a jug with the sauce into a bowl of just boiled water to heat it up. If you have a 
microwave, you could heat it for 20 to 30 seconds. 

Place the chicken thighs in the middle of a nonstick baking pan. I use an 11x17 inch (28x43 cm) pan. Make sure that the chicken thighs are fully flattened.

Pour half the sauce over the thighs, then flip and pour the rest of the sauce, making sure that it fully covers the chicken.

Spread the green beans around the chicken thighs in one layer. Pour the remaining 1 tablespoon (15 ml) of olive oil over the green beans, season with salt and pepper to taste and lightly mix with your hands or tongs to cover them with oil and seasoning.

Roast for 30 minutes, or until the chicken thighs are cooked to 165°F (74°C) and the sauce is thickened.

Serve with rice, if desired, or double the amount of green beans and cook on a separate pan.
Reprinted with permission from The Ultimate One-Pan Cookbook by Julia Konovalova. Page Street Publishing Co. 2018. Photo credit: Julia Konovalova.