The classic Wedge Salad is basically a BLT without the bread, drizzled with bleu cheese dressing. Using good quality bleu cheese, ripe tomatoes and real bacon turns this ordinary salad into a masterpiece.
If you're in Canada, you may not be familiar with the Wedge Salad. It's more commonly found in American restaurants. We recently ordered one that was pretty disappointing. The lettuce was huge, way too much for one person but with only 3 cherry tomatoes. THREE. Cut in half to trick us into thinking there were 6. And there was too much bacon (if that's actually possible) in tiny bits with no real bleu cheese. If you use good quality ingredients in a Wedge Salad and you won't be disappointed
Jump to Recipe
This salad is meant to be eaten with a knife and fork and it's not exactly healthy. With chopped bacon pieces and loads of bleu cheese piled on top, think of it as an occasional treat instead of a nutrient rich salad.
How do you make a Wedge Salad
Start with a wedge of iceberg lettuce. Yes, plain old iceberg lettuce. The lowest lettuce on the food chain. But you can't cut a wedge out of mixed greens and try picking up a piece of arugula with a fork. A typical head of lettuce cut into quarters is about perfect for 4 servings.
Due to the height of the wedge, the tomatoes will have to fall around the edges. If, and only if tomatoes are in peak season, use freshly picked vine ripened tomatoes. Otherwise, the most flavourful tomatoes are the small ones. I love using mini San Marzanos because they have amazing flavour and are super sweet but any cherry or grape tomato will have enough flavour to stand up to the strong bleu cheese.
Most bleu cheese dressings don't have enough real chunks of cheese in them so make sure you add real crumbled bleu cheese for maximum flavour. I'm spelling bleu cheese this way on purpose because it's a French cheese or fromage. Fromage bleu to be exact. For simplicity sake I'm not including a recipe for Bleu Cheese Dressing. There are lots of good quality dressings available for purchase.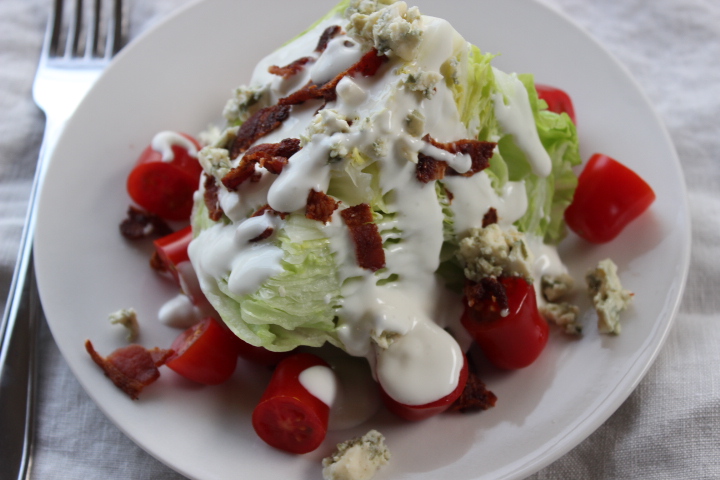 And since you're going to the trouble to use fresh tomatoes and real chunks of bleu cheese, finish the salad with real cooked bacon. Cook it to your desired level of crispiness, drain and cut into pieces. Don't use the tiny bits of "fakon." (fake + bacon) Just like arugula, try picking up one of those with a fork.
Serve your Wedge Salad with some fresh cracked black pepper if you like.
Here's the recipe:
Wedge Salad
Classic salad recipe with a wedge of iceberg lettuce topped with bacon, tomato and real bleu cheese.
Ingredients
1

head

iceberg lettuce

284

grams

mini San Marzano tomatoes

or 1 pint cherry tomato, about 8-10 per person

4

strips

bacon

½

cup

bleu cheese dressing

2

Tbsp

crumbled bleu cheese

fresh cracked black pepper

if desired
Instructions
Cook bacon to desired crispiness. Drain on paper towel.

Meanwhile, remove outer leaves from lettuce head and cut into 4 wedges. Arrange on serving platter or individual plates.

Drizzle most of bleu cheese dressing over top of lettuce wedges.

Cut tomatoes into halves or quarters depending on the size of the tomatoes. Approximately bite sized. Divide evenly over lettuce wedges.

Cut bacon into pieces. Sprinkle over top of lettuce wedges.

Add remaining dressing over top and add crumbled bleu cheese.

Serve with fresh cracked black pepper if desired.
Print Recipe
If you've tried this recipe, consider leaving a comment or a rating. Or, you can share the post by clicking on the icons below.
more awesome salads
Spinach Salad with Maple Roasted Pecans and Maple Balsamic Vinaigrette
Spicy Thai Grapefruit Salad with Shrimp