Why settle for store bought Sausage Rolls when you can make your own in minutes. There's no need to make up a special filling or pastry. Leave that to the experts by using butcher sausages and frozen puff pastry.
Using sausages already made up in the butcher shop means you don't have to worry about what spices and seasonings to use. Why bother figuring that out when sausage makers have it nailed. Right? If you love a good spicy Italian sausage, buy some of those. Prefer German? Get some Bratwurst. It really doesn't matter. Just make sure you buy raw ground pork sausages.
Jump to Recipe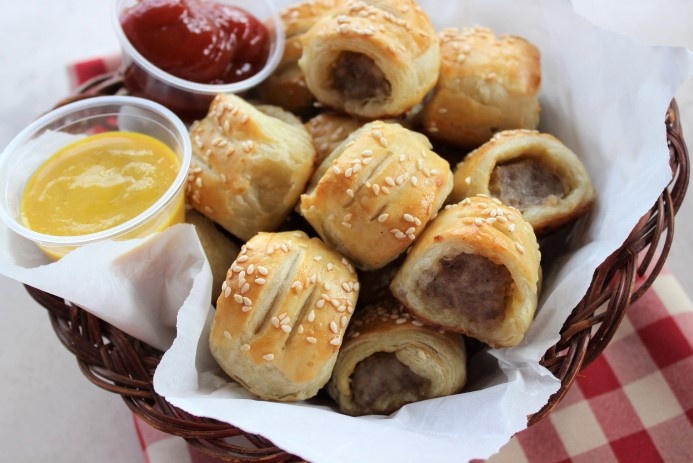 Next, get some frozen puff pastry. You can find it already rolled out in sheets which is the easiest. Otherwise buy the kind that's in a block and you'll have to roll it out yourself. That's not hard unless you don't have a rolling pin. But, even then, a nice bottle of wine would come in handy. Trust me, it does work.
Even if you're using the pre rolled pastry, it a good idea to roll it out a little bit more so it's not too puffy, AND you get more sausage rolls! That's not a bad thing. The pastry sheets are about 12 inches square so if you stretch them 3 or 4 inches longer, you'll be able to cut 8 sausage rolls that are around 2 inches long.
Normally you'd want to work with one sheet at a time because frozen puff pastry can dry out quickly but in this case, they're so quick to make you can roll both sheets out at once. Then cut each sheet in half the long way so you have 2 strips. The sheets come pre floured but you might want to dust your work area with a bit more so they don't stick.
Next, squeeze the sausage meat out of the casings. Smoosh all the meat together to mix it up well and get rid of any air pockets. Then divide the meat into 4 parts and using a rolling, squeezing type of action, form each part into a long tube the length of each strip, close to one edge. If you're running out of meat, don't be tempted to make it stretch. It's better the cut off a bit of pastry at the end of one row than to make an entire row of Sausage Rolls with not enough meat. That's why making your own is best, the store bought rolls are always light on the meat.
The only other ingredients you need to gather are some Dijon mustard, an egg and something to sprinkle on top. Spread some Dijon on the puff pastry beside the meat. It really helps enhance the flavour of these Sausage Rolls. Don't be shy with the mustard. You can use regular mustard if you prefer or grainy Dijon.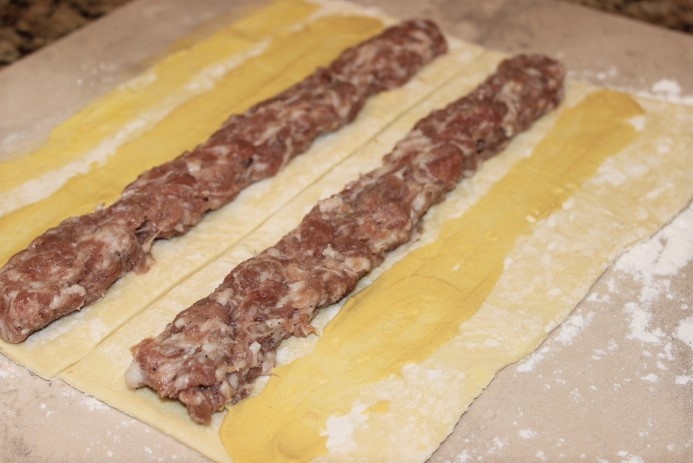 Then whisk up an egg really well and brush some down the outer edge of the puff pastry. The egg has 2 purposes here. First, it acts as glue to hold the rolls together. Then, brushing the tops of the rolls not only holds the sesame seeds in place but also gives them a beautiful golden colour.
How to roll up Sausage Rolls
Starting at the meat side of the pastry, carefully roll them up as tightly as possible to help prevent the pastry from separating from the meat during cooking. Lay the rolls seam side down on some parchment paper or a tray and brush the tops well with the remaining egg, then sprinkle sesame seeds on top. You could also use caraway seeds or even fennel, which would go well with Italian sausages if you've chosen that type. It's easier to do the egg wash before cutting the rolls into individual pieces.
Now an important step. Put the rolls in the freezer for about 15 or 20 minutes. What happens is the pastry will firm up enough that you can cut them into individual bite sizes and keep their shape. Also a really really sharp knife helps. You can cut a thin slice off each end if you're worried about presentation, or just eat the end pieces before you serve the rest. After all, you do need to make sure they taste ok!
Arrange the pieces on a large baking sheet, making sure there's enough room for the Sausage Rolls to expand during baking. I like to use parchment paper for these so they don't stick to the pan. Last thing, cut a few small slits on top of each roll to allow steam to escape while baking. Oh, and it helps make them look better too!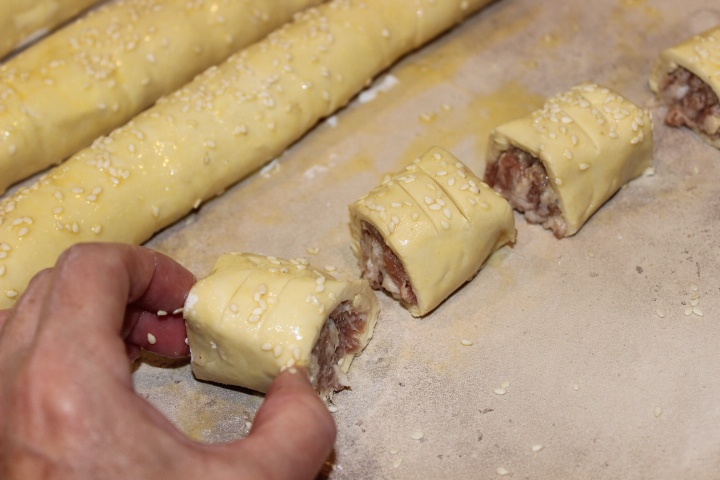 Bake them on the middle rack in a hot oven. Puff pastry likes to be baked at a high temperature so 400 degrees is about right.  If your rolls start browning too quickly, turn the heat down to 375. They need to bake long enough to cook the sausage meat. 25 minutes is about right.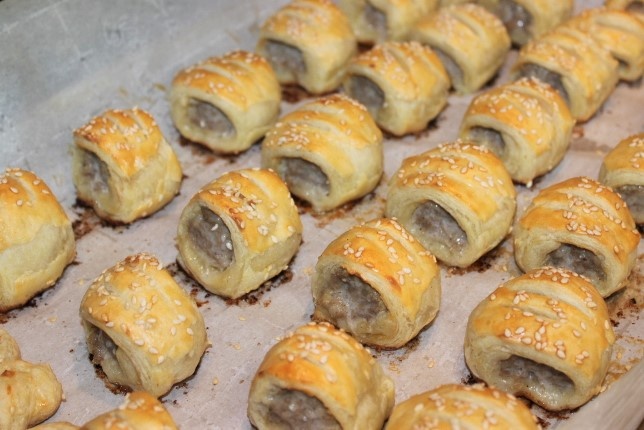 Sausage Rolls can be served hot or even room temperature which makes them a great take along for parties. Since there's Dijon baked right in them you don't need a dipping sauce but for extra flavour you can serve them with more mustard, a mixture of honey and mustard (my favourite) or ketchup.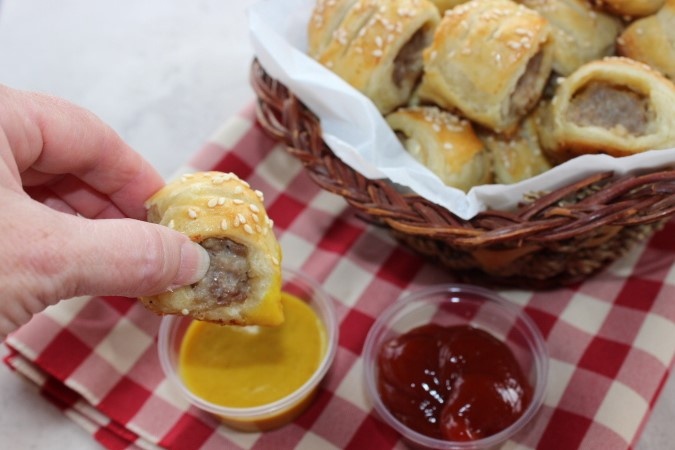 You can freeze the rolls and bake them later, just make sure you let them thaw partially before slicing them. They also freeze well after baking and can be reheated in the oven for about 10 minutes after they've thawed.
Here's the recipe:
Sausage Rolls
Easy homemade Sausage Rolls with puff pastry
Ingredients
1

pkg

Pre rolled puff pastry, 2 sheets

490 g or 17 oz package with 2 sheets

1¼

lb

pre made uncooked sausages

about 4-5 sausages

1

egg

4

tsp

Dijon mustard

or regular or grainy

flour for dusting

2

tsp

sesame seeds

or caraway or fennel
Dipping Sauce
ketchup

half and half mustard and honey
Instructions
Thaw puff pastry according to packaging instructions. Lightly dust a clean work surface. Lay both sheets of puff pastry flat and roll into a rectangle approx 16 x 12 inches. Using a sharp knife, cut the pastry lengthwise into 2 halves.

Squeeze meat from sausage casings and mix well. Divide into 4 equal parts and shape into tube stretching the entire length of the long end of the pastry.

Spread 1 tsp of Dijon along the length of the meat on each piece.

Whisk egg well. Brush along outer edge of the pastry.

Carefully roll into tubes starting on the meat side. Roll tightly to avoid gaps. Arrange rolls seam side down on parchment or platter. Brush with remaining egg wash. Sprinkle with sesame seeds. Chill in freezer for 15 or 20 minutes.

Preheat oven to 400° and arrange a rack in the centre of the oven.

Using a very sharp knife, cut rolls into approx 8 pieces and arrange on a large baking sheet over parchment paper. Make a few slices in the top of each roll to allow steam to escape.

Bake for 25 minutes or until puffed up and browned.

Serve warm or room temperature with ketchup or mustard dipping sauce.
Print Recipe
If you've tried this recipe, consider leaving a comment or a rating. Or, you can share the post by clicking on the icons below.
more party food