If you took apple pie and combined it with cheesecake, you'd end up with Apple Cream Cheese Squares. It doesn't take nearly as long to make these as it would a pie or cheesecake but they're every bit as delicious.
This recipe appeared in Harrowsmith Country Life Magazine in 2008. I tend to tear out recipes for "some day" and then forget about them. I was going through a large pile and found the recipe for Apple Cream Cheese Squares. It's a good thing I write notes on recipes or I might have skipped right by it. I had noted that my mom made them at Thanksgiving and we all loved them.
Jump to Recipe
Two awesome things about this recipe are: 1 – most of the mixing is done in a food processor so they're quick and easy to make. And 2 – there's only 1 block of cream cheese so you aren't spending a fortune. That's always a good thing for a thrifty girl like me. If you don't have a food processor, no worries. You can use a pastry blender to mix up the shortbread crust and a hand mixer for the cream cheese layer. The recipe amounts are perfect for a 9 inch square pan.
The original recipe called for sliced almonds on top but I decided that pecans would be great in Apple Cream Cheese Squares. Not just on top. In the bottom crust too. Since you're whizzing everything together in the food processor anyway, tossing in a handful of pecans adds a texture and flavour that works perfectly with the other ingredients. It tastes like pecan shortbread. If you're making the crust by hand, chop up the pecans very finely.
How to make Apple Cream Cheese Squares
Before pressing the crumbs in the bottom of the pan, line it with parchment paper which makes it simple to lift the squares right out. Then pour the crumb mixture in and press with your hand or the back of a spoon, starting in the middle and working your way to the outside. Try to keep the bottom layer even. You need to pre bake the bottom layer, then cool briefly before adding the next layer. Maybe 10 minutes or so. I would say it makes sense to leave the oven on because you'll probably use more energy preheating the oven twice.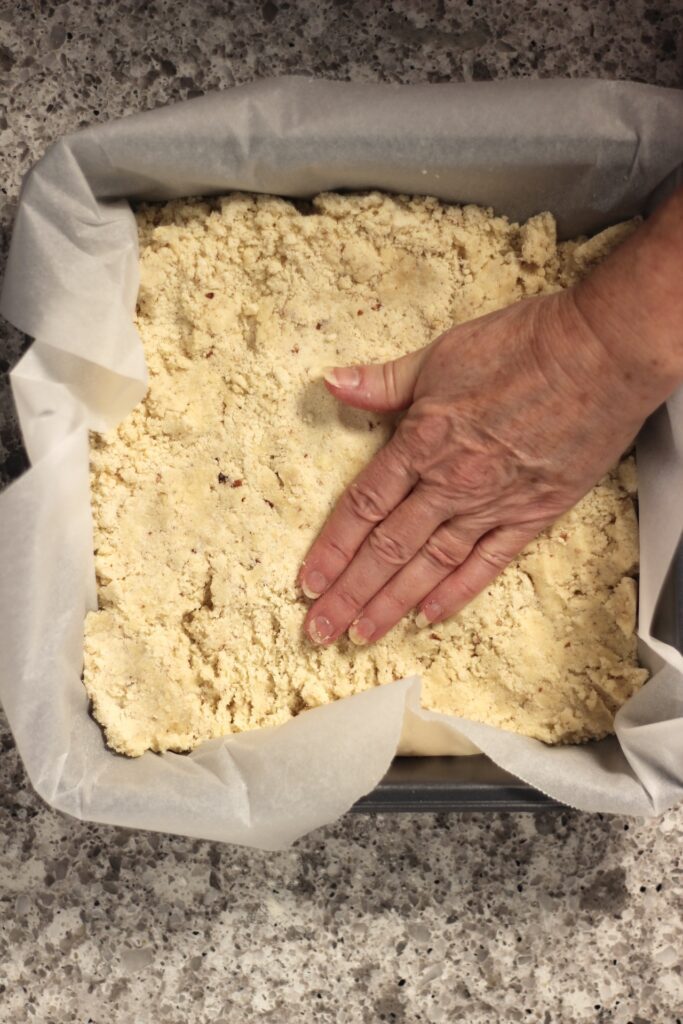 Don't even worry about rinsing out the processor bowl before mixing up the middle layer. The bottom crumb mixture pours right out and it's no big deal if a little flour or pecan dust gets mixed in with the cream cheese layer. Mix it up while you're pre baking the crust. Then spread it evenly over the bottom layer after it has cooled slightly. You'll also have time to prep the apple topping while the bottom layer is cooling.
You can use any type of apple in Apple Cream Cheese Squares. Granny Smith are a popular baking apple. Empires are softer and a good value for baking. Honeycrisp apples are a newer variety that are great for eating but they would be awesome in this recipe too. But you'll pay a bit more for them. Use your imagination, shop local, find what's in season.
You'll have to wait until the squares are completely cool before sampling. In fact, once they've cooled to room temperature, give them some time in the fridge to set. Apple Cream Cheese Squares will last a few days in the fridge, in case you don't eat them all the first day.
Here's the recipe:
Apple Cream Cheese Squares
Not as fancy as cheesecake but every bit as delicious
Ingredients
Shortbread Crust
1 ½

cups

all purpose flour

⅓

cup

sugar

¾

cup

cold butter, cut into chunks

¼

cup

pecans

pinch of salt

add salt if using unsalted butter only
Cream Cheese Filling
8

oz

cream cheese

block style, not spreadable

¼

cup

sugar

1

large egg

½

tsp

vanilla
Apple Topping
⅓

cup

sugar

½

tsp

cinnamon

4

cups

apples, peeled and sliced

about 4-5 medium apples

¼

cup

roughly chopped pecans
Instructions
Preheat oven to 400° and ensure rack is in middle of oven.

Cut a piece of parchment paper large enough to fill the baking pan with overhang.

Add flour, sugar, butter, pecans and salt (if using unsalted butter) in bowl of food processor. Whirl until fine crumb texture. Pour into pan over parchment paper. Adjust paper to fit, then press mixture into the pan evenly. Start in the centre and work towards the outer edge to ensure an even crust.

Bake for 10 minutes on the middle rack until lightly browned around the edges and set. Remove and allow to cool briefly.

Add cream cheese, sugar, egg and vanilla into the bowl of food processor. No need to clean out from previous mixture. Process until very smooth and no lumps remain. Spoon over cooled pastry base and spread evenly in pan.

Combine sugar and cinnamon. Sprinkle over peeled and sliced apples and toss lightly. Arrange apple mixture over cream cheese filling. Sprinkle chopped pecans evenly over top.

Bake for 20-25 minutes. Remove from oven and cool on a rack, then allow to chill in refrigerator before serving. Remove squares from pan by lifting parchment paper and place on a cutting board to cut evenly into 12 squares.
Print Recipe
You may also like
Peanut Butter Chocolate Crunch Bars
If you've tried this recipe, consider leaving a comment or a rating. Or, you can share the post by clicking on the icons below.