These bars will definitely satisfy your craving for sweet, salty and crunchy. The bottom layer is peanut butter cookie dough that rises around the edges while baking, creating a ledge to hold a thick layer of chocolate peanut butter. If that isn't decadent enough, Peanut Butter Chocolate Crunch Bars are topped with chopped nuts and salty pretzels that stay crunchy for days.
You can make these with crunchy or smooth peanut butter. I use crunchy for maximum peanut chunks. And you can use any type of nuts on top. Peanuts would be the obvious choice but pecans would be extra decadent. Use your imagination! The topping stays crunchy for days but that's not an issue because you'll eat these up in no time at all.
Jump to Recipe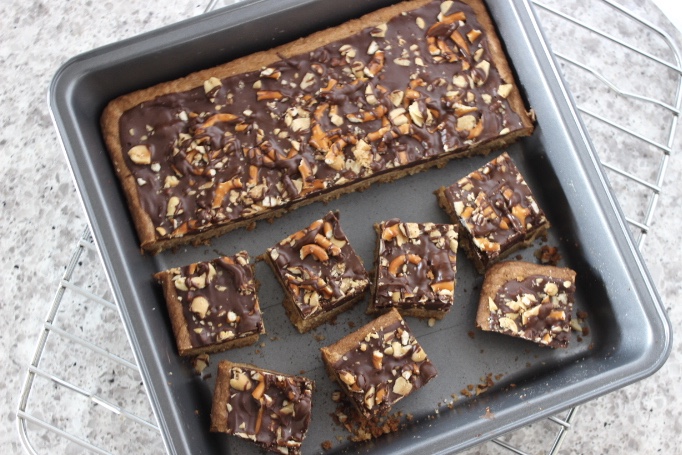 What's the best type of chocolate for melting?
The best chocolate for melting is one with a higher percentage of cocoa butter which is the edible fat from cocoa beans. If you start reading labels you'll discover that some chocolate has cocoa butter and other "chocolate" does not. Then there's dark, milk, semi sweet, bitter sweet. Somewhere in that range is probably the best choice, depending on your preference. The chocolate with a very high percentage of cacao can get quite chalky and bitter. Chips have extra ingredients as stabilizers to hold their shape so they're harder to melt. So a decent quality baking bar would be the best choice. I prefer semi sweet which is sweet enough without being too sweet.
While your cookie base is baking, chop up your chocolate and melt it gently in a double boiler or over a bowl of hot water. Be patient, it may seem your chocolate is not melting very fast but it will soon be a smooth river of deliciousness.
Once it's melted stir in the peanut butter. Again, I like to use crunchy peanut butter for this layer too but smooth is fine. And yes, I intentionally used the same amount of peanut butter in the base as in the chocolate mixture. So you can use the same measuring cup both times. You're welcome!
Pour the chocolate mixture over top of the baked peanut butter base. You don't have to worry about cooling the base layer first. Save a bit of the chocolate mixture.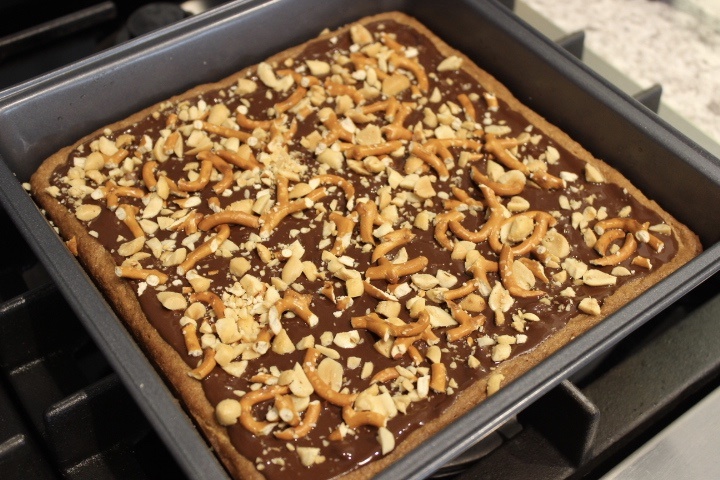 Next, chop up your nuts and pretzels. Sprinkle them evenly over top. Give them a gentle press to make sure they stick in the chocolate. Then use the rest of the melted chocolate to drizzle over top. You may have to put the bowl back over the hot water to loosen it up.
Now the hardest part. Waiting for the bars to cool. The chocolate won't harden because of the addition of peanut butter. It will be semi smooth with a soft fudge like texture. You don't need to store these in the refrigerator. But you might need to hide them from others. Or yourself.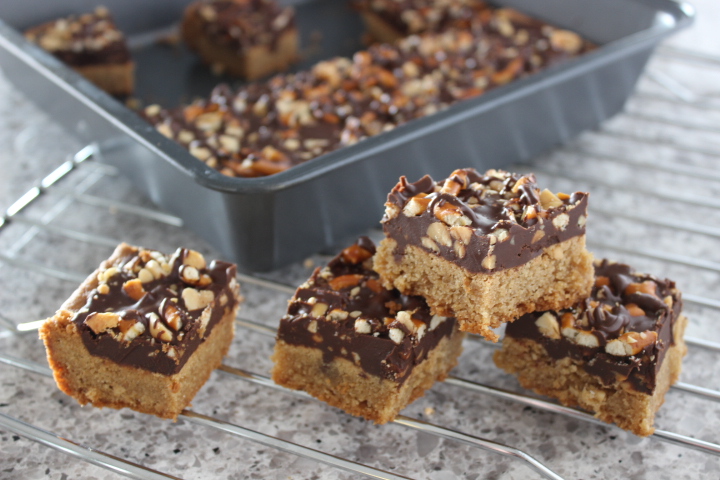 Here's the recipe:
Peanut Butter Chocolate Crunch Bars
Peanut butter cookie layer topped with chocolate peanut butter and crunchy nuts and pretzels
Ingredients
1

cup

flour

½

tsp

baking soda

½

tsp

baking powder

¼

tsp

salt

1

large egg

½

cup

white sugar

¼

cup

brown sugar

packed

½

cup

butter

⅔

cup

crunchy peanut butter

or smooth
Topping
6

oz

chopped baking chocolate

about 1 cup when chopped

⅔

cup

crunchy peanut butter

⅓

cup

chopped nuts

peanuts or pecans are best

⅓

cup

chopped salty pretzels

about 15 small pretzel twists
Instructions
In stand mixer or with hand mixer cream butter with white and brown sugar. Add egg and mix to combine.

Sift together flour, baking soda, baking powder and salt.

Add peanut butter to sugar mixture and combine. Add flour mixture all at once and mix only until incorporated. Do not over mix.

Spread evenly in a 9 inch square pan. Bake at 350° for 25 minutes. Layer will be just starting to brown on the edges and slightly raised.

Meanwhile, chop chocolate into small pieces. Melt in top layer of double boiler or in a bowl over a container of very hot water. Stir until completely melted. Stir in peanut butter.

Chop nuts and pretzels. Pour most of chocolate mixture over top of peanut butter layer. Spread evenly to edges. Sprinkle nut and pretzel mixture over top. Press down gently to ensure toppings stick into the chocolate. Drizzle remaining chocolate over top.

Wait until chocolate layer has cooled enough to set before cutting into squares.
Print Recipe
If you've tried this recipe, consider leaving a comment or a rating. You can share the post on social media by clicking on the icons below.
more chocolate