Hard to pronounce. Hard to spell. Takes forever to make. But this authentic French Beef Bourguignon recipe is good. Really good. It's best served over roasted garlic mashed potatoes and it's even better the next day.
There are a few options when choosing the right beef for this recipe. Since it's cooked slowly, tougher cuts of beef work well. Stewing beef is often sold already cut into cubes in stores. It's a good choice but I usually don't buy it because it tends to be too expensive. I use beef brisket or, if I'm feeling extra fancy, beef tenderloin. Why spend extra money on premium tenderloin steaks? Just buy a full tenderloin, trim it, cut into nice thick steaks and use the extra pieces for Beef Bourguignon.
Jump to Recipe
Here's a good link to learn how to trim a whole beef tenderloin yourself:
http://www.seriouseats.com/2014/12/how-to-trim-a-whole-beef-tenderloin.html
The traditional wine to use in this recipe is a dry red made with Pinot Noir grapes from the Burgundy region. In fact, this dish is sometimes referred to as Beef Burgundy. The experts say you should always cook with a wine you like to drink. I say open a good bottle, pour yourself a glass, then use a more moderately priced wine to make Beef Bourguignon. But seriously, any Pinot Noir or Merlot or really, any dry red wine will work.
Start by patting any extra moisture off the beef cubes with paper towel. This will help ensure they brown nicely. Season them well with salt and pepper. Cook the meat in batches over medium heat in a heavy dutch oven. If you crowd them they don't get the caramelization that's important for flavour development. It's not necessary to fully cook the pieces, just give them a turn once they're got nice deep colour and cook one other side.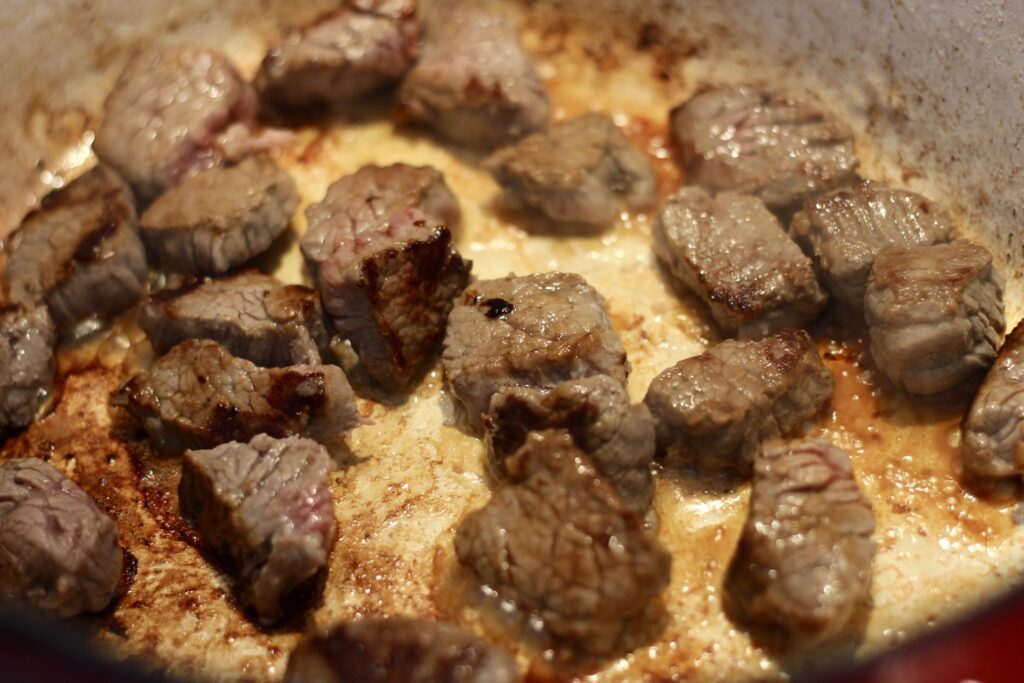 Add the garlic to the last batch of beef. Garlic can burn easily so just a quick sauté, then return all the meat back into the pot. Sprinkle flour over the meat and stir until the cubes are well coated. Pour the wine and broth over the meat and bring to a low simmer. Make sure to scrape down the sides of the pot to incorporate that flavour left from searing the beef. Now prepare the carrots, mushrooms and onions.
Pearl onions come in different sizes. The tiny ones take forever to peel and the larger ones are more than a bite size so try to find onions that are bite sized. If you've got the patience to peel them by hand, no problem, but a little trick is to drop them into boiling water for about a minute. Then the skins will come off easier. Don't worry about them being whole, the long slow cooking process makes them very soft and they literally melt in your mouth.
What's a Bouquet Garni?
Make a Bouquet Garni which is just a bundle of herbs tied together with string or thread. Use butcher twine so there's no dye, wax or other weird stuff you don't want in your dinner. It's food safe. What's great about a bouquet garni is that you can remove all the herb stems easily. The flavours will infuse into the stew while it cooks.
Once all your veggies and herbs are added, taste and season with salt and pepper. Cover and bake in the oven for about an hour. Check to see how it's doing and taste again in case it needs more seasoning. The liquid will be thickening and reducing. Cook for another hour or two, checking periodically to ensure it hasn't reduced too much. It will be quite thin at first but will start to reduce as it cooks and the taste will get better and better.
Once it's ready, either serve right away with mashed potatoes or allow to cool. Refrigerate over night and reheat the next day before serving.
Roasted Garlic Mashed Potatoes
Beef Bourguignon is best served over mashed potatoes. You can raise the bar by making garlic mashed potatoes or roasted garlic mashed potatoes.
For roasted garlic mashed, peel some of the loose skin off a head of garlic and slice across to top to expose most of the cloves. Drizzle a bit of olive oil over and wrap up in a foil bundle. Toss it in the oven while the beef is cooking. After about 40 minutes the garlic will be golden and soft as butter! Once it's cool enough to handle you can squeeze the whole head from the bottom and the soft garlic will come right out. Add it to a pot of boiled potatoes with a bit of milk and butter, salt and mash or whip it up. Yes, the entire head!
Serve Beef Bourguignon over these yummy garlic mashed potatoes. Garnish with fresh chopped parsley and cracked black pepper if desired.
Here's the recipe:
Beef Bourguignon
An authentic French comfort food, also called Beef Burgandy with beef and vegetables braised in red wine.
Ingredients
1 1/2

lb

Beef Tenderloin chunks or stewing beef cubes

1

Tbsp

bacon fat

or oil

3

cloves

garlic

2

Tbsp

flour

1 1/2

cups

Pinot Noir or other dry red wine

2 1/2

cups

beef broth

lower sodium if possible

1-2

cups

pearl onions, peeled

about 20

2

cups

chopped carrots

about 3 large

4

cups

mushrooms, quartered or halved

about 12 large

1

bay leaf, fresh or dried

fresh rosemary sprigs

fresh thyme sprigs

fresh parsley sprigs

salt and pepper to taste
Garlic Mashed Potatoes
1 1/2

lb

boiling potatoes

about 5 medium

1

head

garlic

1

tsp

olive oil

if roasting garlic

1

Tbsp

butter

1/4

cup

milk

salt to taste
Instructions
Pat beef chunks dry and season with salt and pepper.

Heat heavy dutch oven over medium heat on the stovetop. Add bacon fat or oil. Sear chunks of beef in small batches to caramelize, turning often. Remove to plate between batches. Peel and slice garlic cloves. Saute along with last batch of beef.

Return all cooked beef to the pot. Sprinkle flour over top and stir until all meat is coated. Add red wine and beef broth. Cover and simmer on low heat while you prep the vegetables.

Peel pearl onions. Clean and quarter or half mushrooms. Peel and chop carrots into bite sized pieces. Add to pot of beef.

Prepare a Bouquet Garni by arranging a few sprigs of rosemary, thyme and parsley and tie with butcher twine or cotton thread. If using a fresh bay leaf, wrap around the bouquet under the string. Otherwise toss dry bay leaf in pot along with herbs.

Place in the oven at 350 degrees and bake for about an hour. Check and stir. Return to oven and bake an additional hour, up to 2 more hours until the stew is dark and reduced.

Cool and refrigerate unless you are serving it immediately.

Meanwhile, prepare garlic mashed potatoes. Peel and boil potatoes in salted water until fork tender. Trim top off garlic head to expose most of the cloves. Drizzle with olive oil, wrap in foil and roast in oven for 30-40 minutes until cloves are very soft and golden.

Drain potatoes, add milk, butter and salt. Squeeze garlic into potato mixture. Whip or mash to desired consistency.

Serve Beef Bourguignon over garlic mashed potatoes.

Garnish with fresh parsley and cracked black pepper if desired.
Print Recipe
more comfort food recipes