Everyone has their own Chili recipe. That's what's great about it. Some people call this Chili Con Carne which simply translates to Chili with Meat. This recipe has lots of meat so it definitely qualifies. You can customize Chili to your liking with personalized heat levels, special spice blends, favourite vegetables and even a secret ingredient or two.
I like to make Chili to use up leftover veggies I have on hand. Although it's a popular cold weather meal, I actually prefer to make this when tomatoes and vegetables are in season. I participate in a program at Meadow Lynn Market Garden so I usually have lots of interesting veggies on hand. And they're all grown locally which is a bonus.
Chili freezes well so there's always some to pull out of the freezer when it's too cold to go outside.
Jump to Recipe
How to make the best Chili
Start with 1 T bacon fat.  Yup, bacon fat!  I actually have a mug in my fridge just like my mom does. Old school. It's just solid white fat that I've poured into a mug leaving the dark bits behind. Don't worry, you can use olive oil or cooking oil instead. But bacon fat has some good flavour you'll be missing out on. It keeps for months in the fridge.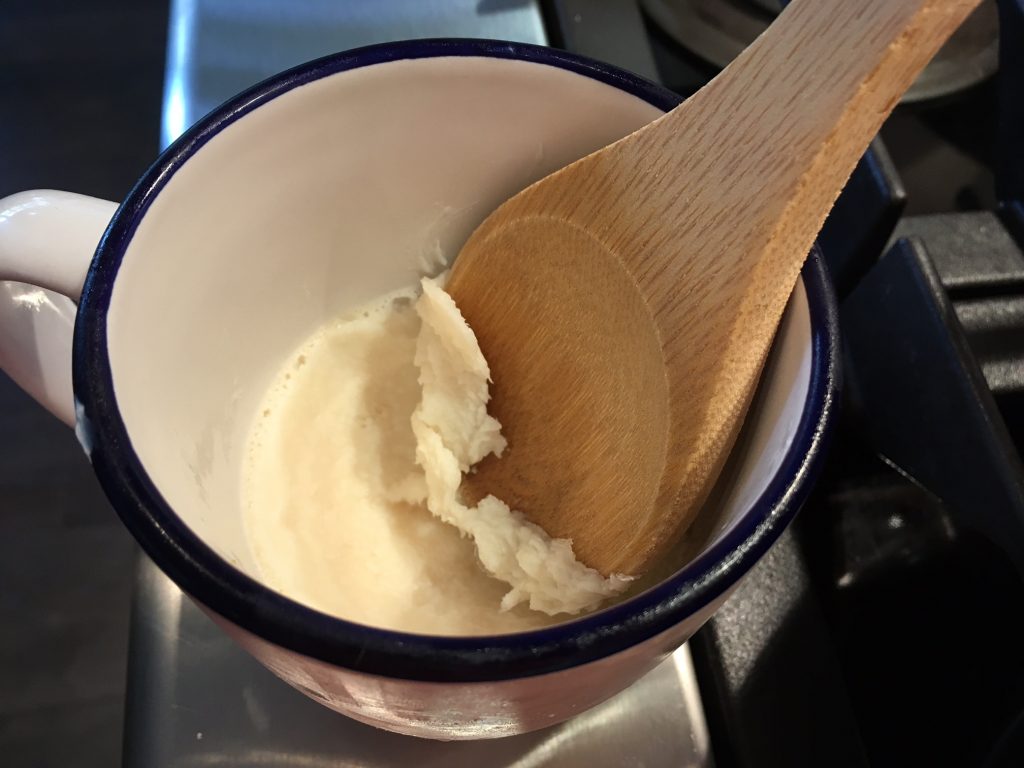 Next, chop up leeks, onion, peppers and mushrooms. It doesn't matter the colour of sweet peppers you use. If you're using hot peppers, take a tiny bite and if it burns, only use as much as you can handle. And wash your knife and cutting board right away. And don't touch your eye! Seriously, I've learned that from experience. I like to use a lot of vegetables, otherwise you're just making a big pot of meat sauce.
Sweat them down a bit (gently sauté so they get soft but not brown) in a large oven safe pot or dutch oven. Then add garlic and ground beef and pork. You can use all beef, but I prefer a ratio of about 1/3 pork and 2/3 beef. Brown the meat, then add the drained and rinsed beans.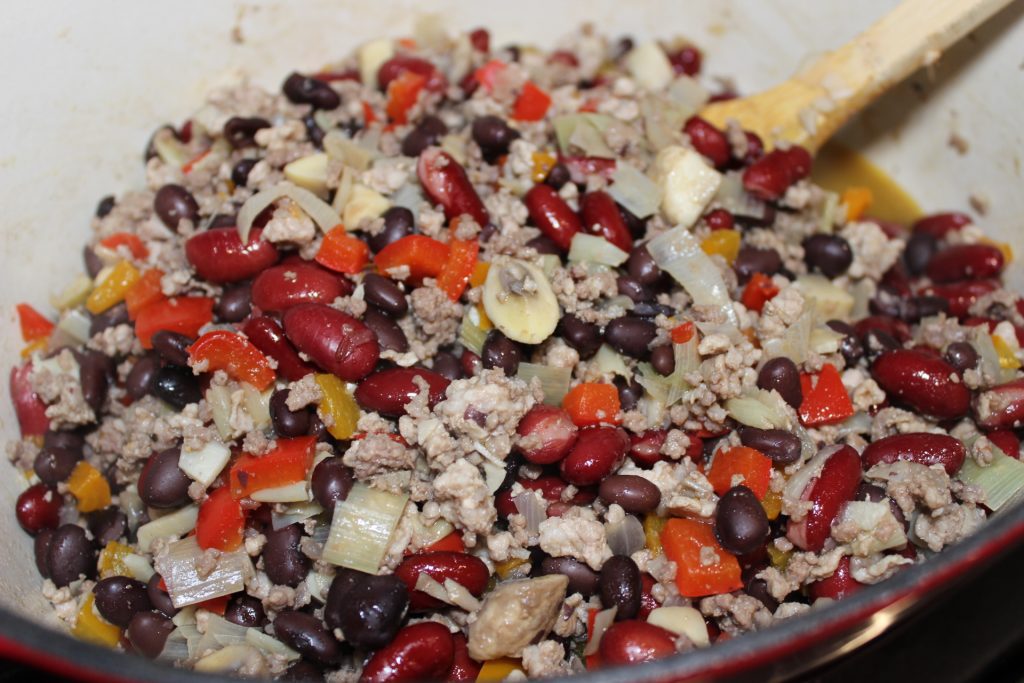 Once the meat is browned, add canned crushed tomatoes and chopped fresh tomatoes. Adding a bit of tomato paste helps to counteract the acidity of the tomatoes. A few spoonfuls is all you need.
Roasted tomatoes for chili
If you're making chili when fresh vegetables aren't available, you can use frozen chopped tomatoes. I usually have a few bags of tomatoes in the freezer. They get quite watery so I will roast them on a large baking sheet to reduce the liquid and intensify the flavour a bit. You can do this with fresh chopped tomatoes too.
Stir in some Worcestershire sauce, cumin, chili powder and cayenne pepper. The amount of cayenne is totally up to you. Somewhere between 1/4 and 1/2 tsp is about novice to medium heat.
The secret to great chili
So here's my secret ingredient….cocoa powder.  Yes you heard me right. Don't tell anyone else. It adds a depth of flavour and colour and doesn't taste like chocolate. Cocoa and chili are complementary flavours. Ask a Mexican.
Taste and season well with salt and pepper. You'll have a very thick mixture, especially if you've roasted the tomatoes. So, add a can of beer. Depending on how thick you like your Chili you can add all of it or some of it. It will reduce as it cooks so keep that in mind. If you don't want to add alcohol you can always thin it with water or club soda. Or non alcohol beer which I've heard isn't too bad. If you've used fresh tomatoes it likely doesn't need to be thinned.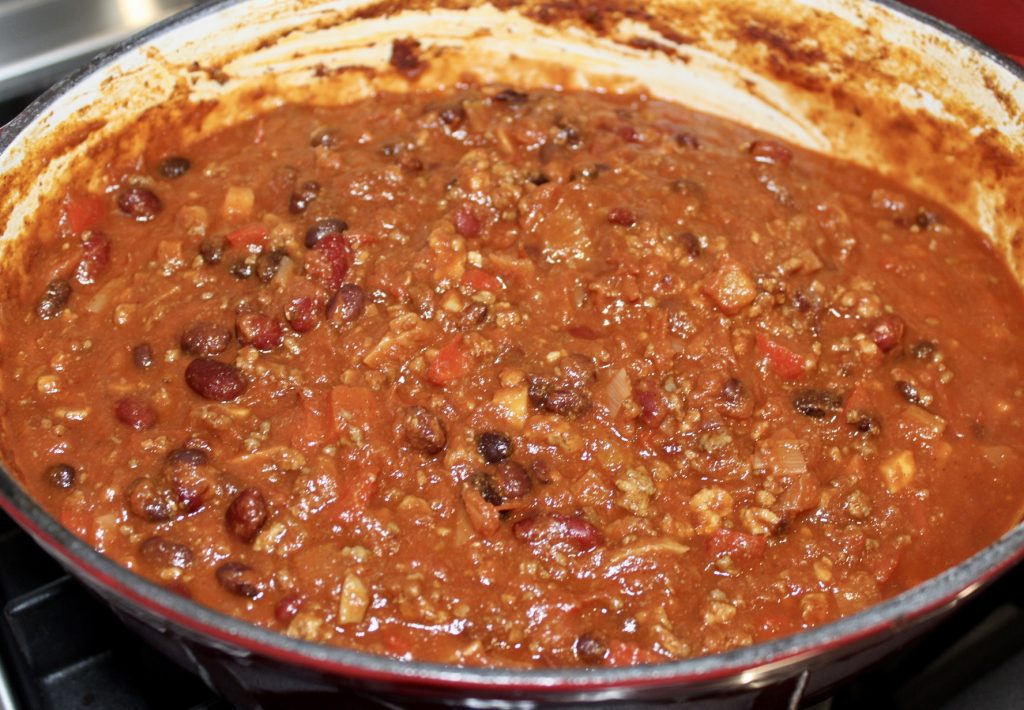 Cover the pot and bake or simmer for about an hour.  It will get a bit darker as it cooks. Tomorrow it will be even better.
Garnish with shredded cheddar cheese, sour cream and green onions if desired.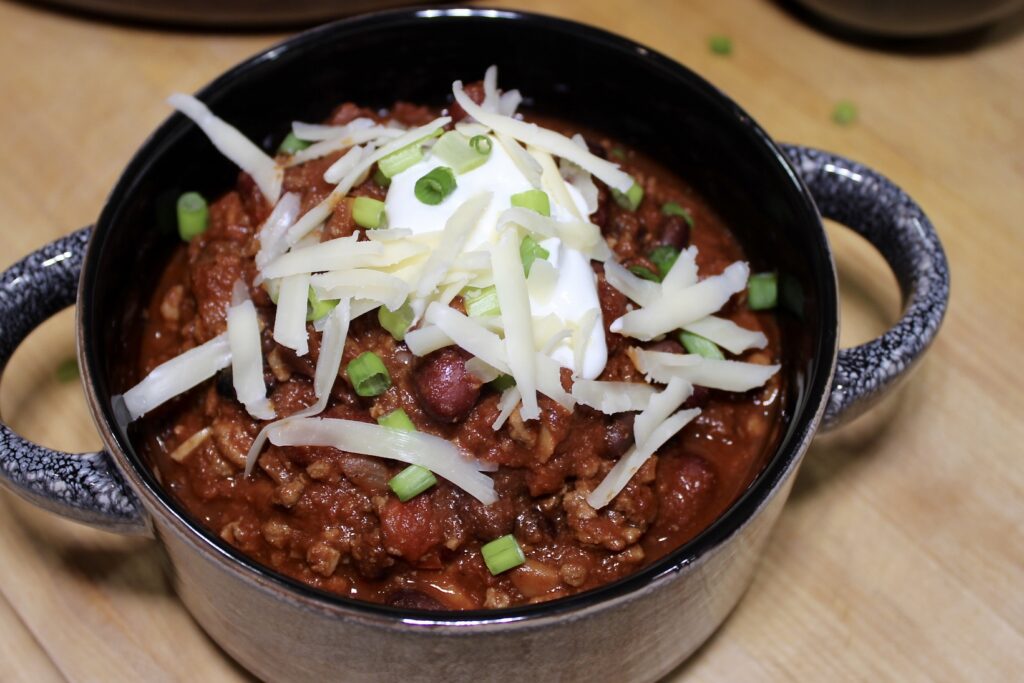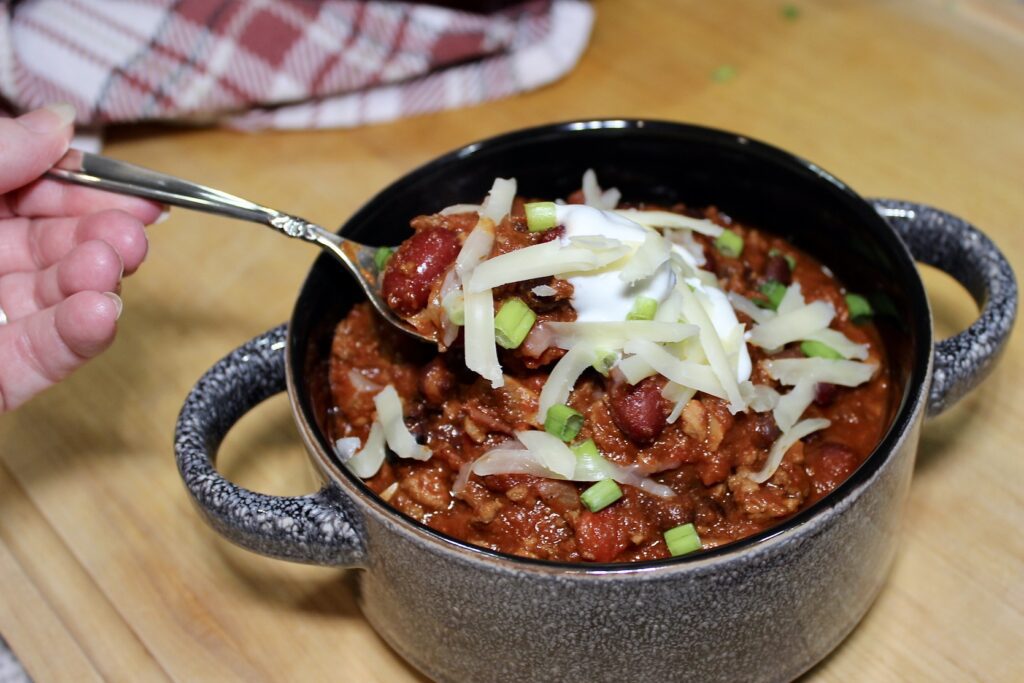 If you have leftovers, why not make Hot Layered Mexican Dip?
Here's the recipe:
Chili
Thick and hearty Chili loaded with beef, pork and vegetables.
Ingredients
1

Tbsp

bacon fat

or oil

1

leek, white and light green part only

1

medium onion

1

red pepper

1

yellow or orange pepper

or any colour combination

8

large mushrooms

3

cloves

garlic

1-2

small hot peppers such as jalapeno

or hotter peppers if desired

1

lb

medium ground beef

1/2

lb

ground pork

1

can

black beans

rinsed and drained

1

can

red kidney beans

rinsed and drained

1

large

can crushed tomatoes

2

cups

chopped fresh tomatoes, roasted if desired

2

Tbsp

tomato paste

1

Tbsp

Worcestershire sauce

2

tsp

cumin

3-4

Tbsp

chili powder

1/4-1/2

tsp

cayenne pepper

more or less as desired

1

Tbsp

cocoa powder

1

can

beer

salt and pepper to taste
Garnish
sour cream

shredded cheddar cheese

minced green onions
Instructions
Rinse and chop leek, onion, peppers and mushrooms.

In large oven proof pot melt bacon fat or heat oil. Add chopped vegetables and saute until soft but not brown.

Mince garlic. Add to vegetable mixture, along with beef and pork and cook until meat is browned.

Drain beans, rinse well and drain. Add to meat mixture.

If desired, arrange chopped tomatoes on a large baking sheet and roast for approximately 20 minutes until liquid is reduced. Otherwise, simply add chopped tomatoes to meat mixture and bring to a simmer. Add crushed tomatoes, tomato paste and Worcestershire. Stir in cumin, chili powder, cayenne, cocoa powder and salt and pepper. Taste to ensure desirable amount of salt.

Preheat oven to 350 degrees.

Add can of beer to chili. Bring to a simmer. Cover and bake in oven for at least one hour.

If desired, garnish with any combination of sour cream, minced green onion and shredded cheddar cheese.
Print Recipe
more cinco de mayo ideas
Chicken and White Bean Enchiladas