Ordinary mac and cheese becomes an extraordinary decadent treat by adding the ultimate seafood – lobster. Make sure you use real east coast lobster meat with some nice sized chunks, nestled in a bed of pasta with a warm creamy cheese sauce for the best Lobster Mac and Cheese. And to round out the texture, a crunchy topping that seals in all that deliciousness for the ultimate Lobster Mac and Cheese.
The best lobster to use in this recipe is from a whole lobster that's been boiled or steamed. But, realistically, you can buy really good quality lobster meat and all the work is done for you. Lobster meat comes in large cans in the freezer section or sometimes in thick plastic air tight packages. Most packages include tail, claw, leg and knuckle meat so you get some chunks that can be cut up and some small tender pieces from the legs. It's all good!
Jump to Recipe
If you're feeling ambitious and want to use a whole lobster, click here to watch Gordon Ramsay show you how to extract all the meat. For a thrifty girl like me it's the best option actually. Cooking them is quite easy and yes, you dunk them head first, alive, into a big pot of boiling salted water. And no, they don't scream. A 1.25 lb lobster will give you about the right amount of meat for this recipe.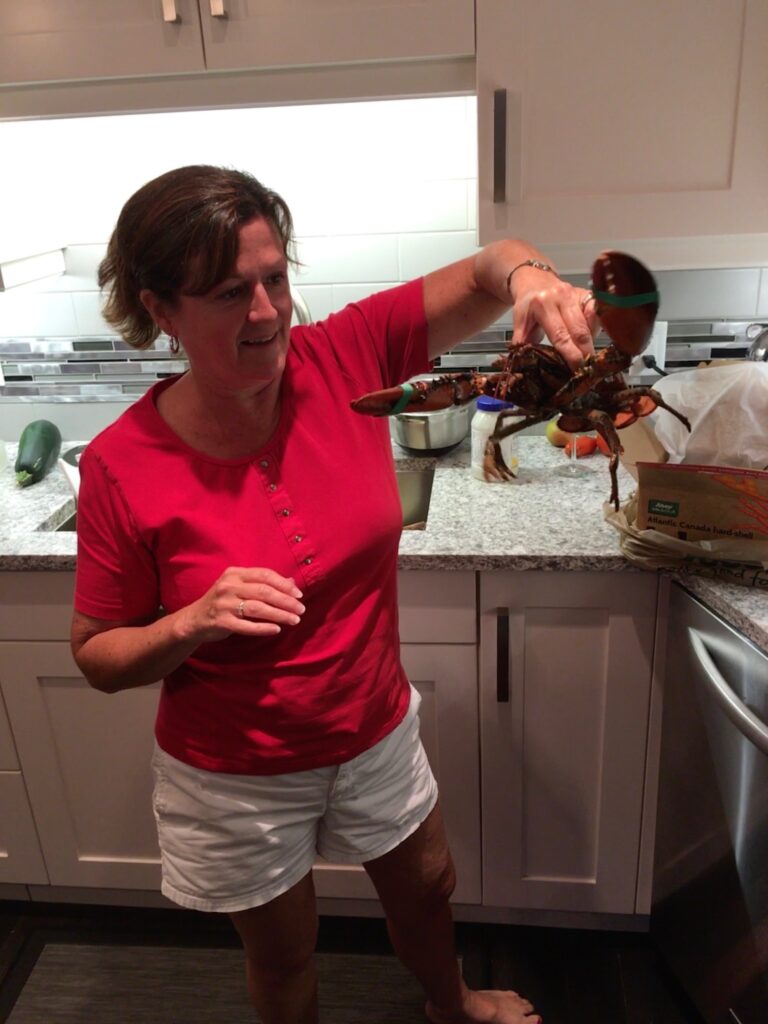 You can buy them pre cooked at seafood stores if you're not ready to take the plunge, pardon the pun, but it's not as hard as you think if you know a few tricks. The most important thing to know is how to remove the elastics from the claws without losing a finger. It's easiest if you have another person help until you perfect the maneuver. Hold the lobster in your non dominant hand on the upper part of the body where the claws meet the body and cross the claws in front of that feisty guy. Or gal. Lobsters can't use their claws when in this position. Then, with your good hand, cut the bands off with scissors. You need to make sure the water is boiling so you can plunge the lobsters in the pot right away. So why don't you cook lobster with the band on the claws? Well, lots of people do. But it prevents your cooked lobster from tasting like boiled rubber bands. Here's a great Canadian lobster resource with cooking and recipe info.
Like all mac and cheese recipes, you need way more sauce than you think. It always looks like too much but you'll understand after it's baked. Start with a white sauce which is simply equal parts flour and butter, cook until it's foamy, then add warm milk and slowly heat until it's thickened. Slow is the key, you don't want to scorch the sauce. Anything thickened with flour needs time to cook so it doesn't taste raw. Once the sauce is thick and creamy white, turn off the heat and stir in the cheese, taste and season with salt and white pepper. Lobster Mac and Cheese looks and tastes best with a combination of half sharp white cheddar and another milder cows milk cheese. I like to use Gouda. Keeping the sauce as white as possible means you can see the lobster chunks in the dish.
Why top Mac and Cheese with breadcrumbs?
A breadcrumb topping isn't just for show. The buttered breadcrumbs add a crunchy texture that pairs perfectly with the creamy cheesy sauce and it also helps seal the top so the pasta doesn't dry out. Because this is Lobster Mac and Cheese, adding some lemon and parsley to the topping is a perfect compliment because that's what you would find in the butter for dipping steamed lobster.
The size and shape of pasta you choose is up to you. I like to use Farfalle for this because they are bite sized and, I think they look a little bit like manta rays which are another creature of the sea. Some people call them bow ties so what better way to "dress up" a fancy dish. Another thing I like about Farfalle is it's pinched in the middle so you get a bit of an al dente bite where the pasta is thicker. And, as always, make sure you don't over cook the pasta, especially when it's going to be baked in a sauce.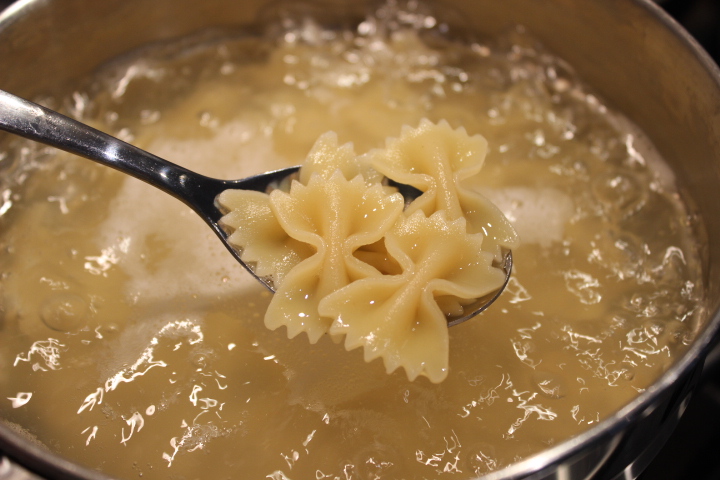 This recipe for Lobster Mac and Cheese is perfect for 4 people. Just 4? Well, maybe two hungry people who love lobster who also love leftovers. And also because it's so good you won't want to share this with just anyone. Lobster isn't exactly cheap, even when you're cooking your own, so instead of stretching the lobster into more servings, make a really good version by not skimping on the amount of lobster. You could double the recipe if you want to spend some money, or, you can add other less expensive seafood like shrimp and call it Seafood Mac and Cheese.
How can you tell if your lobster is male or female?
Did you know there's a difference between male and female lobsters? Females have wider tails and males have larger claws. So depending on the type of lobster meat you like best, choosing the right gender is good to know. So how can you tell? You need to flip them over to know for sure. The first set of tiny legs or "swimmerets" closest to the body are hard on the male and soft and feathery on females. Click here for more fun facts about lobsters. For instance, did you know they can be right or left handed?
Enough lobster trivia? Ok, here's the recipe:
Lobster Mac and Cheese
Ultimate baked macaroni and cheese with chunks of real lobster
Ingredients
225

g

cooked chopped lobster meat

about ½ pound

100

g

farfalle pasta

about 3½ oz, 1¼ cup measured dry

2

Tbsp

butter

salted or unsalted, season accordingly

2

Tbsp

flour

2

C

warmed milk

½

tsp

salt

¼

tsp

white pepper

black pepper is ok but white looks better

¾

C

grated white sharp cheddar

approx 2 oz, 55 g

¾

C

grated mild gouda

approx 2 oz, 55 g
Buttered Breadcrumb Topping
1

Tbsp

butter, melted

½

C

panko breadcrumbs

2

Tbsp

freshly grated real Parmesan cheese

1

Tbsp

minced fresh parsley

fresh squeezed lemon juice

just a splash
Instructions
Chop cooked lobster meat into chunks. Break up any clumps of fine shredded meat. Drain well, squeezing any extra liquid from meat.

While sauce is thickening, cook pasta in salted water until el dente. Drain well.

Prepare white sauce by combining flour and butter over medium low heat, cooking until foamy and well incorporated.

Heat milk in microwave until warm, do not boil. Add a small amount to pot, stir until combined, then add remaining milk. Cook slowly over medium low heat until sauce is thick, smooth and uniform in colour.

Remove from heat and stir in cheeses. Season with salt and pepper. Taste and adjust seasoning accordingly.

Add lobster meat to sauce and stir to combine. When pasta is cooked and well drained, add to sauce mixture. Pour into an oven safe small to medium sized baking dish, approximately 9 inch oblong or 8 inch round.

Prepare topping by melting butter, then adding remaining ingredients. Mix well and sprinkle evenly over top of dish.

Bake on the centre rack of a preheated oven at 350° for about 30 minutes, until top is browning and edges are bubbling. If you are baking later from a cold dish, increase cooking time by about 10 minutes.
Print Recipe
If you've tried this recipe, consider leaving a comment or a rating. You can share the post on social media by clicking on the icons below.
hungry for more seafood?
Steamed Mussels with White Wine, Lemon and Garlic