This fragrant and spicy soup is similar to traditional Albondigas which is a spicy Mexican meatball soup. So I thought, "Do you wanna meatball soup?" Get it? Tijuana Meatball Soup?
The idea for this soup came when I was making Cabbage Rolls.  Huh? Yes! From Kraków to Tijuana. I had a mixture of ground pork and beef and wasn't going to need all of it. And I had extra cooked rice and tomato juice. So it reminded me of a soup my mom makes called Mexican Meatball Soup. I'm not sure where she got the recipe but it's tasty and spicy. And thus, Tijuana Meatball Soup was created.
Jump to Recipe
I love making soup because you don't have to be too concerned about measuring amounts. You can use the ingredients you have on hand and what you like. And this one can be as spicy as you want. Jalapeños can fool you. Sometimes they're very hot, sometimes they aren't at all. So I use a bit of cayenne too which allows you to control the amount of heat. Feel free to use other types of hot peppers. Red chili peppers work too and give more heat. You can add more or less depending on how much heat you like. This amount is about medium heat.
How to make Tijuana Meatball Soup
Start by making the broth. Finely dice onion, carrots and celery. This is a "mirepoix" which is the base for most soups and stews. You want about 2 cups in total of this mixture. Sauté them in a bit of olive oil over low heat for a few minutes to soften. I do this to take the edge off the onions, sweeten them slightly. Sometimes I make this without celery. Like I said, that's the great thing about soup, you can use what you like and what you have on hand.
Add minced garlic, oregano, cayenne, cumin and salt. Sauté to allow the spices to "bloom" meaning release their flavour.
Add the broth and a few bay leaves. I like to use half vegetable and half chicken broth but you can use all of one or the other if you prefer. And if you have homemade, that's awesome! Use about 7-8 cups. Add the tomato juice and bring to a simmer.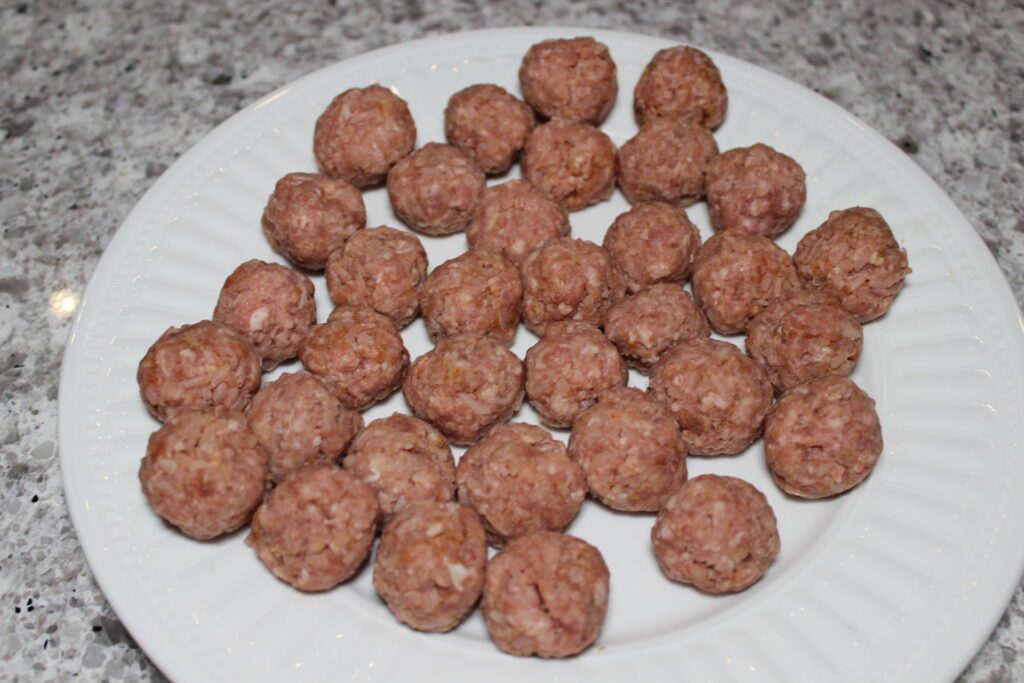 While this is simmering away, make the meatballs. I like to use a mixture of pork and beef because it has the right balance of fat and flavour. You don't need egg and breadcrumbs to hold them together. The rice does the trick. Season the meat mixture with salt and pepper, garlic powder, cayenne and cumin. Mix in the rice and roll into small balls, about 2 inches or maybe a bit smaller. Pop them in the fridge until the broth has simmered for at least 20 minutes.
Next, seed and dice a jalapeño pepper. Taste it and decide how much to use depending on your heat tolerance. Dice half a red pepper and half a green pepper. If you're using red chili pepper, dice that too in very small pieces
Add the peppers and meatballs to the broth, taste and season with salt and pepper and simmer for 20 minutes. Stir very gently so you don't break up the meatballs.
Taste and add more salt and pepper if required. Stir in fresh chopped cilantro.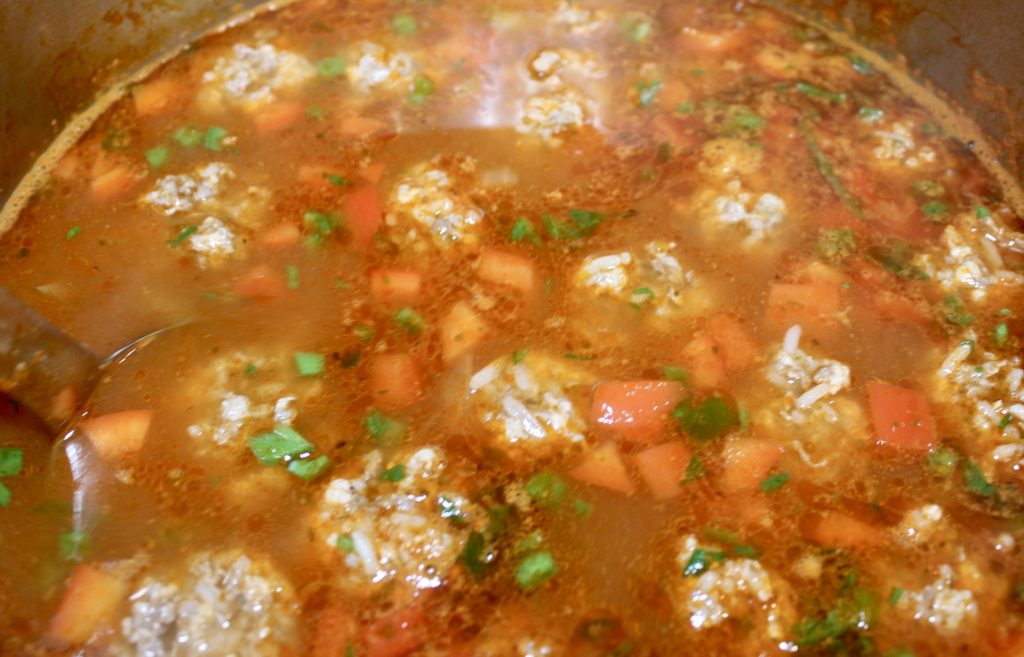 Scoop Tijuana Meatball Soup into bowls and add sliced green onion, a squeeze of lime and more fresh chopped cilantro if desired.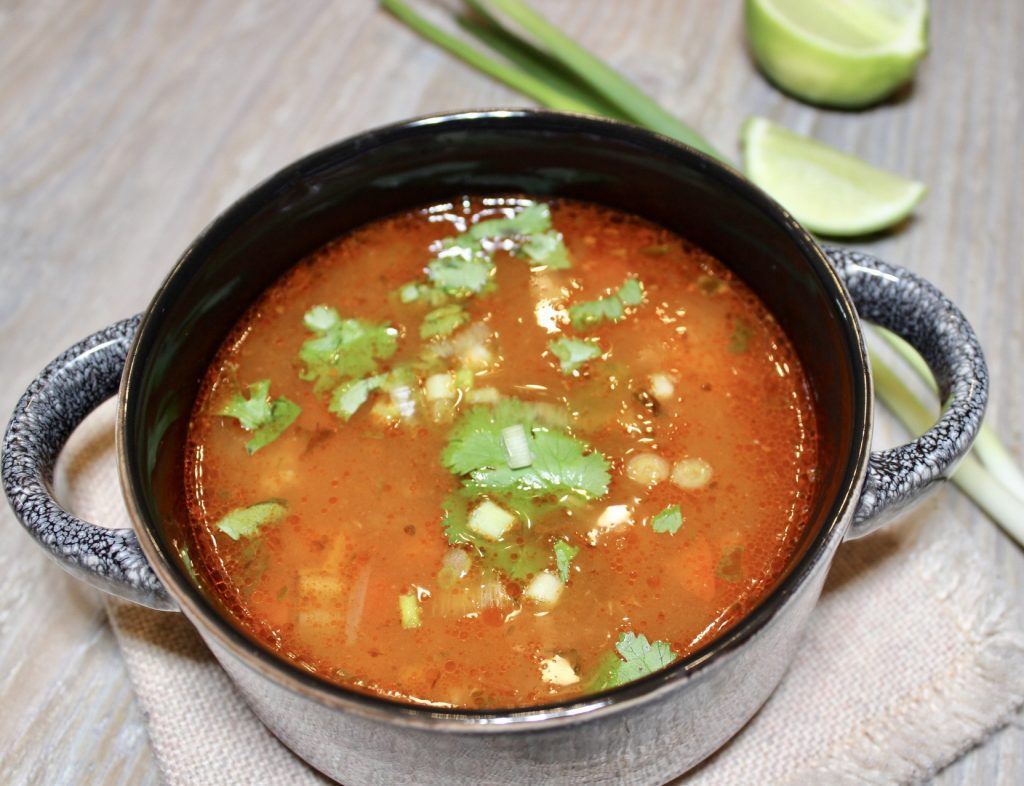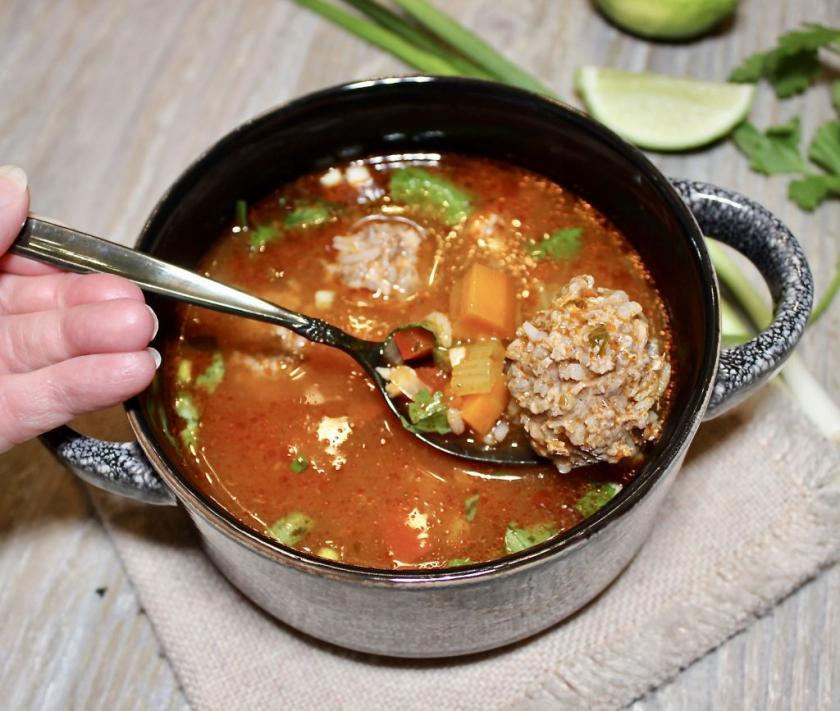 If you're in the mood for more meatball soups, you should try Italian Wedding Soup.
Here's the recipe:
Tijuana Meatball Soup
Spicy Mexican Meatball Soup, similar to Albondigas
Ingredients
2

stalks

celery

2

carrots

1

onion

1

Tbsp

extra virgin olive oil

2

cloves

garlic

1

tsp

dried oregano

½

tsp

cumin

¼

tsp

cayenne pepper

optional, use more or less if desired

1

bay leaf

or 2 if small or older

1

carton

chicken broth

900 grams

1

carton

vegetable broth

1½

cups

tomato juice

1

jalapeño pepper

½

sweet red pepper

½

sweet green pepper

1

hot red chili pepper

if desired for extra heat

salt and pepper to taste

fresh chopped cilantro
Meatballs
½

lb

lean ground beef

½

lb

lean ground pork

¾

cup

cooked rice

¼

tsp

cumin

¼

tsp

garlic powder

pinch

cayenne

salt and pepper
Garnish
1

minced green onion

1

lime, cut into wedges

fresh chopped cilantro
Instructions
Finely dice celery, onion and carrots. Sauté in olive oil at medium-low heat until softened. Add minced garlic, oregano, cumin, cayenne and salt and pepper. Sauté a minute or so to allow flavours to bloom.

Add chicken and vegetable broth, tomato juice and bay leaf. Simmer for 20 minutes.

Combine ground beef and pork, rice and seasoning. Shape into small balls, no larger than 2 inches in diameter. Refrigerate until soup has simmered for 20 minutes.

Gently add meatballs to soup. Mince jalapeño, sweet peppers and hot pepper if using. Add to soup. Simmer for 20 minutes. Taste and add more salt and pepper if desired.

Serve hot with more fresh chopped cilantro, lime wedge and green onion.
Print Recipe
more mexican recipes
Chicken and White Bean Enchiladas