Potato Salad is one of those classic side dishes that always seems to appear in the summer because it goes so well with outdoor dining, picnics and barbecues. What I like about it the most is that you make it ahead. Early in the day is fine but the day before is even better. That way the potatoes have a chance to soak up the dressing and you have a relaxing dinner prep.
Potato Salad can look bland so make sure to add some vibrant colours.  After all you eat with your eyes. I like to use sweet red pepper and some fresh green herbs. And I always add hard boiled eggs. They add some protein and the egg yolks sort of mix with the dressing to give it more depth of flavour.
Jump to Recipe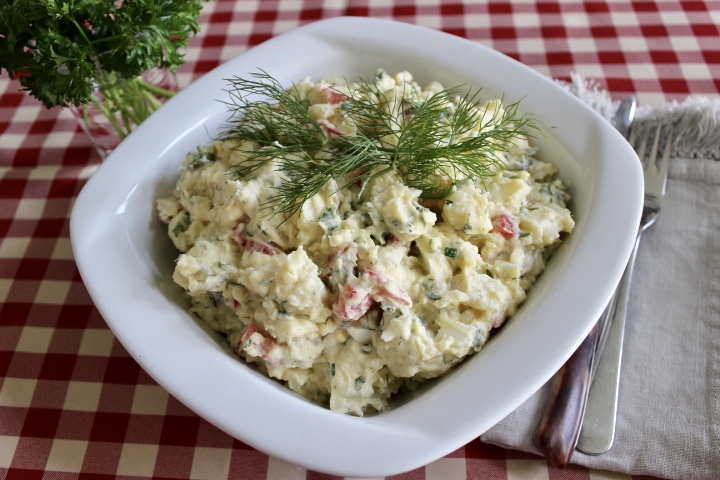 I usually boil the potatoes with the skins on because I've discovered you can peel a cooked potato easily once it's cooled enough to handle. And I'm all for making things easy.  I'm not sure but I think this may help with keeping a bit of the nutritional value too. Try not to overcook them or you'll end up with mashed potato salad. Don't cut your potatoes too small before boiling or they will absorb too much water which also contributes to mushy potatoes. And don't forget to season the potato water with salt.
What are the best potatoes for Potato Salad?
You can use any type of potato but the harder varieties are better because they don't tend to get as mushy. Sometimes I use red potatoes and keep the skin on if they're nice and clean.
Cut the peeled (or unpeeled if you're using red) potatoes into cubes and combine with chopped boiled eggs. Peeled eggs. I don't have to mention that, right? Add diced red pepper and some fresh chopped herbs. I like the combination of parsley, dill and chives. Dill goes well with potatoes but it's best in combination with other fresh herbs, otherwise it over powers the flavours. I'm not adding any onion because chives add the oniony element. And some people don't like eating raw onion.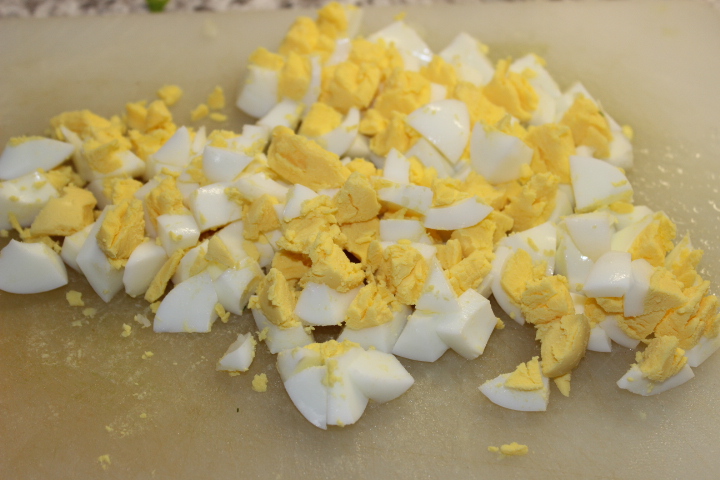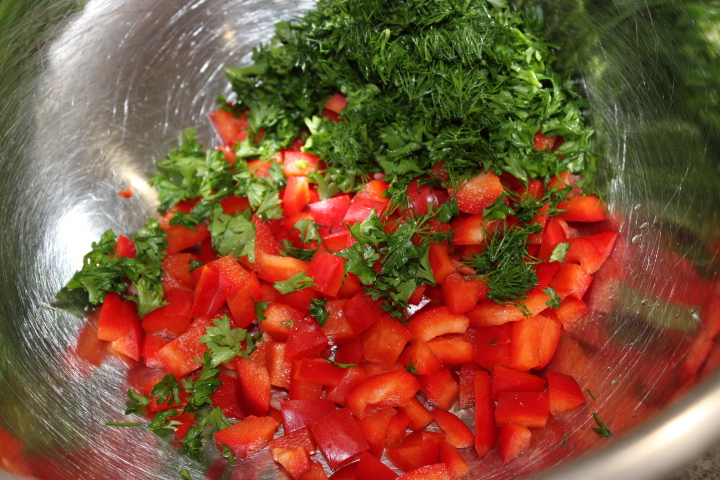 For the dressing I like to use a combination of regular mayonnaise and the whipped type that's sweet. Miracle Whip. You can use all of either but I prefer to use some of each as one is too sweet and one isn't sweet enough. And my mom's trick is to add about a tablespoon of sweet pickle juice. Then add a tablespoon of dijon, just to give it a little kick. Mix that all together, season with salt and pepper and pour over the potato mixture. Toss it around until well blended and refrigerate all day or over night. It might appear to be too much dressing but the potatoes will soak some of it up and it should be perfect after hanging around in the fridge for a while.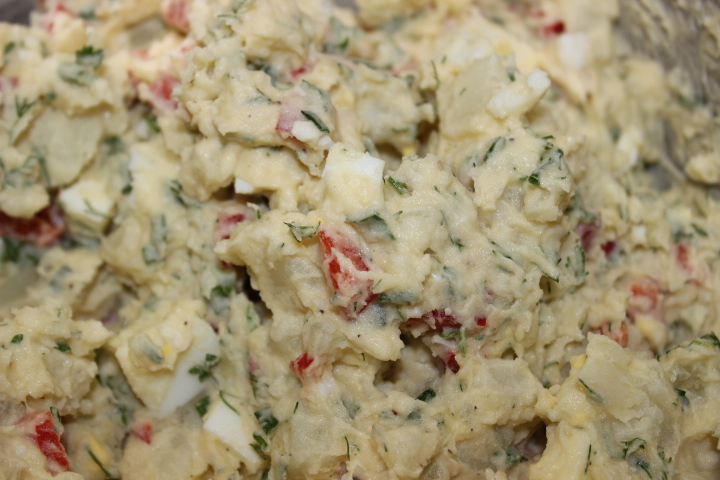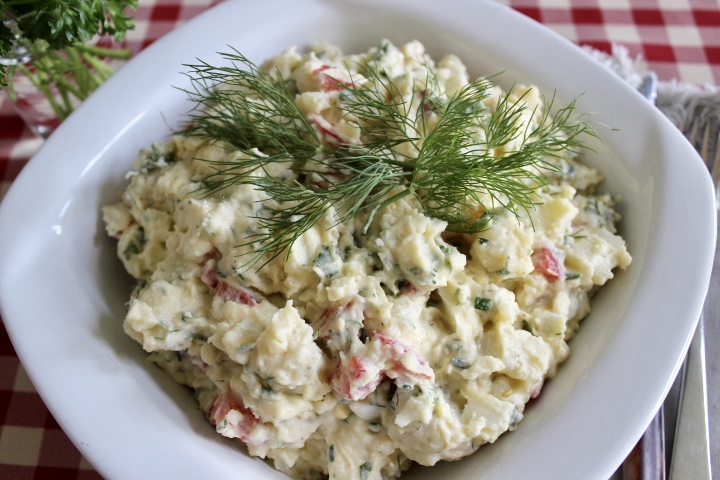 Here's the recipe:
Potato Salad
Classic summer salad recipe
Ingredients
6

large potatoes

or 8 medium

4

eggs

½

sweet red pepper

2

Tbsp

fresh minced chives

2

Tbsp

fresh chopped dill

2

Tbsp

fresh chopped parsley

plus extra for garnish
Dressing
½

C

whipped style mayonnaise like Miracle Whip

1

C

regular mayonnaise

1

Tbsp

Dijon mustard

1

Tbsp

sweet pickle juice

½

tsp

salt

¼

tsp

pepper
Instructions
Scrub potatoes and remove any dirt and eyes. Cut in half if large, otherwise leave whole. Boil in salted water until a knife can easily pierce the potato, about 40 minutes. Drain well, rinse with cold water and drain again. Peel skin when potatoes are cooled enough to handle.

Meanwhile, place 4 eggs in a pot of cold water. Bring to a boil, covered, then turn off heat and leave covered for 15 minutes. Drain and cool in ice water. Peel when cool enough to handle.

Cut potatoes and eggs into chunks, eggs smaller than potato chunks. Dice pepper, mince chives, dill and parsley and combine with potatoes and eggs.

Make dressing by whisking together all ingredients. Pour over salad and mix well. Cover and refrigerate for several hours or over night.

Garnish with extra fresh parsley if desired.
Print Recipe
more classic summer salads