Creme Brûlée is one of those classic desserts. It's rich and creamy and silky and, best of all, you make it in advance. In fact the day before is preferable. The crackly caramelized sugar topping takes only a few minutes right before serving and totally takes it to a top level dish! The downside is that the main ingredient is cream. High fat cream. I wanted to see if using a lower fat combination would give the same delicious results. And I was pleasantly surprised!
Don't get me wrong. This is not a low fat dish. Not even close. But instead of using 35% cream I used a 50/50 combination of 10% cream and homogenized milk which is 3.5%. I have to admit, I was worried. That's quite a difference. I added an extra egg yolk to help get that thick creamy consistency and it worked!
The key to making Creme Brûlée is to add the hot milk mixture very slowly to the egg yolk mixture so you don't end up with scrambled eggs. This is called tempering. If you get a few lumps it's not a big deal. You can strain the custard before adding it to the ramekins. Baking them at a low temperature in a water bath with a kitchen towel in the bottom prevents them from cooking too fast. Refrigerating the custard for at least 4 hours but best over night allows the custard to finish setting. Some say you can make this days ahead but I wouldn't be able to resist that long.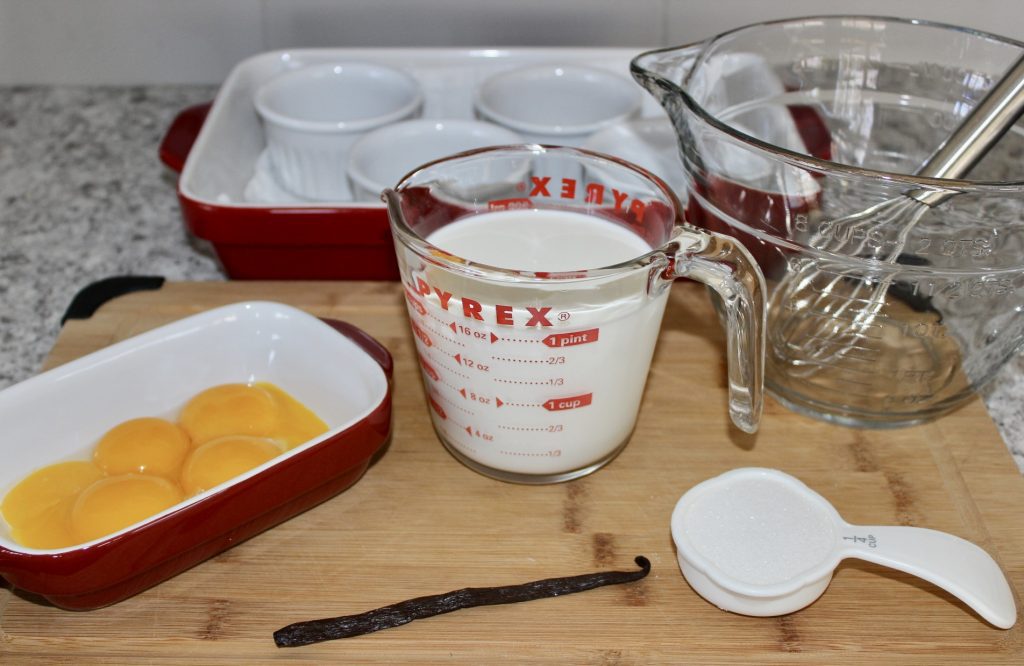 For something this special you want to ensure you're using the freshest and best quality ingredients. If possible, use a real vanilla bean. Not only is it the truest vanilla flavour, you get those little black dots that are real vanilla seeds. But no worries, using real vanilla extract is perfectly fine.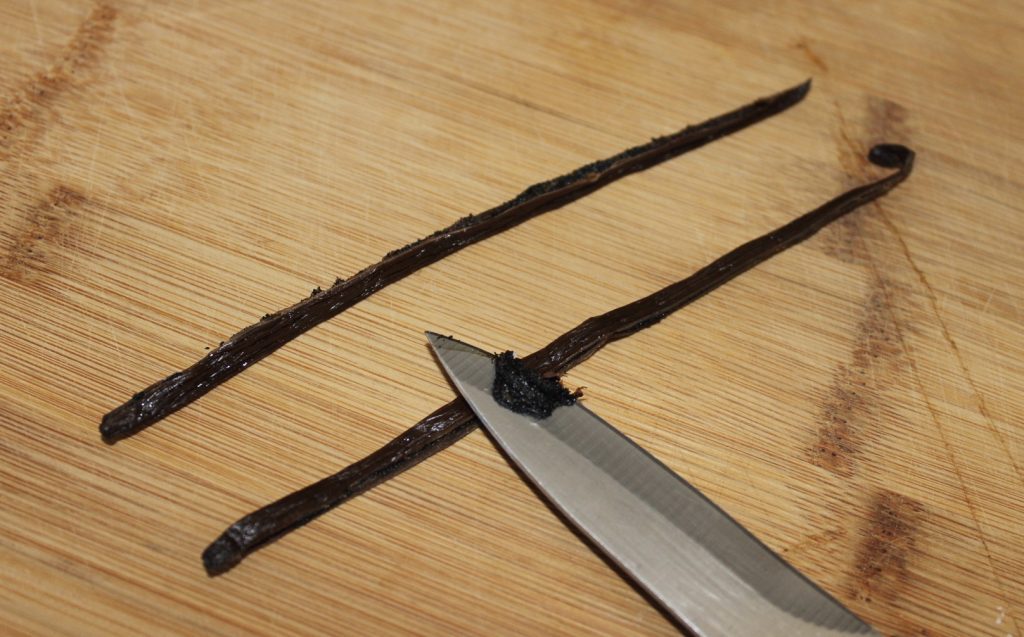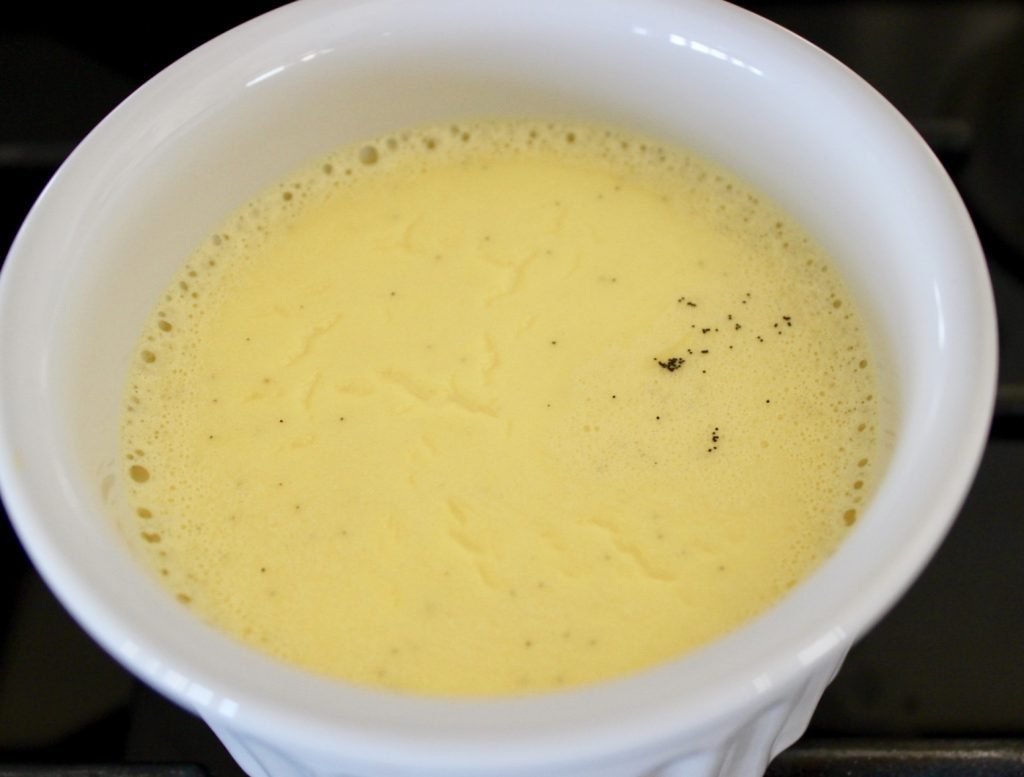 You could make 6 smaller ones but why would you want a smaller serving?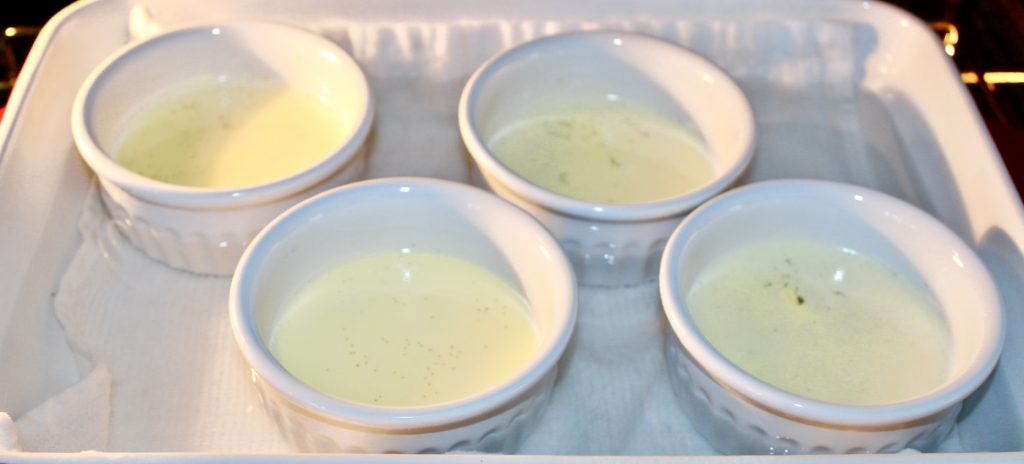 I used four larger ramekins and put a dish cloth in the pan before adding the boiling water. And be careful not to pour any water into the custards.
Preheat the oven temperature to 325. It's easier to pour the water in after you've placed the pan on the rack in the oven. Close the oven and turn the temperature down to 300 degrees. This way, since you've lost some heat with the door open, the oven will be at the perfect temperature without having to preheat again. Which could cook the custards a little too quickly.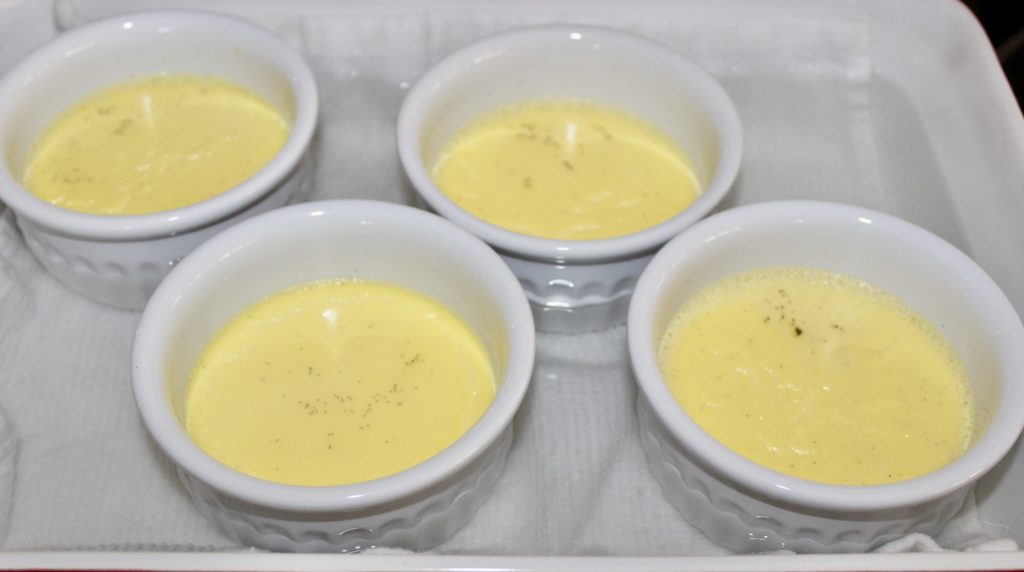 Remove them from the water bath as soon as you can and let them cool on a rack. Once they're room temperature, cover them with plastic wrap and refrigerate until right before you're ready to add the sugar topping.
There isn't much sugar in the custard but the caramelized sugar topping balances the sweetness. I used a mixture of white and brown sugar and it melted and hardened perfectly. Just remember to keep the torch moving and don't get so close to the sugar that you burn it. Be patient. You need to serve this soon after torching the top or it will go soft. You just need to wait about a minute for the sugar to harden.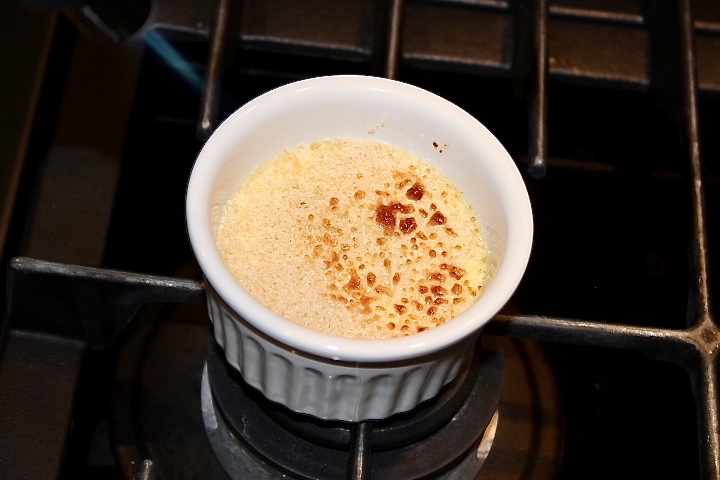 If you don't have a torch you can finish them under the broiler. Just make sure your custards are very cold and broil them on the highest rack. And watch them carefully.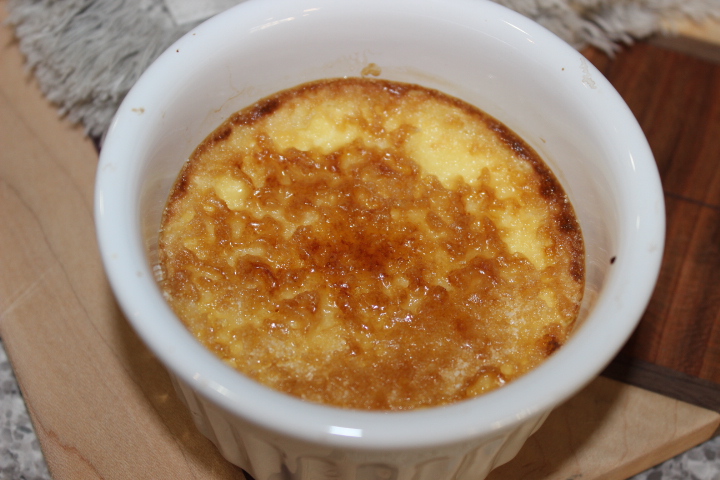 This Creme Brulee is finished under the broiler. A bit lighter but the sugar still hardened. The custard was a little softer because it warmed up slightly from the heat of the oven. But it was still delicious!
Feel free to come by and borrow my kitchen torch! But I can't be responsible if you have a kitchen fire. So be really careful.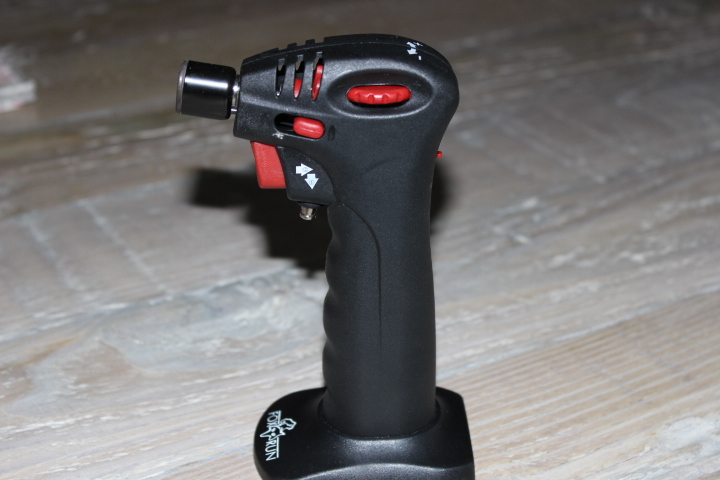 If you prefer you can use 18% cream and 4 egg yolks. They will be slightly softer and richer.
Crack the caramelized sugar with the back of your spoon and dig in!
Total decadence.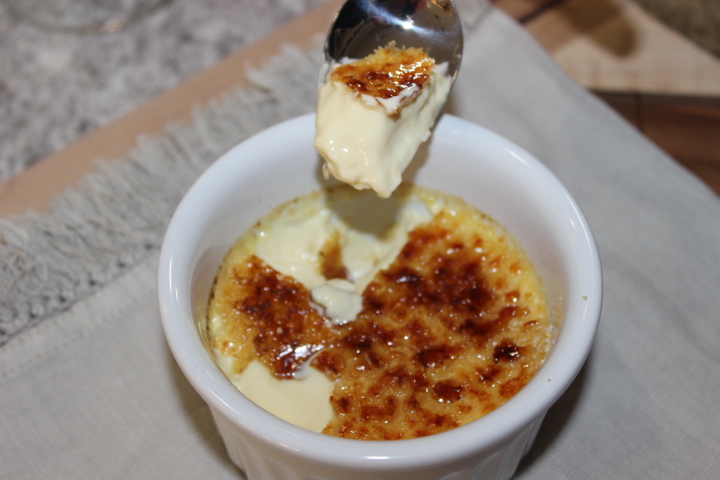 Here's the recipe:
Creme Brulee
Authentic rich and delicious French custard topped with caramelized sugar
Ingredients
1

cup

homogenized milk

3.25% fat

1

cup

10% cream

5

large egg yolks

¼

cup

sugar

1

vanilla bean

or 1 tsp real vanilla extract

2

Tbsp

white sugar

2

Tbsp

brown sugar
Instructions
Preheat oven to 325° and ensure rack is set in the middle of the oven. Boil a kettle of water.

Heat milk and cream over low-medium heat until almost simmering. Split vanilla bean and scrape the soft interior with the tip of a knife. Add to milk mixture while heating.

Separate eggs. Refrigerate whites for another use. Combine yolks with ¼ cup sugar and whisk well.

When milk is just starting to bubble around the edges, gently pour a very small amount into the yolk mixture and whisk. Continue to add in small amounts, whisking continuously until well combined.

Place a dish cloth in the bottom of a large baking dish. Arrange 4 ramekins inside the dish so they aren't touching. Carefully pour custard evenly into the ramekins. You can strain the custard first if you prefer, however if you're using a real vanilla bean you may lose some of the seeds if the strainer is very fine.

Place the baking dish on the middle rack of the oven and pour boiling water into the dish, being careful not to get any water into the custards. Close the door and reduce the temperature to 300°.

Bake for 25-30 minutes. If you choose to make 6 smaller custards, baking time will be slightly reduced. They should jiggle slightly but not be liquidy.

Remove from oven and carefully remove ramekins to a rack. Once they are room temperature, cover with plastic wrap and refrigerate at least 4 hours or over night.

Right before serving combine white and brown sugar. Sprinkle about 1 Tbsp on each custard evenly. Torch the tops with a continuous movement until the sugar is melted and browning. Take care not to allow the sugar to burn. Or place custards under a preheated broiler on the top rack of the oven and watch carefully until tops are bubbling.

Let custards sit for a few minutes before serving to allow time for the sugar to harden.
Print Recipe
craving more sugar?