The combination of roasted squash and curry are a match made in heaven. Think warm fragrant flavours and intense autumn colours. And if that isn't drool worthy enough, crispy sage leaves that taste like buttered popcorn take this Curried Squash Soup with Crispy Sage to the next level.
This is one of my all time favourite soups. There are only a few ingredients and it doesn't take long to make. Also, this soup has a creamy texture without cream or thickeners. And, best of all, I get to use my retro inversion blender!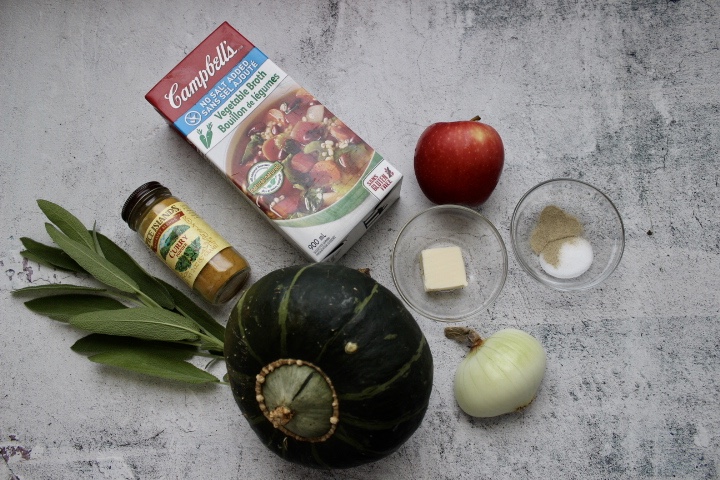 I like to use a squash that has a deep orange colour and sweet flavour for this soup. Butternut or Buttercup are good choices but any squash will work. The apple adds just a hint of sweetness, the perfect amount really.
Roast the squash first. Sometimes I roast squash whole if I've got the oven on for something else. Then, once it's cool enough to handle just cut it open, scoop out the seeds and remove all the flesh. It takes a while, sometimes up to an hour and a half depending on the size of the squash. But, cutting them in half, scraping out the seeds and laying cut side down on a baking sheet works great and takes less time. Pro tip – lay them on parchment paper to keep the flesh from browning too much.
Jump to Recipe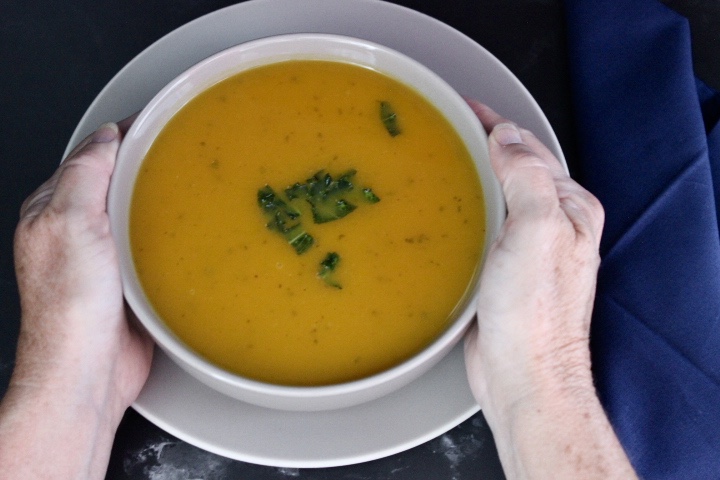 You need about 2 ½ cups of cooked squash to make Curried Squash Soup. A medium sized butternut squash is about the right size. Look for ones with a thicker neck which is where most of the best flesh lives. The bulb end is mostly seeds.
Sautéing the onion in a bit of butter helps soften and sweeten the flavour so it's not too pungent. Then toss in the chopped apple and curry powder and cook for a few minutes. This step is important because it helps bring out the flavour of the curry powder and combine it with the apple and onion. You can use anywhere from 1/2 teaspoon to 2 teaspoons of curry powder, depending on how intense you want the flavour and if you want a bit of heat. For a vegan version of this recipe use olive oil instead of butter.
Now add the broth and sage, season with salt and white pepper and simmer for about 5 minutes. I prefer white pepper in Curried Squash Soup with Crispy Sage because it looks better. But feel free to add some fresh cracked pepper to your bowl if you like.
Add the cooked squash last and simmer about 15 minutes, stirring occasionally. Then puree with the immersion blender. Make sure you taste and season as you go, keeping in mind that some broths have more salt than others. You'll get a lot of splatter when you purée. Using a deeper pot helps.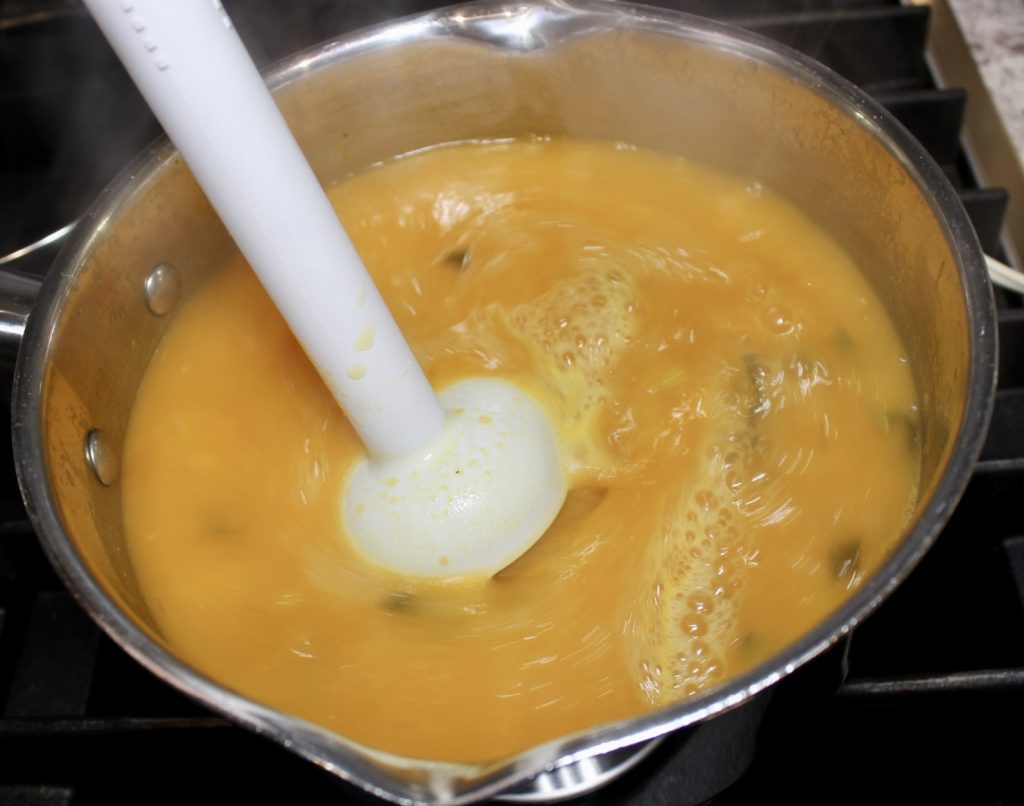 You can simmer the soup a little longer once it's puréed if you want it to thicken more.
This soup can easily be made ahead and served the next day. It's delicious with Cheddar Bacon Bread or Jalapeno Cheddar Cornbread.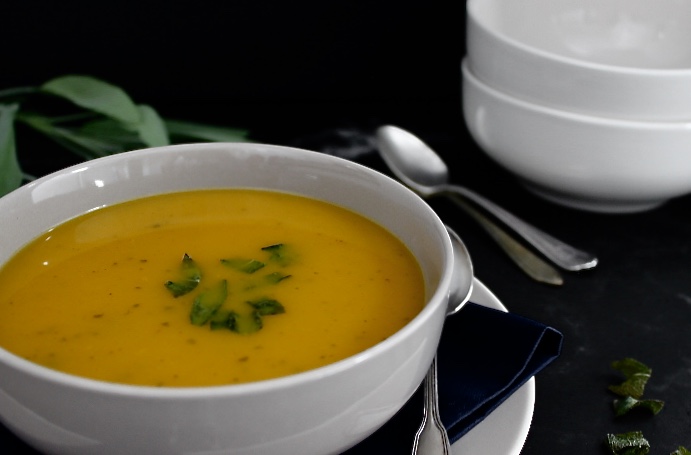 Right before serving, pick off as many tiny sage leaves as you can, or cut larger leaves into thin strips.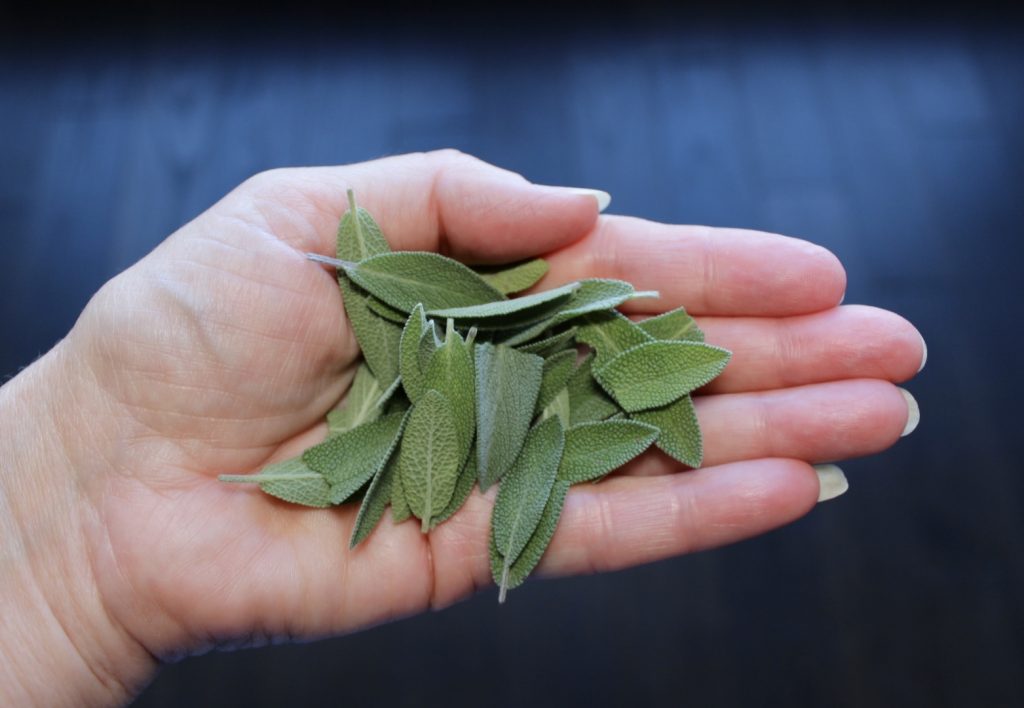 Heat a small frying pan to medium-high heat and add a spoonful of butter. As soon as the butter is foaming and beginning to brown, spread the sage leaves in the pan and let sizzle for about 30-60 seconds. You can give them a quick swirl or stir. Remove to a paper towel to drain before they turn brown.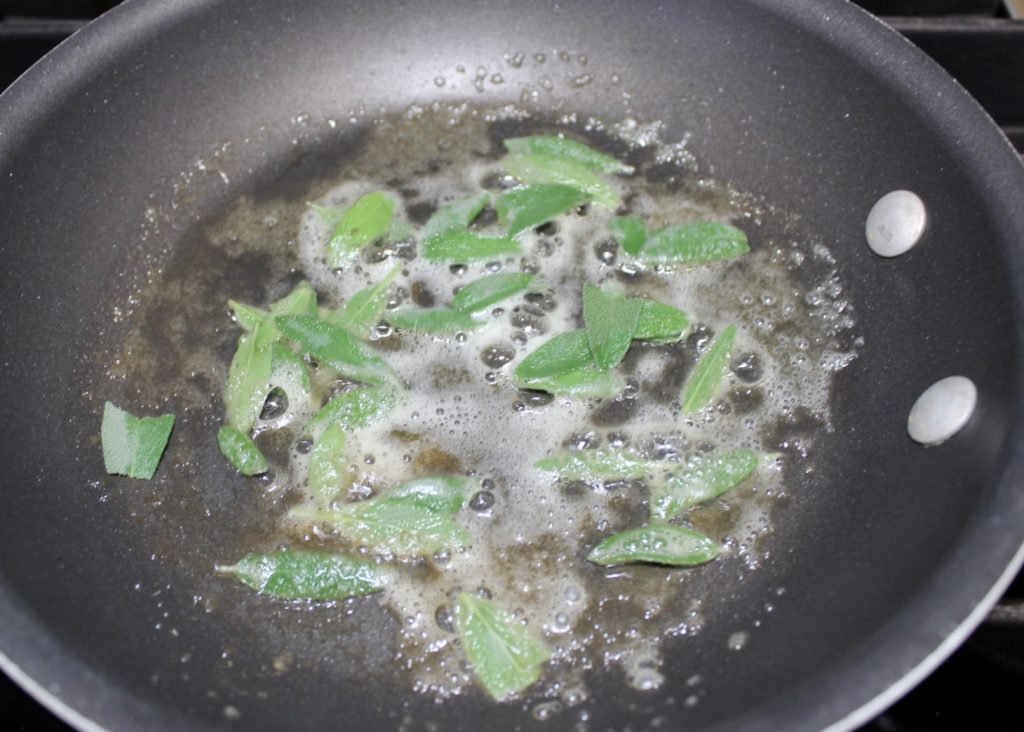 I'm not kidding, they really do taste like buttered popcorn and they melt in your mouth. But save some for garnish.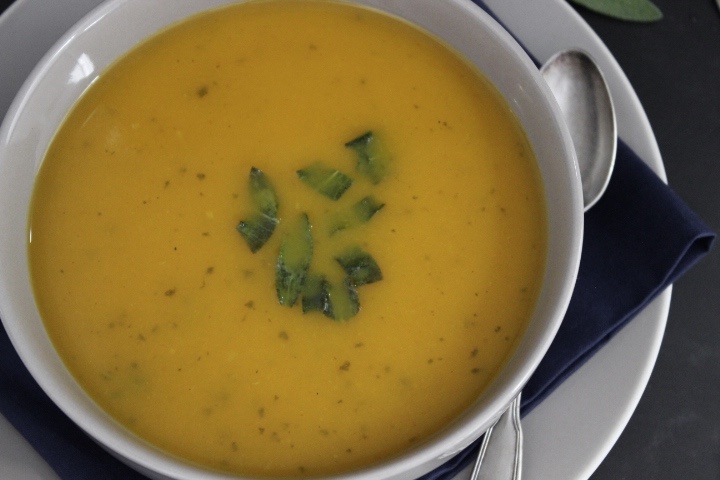 Here's the recipe:
Curried Squash Soup with Crispy Sage
A warm and fragrant soup thickened naturally with squash and topped with crispy sage leaves
Ingredients
1

Tbsp

butter

½

onion, diced

1

apple, peeled, seeded and diced

small apple, approx ⅔ cup

½-2

tsp

curry powder

increase for more prominent curry flavour

10-12

sage leaves

900

ml

unsalted vegetable broth

1 carton, or approx 3½ cups

1

large squash

2 - 2½ cups, brightly coloured variety

salt and pepper to taste
Crispy Sage Leaves
1

Tbsp

butter

12

sage leaves
Instructions
Roast squash until soft and cooked through. Scrape out as much flesh as possible.

Peel and dice onion and apple. Add butter to large pot, heat to melt, then sauté onion until golden. Add apple and curry powder and cook slightly.

Pour in broth. Cut sage leaves into strips and add to pot. Cover and simmer about 5 minutes. Add squash and cook another 15 minutes.

Taste and season with salt and pepper.

Remove from heat. Carefully purée with immersion blender until very smooth. Or, pour in batches into blender and purée. Return to burner and heat through if mixture has cooled if using blender.

While soup is simmering, slice sage leaves into strips. Heat butter until bubbling, then add sage and fry quickly without browning. Remove to paper lined plate.

Lade soup into bowls and top with crispy sage leaves.
Print Recipe
If you've tried this recipe, consider leaving a comment or a rating. To share, click on the icons below.
more thick hearty soups
Roasted Garlic and Asparagus Soup