We just returned from a trip to the east coast of Canada. We basically stuffed our faces with fresh seafood for 8 days. Tomato season is almost over so this salad is a great way to use up the last of the harvest and eat healthy! It's also very beautiful.
This is a simple recipe that has a fantastic flavour and only takes a few minutes to prepare. You can add cooked pasta and extra dressing to make a greek pasta salad, or you can add lettuce and make it a tossed salad. I prefer this simple version and most of the ingredients are still in season locally. You don't even need to measure the salad ingredients because the amounts don't have to be exact.
You simply chop up seedless cucumbers, red onion, sweet red pepper and slice your cherry tomatoes in half. Add sliced Kalamata and crumbled feta. Prepare dressing by mixing together olive oil, red wine vinegar, freshly squeezed lemon juice, dijon mustard, oregano, garlic, salt and pepper.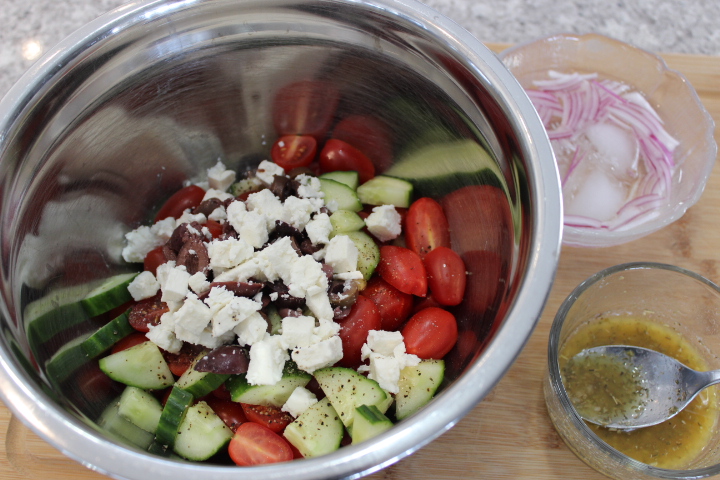 That's it! Toss before serving. This only keeps for a day or so.
I like to read labels and make sure I'm buying authentic ingredients. I found feta that was actually made in Greece! If you read the fine print you will notice many products try to fool you with secret words (Greek "style" cheese) and labels that use colours that make you think it's from that country (like blue and white). That's sneaky.
Make it a Greek themed meal and try Moussaka!
Here's the recipe:
Greek Salad
Salad



1 pint or about 1½ cups cherry tomatoes
1 seedless cucumber
½ sweet red pepper
¼ cup thinly sliced red onion
¼ cup sliced Kalamata olives
⅓ cup crumbled feta



Dressing



1 T extra virgin olive oil
1 T red wine vinegar
2 T lemon juice
¼ tsp dijon mustard
1 tsp dried oregano
1 clove very finely minced garlic
pinch of salt
freshly ground black pepper



Method



Slice cucumber in half lengthwise, then lengthwise into quarters. Chop into bite sized pieces. Half cherry tomatoes. Chop red pepper into similar sized pieces. Thinly slice red onion. Let onion sit in a bowl of ice water so they aren't as pungent, if desired and add before serving. Top with crumbled feta and sliced olives.

Prepare dressing by whisking together all ingredients. Pour over salad and stir. Top with extra cracked black pepper if desired.