Something magical happens when you cook watermelon. The water is released and it transforms into a new consistency, similar to a peach. And the flavour intensifies. You won't believe it. Drunken Watermelon Cobbler has a hint of gin, lime and mint for a surprising fresh balance to the sweetness of the fruit.
Watermelons are ready where I live in the late summer and early fall. With Halloween approaching, cutting up a big melon is good practice for your jack-o-lantern carving skills! So grab yourself a sweet round watermelon and see what this Drunken Watermelon Cobbler is all about.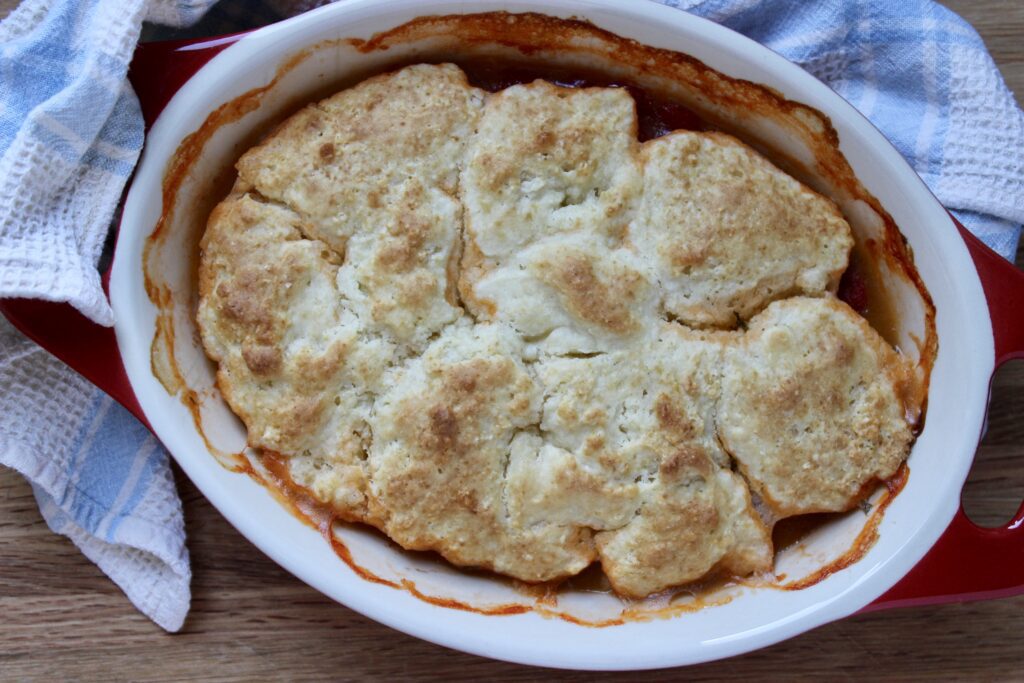 Jump to Recipe
I know I say this a lot in my posts but I live in an area called Ontario's Garden where a multitude of fresh produce is grown. Watermelon is included in the long list of fruit and vegetables we can buy locally. Click here for some fun facts about watermelon.
This is not your ordinary fruit cobbler
Yes, cooking a watermelon sounds weird. But I had to try it and boy, am I glad I did. After a few versions of this recipe I can say I'm pretty happy with the result. It does take some baking time to release enough liquid that you don't end up with watermelon soup (although I think that's a thing….) but it's the transformation that's really cool.
You can use seedless watermelons or the kind with seeds. I've always found that seeded watermelons tasted sweeter. And of course you get to express your inner child by spitting them out. I did a little research in case it was all in my head. Total controversy. No agreement on that one. So, let's just say it doesn't matter. You can pick out the dark seeds while you're cutting it up or save the work and get seedless. The tiny white seeds are totally fine, you don't need to remove them.
Cut the watermelon into small chunks and remove any seeds. You want enough to fill up a baking dish with a lid. The watermelon reduces quite a bit so don't worry if it looks like too much.
Cover with a lid and bake at 400 degrees for about 20 minutes. Now it's time to drain which is a challenge because the dish is so hot. If you have silicone heat proof oven mitts you can drain it by holding the lid slightly off centre and pouring it right out. But you can also dump it in a strainer then return it to the pot. Or, you can tilt the dish and scoop it out with a ladle.
Now return the dish to the oven again, with the lid on, and bake another 20 minutes. Draining at the half way point just helps get rid of some of the liquid so it doesn't boil over in the oven.
While the watermelon is baking the second time, mince your mint, zest the lime and squeeze out the juice. Half a good sized lime is about right but if you have a smaller lime use the whole thing. Make sure you zest first before squeezing and only grate into the green skin, because the white part gets too bitter.
The lime zest and juice work perfectly with the gin and the sweetness of the watermelon, adding that citrus flavour. It's kind of like a watermelon meets mojito meets martini. Of course you can leave the gin out if you're serving this to kids.
How to make batter for Drunken Watermelon Cobbler
The cobbler batter is intentionally not too sweet. With only 2 tablespoons of sugar it's just enough with the sweet watermelon. You can use 2 knives to "cut" the butter into small pieces or use a pastry blender. Or a quick whiz in the food processor works too. It's sticky and clumpy.
After the second 20 minutes of baking the watermelon pieces will be reduced quite a bit. Drain almost all of the remaining liquid. Then add the gin, mint, lime zest and juice.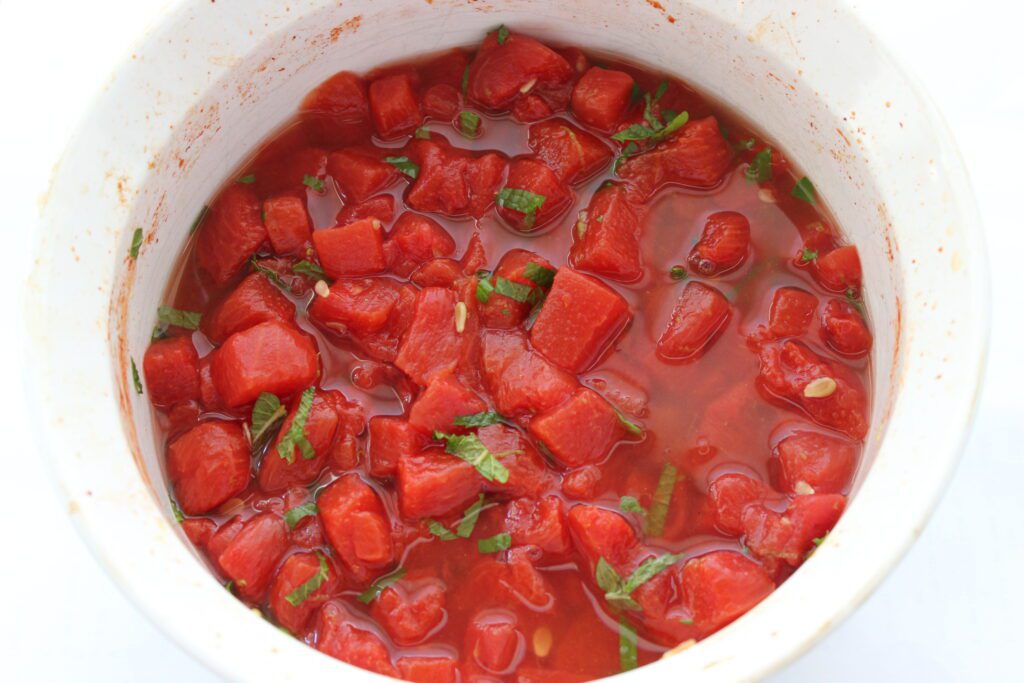 It's perfectly fine to bake the cobbler in the same dish you use to reduce the watermelon. However, if you want a prettier presentation, use a new smaller dish with enough surface area for lots of cobbler topping.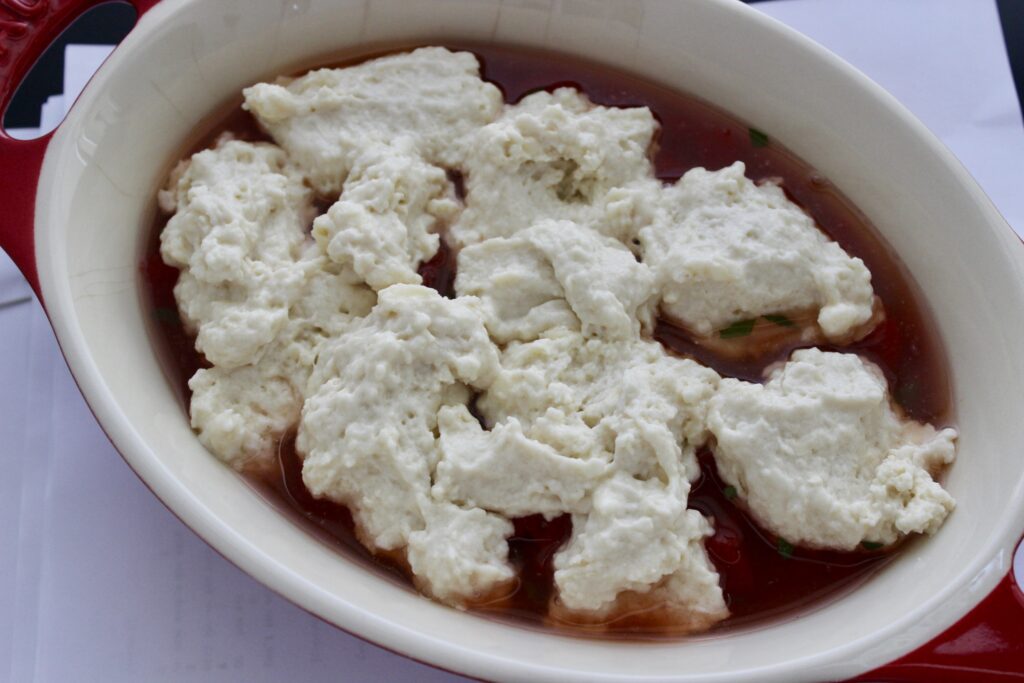 Top the hot cobbler mixture with spoonfuls of the batter as evenly as possible. Don't worry if it doesn't cover the entire top, it expands and browns as it bakes.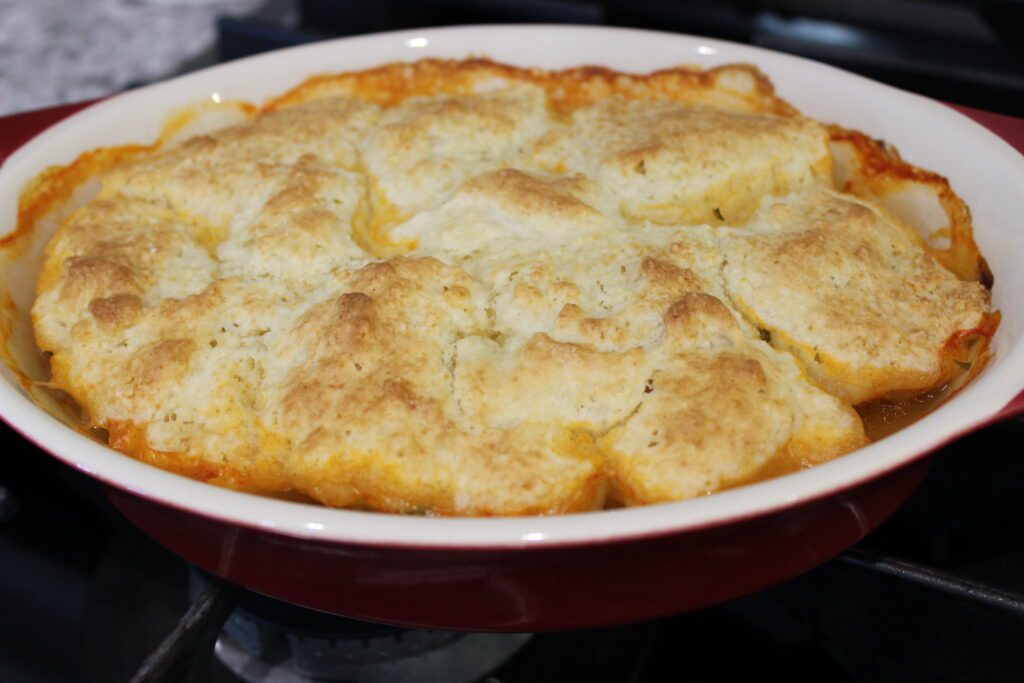 You'll have a hard time waiting for this to cool down enough to eat. Serve Drunken Watermelon Cobbler in bowls with some fruit in the bottom and warm cobbler on top.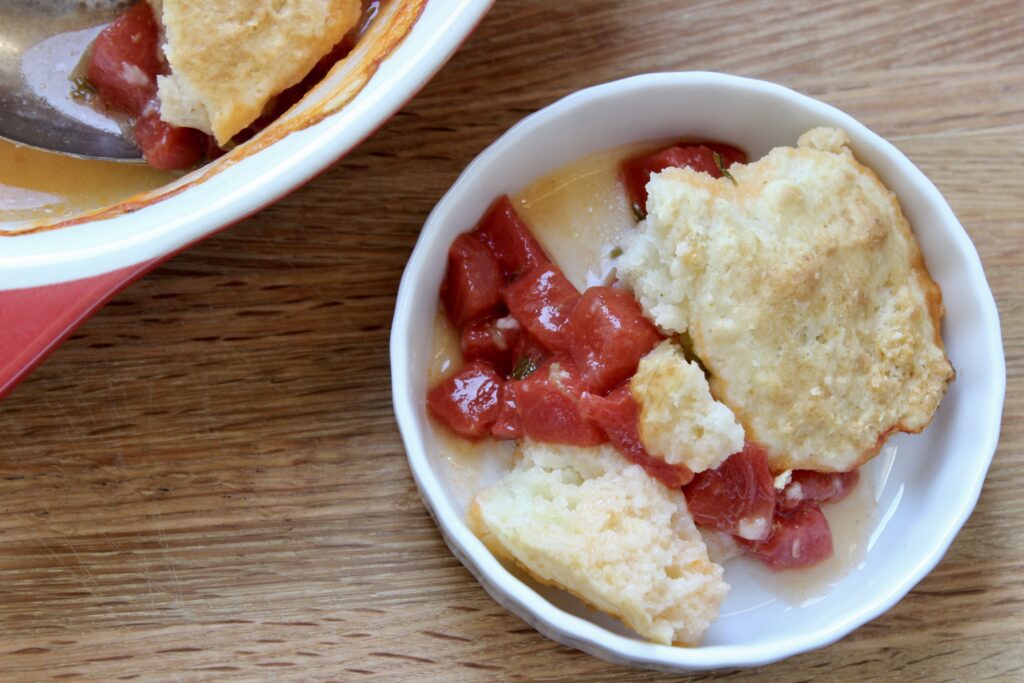 Here's the recipe:
Drunken Watermelon Cobbler
Baked chunks of watermelon with a hint of gin, mint and lime topped with warm cobbler
Ingredients
6

C

cubed watermelon, seeds removed

2

Tbsp

gin

leave out if serving to kids

1

tsp

minced fresh mint leaves

or ½ tsp dry

½

lime, zested and juiced
Cobbler Topping
1

C

flour

2

Tbsp

sugar

2

tsp

baking powder

¼

tsp

salt

3

Tbsp

cold unsalted butter

½

C

milk
Instructions
Cut watermelon into small cubes and remove any dark seeds if using seeded watermelon.

Fill baking dish and cover with a lid. Bake at 400° for 20 minutes.

Carefully remove all the liquid. Cover and return to oven for 20 more minutes.

Mince fresh mint leaves into small pieces. Zest half a lime, being careful not to go too deep into the white part. Squeeze the juice from the zested half.

Remove watermelon from over and pour most of the liquid out. Add gin, mint, lime zest and juice.

Prepare batter by combining flour, sugar, baking powder and salt. Cut in cold butter with knives or pastry blender. Stir in milk until just combined. Do not over mix.

Spoon cobbler batter over top of baked watermelon mixture in clumps as evenly as possible. Bake, uncovered at 400° for 30 minutes until browning and bubbling.
Notes
For a nicer presentation, move watermelon mixture into a clean smaller baking dish before topping and baking.
Omit gin if serving to children.
Print Recipe
more late summer desserts