If you're looking for a simple appetizer or snack when tomatoes are in season, these tasty little bites are a great way to enjoy the harvest. Even off season, cherry tomatoes have the best flavour so you don't have to wait until your garden is overflowing to make Cream Cheese and Olive Stuffed Cherry Tomatoes.
In our neighbourhood we take turns hosting happy hour. Everyone brings an appetizer. It started out with mostly cheese and crackers and basic munchies but it's now turned into a feast!  We now call it "appie hour" but for most of us, it's our dinner.  These tasty little Cheese and Olive Stuffed Cherry Tomatoes are inspired by something our friend Rosemary brought once.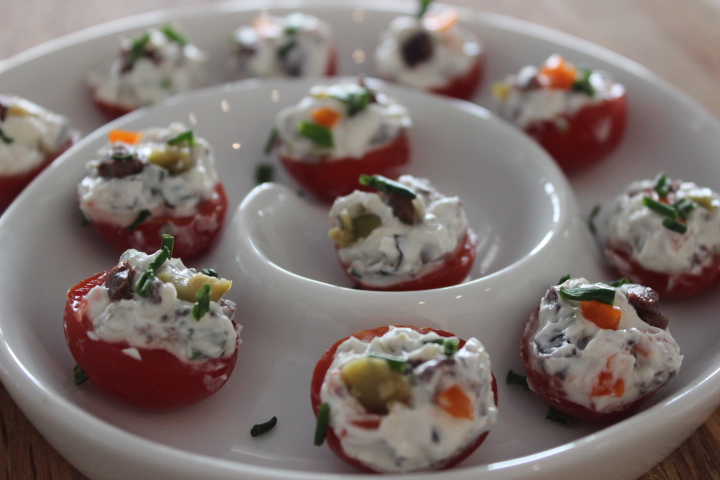 One cherry tomato plant can provide you with about a billion tomatoes. Alright, that's a bit of an exaggeration but if you've grown tomatoes you know what I mean. This is one of many creative ways to enjoy them. The prep is a bit time consuming. My mother would call it "fiddle farty" but it's worth it.
The filling is just a mixture of cream cheese thinned with a bit of sour cream or yogurt with chopped mixed olives. I like to use the small pimento stuffed cocktail tomatoes along with some kalamata so there's lots of colour in the filling. You need to chop them up quite small so there's lots of bits in each filled tomato. You can even save a few pieces to press on top for extra special presentation.
How to stuff a cherry tomato
To prep your tomatoes for filling, give them a rinse first, especially if you just picked them. You have two options for cutting them. If you've got lots of time you can carefully cut the top off each one and scoop out the seeds. This takes a bit of patience and precision with a small sharp knife. Or, you can just slice each tomato in half, lengthwise is best, then scoop the seeds out. Either way you have a bite sized tomato ready for filling. Lay them on a paper towel to soak up any extra liquid.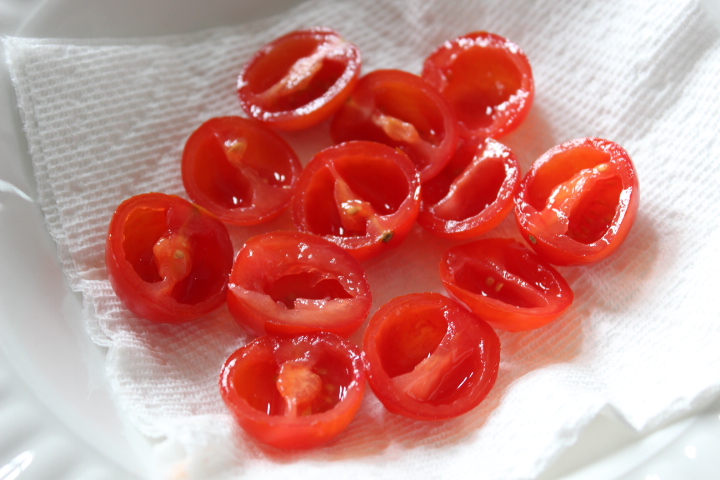 A grapefruit spoon works well for both scooping the seeds and and stuffing the tomatoes. It helps to chill them once they're stuffed so the cream cheese has a chance to firm up a bit.
Sprinkle some fresh chives over top before serving your Cream Cheese and Olive Stuffed Cherry Tomatoes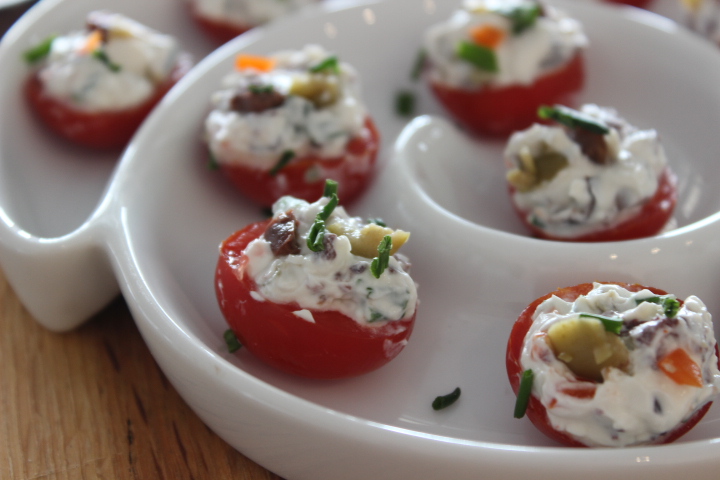 Here's the recipe:
Cream Cheese and Olive Stuffed Cherry Tomatoes
Sweet little cherry tomatoes stuffed with chopped mixed olives in cream cheese
Ingredients
12

cherry tomatoes

or other small variety

2

oz

plain cream cheese

¼ of a package

2

tsp

yogurt or sour cream

¼

cup

finely chopped mixed olives

pinch of salt and pepper

1

tbsp

snipped fresh chives
Instructions
Rinse tomatoes. Cut in half lengthwise and scoop out seeds. Lay on paper towel to soak up any extra liquid.

Finely chop olives. Beat cream cheese. Add sour cream or yogurt. Stir in olives and a pinch of salt and pepper. If desired, reserve a few small pieces of olive to press into top after stuffing.

Using a tiny spoon, press cream cheese mixture into tomatoes.

Sprinkle fresh chives over top to garnish.

Refrigerate before serving to allow cream cheese to set if getting soft.
Print Recipe
got lots of tomatoes?
Orzo with Smokey Tomato Vinaigrette