This unique yeast bread recipe has a wonderful colour and ingredients that embrace the sights, smells and tastes of autumn. Pumpkin Bread with Dried Cranberries and Sunflower Seeds features pureed pumpkin right in the dough.
I developed this recipe while playing around with pumpkin pie fillings. Canned pumpkin has a deep orange colour and I wondered what it would look like in a loaf of bread. I wasn't sure if it was going to be a mistake adding pureed pumpkin to a yeast bread dough but not only did it work, the colour of the bread was beautiful. Just like the changing leaves on the trees.
When the fall colours are in full swing and the days are getting cooler, the one thing that brings me comfort is bread. This Pumpkin Bread with Dried Cranberries and Sunflower Seeds has a subtle colour and flavour, nothing overpowering. Most people associate pumpkin with sweet recipes but this one is not. And canned pumpkin is recommended because it is much less watery than a freshly cooked pumpkin.
Jump to Recipe
The dried cranberries are Craisins. Chop them roughly then add them to the flour and salt so they get coated a bit, preventing them from clumping in the dough.
Proofing yeast in warm water for a few minutes gets the yeast active. Warm, not too hot. Then pour it into the dry mixture, add the seeds and pumpkin and knead with the dough hook, probably about 5 minutes or so. Once the dough is well blended, not sticking to the sides of the bowl and looking a bit smoother and shiny in a ball, it's done.
The dough is really really dense so I wouldn't recommend making this unless you have a stand mixer with a dough hook. Or a very muscular upper body. For kneading. I love my KitchenAid Stand Mixer!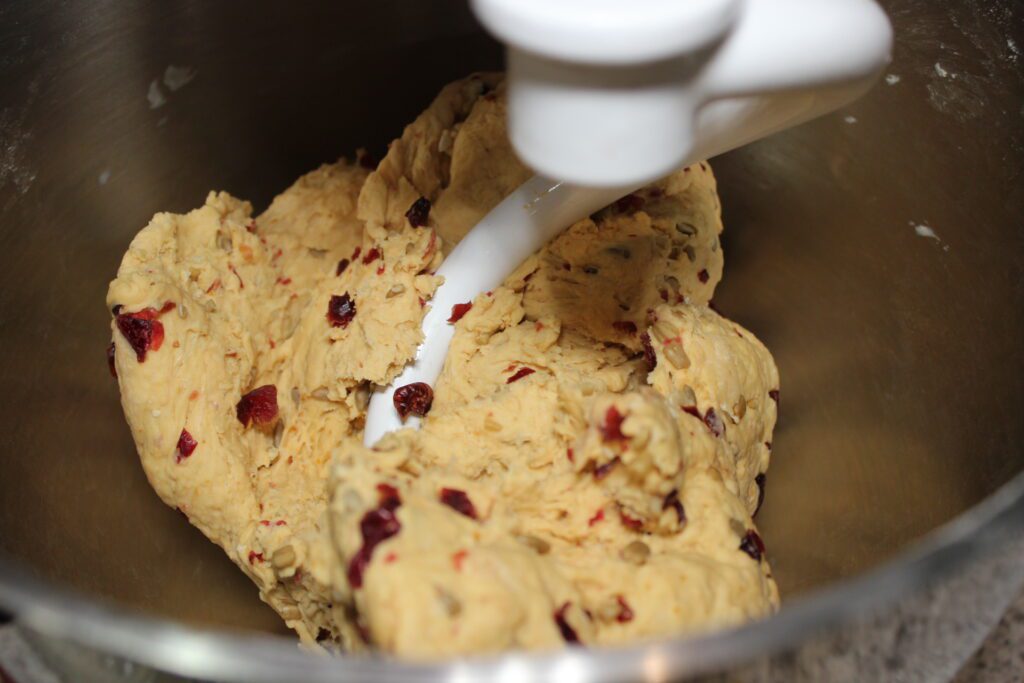 Once the dough is well kneaded, drizzle some olive oil over top, roll the dough around so it's well covered, then cover the bowl with plastic wrap and a kitchen towel and let it rise.
Pro tip – a great place for dough to rise is in the oven with the light on. It's just enough warmth to let that yeast grow. The microwave is also a good spot, not quite as warm but closed up in a small space does work.
I can't really say exactly how long it will take for your dough to double in size because there are so many factors in play. Not only temperature but did you know that your location is a factor? The closer you are to sea level, the longer it takes bread to rise.
It took about 2 hours for this dough to be ready to shape. Best case scenario, the dough is doubled in volume. Sometimes it's not quite there but don't worry too much, bread, surprisingly, is fairly forgiving.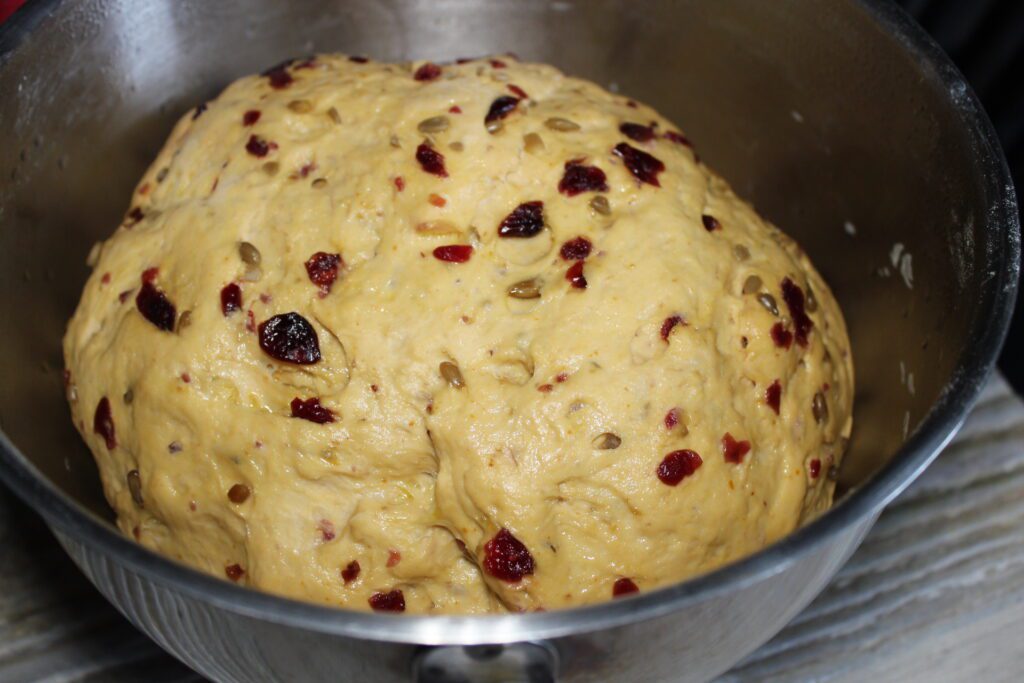 Punch the dough down, getting any air bubbles trapped inside to burst, then roll, squeeze, press the dough into 2 or 3 smaller balls. You can use a bit of flour on your hands if the dough sticks to you, just don't add too much flour. Place them on the pan they will be baked on so you don't risk deflating or deforming them while moving them into a hot oven. A pizza stone works great for bread but these take up a bit more space so try using an upside down baking sheet covered with parchment paper.
Cover each ball with an oiled piece of plastic wrap – not tightly, just gently place it over top. This helps keep the dough moist so it can rise without a crust forming on the top.
Again, best case scenario, you want the dough to double in size. Almost. This will take another couple hours, give or take. Once they look about right, preheat the oven to 425 and make sure you have a rack on the bottom. When the oven is ready, carefully peel the plastic wrap off and make a few slits in the top with a very sharp knife. This prevents the bread from splitting open unevenly while baking.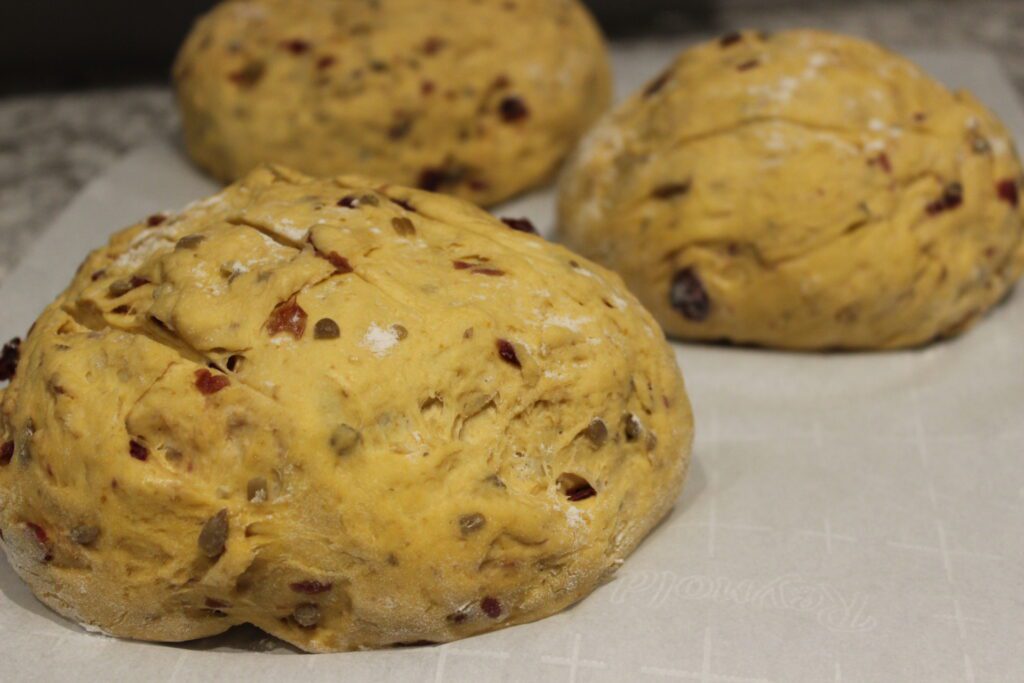 Place the baking sheet on the bottom rack and turn the heat down to 400 degrees. Any time you open the door you let heat out so preheating a little higher helps prevent your oven from switching back to preheat and cooking the top too quickly. They take about 25 – 35 minutes depending on the size of the loaves. Thump on the crust and if it sounds hollow and the bread is quite brown, it's done.
This recipe makes 2 or 3 round rustic loaves. You could half the recipe and make a smaller amount but people love it when you share freshly baked bread.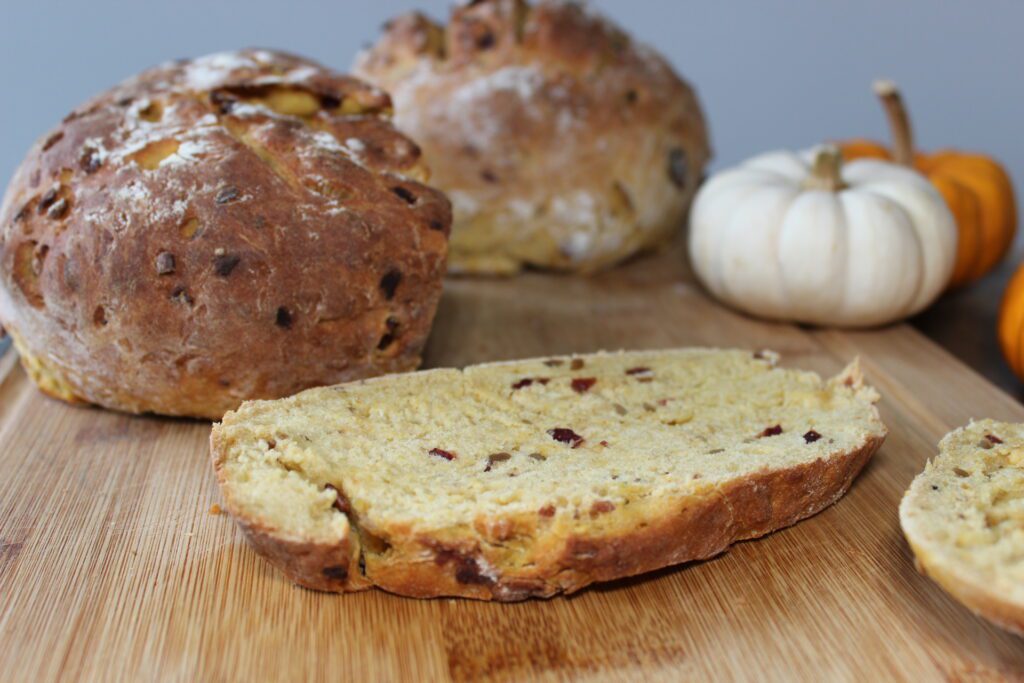 I always get neighbours to taste test new recipes. They all said "more cranberries" so I upped the amount. And we all agreed this bread is terrific toasted with something sweet on it like honey or peanut butter but also good as a savoury bread so there's no sugar in Pumpkin Bread with Dried Cranberries and Sunflower Seeds.
Here's the recipe:
Pumpkin Bread with Dried Cranberries and Sunflower Seeds
A rustic yeast loaf with beautiful fall colours and flavours
Ingredients
7

cups

all purpose or bread flour

bread flour has a slightly higher gluten content

1

tsp

salt

¾

cup

dried cranberries, roughly chopped

or more, up to 1 cup

⅓

cup

sunflower seeds

1

cup

canned pumpkin puree

1½

cups

warm water

4

tsp

active dry yeast

1

Tbsp

extra virgin olive oil
Instructions
Add flour and salt to large bowl of a stand mixer fitted with a dough hook.

Roughly chop dried cranberries and add to flour mixture. Stir to combine.

Add dried yeast to warm water and allow to proof for about 5 minutes or until starting to foam on top.

Add to flour mixture along with pumpkin puree and sunflower seeds.

Knead on speed 2 for about 5 minutes or until dough is well blended and forming into a smooth shiny ball.

Drizzle with olive oil, roll dough around until well covered. Cover bowl with plastic wrap and kitchen towel. Place in warm draft free place to rise for about 2 hours until dough has doubled in size.

Punch down and form into 2 or 3 balls. Place on parchment covered inverted baking sheet with space between for rising. Cover gently with oiled plastic wrap and allow to rise until almost doubled in size, 1-2 hours.

Preheat oven to 425°. Carefully remove plastic wrap and slice a few slits in the top of each loaf. Place baking sheet on lower rack of oven and reduce heat to 400°.

Bake 25-35 minutes depending on size of loaves until well browned.
Print Recipe
love making bread? here's more!