In spite of its simplicity, Onion and Leek Soup with Parmesan is surprisingly rich and satisfying. It's a great alternative to French Onion Soup if you're watching your carbs because there's no bread.
So why not just make French Onion Soup and leave out the bread? Well for me that soup is all about the bread and cheese. So you'd be left with just a bowl of broth with onions. I decided including leeks would be great because you would have more "stuff" in the soup without it being too pungent. Since leeks are milder than onions.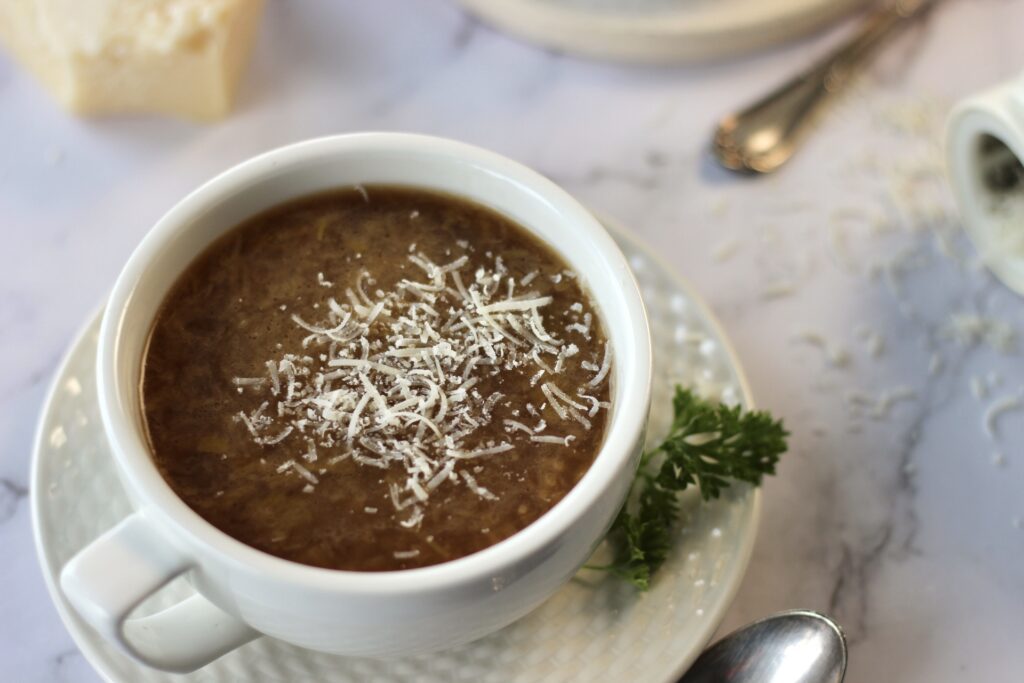 Secondly, if you added melty cheese to the soup without any bread to hang onto, it would sink to the bottom and end up as a big glob of cheese. Enter Parmesan. It enhances the flavour and adds that 'umami' element. As well it melts into the soup instead of hanging out at the bottom. We're talking real Parmesan here, not the dry stuff that comes in a can.
Jump to Recipe
How to make Onion and Leek Soup with Parmesan
You need more onions and leeks than you think. They really reduce when they cook. Slice the onions in half and into thin half circles. Slice the leeks lengthwise and fan and rinse until running water to remove any potential dirt from between the layers. Then lay them on the flat side and cut them into half circles too. When cooking with leeks, you'll likely have to peel off the outside layer and only use the white and light green parts. The dark end gets woody.
The secret to getting the best flavour in Onion and Leek Soup with Parmesan is to take your sweet time. Just like when making French Onion Soup, it's very important to allow the onions and leeks to cook down until they're seriously reduced and very soft. I recently read about a way to speed up this process instead of stirring and watching for a few hours. Once the onion leek mixture has softened in the butter, cover the pot with a lid and let it simmer slowly. The lid keeps moisture in the pot so nothing burns. Just check it every once in a while and give it a stir. You won't like the colour but just wait.
After about 90 minutes, remove the lid and turn the heat up to around medium to cook away the moisture that's left in the pot. You'll see some browning start to happen on the pot and the onions and leeks will start caramelizing. Add a spoonful of water when they've lost their moisture and use it to scrape down the sides of the pot to get that colour into the onions and leeks. Do this about 3 or 4 times until the mixture is a deep brown. Keep a close eye, onions can quickly go from caramelized to burnt.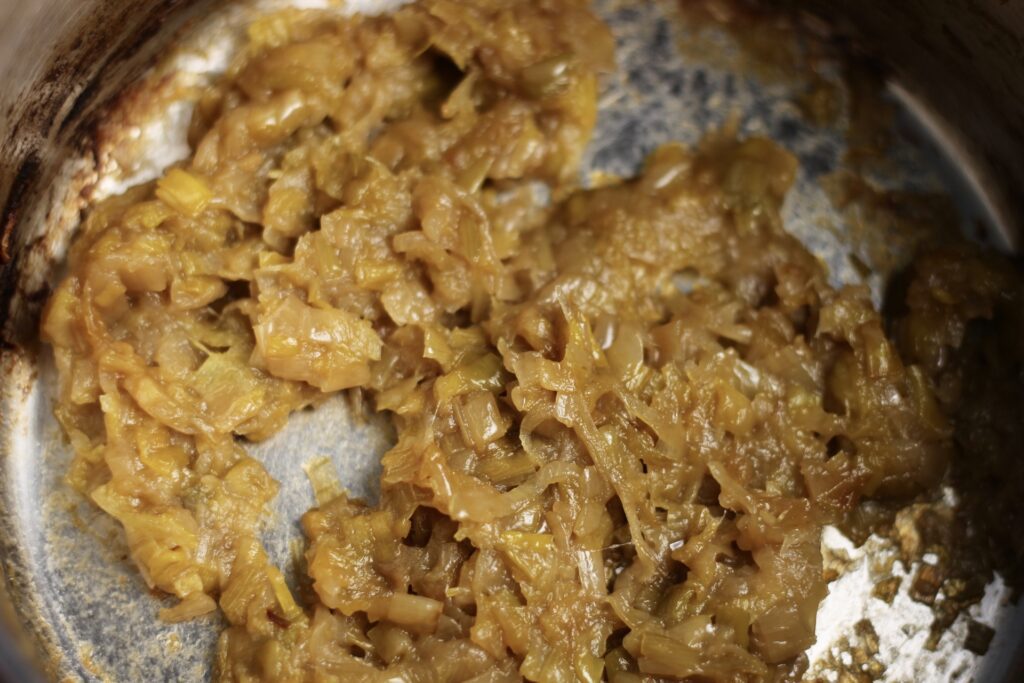 Now, add the beef broth, some Worcestershire sauce and a bay leaf or two. Let it all simmer together about 15 minutes. The brown stuff left on the pot (called fond) will incorporate into the broth. Taste and season with salt. The amount always depends on the sodium content of the broth, that's why you always taste. Let it simmer a little while longer, taste again, then remove from the heat.
Stir in freshly grated Parmesan cheese before serving.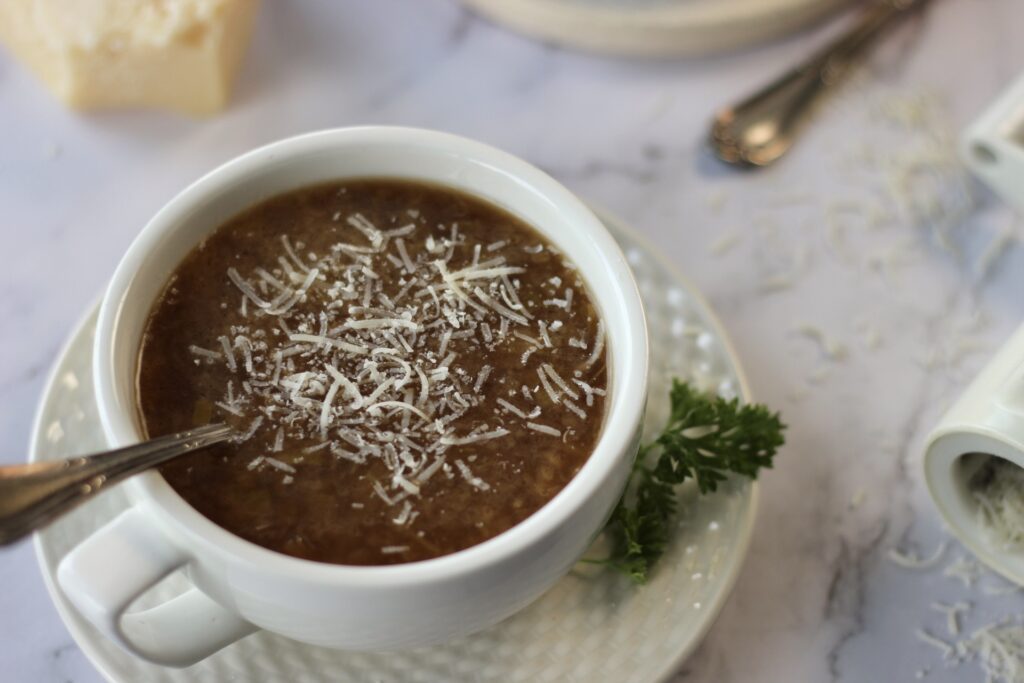 Here's the recipe:
Onion and Leek Soup with Parmesan
A bread free alternative to French Onion Soup made with beef broth and Parmesan cheese
Ingredients
1

large

yellow onion

2

large

leeks

2

Tbsp

butter

3-4

Tbsp

water

6

cups

beef broth

recommend sodium reduced or homemade

2

tsp

Worcestershire sauce

1-2

bay leaves

use 2 if small leaves

salt and pepper to taste

½

cup

freshly grated real Parmesan cheese

not dried cheese in cardboard can
Instructions
Slice onion top off then slice in half from top to bottom. Lay flat side down and slice into thin half circles.

Remove outer layer of leeks. Slice lengthwise in half and fan under cool water to remove any sand. Lay flat side down and slice into thin half circles.

Add to pot with butter and gently sauté over medium-low heat until onions and leeks are soft, about 5-10 minutes.

Turn heat to lowest possible setting and place lid securely on pot. Allow to simmer for 90 minutes, checking every 20-30 minutes and stirring.

Remove lid, increase heat to medium and sauté until liquid has evaporated and onion mixture is starting to brown. Add a spoonful of water and stir to incorporate brown from pan into onions and leeks. Cook until water has evaporated. Repeat 3-4 times until mixture is a very dark deep colour without burning.

Add beef broth, Worcestershire and bay leaf. Simmer for 15 minutes, then taste. Season with salt and pepper. Amount will vary based on the sodium content in the broth. Continue to simmer about 15 more minutes.

Remove from heat and stir in Parmesan cheese.

Serve hot with extra Parmesan on top if desired.
Print Recipe
In case you're wondering, here is a nutritional summary based on My Fitness Pal calculations:
136 calories
8.4 g fat
9.7 g carbs
5 g protein
more lower calorie soups
Turkey Soup with White Beans and Kale