If you've never had a Monte Cristo, it's kind of like a combination of grilled cheese and French toast. Three layers of good quality bread filled with ham and Swiss then coated with egg and grilled.
One of my first real jobs was at a tea room. When I say real, I mean I actually got paid. In money. It was the summer before high school and my friend Laurie and I served Devon Tea, Iced Sandwich Loaf and Quiche to (mostly) old ladies. We once talked a young man who worked down the street into coming in for lunch. We were silly and giggly and served him a Monte Cristo. They were served with the crusts cut off and cut into 3 fingers. I'm pretty sure the poor guy left hungry. And embarrassed.
The tea room version of the Monte Cristo was made with ham, Swiss and 3 slices of bread. I've probably made a thousand of these since then. Well, maybe not that many but seriously, they're so good and simple to make. I don't cut the crusts off any more and sometimes I use only 2 pieces of bread if it's just for me.
Jump to Recipe
Thinly sliced white bread is the best bread to use. Assemble the sandwich like this. Bread, cheese, bread, ham, bread. Butter the outside slices on the inside. Does that make sense? You don't want butter on the outer sides of the sandwich because you'll be dipping it in egg but you want the rest of the bread buttered so it's not dry. Mix together equal parts of Dijon mustard and regular mayonnaise and spread on the bread on the ham side of the sandwich. That's optional. Don't use too much ham or cheese or the sandwich will slide all over the place when you're trying to grill it. Shaved ham works great for a Monte Cristo.
Grilled Monte Cristo
Crack an egg into a pie plate and whisk with a splash of milk. Season with a bit of salt and pepper.
Heat a wide shallow pan or skillet and add some butter. Dip the sandwich in the egg, flip and dip the other side.
Grill cheese side down until golden brown and the cheese is melted. Flip and grill the other side. While grilling, press down on the sandwich to make sure you get a nice even golden outer crust, and also so the insides are heated through.
Cut your sandwich into two or three pieces and dig in while it's hot.
The ooey gooey cheese is the best part.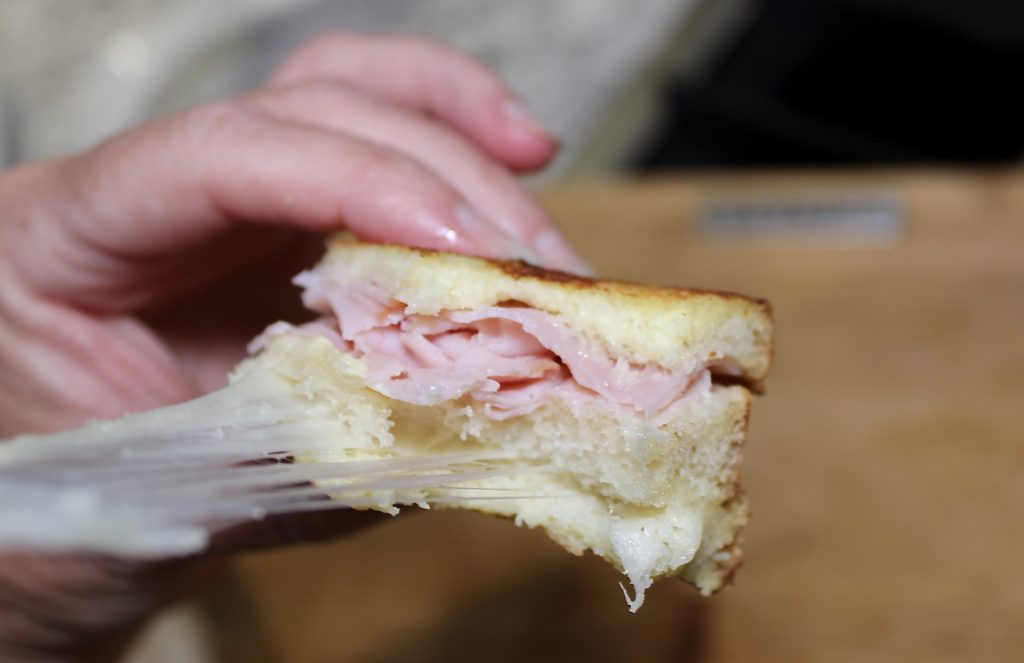 Here's the recipe:
Monte Cristo
A three layer ham and Swiss sandwich, grilled french toast style until golden brown.
Ingredients
6

slices

thin white bread

shaved black forest ham

sliced Swiss cheese

1

tsp

Dijon mustard

optional

1

tsp

mayonnaise

optional

1

egg

1/4

cup

milk

salt and pepper to taste
Instructions
Assemble sandwiches by buttering the inside of the bread and arranging ham and cheese evenly to the edges with a slice of bread between the ham layer and the cheese layer.

If desired, combine dijon and mayonnaise and spread onto the interior ham side of one slice of bread.

Whisk egg, add milk, salt and pepper.

Heat a wide skillet, add butter and melt. Dip both sides of sandwich in egg mixture and grill cheese side down until golden brown and cheese is melting. Press down with spatula to help bread make full contact with hot pan and to ensure the inside of the sandwich heats through.

Flip and grill on other side, pressing again with spatula.
Print Recipe
add a soup
Roasted Garlic and Asparagus Soup