If you've never heard of orzo, it's a tiny pasta that looks like large grains of rice. It's perfect to use in Orzo with Smokey Tomato Vinaigrette. A warm dressing made with charred tomatoes adds smokiness and with lots of fresh basil and Parmesan cheese you'll feel like you're sitting in a villa in Tuscany!
The lowly tomato. It's so versatile and plentiful this time of year. Just when I think I can't eat another toasted tomato sandwich or any more Bruschetta,  I remember Orzo with Smokey Tomato Vinaigrette and love tomatoes all over again. I've been making this recipe, compliments of Giada De Laurentiis for ages. Charring the tomato skins in a dry pan gives this vinaigrette a smokey flavour and it's a great way to use up smaller varieties of tomatoes. I planted grape clusters this year and I can't keep up with them so this tasty pasta dish is just what I need.
Click here to jump right to the recipe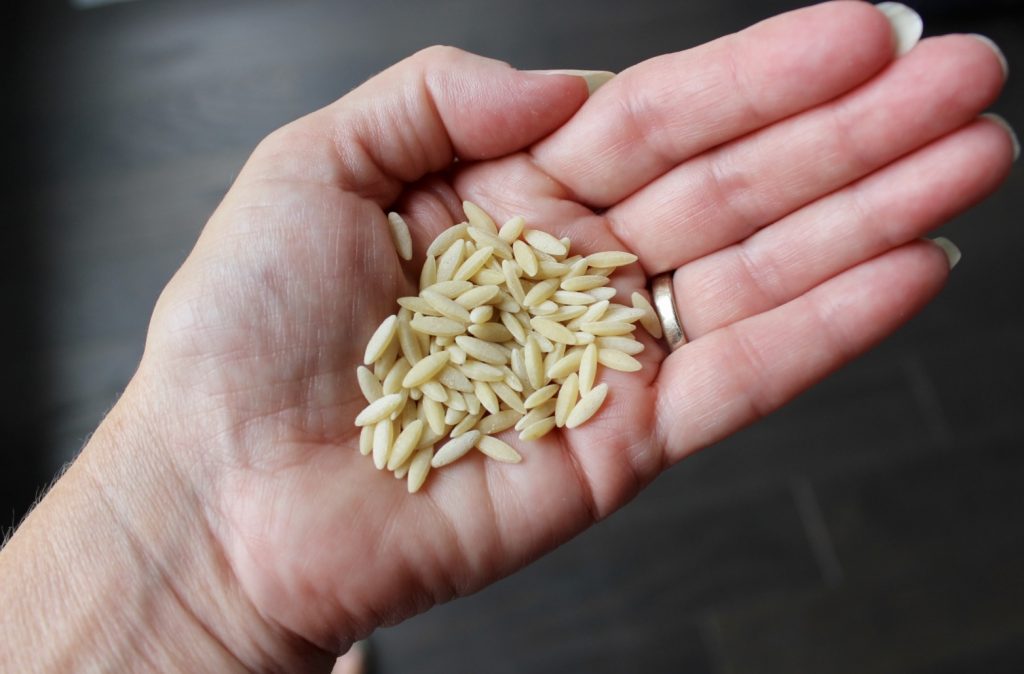 If gluten is an issue with you, you could substitute rice. I've never actually tried it but if you do, let me know how it turns out!
Once you've charred the tomatoes, let them sit to cool slightly. Combine the rest of the dressing ingredients in a bowl or measuring cup and scrape the tomatoes into the mixture, making sure to get all the charred bits and juice. Using an immersion blender, purée until smooth. You could also use a blender. If you don't have apple cider vinegar, substitute red wine vinegar or regular white vinegar. Balsamic is too dark and strong for this vinaigrette. You want to taste the smokey tomatoes.
The original recipe calls for smoked salt. I've substituted regular salt and added smoked paprika which helps add to the deep red colour and gives it a bit more smokiness. And I make a smaller portion since it's usually enough for a meal and some leftovers.
Meanwhile, cook the pasta according to the package directions, making sure you don't over cook it. Drain well. Pour most of the dressing over top and stir.
The pasta drinks up the dressing so pour most of the dressing over the warm pasta but leave some to add just before serving. Top with freshly grated Parmesan cheese.
Here's the recipe:
Orzo with Smokey Tomato Vinaigrette
A delicious pasta side dish with a zesty vinaigrette, adapted from recipe by Giada De Laurentiis
Ingredients
1

cup

dry orzo pasta

1

pint

cherry or grape tomatoes

1/4

cup

packed fresh basil leaves

1

Tbsp

apple cider vinegar

1

Tbsp

extra virgin olive oil

2

tsp

honey

1/4

tsp

smoked paprika

salt and pepper to taste

1/4

cup

freshly grated Parmesan cheese

plus more for serving
Instructions
Char tomatoes in a dry frying pan over medium heat, shaking the pan occasionally to move the tomatoes around. Once the skins have char marks and the tomatoes are softening, remove from heat. Takes approximately 10-15 minutes.

Combine basil, vinegar, olive oil, honey, paprika and salt and pepper in a blender or large measuring cup with a pour spout. Add warm tomatoes including any charred bits and juice. Purée until smooth in blender or with immersion blender.

Meanwhile, cook orzo pasta according to manufacture instructions. Drain well.

Pour vinaigrette over warm pasta and combine well, reserving a bit of vinaigrette if not serving right away.

Add rest of vinaigrette right before serving and top with freshly grated Parmesan cheese and more pepper if desired.

Can be served warm or room temperature.
more pasta recipes to try
Pasta Salad with Asparagus, Bacon and Feta
Baked Pasta with Sausage and Peppers