Local asparagus has arrived! Once the season starts we eat tons of it! And lucky for us there's a farm a few minutes away where we can buy it freshly cut. Roasted Garlic and Asparagus Soup doesn't actually contain any cream or flour. Instead, I used a couple potatoes to give it the creamy thick texture. If you don't like the idea of a puréed soup you can leave out that final step. No big deal. It will taste exactly the same.
The concept of this soup came from a memory of something I had years ago in a restaurant. Cream of roasted garlic soup. It sounded strange but the flavour was unbelievable. Roasting garlic takes away the sharpness and replaces it with sweet creamy yumminess. I thought that adding asparagus would give it a better colour and by roasting the garlic the delicate taste of asparagus wouldn't be over powered.
I wish there was a way to preserve fresh asparagus after the season ends. Besides pickled asparagus, the only other way is to freeze it. I know a few people who do this but I've never had any luck. But soup freezes well. So by making this you can enjoy local asparagus all year long!
You can roast the garlic in advance. In fact you should, unless you want a huge hydro bill. I was cooking something else the night before so I tossed it in the oven at the same time. Just trim off the top to expose most of the cloves, drizzle with olive oil and scrunch up inside foil.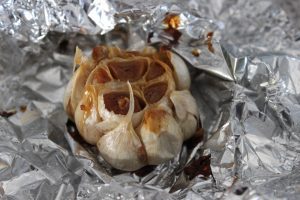 It takes about 45 minutes or so. Yes, there's an entire head of garlic in this soup. Once it's roasted you can squeeze the garlic right out.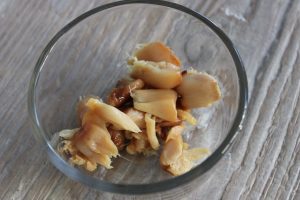 You'll have to cut open the smaller sections to get those cloves out. Just flip the head over and squeeze them all out.
I usually base my recipes to have about 900 ml of broth which is the amount in a carton. Somewhere between 3 1/2 and 4 cups. I like to use homemade if possible but I know most people don't have some in their freezer. This soup was made with half chicken and half vegetable broth but you can use all of either. And keep in mind the amount of salt you use depends on the sodium content in the broth you use. So always taste as you go and taste at the end after the potatoes are cooked because they tend to absorb a lotof the salt.
Remember to buy (or pick) about a pound of asparagus because you will lose some to trimming. The best way to prepare asparagus is to snap off the bottoms. They will break off exactly where the ends have turned "woody" which happens in time after being cut. And later in the season the ends do get a bit tough even before cutting. If you have super fresh asparagus you don't need to worry about it but you can cut a tiny bit off just to make sure. So for 3/4 of a pound in total, approximately 20-25 stalks depending on the size, or about 3 cups when chopped.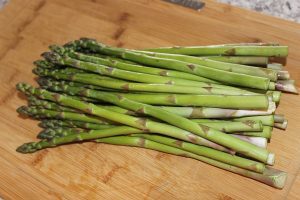 So whipping up this yummy soup doesn't take much time at all. Give the onions and celery and little sauté to soften. Add the garlic and squish it around.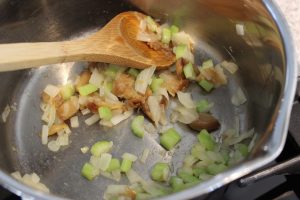 Pour in the broth, add potatoes, simmer, taste, season, add asparagus, simmer.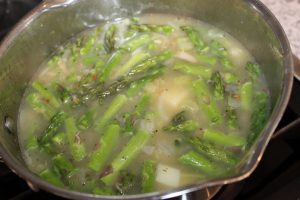 When everything is fork tender, puree until smooth.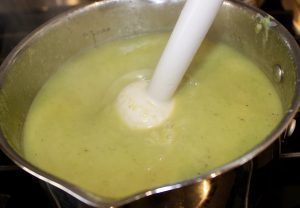 An immersion blender is easiest but you can also pour the soup into a blender and purée.
Stir in freshly grated Parmesan cheese. The real stuff, not the dry sawdust-like substance. Taste and season with more salt if necessary.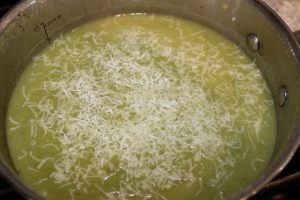 You can finish this soup by drizzling a bit of sour cream or yogurt thinned with some milk. And a few green onions if you like. Chives would work too. And pepper. It's totally up to you!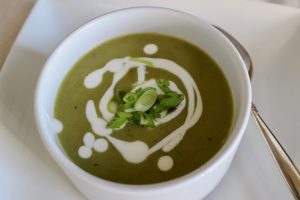 Here's the recipe:
Roasted Garlic and Asparagus Soup
Roasted Garlic and Asparagus Soup
Makes 4-6 servings

Ingredients

1 head garlic
1 Tbsp extra virgin olive oil

1 Tbsp butter
1/2 small onion, diced
1 stalk celery, diced
3 1/2 - 4 cups broth - chicken, vegetable or combination
2 medium potatoes, peeled and cubed
3/4 lb asparagus, rinsed, ends trimmed and chopped into pieces
salt and pepper to taste
1/4 cup freshly grated Parmesan cheese

Garnish
2 Tbsp sour cream or yogurt thinned with 2 Tbsp milk
2 green onions, finely sliced

Method

Peel some of the outer skin off a head of garlic. Slice across the top to expose most of the cloves. Drizzle with extra virgin olive oil, wrap in foil and bake at 350 degrees for about 45 minutes. Allow to cool enough to handle. Cut open any pockets not exposed and squeeze all cloves into a dish. Refrigerate if not making soup immediately.

Meanwhile, clean and dice onion and celery. Saute in butter until soft. Add roasted garlic and stir to combine. Add broth and potatoes and simmer for about 15 minutes until fork tender. Taste and season with salt and pepper. Add asparagus and simmer about 5 more minutes. Puree until smooth. Add grated Parmesan cheese and stir to combine. Taste again and add more seasoning if necessary. 

Make garnish by combining sour cream or yogurt with milk. Drizzle on top and add sliced green onions if desired.