If you live anywhere in Norfolk County it's likely you know what Celery Bread is. There is no celery in this bread. Thankfully. It's a buttered cube of bread sprinkled with celery seed and then grilled. Or deep fried. Or broiled. Everyone has their own version and style of preparing but it's almost always served with fried fish.
I'm sure this originated at the Erie Beach Hotel. That's where I first had it. When I was a kid my mom would use up stale hamburger buns by buttering the cut side (or probably back then spreading Imperial Margarine on them), sprinkling celery seed on top then toasting under the broiler. We loved them!
You need an unsliced loaf of white bread, preferably as square as possible. Trim all four sides and the top.
You can leave the bottom crust.
Cut the loaf into thick chunks, usually about 10 per loaf. Butter all sides of the bread including the top and bottom, then sprinkle generously with celery seed.
If you're having a big fish fry and making a large quantity it's probably easier to do an entire sheet pan under the broiler. But you have to watch them so carefully and turn them frequently – I've burnt an entire pan before and that totally ruins the fish fry. Totally. Otherwise if you have a manageable number of guests you can grill the bread in a hot pan, turning to each side including the top and bottom.
This involves some strategy, you may have to lean pieces against each other to grill the top and bottom without them tipping over.
Plan on everyone eating at least 2 pieces. And serve it right away, it's best hot.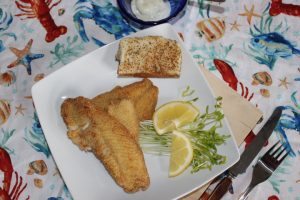 These go great with Cornmeal Crusted Crappie .