If you live anywhere in Norfolk County it's likely you know what Celery Bread is. There's no celery in this bread thankfully. It's chunks of bread brushed with melted butter and celery seeds, then roasted until golden brown. The recipe originated at the Erie Beach Hotel in Port Dover and is a favourite with locals. It's a must if you're having a fish fry.
When I was a kid my mom would use up stale hamburger buns by buttering the cut side (or probably back then spreading Imperial Margarine on them), sprinkling celery seed on top then toasting under the broiler. We loved them! We would have Celery Bread with spaghetti instead of garlic bread. But the Erie Beach Hotel method is famous.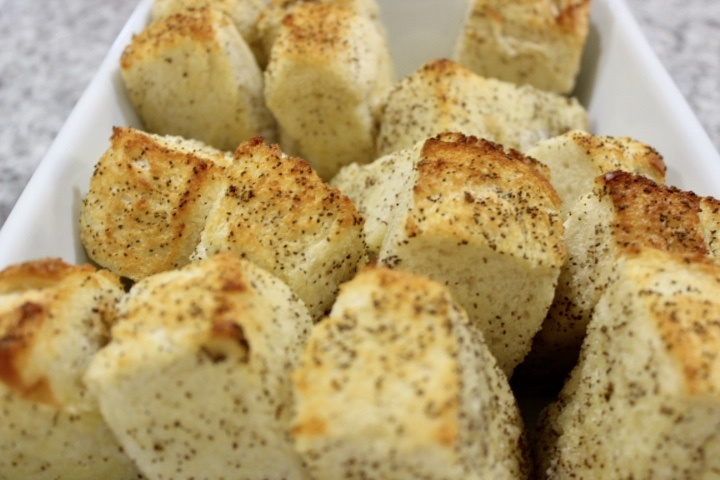 I've heard lots of crazy ideas about their secret to making this amazing Celery Bread. I've been told they dip the entire loaf in melted butter. I was told they use margarine with paprika instead of butter. And someone even tried to tell me they were deep fried. Thankfully I got the true story from the experts.
How to make Celery Bread
You need an unsliced loaf of white bread, preferably as square as possible. Day old is fine, in fact it's even easier to cut when it's not too fresh. Cut the crust off all four sides and the top and bottom. Don't worry about the bread left behind that's been cut off. It's perfect for Stuffing. Just cut the pieces into cubes and freeze them for another time.
Cut the loaf into thick chunks. Typically a full loaf makes about 8 pieces of celery bread. Cut it in half lengthwise, then in half crosswise, then cut those sections in half.
Melt butter and stir in celery seeds. Brush all exposed sides of the bread with the butter mixture. I like to sprinkle a little extra celery seed onto the bread if there's some areas that don't have much. Use about 1/4 cup of butter and 1 tsp of celery seed per loaf. Either unsalted or salted butter is fine, depending on your sodium level preference. If you're making a lot of celery bread, I got an inside tip from a local Celery Bread maker. Melt the butter and pour it into a shallow baking pan. Then dip the bread cubes in the melted butter on each side. It's much faster than brushing each one individually.
How does the Erie Beach Hotel make Celery Bread?
So according to the expert, Pam, who has kindly given us the true method in the comments after this post, prepare the pieces in advance, wrap them tightly and refrigerating them over night. Then stand them up in a dish and bake in a hot oven. Somewhere around 400 degrees is best and watch them turn golden brown in mere minutes. Somewhere around 10 minutes or so, keeping an eye on them so they don't brown too much.
I've made a few pieces in a frying pan if I'm not making too many. Just grill each side including the top and bottom. You can also do them under the broiler but you have to keep turning them. And you have to watch them carefully – I've burnt an entire pan before and that totally ruins the fish fry. Totally. The expert method of baking them in a very hot oven is best.
Let the pieces fall open so more sides are exposed to the heat. Sometimes it's hard to get perfect cubes if your loaf isn't square. But they taste the same no matter what shape they are! These ones got a bit dark but they were still awesome!
Plan on everyone eating at least 2 pieces of celery bread. And serve it right away, it's best hot.
Celery Bread goes great with Cornmeal Crusted Crappie. In fact, no fish fry is complete without it. So if you can't make it to the Erie Beach Hotel in Port Dover, Ontario, making your own at home is like a trip down memory lane.
Enjoy!
Celery Bread
Popular side dish served with Lake Erie Perch and Pickerel at Erie Beach Hotel in Port Dover
Ingredients
1

unsliced loaf of white bread

choose one as square as possible

¼

cup

melted butter

1

tsp

celery seed

plus extra for sprinkling
Instructions
Cut crust off all sides of bread including the bottom. Slice lengthwise through the middle, then into sections ending with about 10 cubes.

Melt butter. Stir in celery seeds.

Brush liberally over all surfaces of each cube. Sprinkle more celery seed over any areas that have little seeds.

Put bread cubes back into plastic bag and seal up tightly. Refrigerate over night or at least all day for best results.

Arrange cubes in a bundle in a baking dish. Allow them to fall open to expose as much area as possible.

Bake on the centre rack of a preheated oven at 400° for about 10 minutes or until bread is lightly toasted.
Print Recipe
more easy bread recipes