We eat so much asparagus during the short season that I try to come up with a variety of ways to prepare it. Prosciutto Wrapped Asparagus is a big hit around here. It's really easy but it looks impressive and there are never any leftovers.
There are an abundance of asparagus farms here in Norfolk County. The growing conditions are perfect. I feel so lucky that I can just stop in at the farm and buy fresh cut asparagus in any size I want, any day I want. JLK Farms is right up the road and I always enjoy a visit with Lisa when I drop by.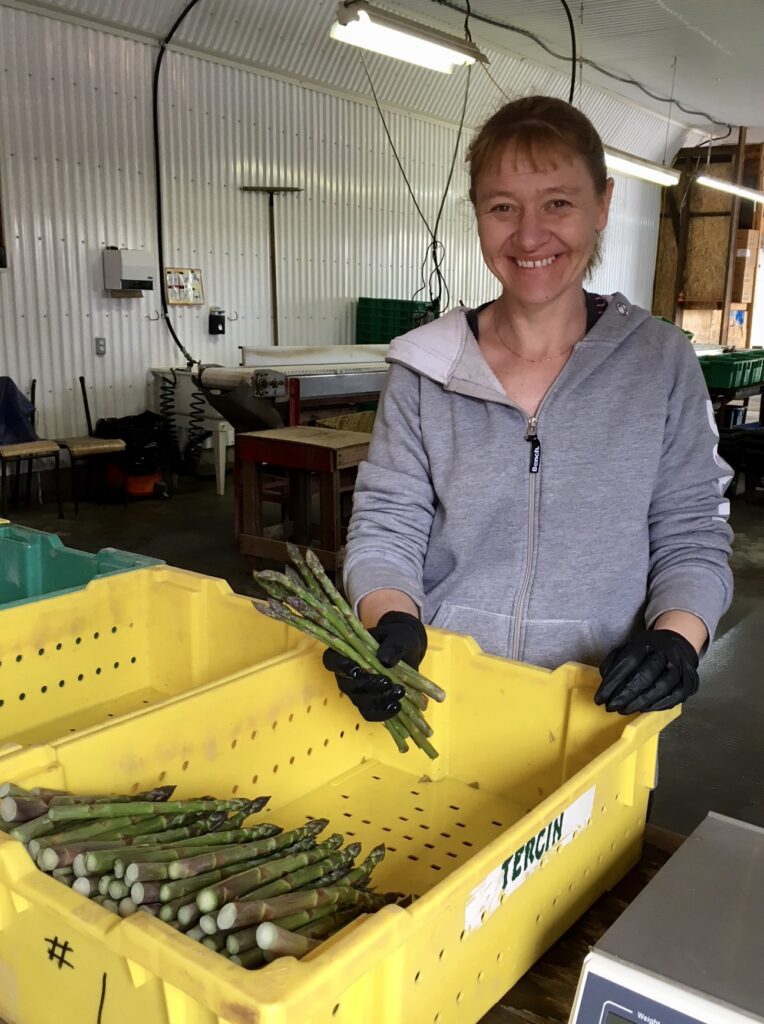 The asparagus is sorted into sizes so you can pick thinner or thicker stalks depending on your preference. They even sell jumbo asparagus which is what I use to make Bacon Wrapped Jumbo Asparagus with Parmesan and Garlic. They also sell seconds so if you're making soup, you can get a better price. You might like Roasted Garlic and Asparagus Soup.
How to make Prosciutto Wrapped Asparagus
Start by rinsing the asparagus and snapping off the woody ends. If you're buying Norfolk County asparagus, they're grown in sandy soil so be sure to rinse the heads well, just in case. You don't want gritty asparagus!
For the best presentation, try to use spears of similar length. And similar thickness ensures they cook evenly.
I usually use a full slice of prosciutto but I experimented with various widths and found you can use half a slice and it works well. Prosciutto is expensive so that's a bonus for a thrifty girl like me!
You may be able to buy Prosciutto at a deli and get the number of slices you want. Otherwise it usually comes in a package with paper between each slice which helps you peel off one layer at a time. Lay the slice on a cutting board and cut it in half lengthwise with a very sharp knife.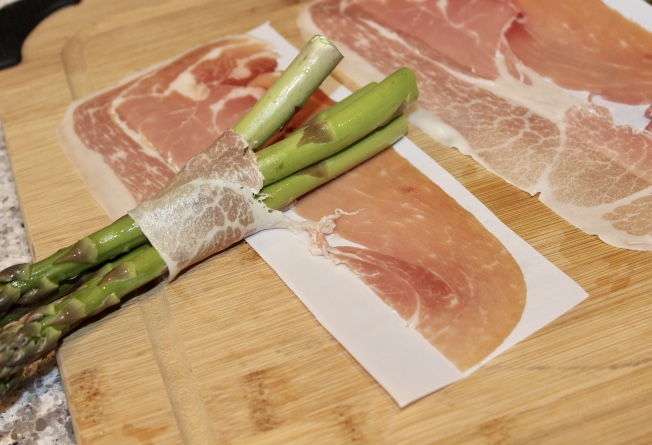 Lay 4-5 spears of asparagus over top and carefully roll up. I've tried using more asparagus but they tend to fall apart if the bundle is too thick. 4 medium spears or 5 thin spears is the max.
If you're using full pieces of prosciutto, use the same method to roll them up.
Drizzle or brush the bundles with olive oil. You don't really need any salt because the prosciutto is salty enough but some fresh crackled black pepper is nice.
Roast in the oven at 375 degrees for 10-12 minutes. Maybe a bit longer if you have really thick spears. They're done when the prosciutto is sizzling and the asparagus is tender but not mushy.
Yum City!
click HERE for a free downloadable collection of asparagus recipes