People love skillet dinners because they're easy and quick. Chicken and Rice with Tomato Skillet Dinner uses leftover cooked chicken and is made and baked in one pan. Any meal that's low on the budget and cleanup scale while being high in the flavour department is a winner.
The first recipe I ever made up was a basic version of this meal. It literally had 3 ingredients. Chicken, usually bone in skin on legs which were the cheapest (I was in college!), rice and a can of stewed tomatoes. It was actually pretty good but over time I've edited and elevated the recipe to what it is today. No more fatty goopy steamed chicken skin for me.
Jump to Recipe
The new and improved recipe starts with onion, celery and sweet peppers. This combination, commonly used in cajun and creole dishes is referred to as "the holy trinity." The vegetables are sautéed in olive oil just until softened, then dry uncooked rice along with some garlic is added and cooked for a few minutes just to toast the rice a bit and start building the flavours. I like when a recipe is colourful so I usually use multiple colours of peppers if I have them.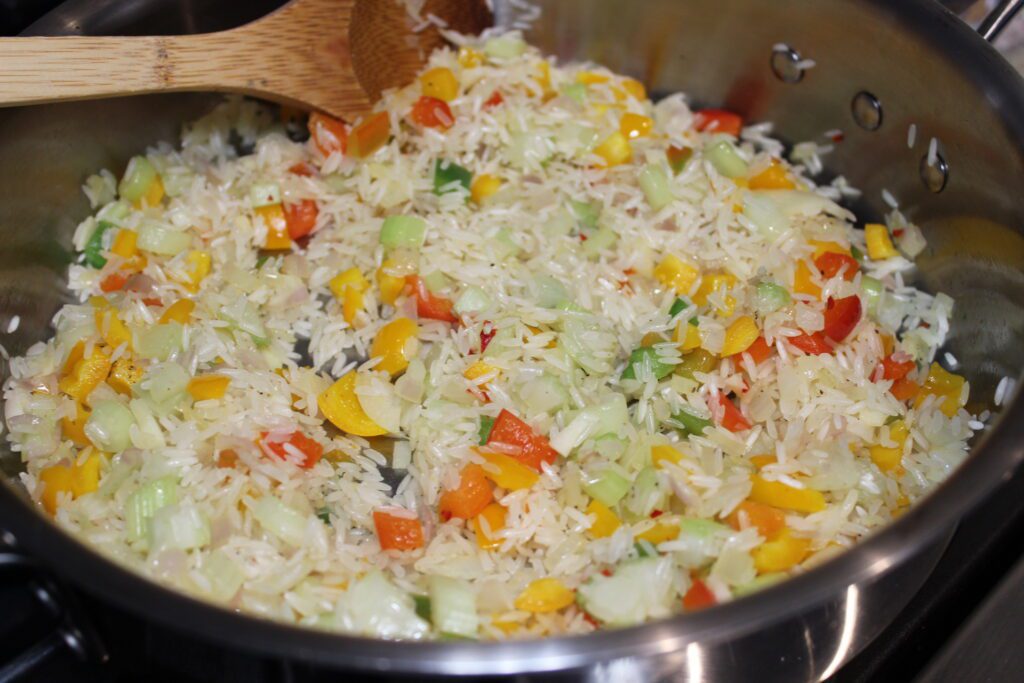 Pour the chicken broth over top, season with salt and pepper, then remove from the heat. Add seasoning, tomato juice and mushed up tomatoes, chopped up chicken and fresh chives and parsley. Give it a stir, cover with a lid then pop it in the oven and bake for about 45 minutes.
You can use uncooked chicken if you like, just chop it and brown it quickly before adding the veggies. If you're using cooked chicken this would be about half of a deli chicken. Feel free to increase the amount of chicken though, as long as you keep the liquid and rice ratio about the same.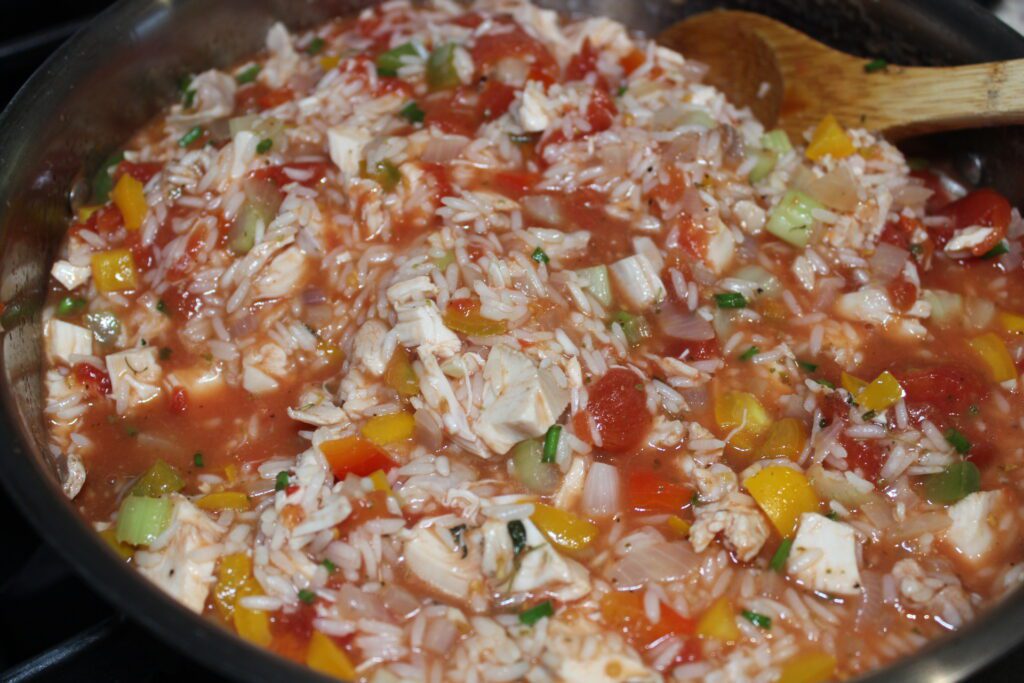 The reason this dish is finished in the oven and not on the stovetop is because the heat in the oven is more even and gentle. This way the rice has lots of time to absorb all the flavours. Technically, this isn't a "quick" recipe because of the baking time but it's quick to prepare and you can do other things while it finishes cooking in the oven.
What are the best canned tomatoes?
I recently learned something about canned tomatoes. I'm told that the best tomatoes go in cans of whole tomatoes, followed by diced tomatoes and then the worst ones make it in the crushed tomato cans. So for best tomato flavour, use whole canned tomatoes. I like to have some chunks so pour the juice from the can into the skillet, then either crush the tomatoes with your hands (that's the fun way) or use an immersion blender or even a knife and fork. Or, dump them into a wide bowl and use a potato masher. It doesn't matter what method you prefer. Leave some chunks or not, it's up to you.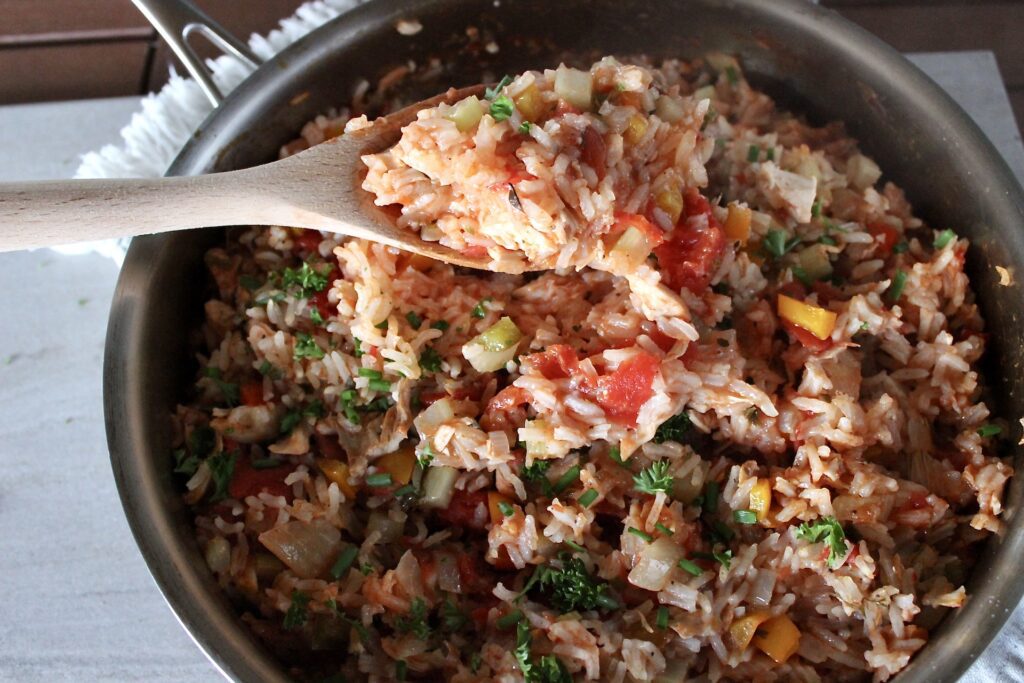 Don't be limited by the basic spices. Feel free to change it up, make it your own. A few awesome variations are Creole – use a store bought mixture or add some cayenne and paprika to the recipe, and Mexican – add some chili powder and cumin. Cajun? Creole? I have some research to do because I'm not sure of the difference but if you like some heat, add something hot.
The rice does tend to be quite soft when it's slowly baked so you will notice it's not as firm as a typical long grain rice cooked on its own. Also, don't be tempted to add more rice, it will just absorb too much of the liquid and be a clumpy mess. I've made that mistake many times. I used to make this without measuring but I've learned my lesson. Use the correct ratio of liquid to rice but go ahead and "free style" when it comes to veggies and seasonings. And meat.
You may find Chicken and Rice with Tomato Skillet Dinner is a bit too liquidy when it's first cooked but it will firm up as it rests.  You might even need to add more liquid if you're reheating so it's a bit of a challenge to get the liquid amount perfect. Some pans hold more heat than others so it's hard to say exactly the amount of chicken broth to use. For my heavy metal skillet 1 ¼ cups is about right but you may need to adjust the amount for your pan.
Garnish with more fresh parsley and chives right before serving.
Here's the recipe:
Chicken and Rice with Tomato Skillet Dinner
Easy one pan meal with chicken and rice baked in tomato sauce
Ingredients
2

Tbsp

extra virgin olive oil

1

stalk

celery

1

onion

or ½ onion and 1 shallot

1

sweet pepper, any colour

or combination of colours

2

cloves

garlic

salt and pepper

1

cup

uncooked long grain rice

1 ¼

cups

chicken broth

796

ml

canned whole tomatoes

2

tsp

dried oregano

1

tsp

dried thyme leaves

2

cups

chopped cooked chicken

about ½ of a deli chicken

2

Tbsp

fresh chives

save half for garnish

2

Tbsp

fresh parsley

save half for garnish
Instructions
In large oven safe skillet with lid, heat olive oil over medium heat. Preheat oven to 350°.

Chop onion, celery and peppers. Use any combination of sweet pepper colours, with onion, celery and pepper amount measuring about 2 cups.

Sauté until softening. Add rice and garlic and stir to absorb flavours and oil.

Add chicken broth and season with salt and pepper. Remove pan from heat. Pour tomato juice from canned tomatoes into pan. Crush tomatoes by hand or with utensils until small chunks are remaining. Add to mixture along with oregano, thyme and cooked chicken.

Mince chives and parsley. Add half to the pan, reserving the other half for garnish.

Cover pan with lid and bake for 45 minutes or until rice is tender.

Garnish with remaining parsley and chives.
Print Recipe
If you've tried this recipe, consider leaving a comment or a rating. Or, you can share the post by clicking on the icons below.
looking for other easy clean up meals?