This should be called Super Easy Focaccia but I think I over-use the word super. Since Focaccia dough is similar to pizza dough, the obvious way to make this an easy recipe is to use frozen store bought pizza dough. So this is for my friends who say they love homemade bread but wouldn't make it.
I've always thought store bought pizza dough was a little too thick and had a sweeter taste than what I wanted. So, it's perfect for Focaccia. The beauty of this Easy Focaccia recipe is that you can make it with whatever herbs you want. You can use onions or not. Love garlic? Use more! It's totally customizable.
Jump to Recipe
A basic pizza dough is the perfect size for a quarter sheet pan, about 9 x 12 inches. You can use a baking dish too. Something a little larger would work too, you'd end up with slightly thinner focaccia. Just don't get it too thin.
While you're waiting for the dough to warm up, cut half an onion into strips and slowly caramelize it in lots of olive oil. This will sweeten up the onion and give it an awesome flavour. Don't let the onions get too brown because they'll continue to caramelize on top of the Focaccia while it's baking. Add some thin slices of garlic when the onion is starting to get some colour. You don't want to cook the garlic too long or it will burn and taste bitter.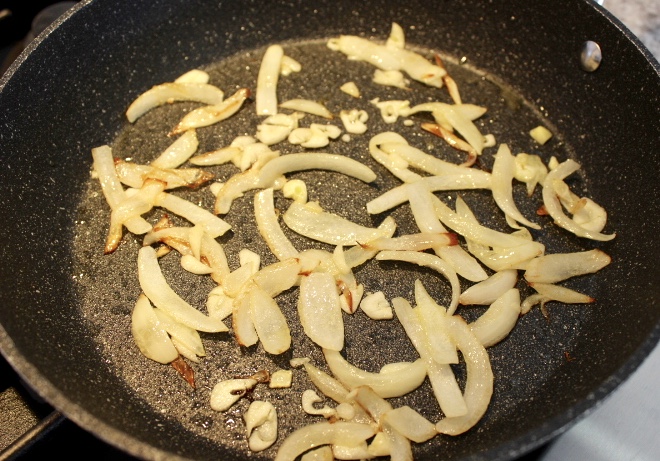 Once the dough is totally defrosted and not too cold, stretch it out onto the pan. A little trick is to not use any flour, that way the dough will stick to the bottom of the pan, so you don't have to fight with it to stay in place. Make a bunch of indentations with your fingers.
The indents are there for 2 reasons. First, they help the dough to stay fairly flat and even. But best of all, the oil and herbs pool in there for maximum tastiness! You want to use lots of oil, up to about 1/4 cup in total.
Spread the caramelized onion and garlic mixture, including the oil from the pan over the top of the dough. I like to press it into the dough a bit to help keep everything in place. Pour more oil over top and brush it all over the dough. Then sprinkle with fresh herbs. My favourite combination is rosemary and thyme.
Pro tip: to remove the tiny leaves from thyme, hold the sprig at the top with one hand and pull downwards with your other hand, the leaves will come off easily.
Top with course salt and bake in the centre of the oven for about 20 minutes until the top is golden brown. The herbs will get dark and crispy. It smells amazing. See how the onions finish caramelizing while baking?
You should be able to remove the focaccia from the pan once it cools down a bit. You might need to "help" it by running a knife around the edge if there are any places where it's stuck.
Cut it into pieces and serve Easy Focaccia Bread with some good olive oil and balsamic vinegar for dipping.
Focaccia Bread freezes well. Take it out of the freezer at least few hours before you want to serve it and reheat it in the oven for about 5 minutes at 350 degrees.
Here's the recipe:
Easy Focaccia Bread
Focaccia Bread with caramelized onion, garlic and herbs using frozen pizza dough.
Ingredients
1

737 g

frozen pizza dough

1/2

onion

2

cloves

garlic

3

branches

fresh rosemary

3

sprigs

fresh thyme

1/4

cup

extra virgin olive oil

for sauteeing onions and drizzling

course salt
Dipping Sauce
1

Tbsp

extra virgin olive oil

1

Tbsp

balsamic vinegar

dried or fresh herbs
Instructions
Allow pizza dough to completely thaw and warm to room temperature.

Slice onion into strips and saute gently using some of the olive oil.

Peel and thinly slice garlic and add to onions when they are starting to brown.

Spread pizza dough evenly onto a flat 9 x 12 inch pan such as a half baking sheet. Press fingers into dough all over to create indents. Spread onion and garlic mixture evenly over top and press into dough. Drizzle remaining olive oil over top and spread to edges.

Pick leaves from rosemary and thyme and sprinkle over top of dough. Add ground course salt generously.

Bake at 400 degrees in the centre of the oven for about 20 minutes, until the top is golden brown and the herbs are crispy.

Allow to cool slightly before removing from pan.

Serve with extra virgin olive oil and balsamic vinegar for dipping if desired.
Print Recipe
more easy bread recipes here