Not only is this recipe great for brunch, it's also a delicious option for Meatless Mondays. Good quality mushrooms are mandatory for Mushroom Toast with Poached Egg and Arugula since they're one of the stars of the show. The other star, a perfectly poached egg, when cut open oozes golden yolk to take this dish over the top.
I had something similar to this a few years ago at a restaurant called Oliver and Bonacini. I have no idea what the dish was called. Mushroom Bruschetta? Mushroom Eggs Benedict? Whatever it was called, it was so good! The mushrooms had so much flavour and the combination of the soft egg yolk and peppery arugula was perfect. I've worked really hard on this one and I think I've finally got a pretty close rendition of what we had that day. Sadly, the restaurant is no longer there so I can't go back and beg for the recipe!
Include one kind of dried mushroom in your mixture so you get that real earthy flavour. Dried Porcini mushrooms are a good choice because they have the deep woodsy flavour but aren't as chewy as some other varieties.  Combine them with fresh white button and Crimini mushrooms which are baby Portobellos.
Jump to Recipe
How to cook with dried mushrooms
You need to soak dried mushrooms in liquid to rehydrate them. You can use water, wine or chicken broth. I decided to use chicken broth, believe it or not, but I did add a splash of wine at the end! The hit of acidity helps round out the richness of the buttery mushrooms. You could use lemon juice if you're concerned about the alcohol but it's really just a small amount and the alcohol content cooks away as it simmers.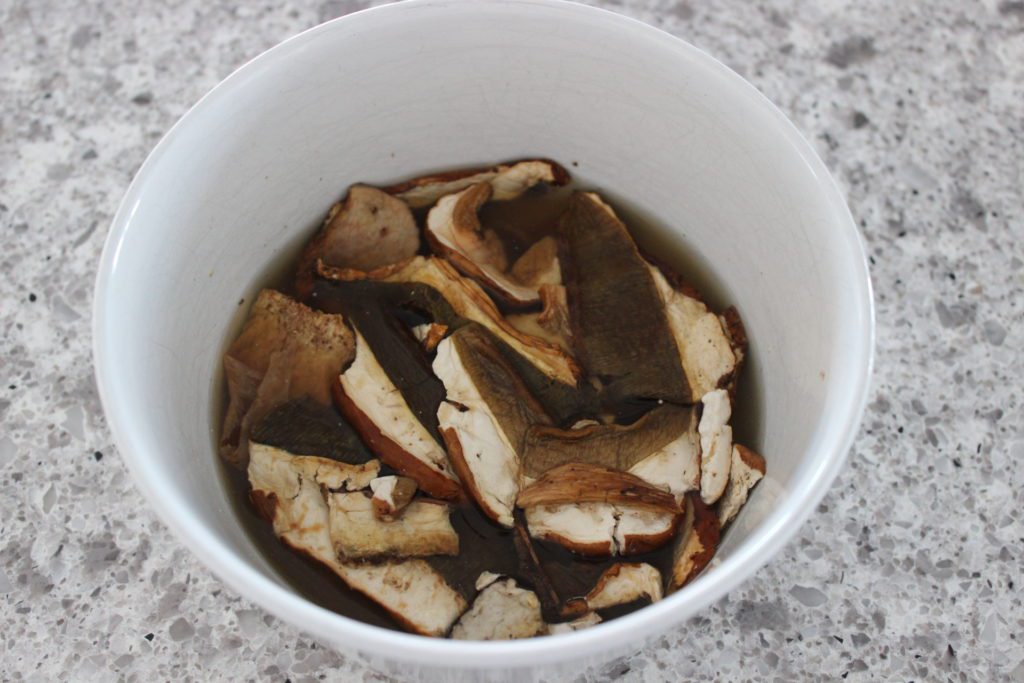 While your dried mushrooms are soaking, clean and slice the other mushrooms and sauté them in some butter. Add some thin slices of garlic too. Make sure your mushrooms get some golden colour which means flavour. After about 20 minutes of soaking time, drain the Porcini mushrooms and save the liquid. Chop them up into small pieces and add to the pan.
The soaking liquid adds amazing flavour to the mushrooms. You'll see why you have to strain it. There will be a few bits of grit in the bottom. You can use cheesecloth or even a coffee filter to strain the liquid. Now add it to the mushroom mixture and let it simmer and reduce. Season with salt and pepper to taste and add a splash of dry white wine if you like. Just a few spoonfuls.
If you aren't familiar with poaching eggs, there's a few tricks to make sure you get perfectly poached eggs.
Use fresh eggs and keep them refrigerated until you're ready to poach them. Fresh cold eggs stay together better.
Add a spoonful of vinegar to the water before you add the eggs. This helps prevent them from spreading out too much in the water.
Crack the egg first into a bowl before adding to the water in case the yolk breaks. Those ones can be used for something else like an Omelette or Overnight Breakfast.
When the water is just barely boiling, using a slotted spoon, stir the water in a circular pattern to create a "vortex". Gently tip the egg into the middle of the simmering water.
Cook uncovered for about 3 minutes. You don't want the water to boil, just a gentle simmer so no more than medium heat.
Remove with a slotted spoon onto a plate lined with paper towel. This will soak up any of the boiling water left behind.
In a perfect world you would poach one egg at a time. But you can drop 2 or 3 eggs into the water, hopefully spacing them apart and not having any casualties. You can actually refrigerate poached eggs and reheat them later so if you're making this to impress someone, or you haven't made poached eggs before, try them one at a time, and then gently lower them back into simmering water for about 30 -60 seconds each before serving to reheat them.
To assemble Mushroom Toast with Poached Egg and Arugula, slice fresh white French or Italian bread into thick slices. Lightly butter both sides and give them a light grill on each side.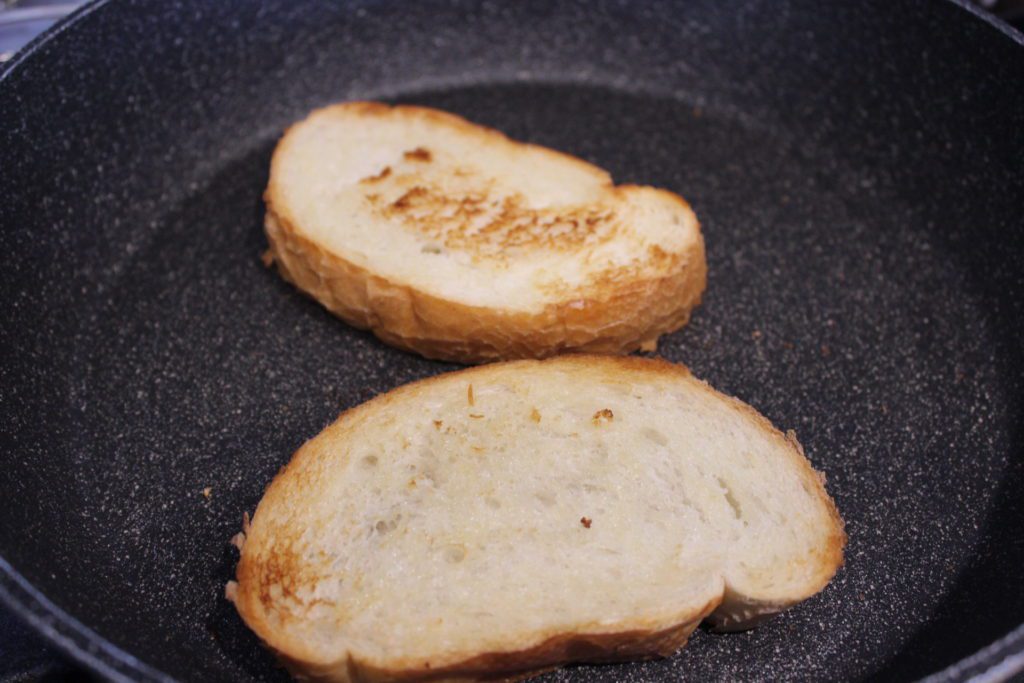 Top with a generous amount of the mushroom mixture, a warm poached egg, then a handful of fresh arugula.
For extra peppery flavour, add some fresh cracked black pepper over top. Then cut the egg open and watch the soft yolk ooze out and mix with the mushrooms.
Here's the recipe:
Mushroom Toast with Poached Egg and Arugula
Sauteed mushrooms over toasted thick bread topped with a soft poached egg and peppery arugula.
Ingredients
14

gram

package dried Porcini mushrooms

1/2

cup

chicken broth

2

Tbsp

butter

8

crimini mushrooms

4

large white mushrooms

2

cloves

garlic

2

Tbsp

dry white wine

optional

1/2

tsp

salt

2

thick slices French or Italian bread

1

Tbsp

butter

2

poached eggs

handful fresh arugula

cracked black pepper for garnish
Instructions
Cover dried mushrooms with chicken broth and allow to hydrate for at least 20 minutes.

Clean and slice crimini and white mushrooms. Sauté in butter until soft and browning.

Thinly slice garlic and add to mushrooms when they are starting to brown.

Drain porcini mushrooms, reserving liquid. Chop and add to mushroom mixture.

Strain reserved soaking liquid using cheesecloth or coffee filter. Add to mushroom mixture along with white wine if using. Season with salt and pepper. Simmer until liquid is reduced by about half.

Meanwhile, poach eggs for 3 minutes. Drain on paper towel.

Butter both sides of sliced bread and grill to slightly warm and toast. Top with generous amount of mushroom mixture. Place poached egg over top and garnish with fresh arugula.

Add cracked black pepper if desired.
Print Recipe
more recipes that feature eggs