Homemade Bread and Butter Pickles are sweet and crunchy, the perfect compliment to a sandwich. I suppose that's the bread and butter part. Some people call these Yum Yums but I think that's an actual registered product name. They are, though, totally yummy. And surprisingly easy to make.
I have to thank my friend Kathy and her daughters for this one. They made a large batch and shared the recipe. What luck for me! I made a batch, my son had a taste and said "Ya, you have to make more of these." And I did. The second batch was made with less sugar and in side by side taste tests they were both excellent. We decided, if blindfolded, we wouldn't be able to tell the difference.
Jump to Recipe
Here's a crazy story. My mom didn't make Bread and Butter Pickles when we were kids and this is the first year I've made them. I was going to share a jar with her but my dad told me she just made some. I figured he was confusing them with her 9 day sweet pickles, but my mom confirmed she had in fact just made some Bread and Butter Pickles. When I told her the ingredients and amounts I used she said yes, that sounds pretty much what I made. But, she said, she'd reduced the sugar to 4 cups. I said ME TOO! Then I told her I didn't bother with the green peppers in the recipe. She said ME TOO! Now that's mother daughter psychic connection!
Instead of a lengthy post with science and tips about pickle making, this one is straight forward and to the point. If you want some extra reading and insider tips to successful pickle making, check out my Dill Pickle post where you'll find some extra info to help make the best pickles ever.
How to make Bread and Butter Pickles
The most important step in making Bread and Butter Pickles is soaking the sliced cucumbers and onions over night in salted ice water. Well, backing up, the first important step is sourcing good quality cucumbers that are freshly picked. I got mine at The Cider Keg Farm Market. They were actually unloading the cucumbers when I arrived so I knew they were just picked.
You probably won't believe me but thinly sliced cucumbers cooked in liquid and refrigerated are still crunchy. STILL CRUNCHY! You don't have to totally cover them with water but make sure there's lots of ice on top, then put them in a fridge. The salted water helps pull extra moisture out of the cucumbers to help them stay crunchy.
You can use a food processor to slice the cucumbers quickly. To avoid them falling over and getting strange shaped slices, pack them tightly upright as you feed them through and press down. I actually used a mandolin which was a little more time consuming but I got perfectly even slices. You could also cut them manually. It would take tons of time and knife skills but when you taste these pickles you'll know it was worth it.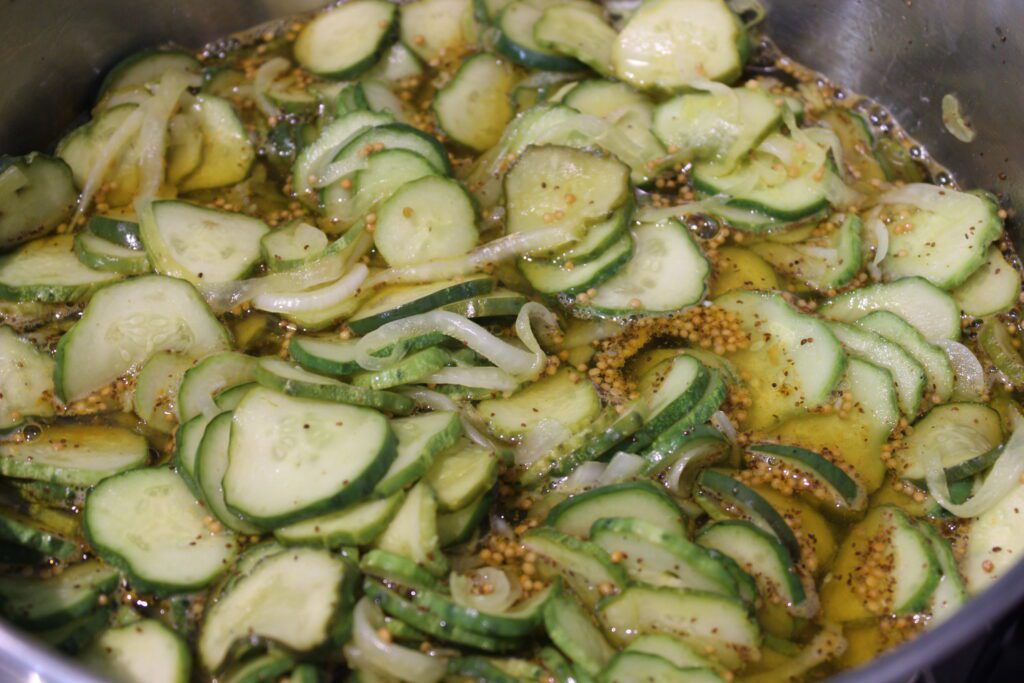 After soaking and draining the cucumber mixture, the only thing left to do is boil everything together and pack in hot jars. Use tongs to grab the cucumber mixture and fill the jars, then pour the brine left behind evenly into every jar. To avoid getting all the spices in a few jars and none in others, stir the brine before pouring and maybe use a spoon to manually distribute them. Make sure you leave a little space at the top of each jar, wipe off any sticky brine, then seal with clean new seals and rings, then process in a canner for 5-8 minutes depending on the size of the jars.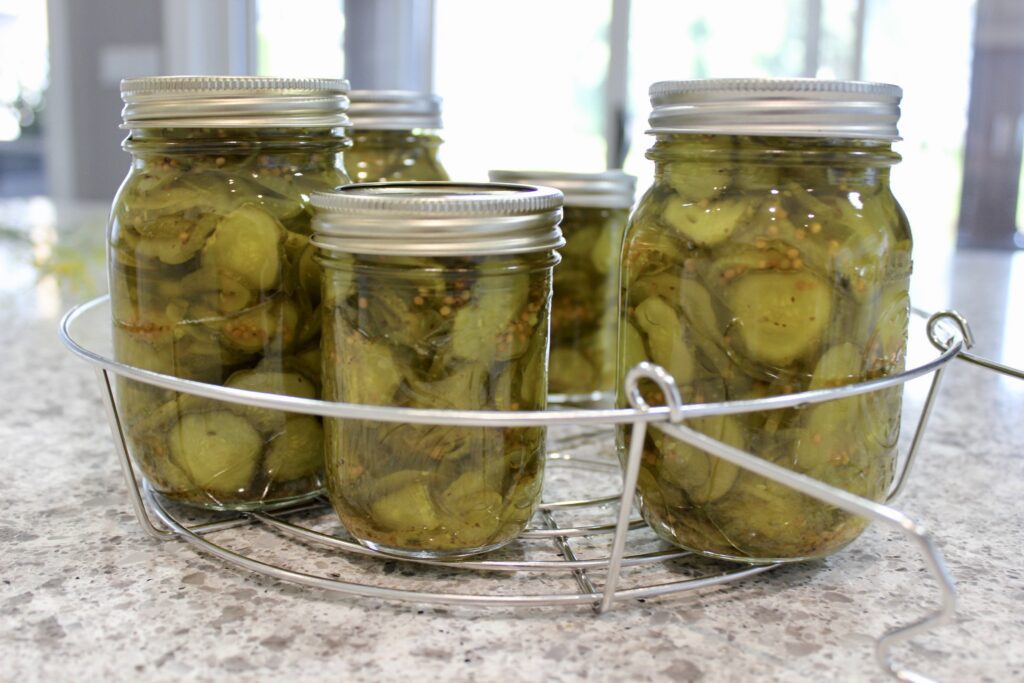 Turmeric in pickles?
Don't be afraid of the turmeric. It's a spice used to add the brilliant yellow to mustard. It's also said to have cancer fighting properties. The only thing you need to worry about is staining your countertop so wipe up quickly if you have a spill. Don't worry, the Bread and Butter Pickles aren't bright yellow, they just have a beautiful golden colour.
Unlike other types of pickles, these ones are ready to eat right away! That's a bonus. And anything homemade makes a great hostess gift. It's nice to share but you won't want to give away too many jars of these Bread and Butter Pickles.
Here's the recipe:
Bread and Butter Pickles
Easy sliced cucumber pickles with onions and spices in a sweet brine.
Ingredients
4

quart

basket pickling cucumbers sliced

about 20 cups

6

medium onions, sliced

⅓

C

pickling salt
Brine
3

C

white vinegar

4-5

C

sugar

original recipe is 5 cups but 4 cups works too

1 ½

tsp

celery seed

1 ½

tsp

turmeric

2

Tbsp

mustard seed
Instructions
Rinse and dry cucumbers. Slice very thin piece off flower end of each cucumber, if desired, to help prevent soft pickles.

Using food processor or mandolin, slice cucumbers into thin even slices crosswise.

Peel and slice onions into thin strips or rings. Combine with cucumbers in large pot. Sprinkle pickling salt over top and cover with ice, then very cold water. Refrigerate over night.

Drain very well. Add brine ingredients to cucumber mixture and bring to a boil.

Meanwhile prepare hot sterilized jars. Warm seals.

Once mixture has come to a rolling boil, fill each jar with cucumber mixture. Pour hot brine over top leaving at least ¼ inch headspace at top of each jar. Wipe rims to remove any sticky residue, then top with warm clean seals and rings.

Immerse jars in a large canner pot until covered and boil for 5-8 minutes, depending on size of jars.

Remove from water and allow to cool. Any jars that don't seal can be stored in the refrigerator. Pickles can be eaten right away.
Notes
This recipe makes anywhere from 8 - 16 or so jars depending on the size of jars used. I typically use 250 and 500 ml jars (1 - 2 cups).
Process for 5 minutes if using smaller jars or 8 minutes for larger.
Print Recipe
If you've tried this recipe, consider leaving a comment or a rating. Or, you can share the post by clicking on the icons below.
more home canning ideas