Think Beef with Broccoli meets Ginger Beef meets local seasonal vegetables. Beef Vegetable Stir Fry features the flavours of authentic restaurant versions of beef stir fry with the added bonus of more vegetables and more colour. If you're looking for a tasty and healthy stir fry that isn't sweet and sour, read on!
The first thing I did when I was working on the recipe for this sauce was have a look through one of my favourite cookbooks. It's called Simple Thai Food by Leela Punyaratabandhu. That's not a typo, it's really her name! The ESL staff at work gave me this awesome book as a gift and I've referenced it many times. Not only did I get an idea of ingredients in the sauce, I also learned a little trick to tenderize the beef. Now I know why the thin slices of beef in restaurant dishes like Beef with Broccoli are literally fork tender. They're marinated in baking soda. Who knew? Well, now you do!
Jump to Recipe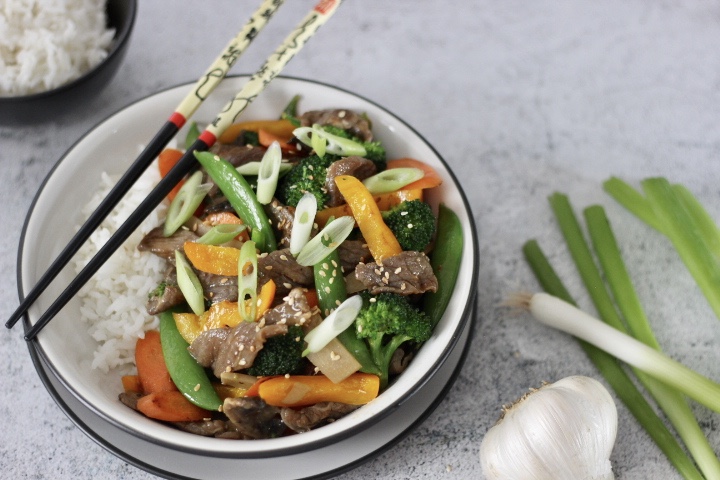 How to prepare beef for stir fry
A great tip for making Beef Vegetable Stir Fry is to slice the beef as thinly as possible. The easiest way to do this is to partially freeze the beef before slicing. Twenty minutes or so is all you need. Then, of course, a very sharp knife helps as well. Once you've sliced the beef into very thin strips, sprinkle a small amount of baking soda over top and stir. Add some soy sauce, garlic and white pepper and leave to marinate in the fridge for about half an hour. It doesn't take long. Even twenty minutes will do.
You can use different cuts of beef for stir fry, just keep a few things in mind. A cheaper less tender piece of beef like sirloin or flank steak needs to be cut across the grain to prevent it from being stringy. If you aren't sure, look closely to see the direction of the muscle fibres, then cut in the opposite direction. I like to use a NY strip steak because they're usually the perfect size for 4 servings. The amount of meat you need is about 4 oz per person or a quarter pound, give or take.
If your steak has fatty and grizzly parts, remove them before slicing and keep in mind that you'll end up with slightly less beef. So basically you can make a meal for 3-4 people with one steak. Thrifty! That's why I splurge on a better cut of beef for Beef Vegetable Stir Fry.
What are the best vegetables for stir fry
The vegetables you choose to use are up to you. You can make this with just broccoli which will save you some prep time. But including a variety of textures and colour makes this not only a healthy and delicious meal, but also a beautiful one. You do eat with all your senses. So choose some fresh seasonal veggies and maybe a few exotic additions. Use your imagination. Local fare with an international flair!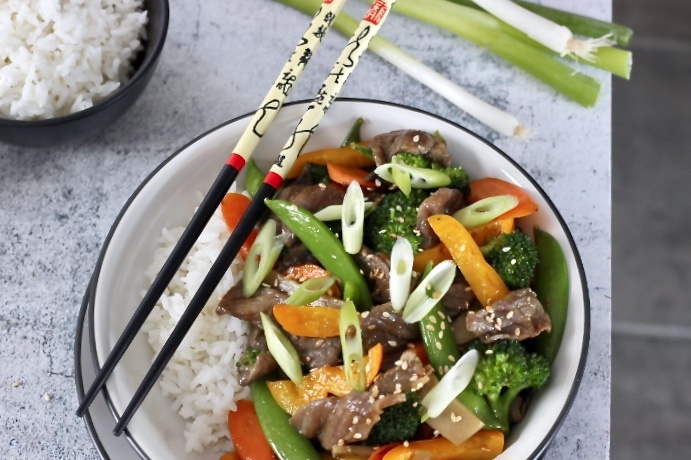 While the meat is marinating, slice all the veggies into bite sized pieces. Carrots need to be fairly thin so they're tender enough when all the other veggies are done. Don't forget to use the broccoli stems. Just peel the upper part and slice thinly. Put all the sliced veggies and the drained bamboo shoots in a big bowl so you can add everything into the hot pan all at once.
Fresh ginger adds amazing flavour to Beef Vegetable Stir Fry, but it also adds some heat. For most people its just a hint in the background which is perfect. But if you're making this for anyone with a very low tolerance for heat, slice the ginger into thin strips and soak in cold water while the beef is marinating. This helps take off some of the sting. If you like the heat, add a bit more ginger!
Feel free to use onion in place of shallots but I like to use them because they're slightly less pungent than an onion which is good in a dish where the vegetables aren't cooked very long. They also have a hint of a garlic flavour which works well. And it's fun to say shallot. "Shall – OT"
Sugar snap peas or snow peas are terrific in a stir fry. To preserve the nice bright colour and fresh crunch, add them at the end when you add the sauce. Speaking of the sauce, don't worry about the colour when you first mix it up. Cornstarch becomes clear when it's heated and thickened, leaving you with a glistening sauce that's not too thick or sweet. It's what you would call Umami.
What is Fish Sauce?
My Thai cookbook recipes have lots of ingredients that most people wouldn't have on hand. This sauce has that authentic flavour without having to buy too many unusual ingredients. I do, however, use fish sauce. It's basically fermented anchovies with salt and sugar. Before you rule out this recipe, consider that Worcestershire Sauce which is used in many North American recipes including the ever popular Bloody Caesar which is the ultimate Canadian cocktail, is also made from anchovy extract.
It's not made like the skit on Saturday Night Live called "bassomatic." If you've never seen this episode, check it out!
Hoisin sauce is kind of like an Asian barbecue sauce and gives the sauce just a touch of sweetness. I always have some on hand for sweet and sour stir fries or to glaze a pork tenderloin. Sesame oil has a strong flavour so you don't need much. And like Hoisin, you'll use it in other asian dishes so it's worth having some on hand. Most of the ingredients in the sauce have a long shelf life. You'll love Beef Vegetable Stir Fry so much, I'm sure you'll make it more than once.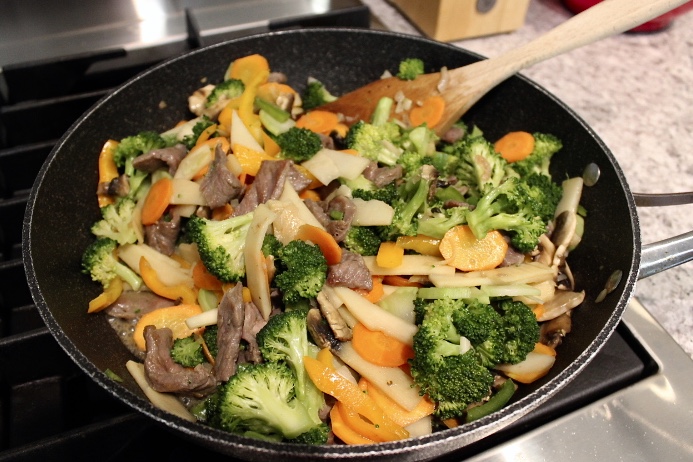 Beef Vegetable Stir Fry doesn't take long to cook so once you have all your ingredients ready to go, it's as simple as heating a large skillet or wok quite high, along with a couple tablespoons of peanut or vegetable oil. Don't use olive oil, it can't withstand that level of heat. You want the oil to be starting to smoke when you add the beef so make sure your vent fan is running. Don't be afraid of the high temperature, you want to stir fry, not simmer your meat and vegetables. They'll take too long to cook if the heat isn't high enough, resulting in soggy vegetables.
Beef Vegetable Stir Fry will be a favourite in your house. Garnish with some sliced green onion and toasted sesame seeds and serve over rice. Toasting the sesame seeds in a dry pan is a flavour booster and it gives them a nice golden colour.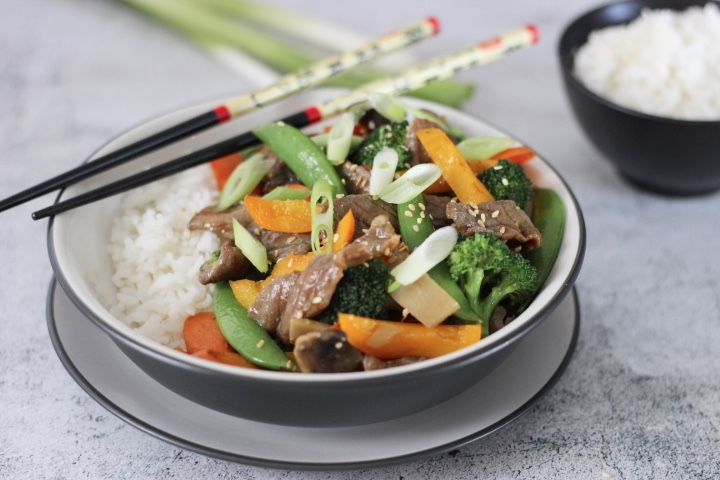 Here's the recipe:
Beef Vegetable Stir Fry
Similar to Beef with Broccoli, this stir fry is packed with healthy colourful veggies with an authentic restaurant style sauce.
Ingredients
16

oz

steak

trimmed of fat and grizzle

½

tsp

baking soda

1

Tbsp

soy sauce

1/4

tsp

white pepper

3

cloves garlic, thinly sliced

2

Tbsp

peanut oil

or vegetable oil

2

carrots, peeled and thinly sliced on an angle

1

large shallot, about 1 Tbsp

or onion

6

large mushrooms, sliced

1-2

heads broccoli, cut into bite sized pieces

use the stalk too, peel and slice thinly

1

sweet red pepper, cut into strips

1

can

can bamboo shoots, drained

small can, size of tuna can

227

g

package stringless sugar snap peas

8 oz

1

piece fresh ginger, peeled and cut into thin strips - see note

about the size of a thumb

2

green onions, minced for garnish

1

Tbsp

toasted sesame seeds, for garnish
Sauce
1 ½

cup

reduced sodium beef broth

1

tsp

sesame oil

2

tsp

fish sauce

or substitute 1 tsp Worcestershire with squirt of lime juice

1

Tbsp

hoisin sauce

1

Tbsp

cornstarch

stir into water before adding to sauce

1

Tbsp

soy sauce

½

tsp

salt
Instructions
Remove any fat and grizzle from beef, then slice into very thin strips against the grain. Peel and thinly slice garlic and add to meat. Sprinkle with baking soda, white pepper and soy sauce. Stir to combine. Refrigerate for 20-30 minutes.

Peel carrots and slice thinly on a diagonal. Cut broccoli into slices or bite sized pieces. Peel upper part of stalk and slice thinly. Clean and slice mushrooms, mince shallots and slice sweet pepper into strips. Drain bamboo shoots and add to vegetables. Slice ginger into very thin strips and add to vegetable mixture.

Rinse snap peas and drain.

Make sauce by combining all ingredients. Stir until cornstarch is dissolved.

Heat oil in large skillet or wok to high temperature. When oil begins to smoke, add beef mixture and stir fry for about 1 minute. Add vegetables and stir fry for another 2-3 minutes. Keeping heat on high, pour sauce over mixture. Add snap peas and stir until sauce has thickened and turned clear. About 1 - 2 minutes.

Serve over rice or noodles if desired.

Garnish with minced green onion and toasted sesame seeds.
Notes
1. If you want to reduce some of the heat in the ginger, slice into thin strips then soak in cold water. Drain before stir frying.
Print Recipe
why not try some of these asian recipes