A thick and hearty soup made the old fashioned way with a meaty ham bone. It's naturally thickened with split yellow peas so it's even gluten free. Good stock takes time but if you're patient, you'll be rewarded with this delicious Ham and Split Pea Soup. It's worth the wait.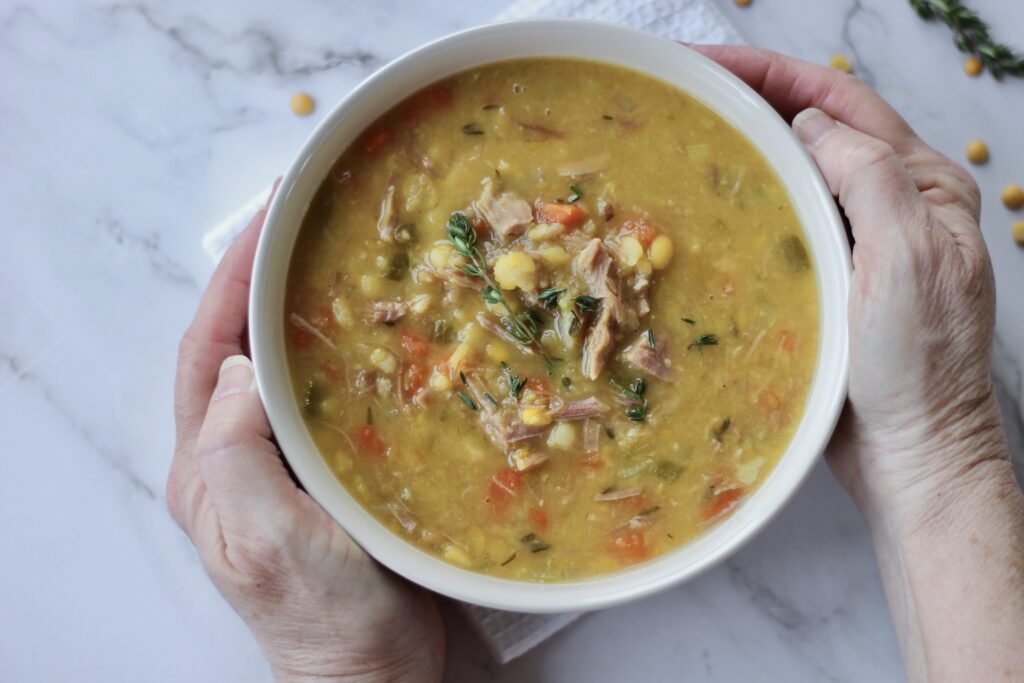 Roasted bone in ham is a pretty economical meal but what's even better is making home made soup with the leftover bone. You might have to hide the leftovers from snackers so you have enough meat left on the bone. You can make it right away or freeze the bone for later. Wrap it tightly in foil then seal in a freezer bag or a few layers of plastic bags. Make sure to label it so when you find it in the back of the freezer you'll remember what it's for.
Jump to Recipe

How to make Ham and Split Pea Soup
If you have a large pot with an insert for steaming or draining, this works great. Otherwise a large pot will work.
Start with cold water in a big pot with a ham bone and once the water boils, turn it down to a simmer. The water might not completely cover the bone. That's ok. It will also evaporate quite a bit. You can top up the water at first but you don't want to water down the broth too much. Have some chicken broth on hand to top up the liquid amount later. Now watch the magic happen. The meat literally falls off the bone after about 3 hours. What you're left with is rich and flavourful ham stock. Once it cools you'll see how it gels because of the collagen from the connective tissue.
Put the strained ham stock (or broth, I use these terms interchangeably) in the fridge, or outside if you live in the great white north and it's cold enough. For safety reasons it should be a maximum of 5 degrees outside and make sure the pot is out of the sun. And nowhere racoons can find it. Tricky little buggers.
When the meat is cool enough to handle while your broth is chilling, pick all the good stuff off and chop it up. It's pretty easy to get lots of meat from a bone once it's been cooked this long. And you'll be amazed how much you find. Toss the meat in the refrigerator until you're ready to complete the soup.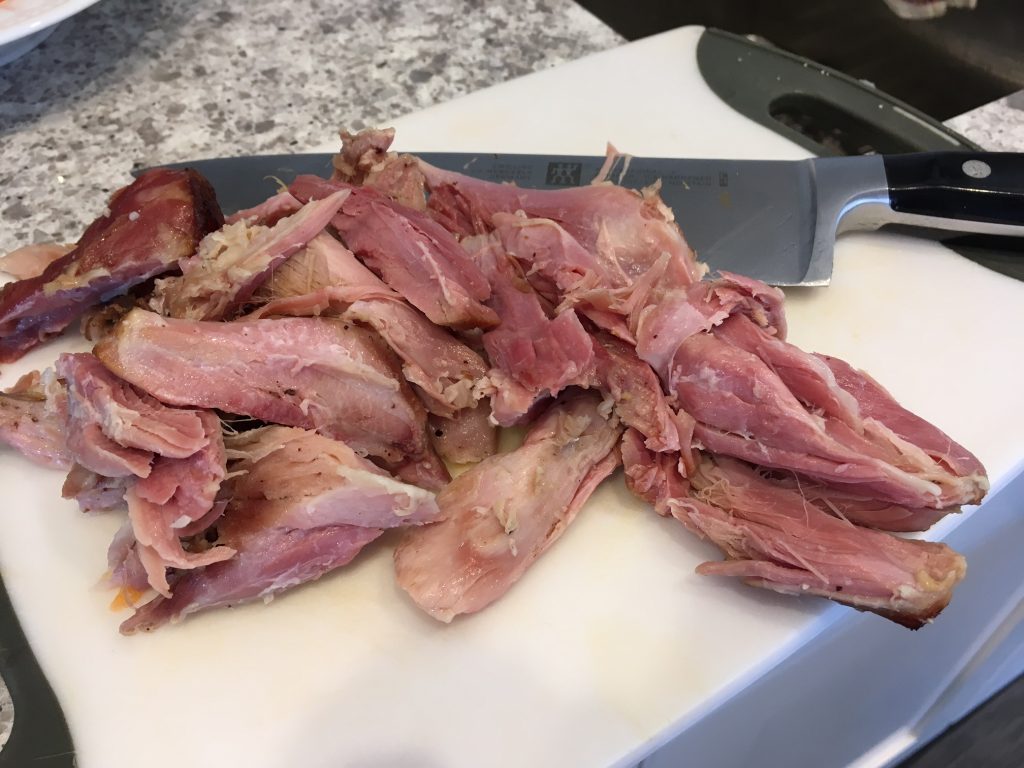 Once the broth is cooled you'll be able to remove the fat off the top. You can literally scrape it or lift it off with a spoon. When you see how much fat floats to the top you'll understand why this extra step of cooling is so important. You'll be ready to make Ham and Split Pea Soup later in the day or the next day. If your broth has really reduced, add some chicken broth. You want to have about 8 cups of liquid in total.
Next, dice some onion, carrot and celery. This is the flavour base for most soups and stews. It's called a mirepoix. Add to the broth and bring to a simmer. This is where you need to decide if you need to add some chicken broth. You'll need about 8 cups of liquid. And a few sprigs of fresh thyme compliments the flavour.
How to cook dried split peas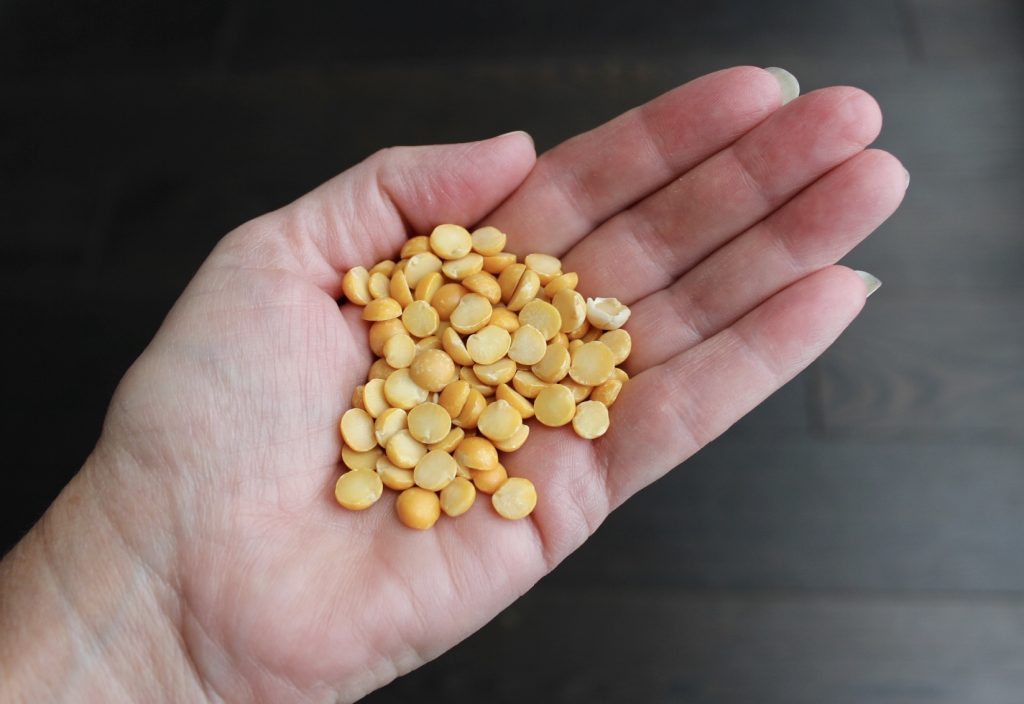 Rinse your dried split peas and drain. The package advises you to check for dirt or foreign material. I'm happy to report I have never found anything suspicious in a package of split peas. Add them to the pot and leave them to simmer for about an hour. Split peas are actually legumes which are high in protein and fibre. They're also low in fat. They break down after about an hour of cooking and thicken the soup. You might think you should add more than the amount in the recipe but they really expand and absorb the liquid.
Keep an eye on the liquid level and add more broth if needed. Pea Soup with Ham is done when the peas are soft and the soup is very thick.
Garnish with more fresh thyme if desired.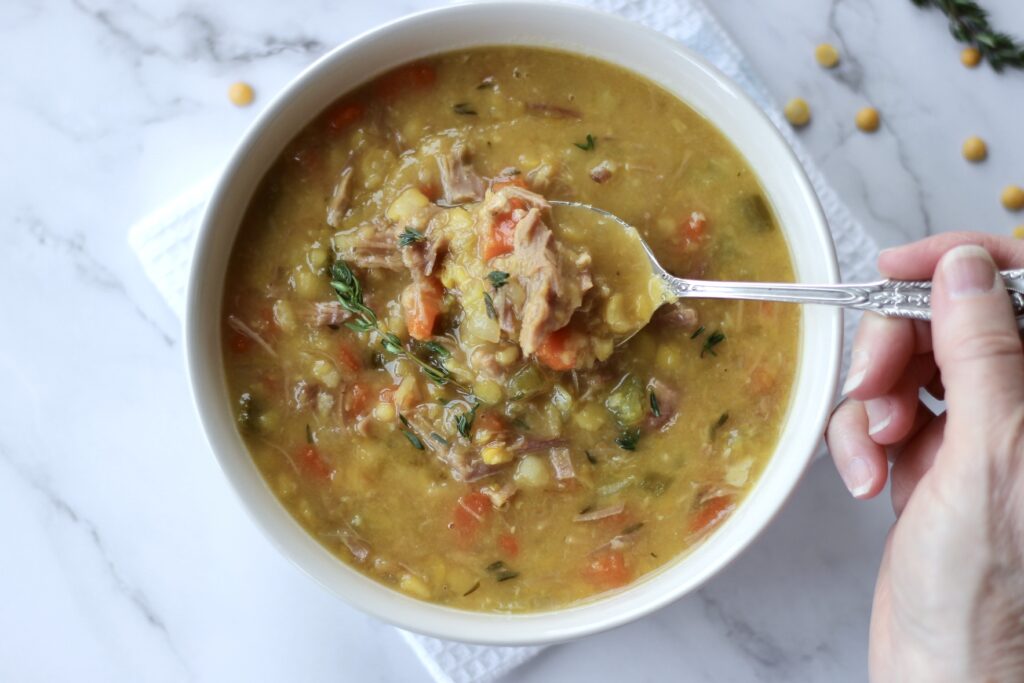 Here's the recipe:
Ham and Split Pea Soup
Thick and hearty soup made with a ham bone and split yellow peas
Ingredients
1

ham bone with at least some meat left on it

10-12

cups

cold water

1

onion

4

carrots

2

stalks

celery

2

bay leaves

3-4

cups

chicken broth

if necessary if too much liquid evaporates

3-4

sprigs

fresh thyme

1 ½

cups

dried split yellow peas

1

tsp

salt

adjust to taste

½

tsp

pepper

¼

C

fresh chopped parsley

if desired for garnish
Instructions
Add cold water to ham bone in a large soup pot. Bring to a boil, then reduce to a simmer. Add 2 bay leaves and simmer at least 3 hours, until the meat is falling off the bone. You can top up the water if it's evaporating quickly but near the end of the 3 hours if it's getting low, add chicken broth instead.

Remove bone and meat from pot. Remove bay leaves and refrigerate the stock to allow fat to rise after cooling.

When ham is cooled enough to handle, remove as much meat as possible and chop into pieces.

Once stock is cooled, remove as much fat as possible from the top. Place pot on stovetop and bring to a simmer.

Chop onion, carrots and celery. Add to pot along with extra chicken broth if necessary. Add chopped ham. Taste and season with salt and pepper. Add thyme stems to soup.

Rinse and drain split peas. Remove any debris. Add to soup. Simmer up to 1 hour until the peas are very soft and the soup is thickened. Continue to top up with chicken broth if soup becomes too thick.

Remove thyme stems before serving and garnish with chopped fresh parsley if desired.
Print Recipe
more thick and hearty soup
Tomato Lentil Soup with Chicken
If you've made this, consider leaving a comment or sharing on the social media links below.