All the flavours of a loaded baked potato are in this thick and hearty soup. The crispy strips of bacon, tangy sour cream and sharp cheddar cheese are both in the soup and on top as a garnish. Best of all, Loaded Baked Potato Soup is naturally thick from the potatoes without adding thickeners like flour or cornstarch.
Like many of my recipes, this one is easily adaptable to what you've got on hand and even your imagination. Soup recipes aren't usually too strict so you can personalize them. In this case you've got some options. Here are the main ingredients and a few tips as you go.
Jump to Recipe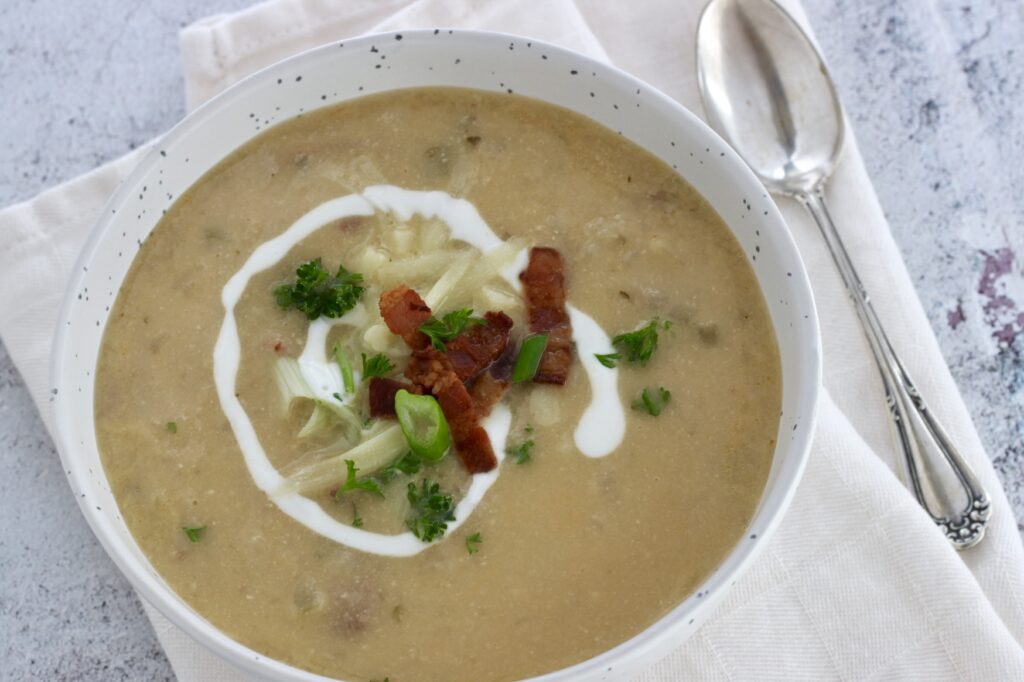 Bacon. For most people bacon is the most important part of a loaded baked potato. But if you want a meat free version, just leave it out. Sauté your onion and celery in olive oil instead. If you do choose to include the bacon, make sure you have regular bacon and not maple bacon. Yes, that happened to me. Obviously that flavour would not work in Loaded Baked Potato Soup. And make sure your bacon is very crispy, otherwise it will be an unpleasant texture in the soup.
Onion and Celery. These are the basis for many recipes and offer both flavour and even some nutritional value. The type of onion you use doesn't really matter although a white or yellow onion would look better in the soup than a red onion. Sautéing the onions and celery first help to soften them and will take away that sting of raw onion. You could also use a shallot which is a milder slightly garlicky onion.
Vegetable Broth. I like to use vegetable broth in this soup because it's mostly vegetables but chicken broth would be ok in this too. It does, however give you a yellower colour. Some veggie broths contain tomatoes and/or carrots so you may see a pinkish colour. And of course all broths contain different levels of sodium so be sure to taste before you add too much salt. Homemade is always best but broth in a carton has come a long way and there are good quality options available. And, I usually try to make my recipes amounts work with a full carton of broth. You're welcome.
Potatoes. Russet potatoes are the best choice for this soup. They have thick skins which helps when you're scraping out the potato with a fork. And they have a nice dry fluffy texture after baking so they break down well in the soup. I like to leave mine in lumps as they fall into the broth. You can smush up any larger pieces. If you prefer you can press the potatoes through a ricer for a finer texture. Pre bake or microwave the potatoes and wait until they're cool enough to handle. If you've ever wondered about the term hot potato, just pick one up in your bare hands and you'll see.
Sour Cream. I know it sounds a little crazy to stir sour cream into the soup but it really works in Loaded Baked Potato Soup. But, keep in mind that dairy products will curdle if you boil the soup after adding or add too much fat at once. So remove the pot from the heat and stir it in at the end. In small amounts. And, most important of all, the lower the fat in the dairy, the higher chance of separating in the soup. I'm sorry but that's just the way it is. You can substitute yogurt. But remember, full fat. Greek yogurt is nice and thick but watch for those 0% fat products.
Cheese. A sharp cheddar works great in Loaded Baked Potato Soup. It doesn't matter if it's orange or white cheese. Just like the fat content in sour cream, make sure it's not a reduced fat cheese because it doesn't melt properly. And add it at the end along with the sour cream to help prevent the soup from curdling.
Fresh Herbs. Normally we associate chives with a baked potato. But you can also use green onions (scallions if you are American, spring onions if you are British), parsley or any combination of all of the above. The most important thing to know about cooking with fresh herbs is that they lose their fresh colour and flavour quickly so add them near the end of the cooking time. And save some for garnish because they look great on top of the soup.
What if my soup curdles?
It happens. Especially if you're reheating the soup. Just remember about the importance of full fat content in the dairy and adding it at the end, heating gently. The soup is totally edible if it's separated but here are a few things that might help.
Whisk the soup well. You can strain it and put the broth in a blender, then mix everything back together but that's a lot of work for something that's just "cosmetic." Whisking will help.
Add more fat and some flour. If you mix butter and flour together into a paste and add that, you may be able to gradually heat the soup until the flour is cooked and the soup looks less "broken."
Thin the reserved sour cream with a bit of milk so you can drizzle it over top before serving. Otherwise it will sink to the bottom of the soup. And don't forget about the other garnishes as well.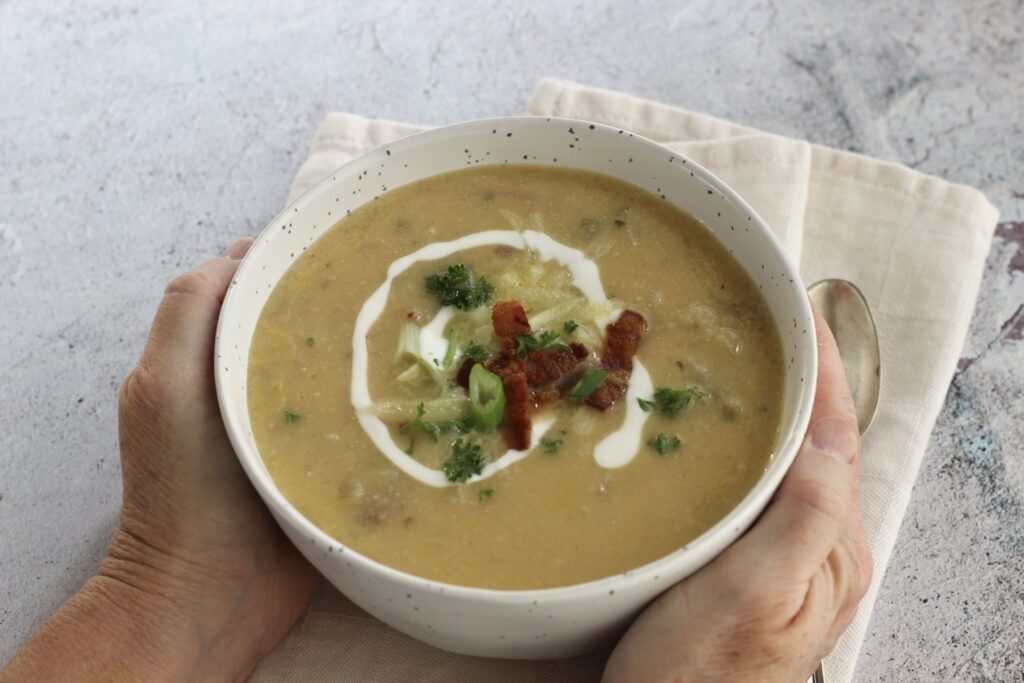 Here's the recipe:
Loaded Baked Potato Soup
A thick and rich potato soup with ingredients and garnishes found in loaded baked potatoes
Servings
4
generous bowls
Ingredients
3

large russet potatoes

6

strips

bacon

1

onion

or shallot

1

stalk

celery

1

900 ml

carton vegetable broth

or about 3½ cups

1

tsp

Worcestershire sauce

¾

cup

full fat sour cream, divided

save ¼ cup for garnish, mix with a bit of milk to thin if desired

1-2

Tbsp

milk

to thin sour cream

1

cup

shredded sharp white cheddar cheese, divided

save ¼ cup for garnish

¼

cup

chopped fresh parsley, divided

save half for garnish

1

Tbsp

diced chives or green onions, divided

save half for garnish

1

tsp

salt

fresh cracked black pepper
Instructions
Pre bake or microwave potatoes until very soft.

Cut bacon into thin strips. Fry in small skillet until browned and very crispy. Reserve 1 Tbsp bacon fat, remove bacon to paper towel lined plate.

Finely dice onion. Chop celery into small pieces. Sauté in bacon fat in soup pot until softened.

Add full carton of vegetable broth. Bring to a simmer and add HALF of the cooked bacon and 1 tsp Worcestershire sauce.

Cut potatoes in half and fluff with a fork. Scrape potato into soup, being careful not to add any skin. Simmer for about 20 minutes, stirring occasionally and breaking any larger potato chunks with the back of a spoon. Taste and season with salt.

Remove pot from heat and slowly stir half of the shredded cheddar cheese into the soup, reserving the rest for garnish. Add ½ cup sour cream in small amounts, reserving ¼ cup sour cream for garnish. Stir a bit of milk into reserved sour cream to thin so it can be drizzled on top of the soup.

Chop parsley and chives. Stir half into the soup right before serving.

Ladle into bowls and drizzle thinned sour cream over top. Garnish with crispy bacon bits, shredded cheese, parsley and chives. Add fresh cracked black pepper if desired.
Print Recipe
If you've tried this recipe, consider leaving a comment or a rating. Or, you can share the post by clicking on the icons below.
More cold weather soups to try
Curried Squash Soup with Crispy Sage