This easy recipe is not traditional Egg Drop Soup. Instead, it's made with store bought broth, slices of brown mushrooms and tender strips of chicken. But just like the traditional version, Egg Drop Soup with Chicken and Mushrooms is super quick to make. And, it contains only a few very common ingredients.
I love making soup the old fashioned way with meat and bones simmered for hours. Like Turkey Noodle Soup, Ham and Split Pea Soup or Beef Vegetable Soup.
But not today. Today I'm making a soup for my friends who tell me they wouldn't ever make something that required simmering bones for hours. This one is for you. Don't get me wrong though, Egg Drop Soup with Chicken and Mushrooms is so good, you won't believe you can make it in mere minutes.
Jump to Recipe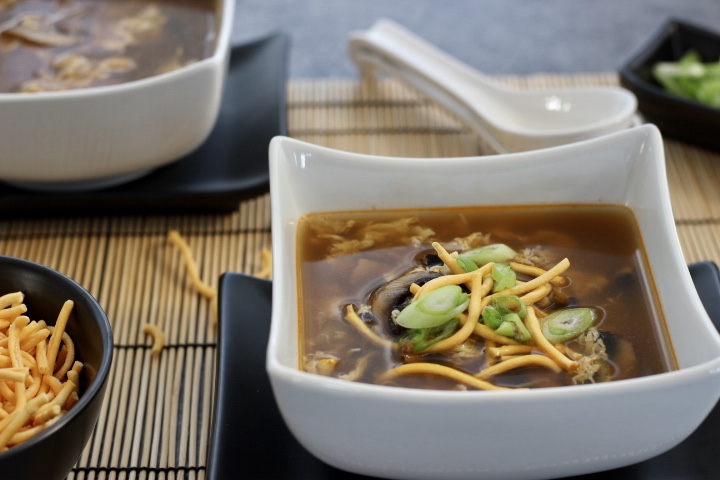 I love traditional Egg Drop Soup. But thanks to Campbell's Broths we can now buy some really interesting soup bases. Hopefully you're reading this from a place where these products are available. I'm using Thai Chicken Broth. It's darker than regular chicken broth and has a hint of sweetness and spices. The carton ingredient list doesn't specify which spices. Wouldn't that be helpful if you were trying to make your own version?
Since I'm always reading and learning about food, I've learned a few tricks that are game changers. For instance, have you ever wondered how the strips of meat in some Asian dishes are so tender? Baking soda. Slice the chicken into very thin flat pieces, arrange them on a large plate, season with salt, then sprinkle baking soda evenly over the chicken. Put the plate in the fridge for 20-30 minutes. That's it! Longer isn't better, you don't want the chicken to get mushy. But it really does work!
How to make Egg Drop Soup with Chicken and Mushrooms
While your chicken is getting tender in the fridge, prep all your other ingredients. All four of them. Five if you count two eggs as two ingredients. Cut the mushrooms into thin slices. Instead of regular mushrooms, use a type with a little more flavour. I like Crimini because they're readily available. Did you know they're just Baby Portabellos? They're also called brown mushrooms. But feel free to experiment with some other varieties if you like. If you're lucky you can find some fresh, locally grown mushrooms.
Slice some scallions/green onions/spring onions. They're all the same thing, it just depends on where you live as to what they're called. Once the broth is simmering, add the mushrooms and most of the green onions. The mushrooms will float at first. And sorry, the green onions lose some of their colour in the broth. But they add some flavour and you've got extra for garnish anyway.
The chicken doesn't need to be cooked long. Basically you're poaching the thin strips in the broth. The chicken will be cooked in literally 2-3 minutes. Keep the broth simmering on low, you don't want to boil the chicken.
Now the fun part. Whisk up the eggs, then gently pour them into the soup while stirring gently. That's it. The egg is cooked immediately and the soup is ready to be served.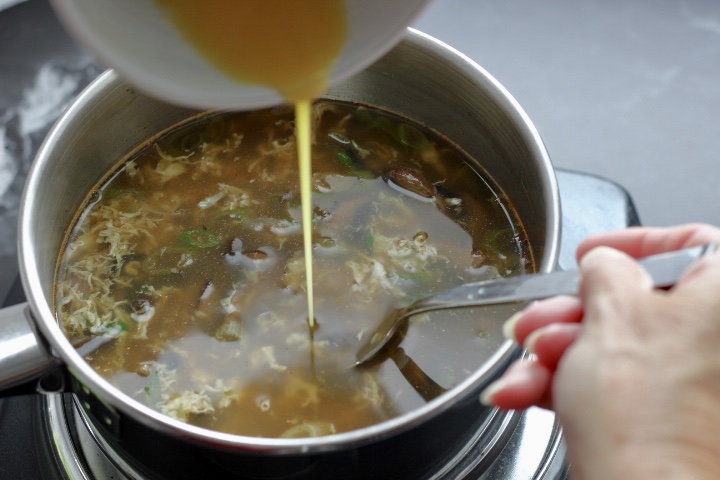 For that authentic restaurant style soup, serve with some dry chow mein noodles for garnish if you like, along with the reserved green onion.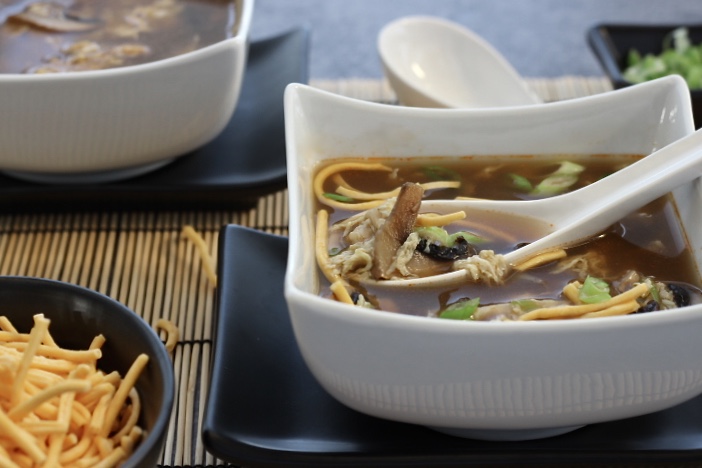 Here's the recipe:
Egg Drop Soup with Chicken and Mushrooms
A quick and easy version of Egg Drop Soup using store bought Thai Chicken Broth
Ingredients
1

carton

Campbells Thai Chicken Broth

900 ml, about 3 ½ cups

1

chicken breast

small size is enough

¼

tsp

salt

½

tsp

baking soda

4

crimini (brown) mushrooms

4

green onions

plus extra for garnish

2

eggs
Garnish
sliced green onions

dry chow mein noodles
Instructions
Slice chicken breast into very thin flat strips. Spread pieces on a plate without overlapping, season with salt and sprinkle baking soda over evenly. Refrigerate for 20-30 minutes.

Clean and thinly slice mushrooms. Mince green onions, white and light green parts only, reserving some for garnish.

Bring Thai Chicken Broth to a simmer in large pot. Add mushrooms, cover and and simmer for 3 minutes.

Add chicken and most of green onions to pot, cover and gently simmer for 3 more minutes.

Whisk eggs. Pour slowly in a stream into simmer soup, stirring gently.

Serve immediately with extra sliced green onions and dry chow mein noodles for garnish if desired.
Print Recipe
more easy soup recipes
Curried Squash Soup with Crispy Sage
Roasted Garlic and Asparagus Soup
If you've tried this recipe, consider leaving a comment or a rating. Or, you can share the post by clicking on the icons below.