This is a perfect recipe for someone who doesn't make bread. There's no kneading involved and it's very forgiving. It was first published in Ricardo Magazine and is a simple make ahead mixture that's baked the next day. This Cheddar Bacon Bread is worth the wait.
I was actually reminded of a recipe I came across a number of years ago. It was a bread recipe from the New York Times and was a "no knead" bread that became an overnight sensation! Needless to say, I did make it several times! This Cheddar Bacon Bread is very similar. And simple. It's a very dense bread, similar in texture to a sourdough with lots of holes.
Cook the bacon and let it cool, then chop it up into small pieces. Shred the cheese. There's a LOT of bacon and cheese in this bread. That's why it's so good! Mix up the dry ingredients, stir in the water then add the bacon and cheese. It's quite sticky.
Jump to Recipe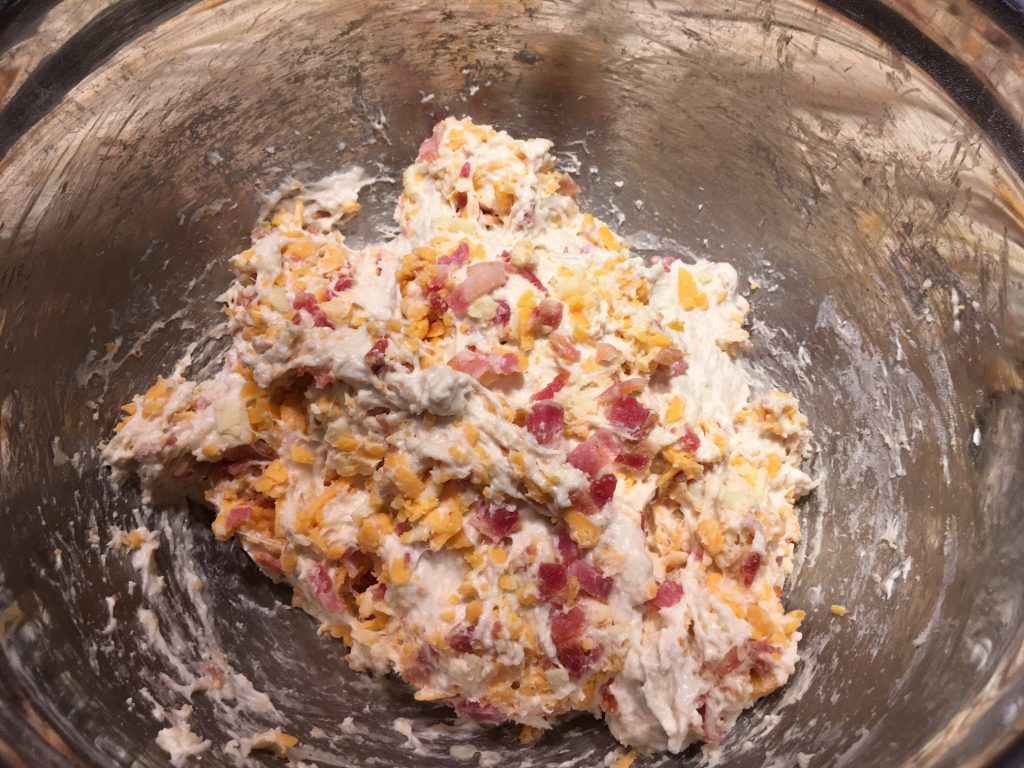 No knead bread has to rise a long time.
Once you've mixed everything together, cover with plastic wrap and let it rise at room temperature for 8-12 hours. I made mine at night and finished it in the morning after 11 hours. Yes, I left dough rising with meat and cheese in it for 11  hours at room temperature. Sounds crazy but I did.
Once it has doubled in size, punch it down, fold it over a few times (you can do this right in the bowl with your hands or a wooden spoon) and drop it into the loaf pan lined with buttered parchment paper. I think the butter is important because there isn't enough fat already in the bread. OK that was a joke. Cover with oiled plastic wrap and leave it for about an hour until the dough has doubled in size.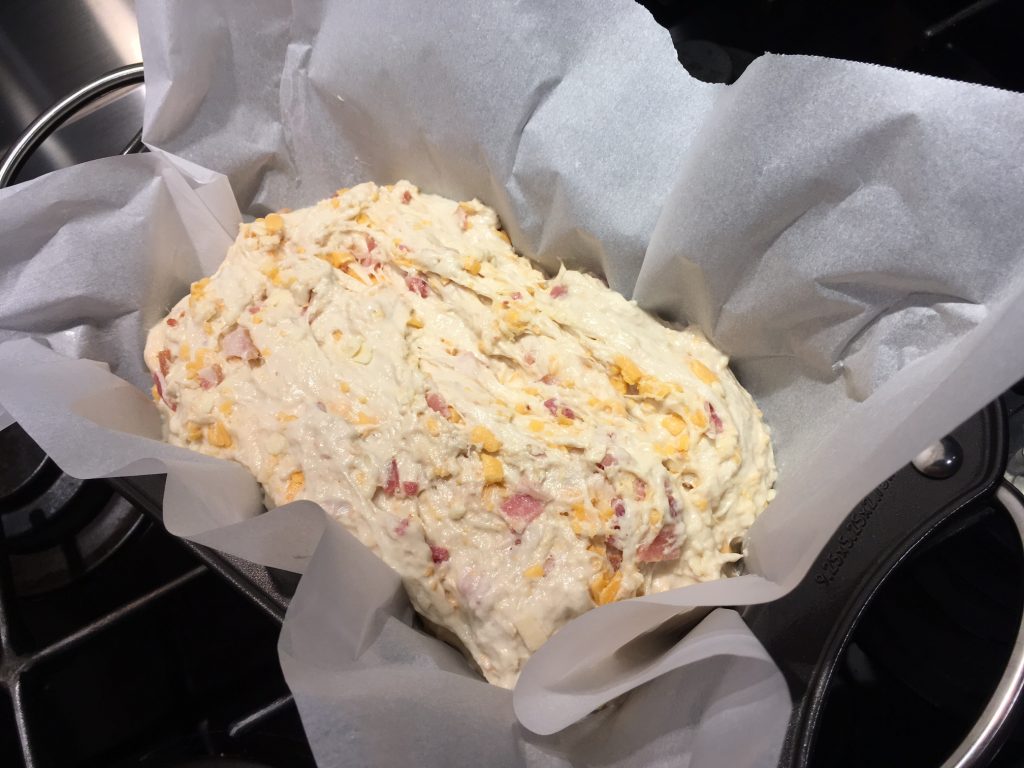 Preheat the oven, bake on the middle rack at 400 degrees for an hour.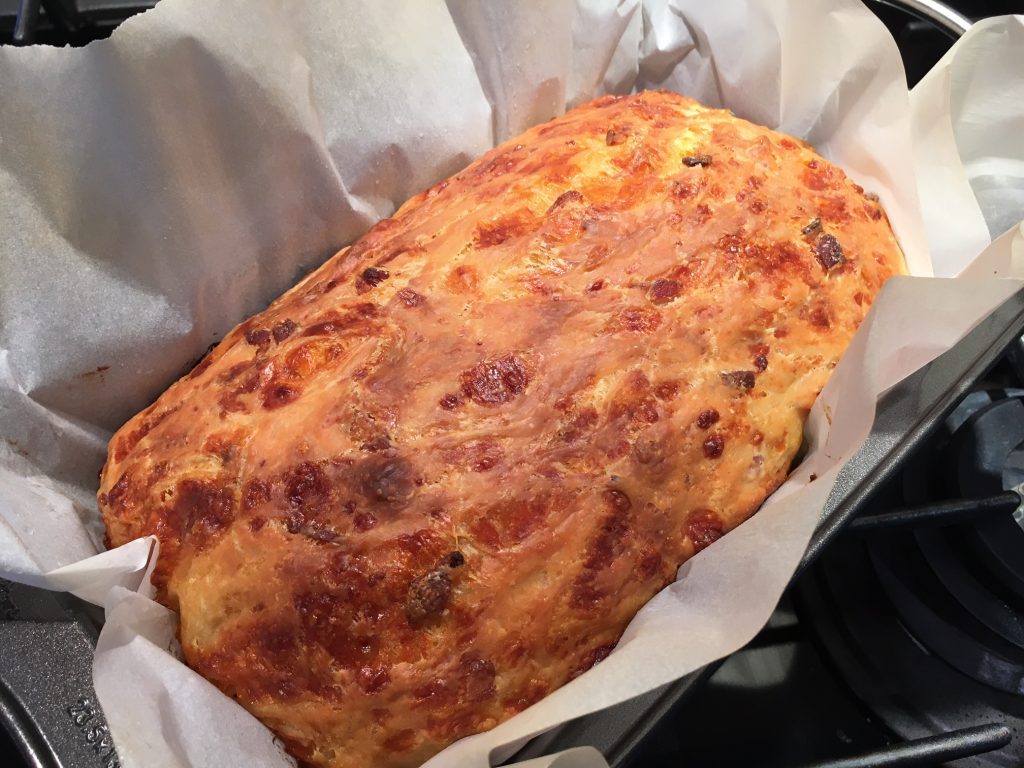 Cheddar Bacon Bread smells amazing while it's baking and cooling! You'll have a hard time waiting for it to cool enough to dig in. When I made my first loaf I had to go out while it was cooling on the counter. My friend Deb texted me this note: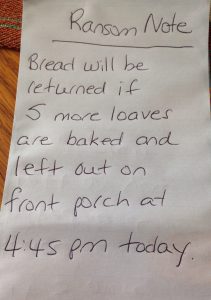 She didn't really take the bread so I shared some with her that afternoon.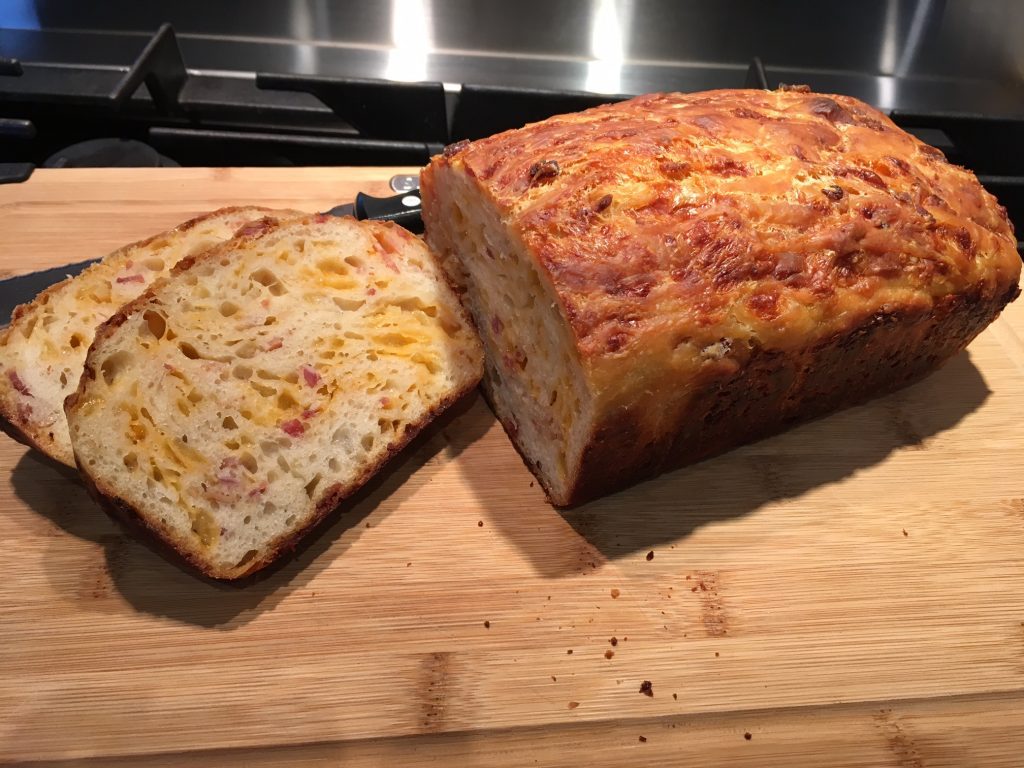 It was great toasted the next day too.
This is a very heavy dense bread. I made a second loaf using herbs instead of bacon and let it rise for about 20 hours which is similar to the New York Times version. It did rise quite a bit more than the first loaf and rose more during the second rising in the pan too. But the finished product was the same, fairly dense. But really, really good!!
I enjoyed this Cheddar Bacon Bread with some Curried Squash Soup with Crispy Sage so there was a healthy component to the meal.
Ricardo doesn't publish a paper copy of his magazine any longer but the website features this and other awesome recipes.
Here's the recipe:
Cheddar Bacon Bread
Easy no knead bread recipe from Ricardo Magazine
Ingredients
3 ½

cups

unbleached all purpose flour

1 ½

tsp

salt

½

tsp

instant dry yeast

1 ¾

cups

cold water

3

cups

grated sharp cheddar cheese

¾

lb

chopped bacon, cooked but not crisp
Instructions
In a large bowl whisk together flour, salt and yeast. Add water and mix with a fork until moistened but not completely smooth. Stir in the cheese and bacon. Cover with plastic wrap and let rest for 8 to 12 hours at room temperature.

Bugter a 4 x 10 inch, 10 x 25 cm 6 cup loaf pan. Line with parchment paper, letting it hang over all four sides.

In the bowl, punch down the dough, folding it onto itself about 6 times or until the cheese and bacon are evenly distributed.

Place the dough in the pan. Cover with lightly oiled plastic wrap and let rise for 1 hour at room temperature or until the dough has risen above the edge of the pan.

With the rack in the middle position, preheat the oven to 400°.

Bake for 1 hour. Let cool on a wire rack for 15 minutes. Remove from pan, remove parchment and let cool completely.
Print Recipe
more no knead bread recipes