What do you get when you cross Yorkshire Pudding with Shepherd's Pie? Shepherd's Pie Yorkies! The meat mixture similar to a Shepherd's Pie is stuffed into an oversized Yorkshire Pudding, then topped with fluffy mashed potatoes and baked in the oven. This is a great way to use up leftover roast beef but you can use deli meat or ground beef and they're just as good.
I had Shepherd's Pie Yorkies at a British Pub, The Gibbled Goose, a few years ago and have been wanting to make them for ages. They were served as an appetizer with 3 little stuffed yorkshire puddings. I thought these would be awesome in an oversized Yorkshire Pudding so you could get more filling inside. And what do you know, I found double sized muffin tins at a thrift shop and I knew I had to grab them! If you don't have muffin tins this size you could use similar sized ramekins.
Jump to Recipe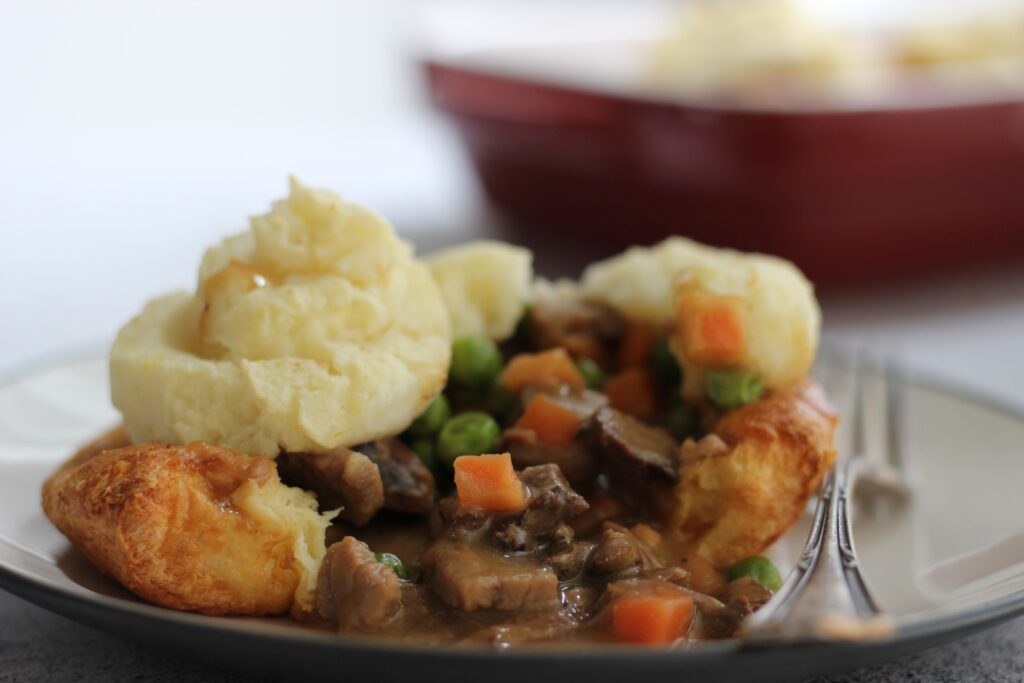 How to make Stuffed Yorkshire Pudding
The first step is making the Yorkshire Pudding. This recipe will make about 12 muffin tin sized or 6 double sized yorkies. You might be thinking that your yorkshires haven't always puffed up but this foolproof recipe will change your mind. The secret is 4 eggs. When they're finished baking they may be puffed up inside. Just give them a few pokes with a fork so they deflate, creating a perfect cavity for stuffing. Make the filling while they're baking.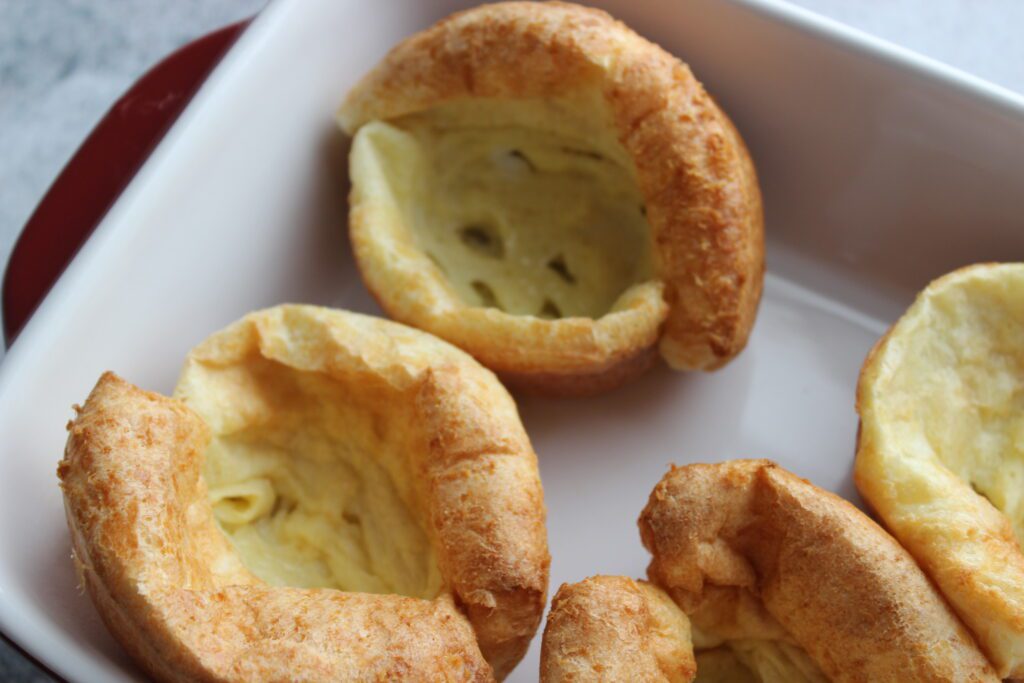 Chop cooked roast beef or good quality deli meat into small chunks. Or, cook some ground beef which is actually what's in Shepherd's Pie. Add a big spoonful of flour and butter to a pot over medium heat. Once it's melted and starting to bubble, pour in beef broth and stir until thickened. Add your chopped beef along with some Worcestershire sauce and, yes, ketchup! Then, put frozen peas and carrots in a strainer and run very hot water over them for a minute or so to remove any ice. This also helps defrost them. Add the veggies to the meat mixture and let it simmer away until you're ready to stuff the Yorkies.
You want the potatoes on top to be light and fluffy, so adding milk and whipping them with a hand mixer softens them up perfectly. And what else goes better with roast beef than horseradish? Adding some to the potato mixture gives that hint of flavour without any heat. I personally wouldn't mind the heat but I can't seem to find hot horseradish anymore anyway.
Yorkshire Pudding cooks at a very high temperature so turn the oven down after they're cooked. Take the yorkies out of the pan and place them in a baking dish. Spoon a generous amount of meat mixture into each one and don't worry about overflow. That's why you don't make them in the muffin pan. By the time you're finished stuffing and topping them it should be the right temperature for baking.
How to top Shepherd's Pie Yorkies
There's no fancy piping bag required to top these Shepherd's Pie Yorkies. A large freezer bag works great. Just heat the potato mixture and pile it in there and snip off a little bit of the bottom corner. Squeeze the potato mixture in a circle around the outside edge and continue to the inside. But you can also spoon it over top too. Since it's pub food, it's all the about flavour and not so much the presentation.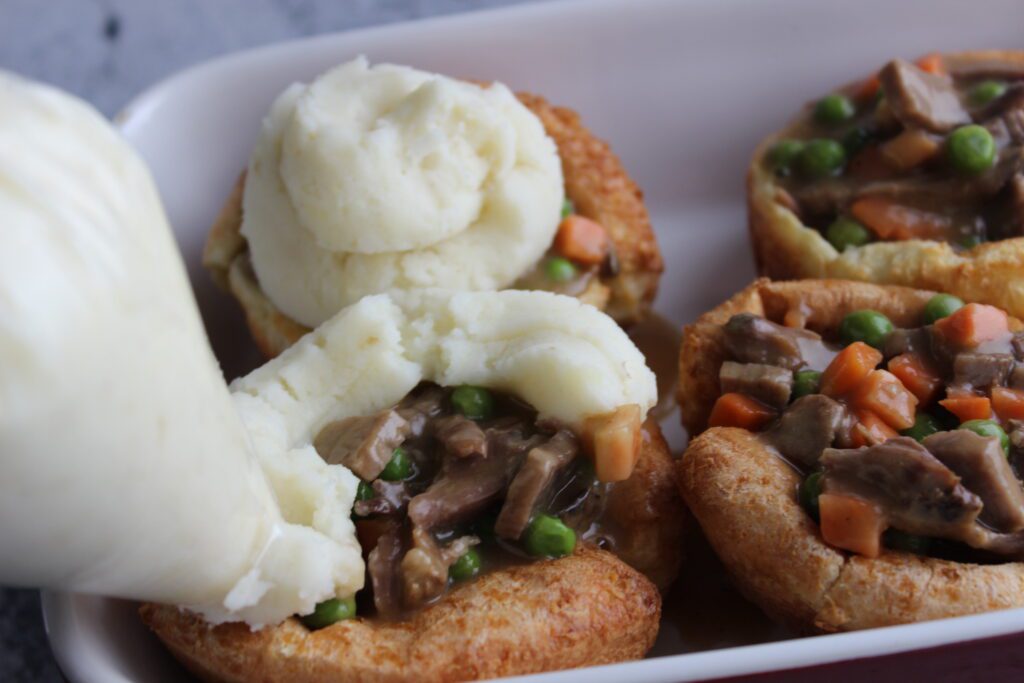 Bake the Shepherd's Pie Yorkies until they're hot and bubbling with the potato topping just starting to get a hint of colour. Since everything is already warm you only need about 20-25 minutes until they're perfect.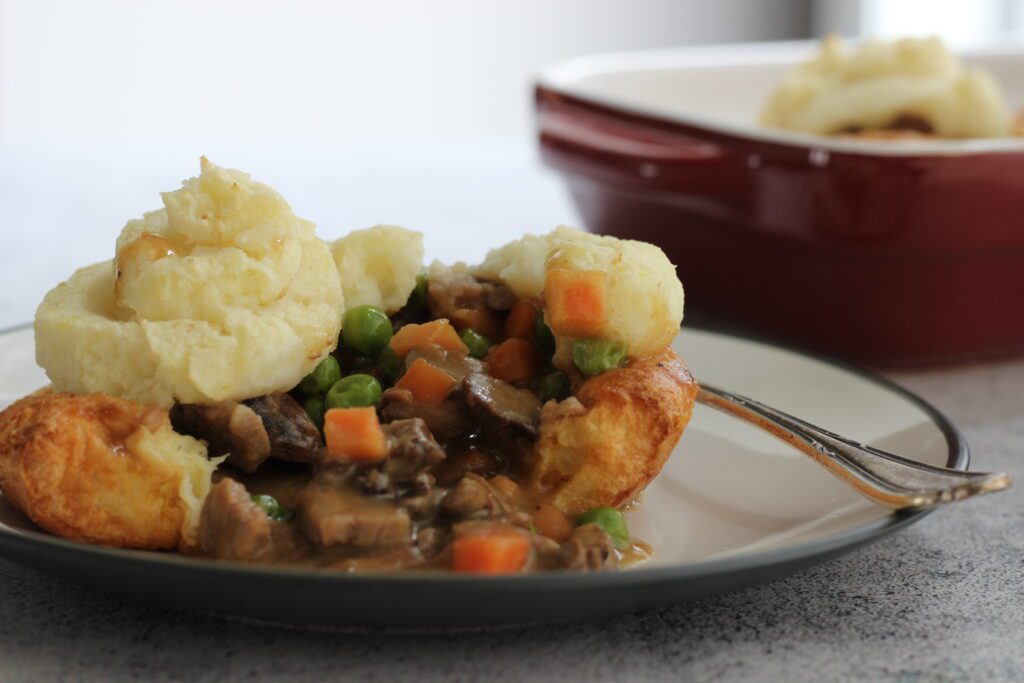 You could use leftovers from a roast beef dinner to make a few Shepherd's Pie Yorkies but trust me, it won't be enough. You'll want to make a full batch.
Here's the recipe:
Shepherd's Pie Yorkies
Oversized yorkshire pudding stuffed with shepherd's pie filling and topped with whipped potatoes
Servings
6
oversized yorkshires
Ingredients
Shepherd's Pie Filling
1

Tbsp

flour

heaping tablespoon

1

Tbsp

butter

heaping tablespoon

1 ½

cups

beef broth

1

tsp

Worcestershire sauce

1

Tbsp

ketchup

1 ½

cups

chopped cooked roast beef

or deli meat or cooked ground beef

1

cup

frozen peas and carrots

rinsed well with hot water

pinch of salt

amount of salt depends on sodium in beef broth

fresh cracked black pepper
Yorkshire Pudding
4

large eggs

¾

cup

whole milk

1

Tbsp

whole milk

2

tsp

water

if using 2% milk, dilute with only 1 tsp water and use milk for remaining liquid measurement. If using 1%, no need to dilute.

1

cup

all purpose flour

2

tsp

all purpose flour

pinch of salt

6

tsp

meat drippings, lard or shortening
Whipped Potato Topping
3

cups

mashed potatoes

about 5-6 medium boiled potatoes

½

cup

milk, or enough to make potatoes very soft

1

Tbsp

horseradish

pinch of salt
Instructions
Yorkshire Pudding
Whisk together eggs, milk, water, flour and salt. Refrigerate until 30 minutes before cooking.

While batter is returning to room temperature, preheat oven to 450°. Place 1 tsp fat in each of 6 oversized muffin tins or ramekins. If using regular muffin sized tins, place ½ tsp in each.

Heat pan in oven until oil is hot and smoking, about 10 minutes. Give batter a quick whisk and pour evenly into tins. Bake for 22-24 minutes if making larger sized or 17-18 minutes for smaller, until puffed up and browned.

While cooling, poke a few holes in the bottom with a fork to help deflate and create a cavity for stuffing.
Shepherd's Pie Filling
While yorkshires are baking, melt butter and combine with flour in pot over medium heat until frothy and golden. Add beef broth and stir until thickened and bubbling.

Reduce heat to medium-low and add chopped beef, Worcestershire and ketchup. Taste and season with salt and pepper, keeping sodium content of broth in mind for amount of salt required.

Rinse frozen peas and carrots under very hot water until no ice remains and veggies are starting to defrost. Add to beef mixture and allow to simmer.
Whipped Potato Topping
Boil potatoes until fork tender. Drain well. Add most of milk and beat with a hand mixer until creamy and fluffy. Add more milk if required for best consistency. Beat in horseradish and salt.
Assemble Shepherd's Pie Yorkies
Remove baked yorkies and place in baking dish without overcrowding. Spoon generous amount of beef mixture into each one.

Spoon potato mixture into a large freezer bag and snip a small corner from the bottom. Squeeze mixture on top of stuffed yorkies in a circular pattern starting from the outside edge. Or spoon mixture over top evenly.

Bake for 20-25 minutes at 350° until top is starting to brown and filling is hot.
Print Recipe
other leftover meat ideas
Chicken and White Bean Enchiladas
Chicken and Rice with Tomato Skillet Dinner
If you've tried this recipe, consider leaving a comment or a rating. Or, you can share the post by clicking on the icons below.