Flavourful and healthy chicken stew topped with fluffy dumplings. I can't think of anything more comforting. But comfort food doesn't always take all day to make. This recipe for Chicken and Dumplings takes about an hour start to finish with the chicken poached right in the broth, resulting in amazing flavour and tender, juicy chicken.
Did your mom (or dad) make this when you were a kid? Mine did. When we found out we were getting Chicken and Dumplings for dinner, we went nuts. Yes, it was the dumplings. There were never any leftovers. Which is a good thing because it's a bit tricky to reheat and it doesn't freeze well. Well, back up a bit. The stew part does freeze and reheat well but the dumplings don't. So, if you want a smaller serving, remove half of the stew before making the dumplings and save for another time. You COULD make a half batch of dumplings, but me? I would probably make a full recipe for half the stew. Hee hee.
So what the heck are dumplings anyway? They're sort of like a biscuit dough. It's a sticky flour and milk mixture that you drop by spoonfuls on top of a simmering stew. Then, cover with a lid and they steam into fluffy dumplings. Make one for each serving, and make sure they're all the same size or you'll have some fighting.
Jump to Recipe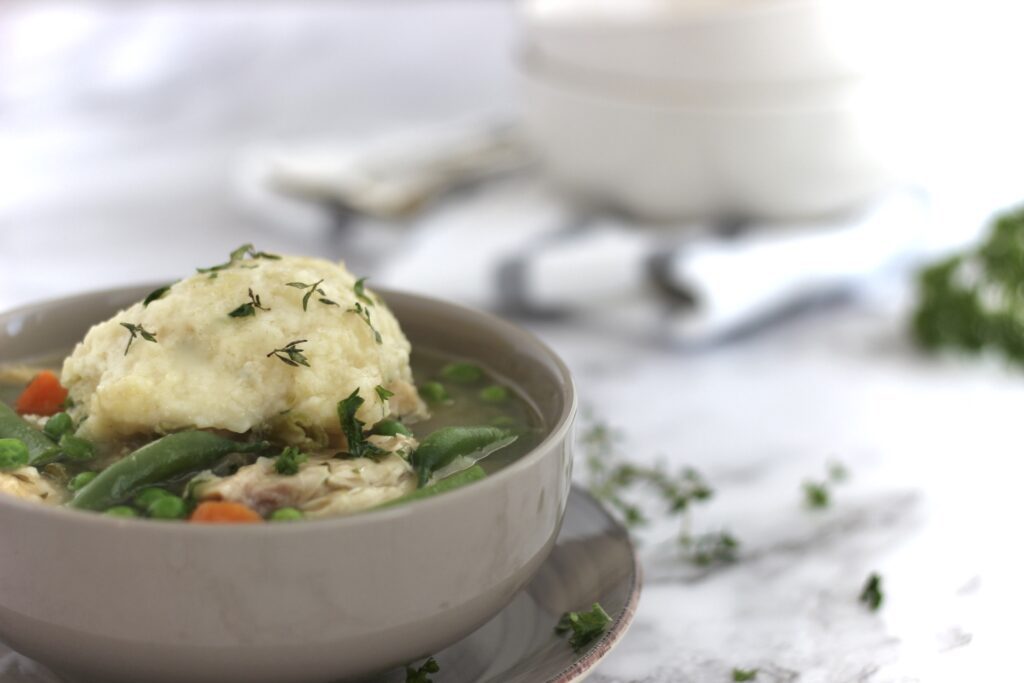 How to make Chicken and Dumplings
Instead of making this like you would make a typical soup like Turkey Soup with White Beans and Kale, I'm making it easy for you by using ready made broth and whole pieces of uncooked boneless, skinless chicken. So you don't have to simmer a chicken for hours and you can control how much meat goes in the stew.
You can make this with white or dark meat or both. My preference is to use one chicken breast and two thighs. The great thing about soup and stew is a small amount of meat goes a long way. Once the chicken has simmered about 10 minutes, shred the pieces into fairly large chunks. Because it's a stew and not a soup. Ditto for the carrots and potatoes. Don't worry if the chicken isn't quite cooked after poaching, it will continue to cook in the stew.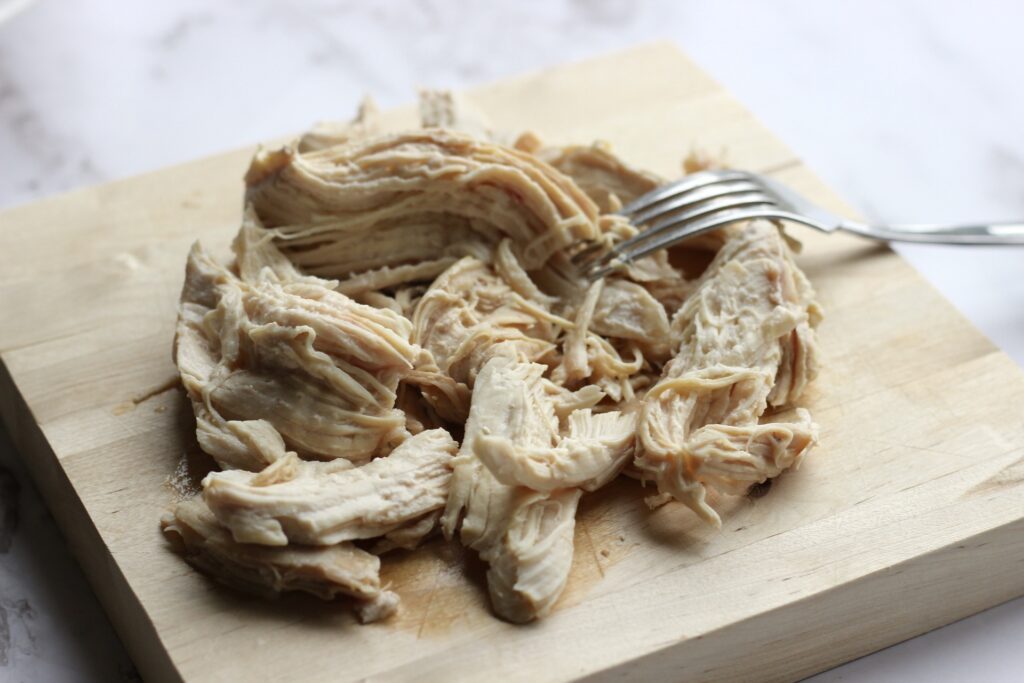 The rest of the ingredients in Chicken and Dumplings are the usual soup/stew ingredients. Onions, celery, carrots. My go to ratio for soup and stew is 1:2:3, meaning one onion, 2 stalks of celery and 3 carrots. You can also use potatoes. Or not. Since there are dumplings, you already have a starch but I do like a few potatoes in there anyway. Mr. H says he prefers not. But since I'm making it and not him, potatoes are going in.
There's no need to thicken the stew. The starch in the dumplings, and the potatoes if you're using some, will slightly change the consistency and clarity of the broth after it's cooked. And some of the broth will get soaked into the dumplings while you chow down so don't be tempted to use less liquid.
Once your stew has simmered away and the potatoes and carrots are almost cooked, add some frozen peas and green beans. And definitely some fresh chopped parsley. Frozen peas and beans work great in soups and stews. They cook quickly so adding them at the end is important. It's also important to give them a rinse to remove any chunks of ice which will dilute the broth. If you add green vegetables too soon they lose their bright colour. Typically when making soups and stews the green stuff goes in right before serving but in this case you want them in there when the dumplings are cooking so they will fade a bit. And the peas will float.
Don't forget to taste as you go and season with salt if necessary. Potatoes absorb a lot of salt while cooking so your broth might need more. I like to save the pepper for last so the broth doesn't get cloudy.
Mix up the dumpling batter right before it's time to add it to the stew. Similar to many batters and doughs, you don't want to over mix it. Just stir until combined. It's lumpy and sticky. The trick to dropping the batter into the stew is to dip a large spoon into the hot stew, then take a spoonful of batter and drop it in. The batter will roll right off the spoon. Repeat in even sized spoonfuls and space them out so they're not touching each other. The dumplings will puff up as they steam so give them some room.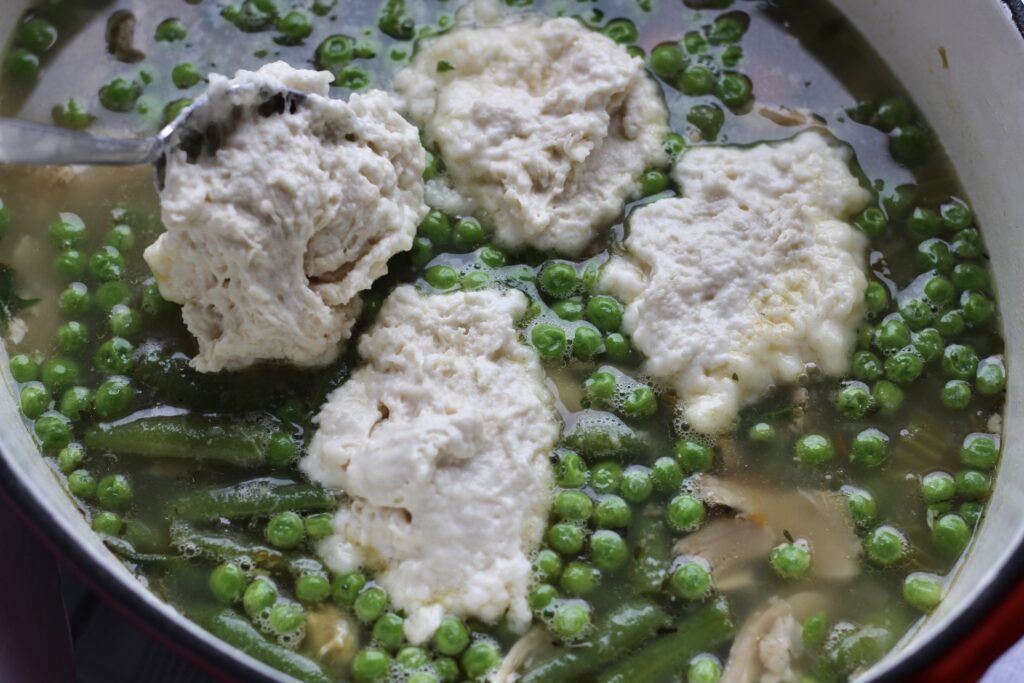 Cover the pot with a lid and in about 15 minutes you'll be in Chicken and Dumpling heaven.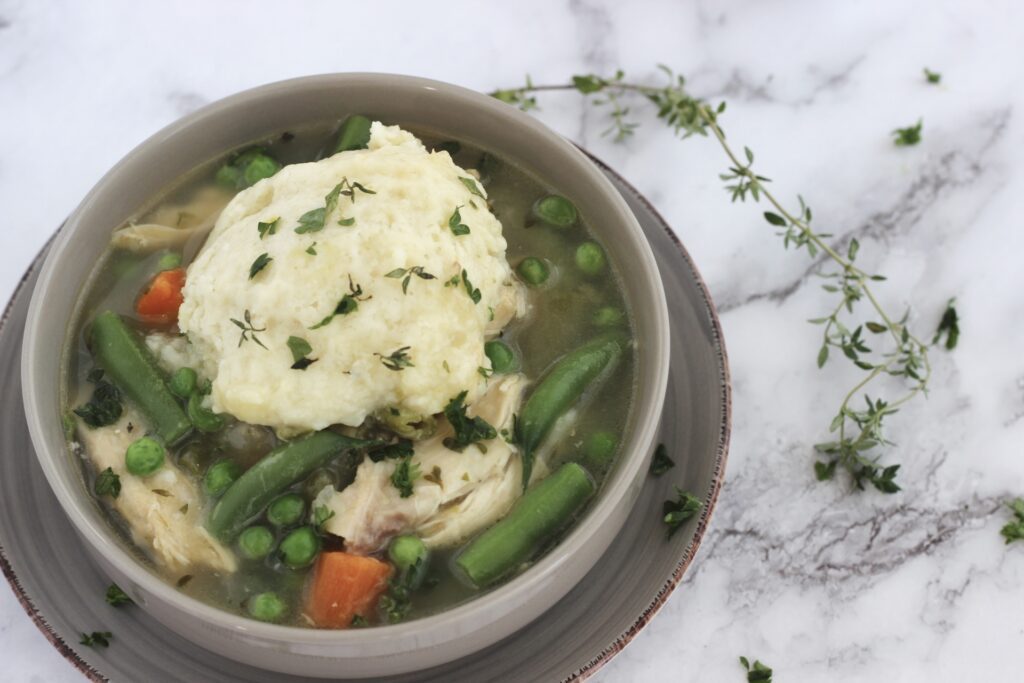 Here's the recipe:
Chicken and Dumplings
Delicious and healthy chicken stew topped with fluffy dumplings
Ingredients
1

boneless skinless chicken breast

2

boneless skinless chicken thighs

2

cartons

good quality chicken broth, 900 ml cartons

or 7 cups homemade

1

onion

2

stalks celery

1

bay leaf

2-3

sprigs

fresh thyme

or ½ tsp dried thyme leaves

2

potatoes

3

carrots

1

cup

chopped green beans

fresh or frozen

1

cup

frozen peas

1

tsp

salt

more or less depending on sodium level in chicken broth and if you use potatoes or not

fresh chopped parsley

fresh cracked black pepper
Dumplings
1

cup

all purpose flour

2

tsp

baking powder

½

tsp

salt

½

cup

milk

2

Tbsp

vegetable oil

or other light tasting oil, not olive oil
Instructions
Add chicken broth to a large pot with a lid and bring to a boil. Reduce to medium simmer.

Chop onion and celery and add to broth along with the bay leaf and fresh thyme. If using sodium reduced chicken broth, add a bit of salt.

Add chicken pieces to broth, cover pot with lid and poach on a gentle simmer for 10 minutes. Remove chicken to a plate to cool slightly.

Peel and chop carrots and potatoes into bite sized chunks. Add to simmering broth.

When chicken is cool enough to handle, chop or shred using 2 forks into chunks. Return to pot.

Make up dumpling batter by sifting together flour, baking powder and salt. Add oil to mix and stir. Dump into dry ingredients and stir until just combined. Do not over mix.

Rinse frozen peas and carrots to remove any ice. Add to pot, along with fresh chopped parsley and increase temperature to medium high.

Drop 6 large spoonfuls of batter onto top of simmer stew. Reduce heat to medium low, cover and simmer for 15 minutes. If making smaller dumplings, simmer for 12 minutes.

Serve with fresh cracked black pepper if desired and extra fresh herbs.
Print Recipe
more comfort food
If you've tried this recipe, consider leaving a comment or a rating. Or, you can share the post by clicking on the icons below.