S'mores are loved by adults and kids alike. But this adult beverage is not for kids. With 2 kinds of flavoured alcohol, real toasted marshmallows and a fun chocolate graham rim, you can enjoy a S'mores Coffee Cocktail around a fire, or indoors without a sticky mess.
This is my first adult beverage post. It wasn't really on my radar but friends of ours were doing a renovation and while cleaning out the cupboards found a bottle of Smirnoff Fluffed Marshmallow Flavored Vodka. Yes, that's how flavoured is spelled on the bottle. They said what the heck are we going to do with this? As usual, I laid awake in the night figuring it out.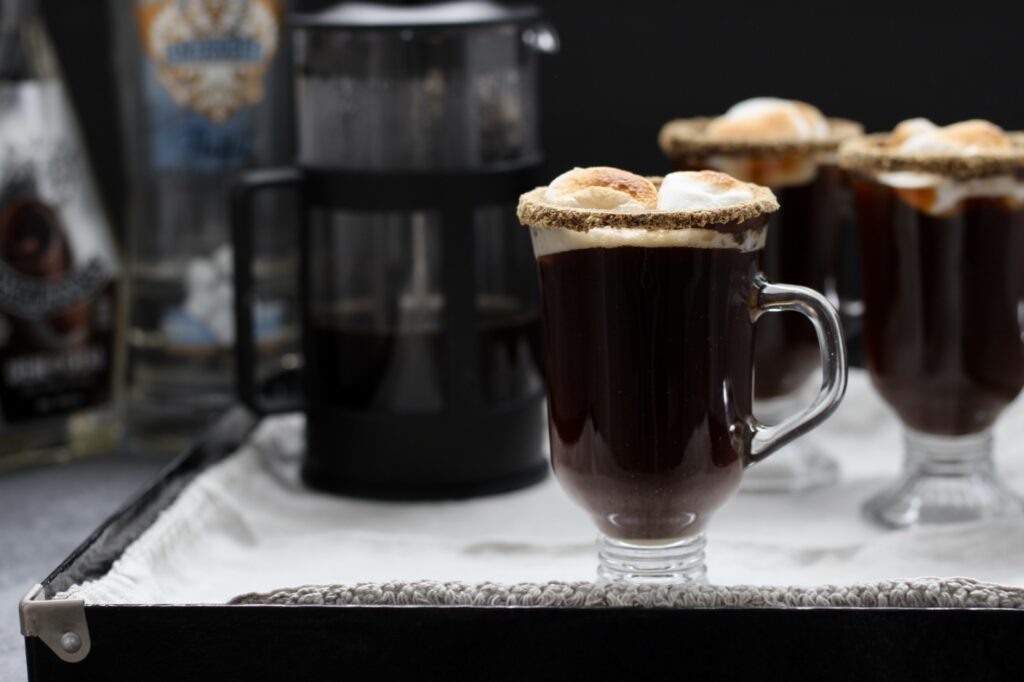 How to make a S'mores Coffee Cocktail
My original idea was to make 3 versions with s'mores martinis and little s'mores shooters with a mini marshmallow on top. As fun as that sounded, it just didn't make sense to have a cold s'more. So it had to be coffee.
Maybe you've never had a s'more. It's a toasted marshmallow sandwiched between 2 graham cookies with chocolate. How better to add that graham cookie feature to the cocktail than coating the mug edge! All you need is a little melted chocolate to help the crumbs stick. Dip the mug in the warm chocolate and then into graham crumbs before adding the coffee. It actually sticks very well but stays soft so you get a little taste with every sip.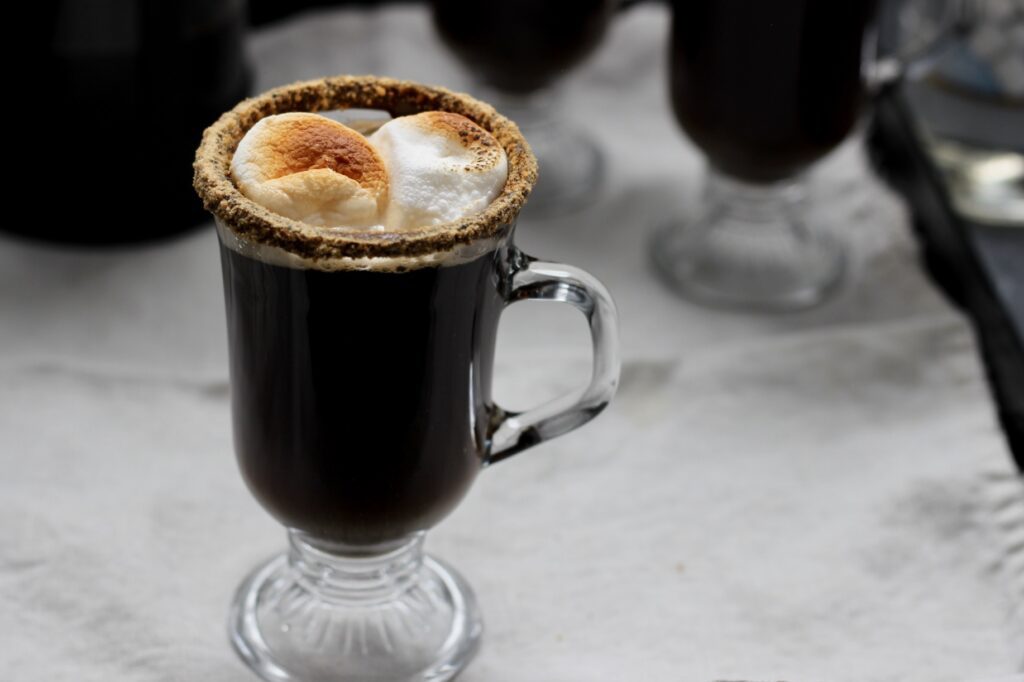 I prefer these S'mores Coffee Cocktails without milk but feel free to add some milk or cream. You won't need sugar though, the vodka and liquor have plenty. But neither are too high in alcohol content. An ounce of Creme de Cacao is only 15% and the Fluffed Marshmallow Vodka is 30% so an once of each is still under the normal alcohol content of a mixed drink which has 1.5 oz of 40%.
These are great for an after dinner coffee or even dessert. Enjoy a S'mores Coffee Cocktail in front of a fire. Or, if it's snowing outside like it is while I'm writing this, make them indoors. Toasting the marshmallows in the oven under the broiler is the safer option. However, if you like playing with fire, use a kitchen torch to add that authentic charred look and taste.
Not a fan of coffee? You can make a S'mores Cocktail with tea or hot chocolate. And if you're like me, you don't want to drink coffee at night so make it with decaf! Problem solved.
Here's the recipe:
S'mores Coffee Cocktail
Hot adult beverage with fluffed marshmallow vodka and creme de cacao topped with a toasted marshmallow and a chocolate graham rim
Ingredients
1

pot

coffee

or tea or hot chocolate

4

oz

Smirnoff Fluffed Marshmallow Vodka

4

oz

McGuinness Creme de Cacao

1

oz

melted semi sweet chocolate

or half a Hershey's milk chocolate bar

2

Tbsp

graham cracker crumbs

8

regular sized marshmallows
Instructions
While coffee is brewing, melt chocolate gently over simmering water in heat safe wide shallow dish

Add graham cracker crumbs to second wide dish

Dip rim of 4 cups in melted chocolate, then in crumbs to coat.

Place marshmallows in skillet and broil in over until golden. Shake pan to roll marshmallows around to get more surface area toasted. Or toast marshmallows over a fire.

Pour hot coffee into 4 cups. Add 1 oz of vodka and 1 oz of Creme de Cacao to each cup.

Top each cup with 2 toasted marshmallows. If desired, add extra toasting with a kitchen torch.
If you've tried this recipe, consider leaving a comment or a rating. Or, you can share the post by clicking on the icons below.