Long before Jerry Seinfeld's wife was writing cookbooks about sneaking vegetables into your kids' foods, my mom was making this cake. Way before. So what exactly is in this besides mint? Beets. No kidding. I'm not sure why it's called Maritimer Mint Chocolate Cake but I do know it's a really good cake and it doesn't taste suspicious at all. It's rich and moist and chocolatey.
My mom didn't make chocolate mint cake to get us to eat more vegetables. We always had a huge garden and ate veggies with every meal. In fact, we loved this cake. It was the standard birthday cake and we always asked, "Is this the beet cake?"
I found lots of versions of Maritimer Mint Chocolate Cake online so I figure it was a popular recipe circa 1970. And I'm thinking the added mint just helped make sure the sceptics couldn't taste any beets. The original recipe, including my mom's calls for canned beets but since I live in Norfolk County, Ontario's Garden, I'm making this with fresh beets as my mom often does. In spite of the deep red coloured batter, the cake when cooked looks like a regular chocolate cake. You would think it would resemble red velvet cake but it actually doesn't.
Jump to Recipe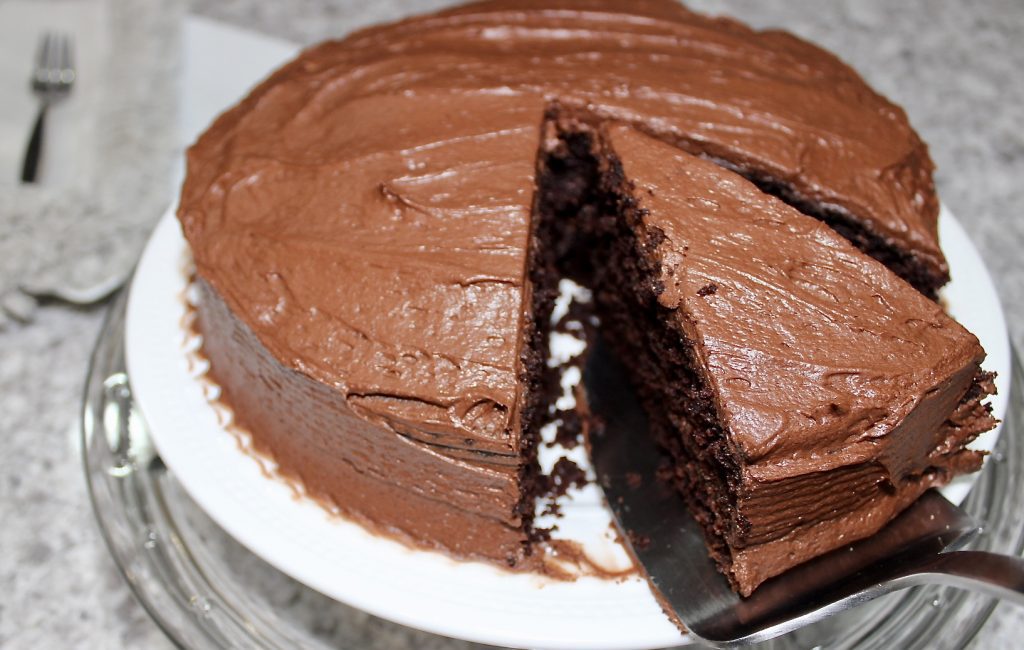 I don't bake a lot of cakes. Not because I don't like cake but because I LIKE cake. A lot. If left at home alone with a cake, there's no telling what I might do. In fact I just ate a piece of this cake and it's only 11:00 am as I write this.
When I do bake, I take the time to do it right. I make sure my eggs are room temperature, I measure carefully and I spend the time preparing the cake pans so the layers come out easily and I don't end up with chunks of cake that need to be glued together with icing.
How to cut parchment circles for cakes
Here's the trick. Cut parchment paper to fit the bottom of the pan. If you start with a square and fold diagonally corner to corner as many times as you can, you end up with a wedge. Then cut the unfolded end to the size of the radius of the cake pan. If you've been out of school for a while, the radius is the distance from the middle of the pan to the outside.
This is what you end up with.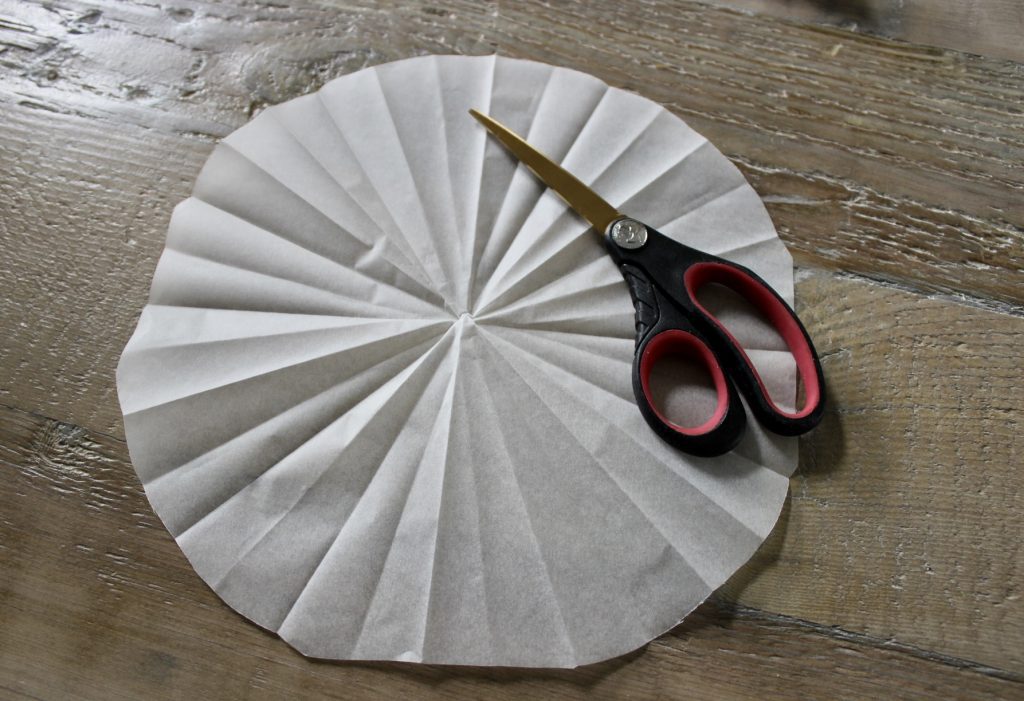 If you butter the bottom of the pan, it helps the paper stay in place. Then butter the paper and the sides of the pan. Add a spoonful of cocoa powder and shake it around, banging the edges until the entire pan is coated. You could use flour but this would result in your nice chocolate cake having a white floury coating. It's not the end of the world but it just looks better if you use cocoa powder. And if you don't have parchment paper, just butter and cocoa powder will be fine.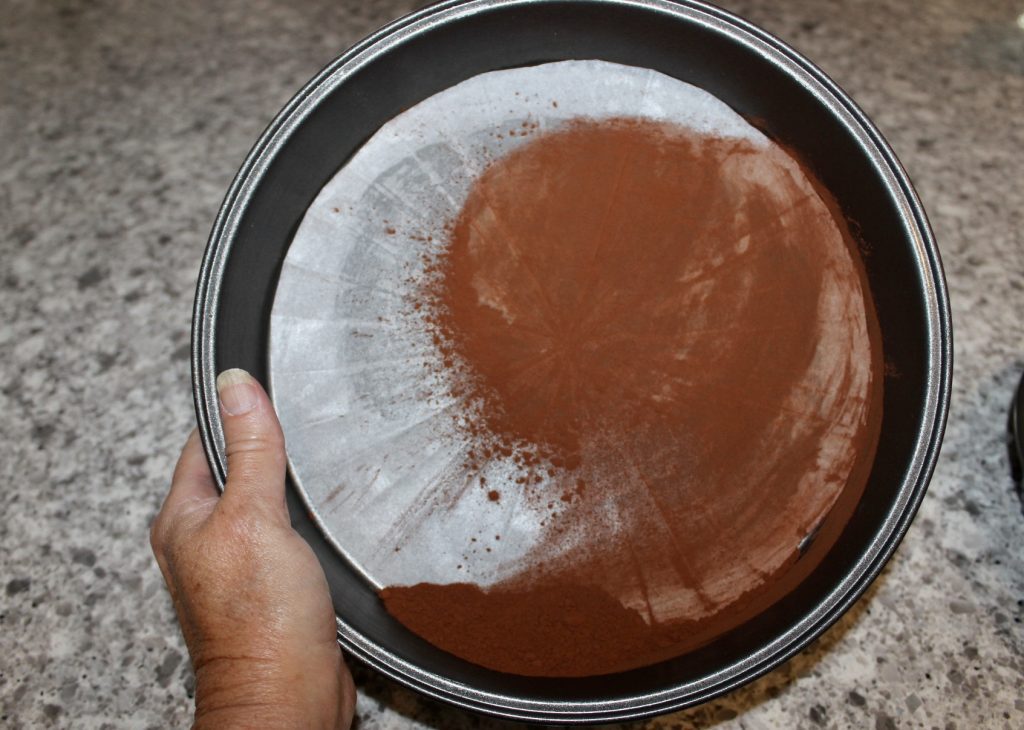 Once you've made the cake batter, pour it evenly into 2 round cake pans. In a perfect world you would get exactly the same amount of cake batter in both pans but in reality, you'll likely have one that's slightly higher than the other. Just use the thinner layer for the bottom of the cake.
Once the cake layers are baked, cool completely before you try to assemble them. Otherwise you risk breaking the cakes. Then you'd have to eat them and start all over. Not a bad problem to have actually.
Make a generous amount of chocolate butter cream icing. Mr. H says I never use enough icing. I'm one of those people who always chooses the piece of cake with the least amount of icing. I like it, but I like the cake part better. If you like lots of icing, make a double recipe but I think it would be too much. You can add more cocoa powder if you like but the cake is very dark so I like the contrast of a lighter icing.
How to make Chocolate Buttercream Icing
Make sure the butter is soft before you try to make Chocolate Buttercream Icing. If you forget to take it out of the fridge, you'll just have to wait. And don't try to soften it in the microwave, trust me. You can speed things up by cutting the butter into small chunks or warming a bowl and placing it over top of the butter. Then add cocoa powder, icing sugar and vanilla. Beat until combined, then slowly add milk by spoonfuls until it's fluffy and creamy. Start the mixer on low speed and slowly increase the speed as the ingredients blend, otherwise you'll have a cloud of icing sugar flying around.
Place a large dinner plate or cake plate over the top of the smallest layer. Flip over and let the cake drop onto the plate. Peel off the parchment paper if it doesn't stay in the pan. Obviously. I like the bottom layer to be upside down so there's an even flat surface to place the next layer on. A dinner plate works great because the rounded top lays right into the indent of the plate.
Add a generous layer of icing and spread evenly to the edges. Now flip the other layer using the same plate method. Lift it carefully with a large spatula or your hands and place on top the the first layer, flat side down.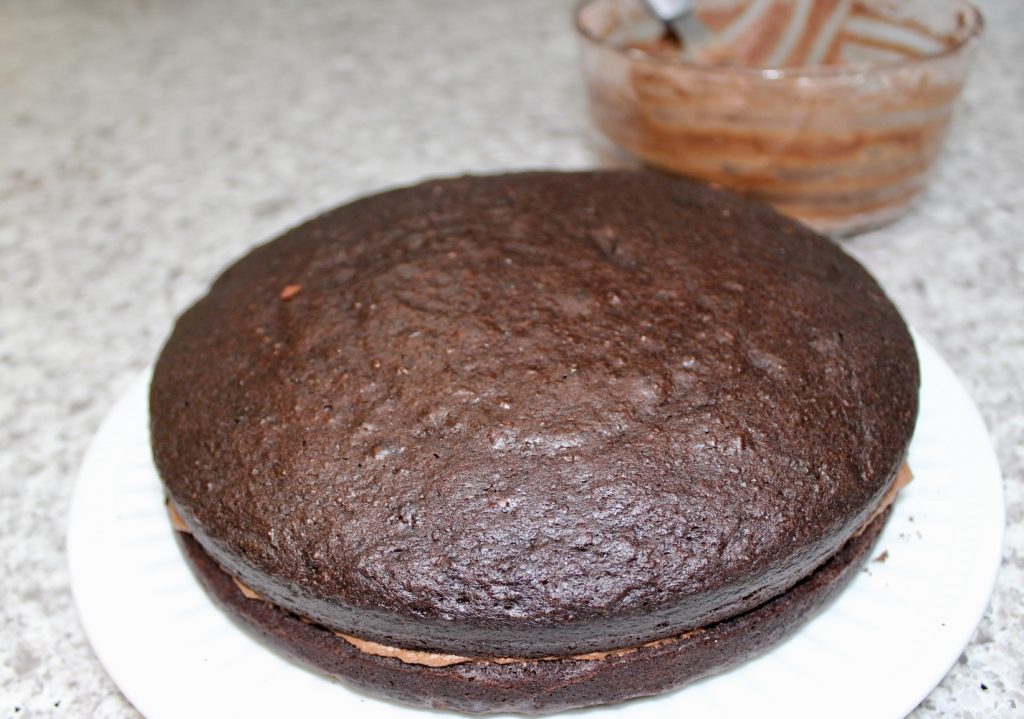 Ice the top of the cake, then spread the remaining icing along the outside edge. I'm not an expert cake decorator by any means but this cake is so delicious it doesn't matter how perfect it looks on the outside.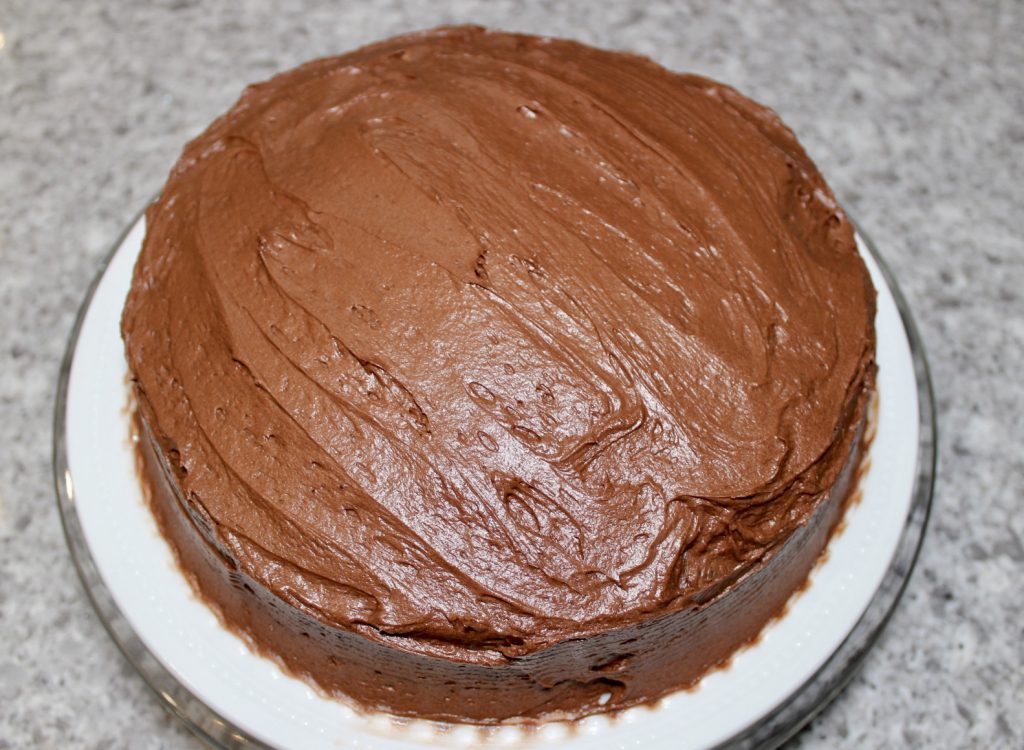 This recipe is best in two 8 inch round cake pans. I used 9 inch pans so the cake isn't as high but there's still exactly the same amount of Maritimer Mink Chocolate Cake.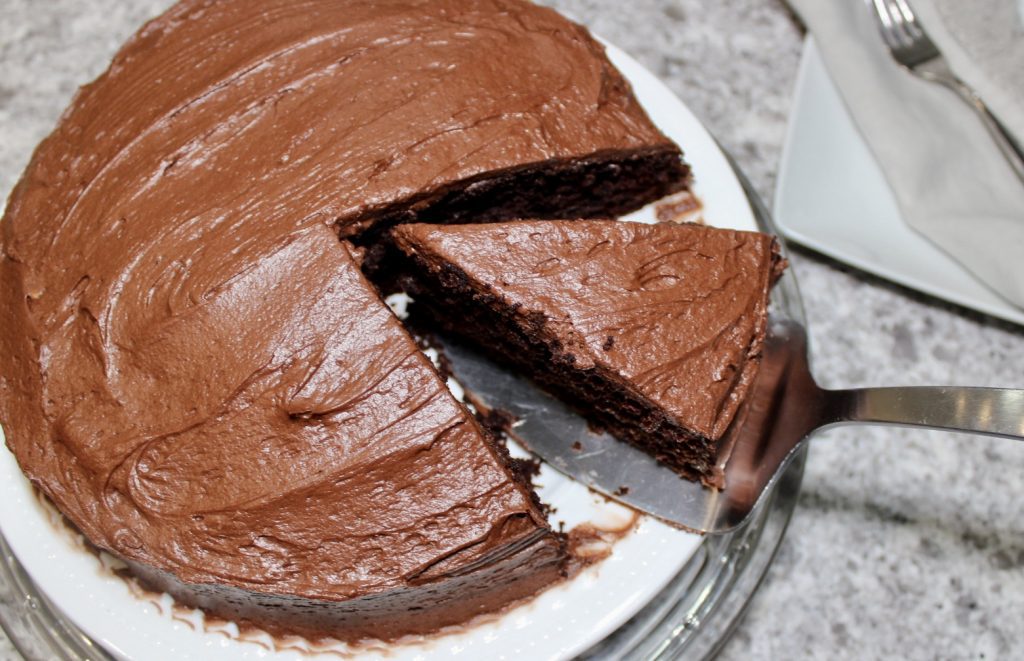 Here's the recipe:
Maritimer Mint Chocolate Cake
A delicious chocolate mint cake with a surprising ingredient - beets!
Ingredients
1 1/2

cups

sugar

2

eggs

1

tsp

vanilla

3/4

tsp

peppermint extract

1

cup

vegetable oil

1 1/4

cups

puréed cooked beets

or a 19 oz can, drained, puréed

6

Tbsp

cocoa powder

1 3/4

cups

all purpose flour

1 1/2

tsp

baking soda

pinch of salt
Chocolate Buttercream Icing
1/2

cup

unsalted butter, softened

2

cups

icing sugar

1/4

cup

cocoa powder

1

tsp

vanilla

3-4

Tbsp

milk
Instructions
Preheat oven to 350 degrees and ensure rack is in the middle position.

Purée beets in food processor until very smooth.

Combine sugar and eggs in mixer and blend well. Add vanilla and peppermint extract. Pour in oil and mix until well blended.

Sift together cocoa powder, flour, baking soda and salt.

Add half of the dry ingredients to the egg mixture, blend, then add half of the beets and blend again. Repeat and blend until batter is well combined.

Pour half of the batter into each of 2 prepared 8 inch cake pans. Prepare pans by buttering and placing parchment paper in the bottom as instructed in above post.

Bake for 30-35 minutes. When a toothpick inserted into the centre of the cake comes out clean, the cake is done. Cool pans on a rack.

Make icing by combining butter, icing sugar, vanilla and cocoa powder in a large bowl. Slowly beat until combined, then increase speed and slowly add milk in spoonfuls until desired consistency is reached. Icing should be stiff enough to hold in place but soft enough to spread around without breaking the cake.

Place cake plate or dinner plate over top of one cake layer and flip so bottom side is up. Remove parchment paper. Ensure cake layer is sitting in the centre of the plate.

Generously spread icing evenly to the outer edges. Using same plate method, flip cake layer out of pan, remove parchment. Gently turn cake layer over and place top side up on bottom layer. Ice cake top and sides. To ice sides, hold spatula in place and spin plate, adding more icing as necessary.
Print Recipe
still got a chocolate craving?
Peanut Butter Chocolate Crunch Bars
Double Chocolate Zucchini Muffins
Mini Chocolate Cheesecakes – coming soon!