Have you ever gone to a pot luck and brought Macaroni Salad and a few other people did too? And yours looked sort of lame compared to the others? Me too. You probably just mixed together pasta and mayonnaise. That's basically a macaroni salad but I learned that you just need to add a few colours, flavours and textures to make sure you're taking home an empty bowl.
Macaroni Salad is one of those classic summer side dishes. It's in the same category as Potato Salad and Coleslaw because it's best made in advance. Seriously, it needs time to absorb the mayo and flavours. And who wants to be in the kitchen when you can enjoy a nice day outdoors?
Click here to jump right to the recipe
I usually make mayonnaise based salads with a combination of real mayo and whipped style (aka Miracle Whip) because one is too sweet and one isn't sweet enough. Feel free to use all of one or the other. My mom's secret is to add a bit of sweet pickle juice to the mixture which gives it a little extra zing. If you're using all Miracle Whip you probably don't need it as it's already sweet enough.
I use tuna in this salad. White flaked tuna packed in water. Please don't use "light" tuna. It has a colour that resembles cat food and tastes nasty. So splurge a little and spend that extra dollar! And make sure you drain it well. I squeeze the water out with the lid, rinse with cold water and squeeze again. You can use solid tuna as well, just break it up with a fork.
How to make the best macaroni salad
To make this, bring a pot of salted water to a boil, add the dry pasta and cook according to the package directions. Be careful not to overcook or your salad will be mushy. Drain well and rinse a few times with really cold water.
While that's happening, drain the tuna and chop up the peppers, cucumber, onion, chives and parsley. Red or orange peppers, red onion and cucumber add a bright colour, as do the parsley and chives. And flavour. And crunch. You want the peppers and cucumber to be similar bite sized pieces while the onion should be a finer mince.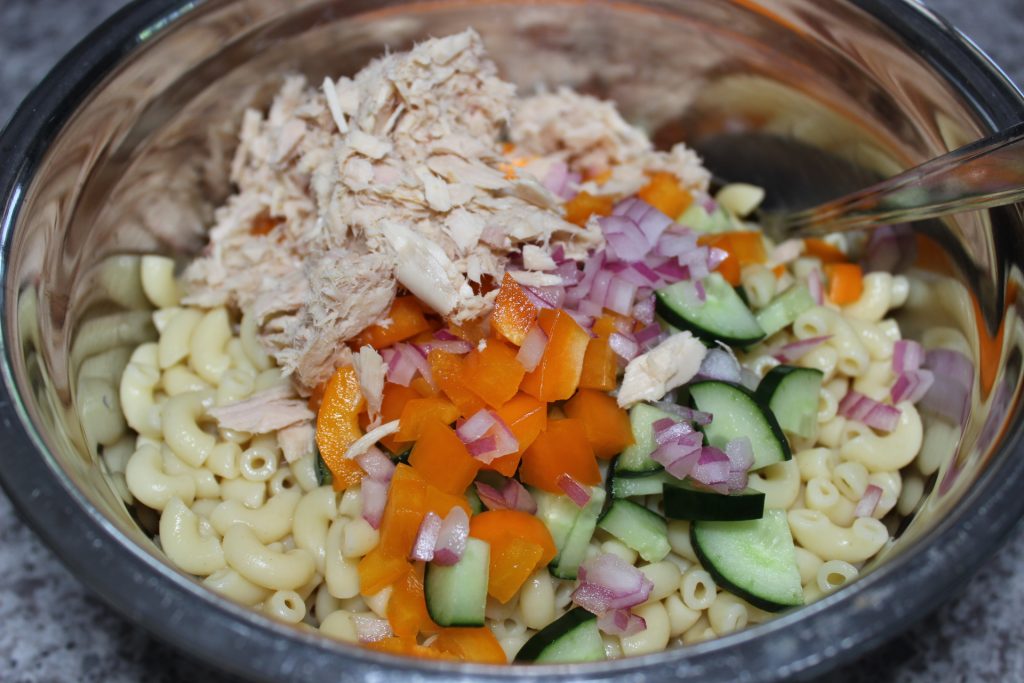 Once the pasta has cooled (it's ok if it's still a bit warm) stir everything together. Add the mayonnaise and some salt and pepper too.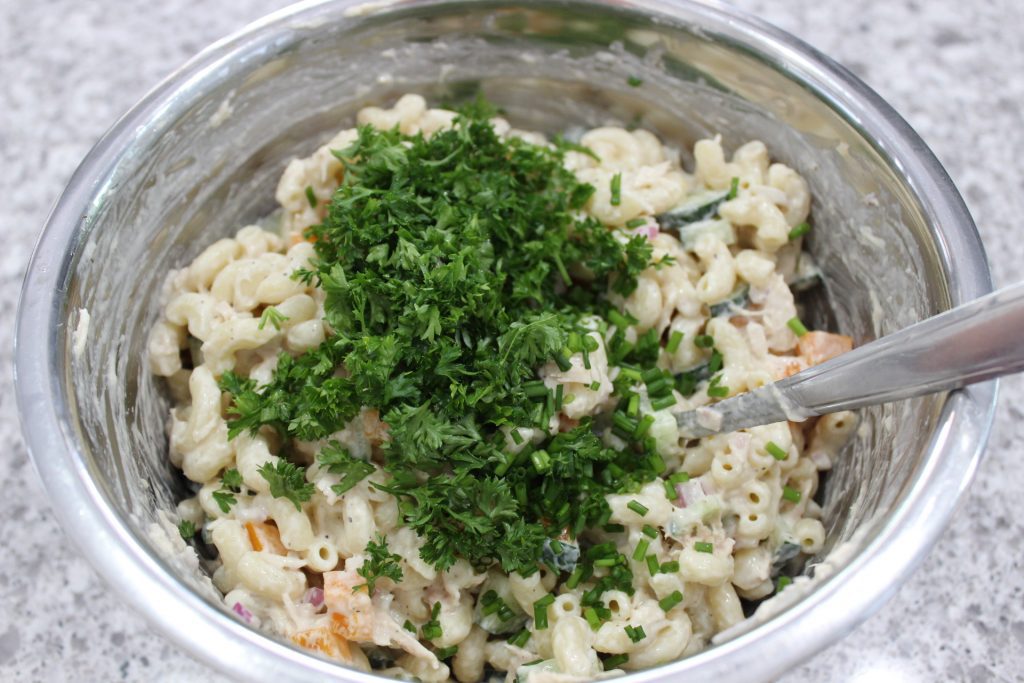 Leave it in the fridge for several hours or overnight. Right before serving, if it it looks a bit dry, stir in a tablespoon or so of extra mayo. Garnish with some fresh parsley.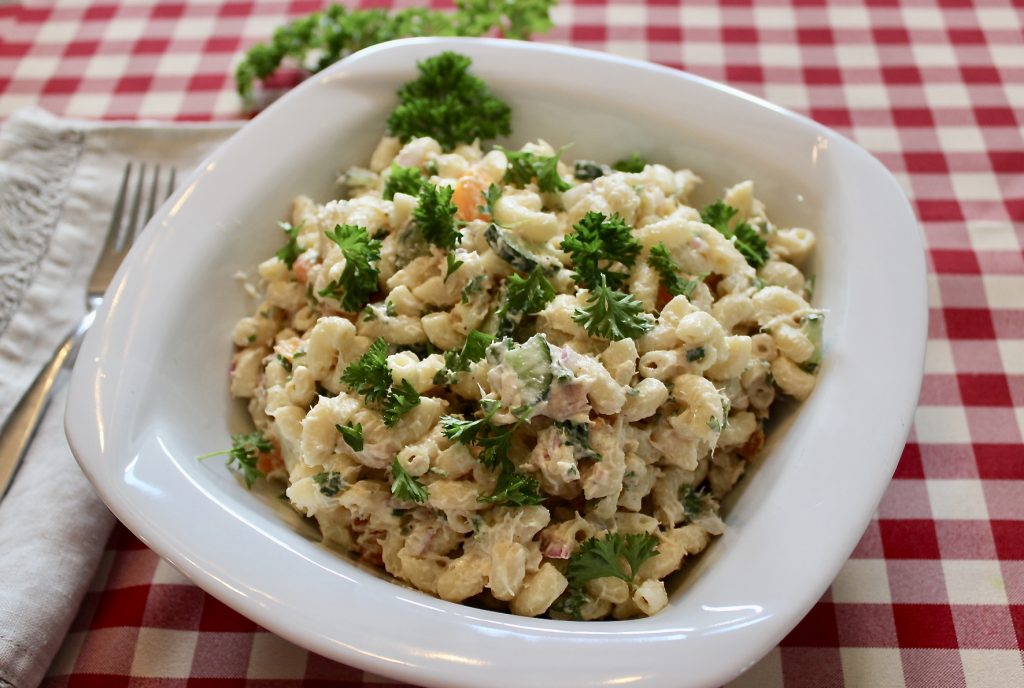 Here's the recipe:
Macaroni Salad
The ever popular summer salad with tuna and fresh seasonal vegetables.
Ingredients
2

cups

dry macaroni

1/2

English cucumber

1/2

red or orange sweet pepper

1/4

cup

finely minced red onion

1

can

flaked white tuna in water, rinsed and drained

1/3

cup

real mayonnaise

may need more before serving

1/3

cup

Miracle Whip

1

Tbsp

sweet pickle juice

optional

1

Tbsp

snipped fresh chives

2

Tbsp

minced fresh parsley

plus more for garnish

salt and pepper to taste
Instructions
Bring salted water to a boil in a large pot and cook macaroni according to manufacturers directions. Do not over cook. Drain and rinse with cool water. Drain again.

Cut cucumber into quarters lengthwise, then chop. Chop sweet pepper into small cubes. Finely mince red onion. Snip chives and mince parsley.

After opening tuna, use lid to press out as much liquid as possible. Rinse with cool water and press again. Add to cooled macaroni along with vegetable mixture. Combine well.

Add mayonnaise, Miracle Whip and pickle juice. Mix well, taste and season with salt and pepper. Refrigerate all day or over night.

Before serving, add a bit more or either mayonnaise or Miracle Whip if the salad appears to be dry.
Print Recipe
more summer salads
Pasta Salad with Asparagus, Bacon and Feta